Heads up: Inpressa – new multiband compressor effect plugin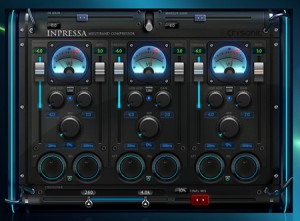 According to Crysonic, the upcoming Inpressa multiband compressor effect plugin provides zero latency plus stereo and mono compatibility combined with the company's unique new proprietary technology in order to deliver a one of a kind type of effect.
Crysonic notes that Inpressa offers full double precision processing natively, which employs very steep 24 dB / Oct crossover filters — virtually eliminating leakage into adjacent compression bands. All available parameters are variable supporting full automation with extreme precision control. The plugin automatically chooses the most appropriate peak detection circuit depending on the audio material being worked on, which was previously impossible to do unless you had a countless number of expensive compressors.
About the effect, the manufacturer comments, "Transcending other similar plugins of its type, Inpressa is set to achieve vintage and modern sounding professional results on individual busses and the final master mix."
At this time, not much else is known about Inpressa; however, Crysonic does say this: "The most noteworthy part of Inpressa is expressed not only by employing a new state of the art technology but understanding and providing incredibly efficient workflow without crowding the interface with 'most of the time unnecessary' options. Inpressa will be available soon to increase depth, definition, and loudness of all music productions."
More details will be revealed as we get closer to Inpressa's release (TBD).
Comments