New powerful Channel Compressor for Cakewalk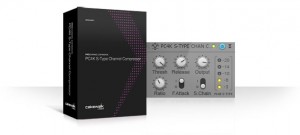 Cakewalk has announced the PC4K S-Type Channel Compressor Module for SONAR X1 Producer Expanded customers. Here's how Cakewalk describes the new module in their own words…
The PC4K S-Type Channel Compressor Module, like all the SONAR X1 Producer ProChannel modules, is expertly-crafted by the Cakewalk DSP team to provide the sound and experience of using the legendary hardware it's based on. The PC4K S-Type Channel Compressor, with its gentle, soft-knee characteristics is well suited for compressing and leveling sustained material on any backing track. Flexible drag and drop routing and manual output gain control lends a modern twist to an old classic. The PC4K S-Type Channel Compressor is a complimentary addition to the well thought out collection of ProChannel module effects designed to elevate any music production.
When coupled with the included PC4K S-Type Bus Compressor, the included ProChannel EQ (set to Vintage), and the optional PC4K S-Type Expander/Gate, the new PC4K S-Type Channel Compressor provides full emulation of classic, large-format, mixing consoles used by professional engineers to make hit records for over a quarter century.
SONAR X1 Producer Expanded
SONAR X1 Producer Expanded delivers fully modular capability to the ProChannel and is required to use PC4K S-Type Channel Compressor module.
SONAR X1 Producer's ProChannel console strip already provides a number of options to get pro-studio sound in the box with its highly musical EQ, PC76 U-Type/classic FET and PC4K S-Type bus compressors, tube saturation, and flexible drag & drop routing. ProChannel strips can be customized to have any combination of installed modules available on any channel and favorite combinations can be set as default for tracks and busses.
Pricing and Availability:
SONAR X1 Producer Expanded customers can purchase PC4K S-Type Compressor download for $49/£35 /€39 (vat inclusive) from the Cakewalk store. SONAR X1 Producer customers can purchase the PC4K S-Type Compressor with SONAR X1 Producer Expanded update downloads together for $79/€69/£59 (vat inclusive) on the Cakewalk store.
More information:
Comments