Introducing our newest Tabletop ready phase distortion synthesizer, currently codenamed "Digits." Louis, from the Adventures in Funk, is back to demo the prototype. Stay tuned to see Digits in development!
Wej needs you! Help support wej by pre-ordering yours and get 20% off. Get Wej for just $99.00 through November 7th preorder.retronyms.com
Follow Retronyms
http://www.facebook.com/retronyms
http://twitter.com/retronyms
The Build is a semi-regular series of videos showcasing what's in development! Take a peek behind the scenes at our new tech and latest progress in Audio and Music creation.
The next update to Tabletop improves performance and stability across the board. To showcase this, JP shows plays around with not one but two iMPC Pro's on an iPad 2
Tabletop 2.6 is in review now with Apple, and should be available soon! Subscribe to find out when it ships, and get more project updates from Retronyms.
Tabletop 2.6 also adds the final Tabletop Ready App from #summerofepic! More details an that soon!
Follow Retronyms
http://www.facebook.com/retronyms
http://twitter.com/retronyms
Big update Tabletop introduces Midi controller support, timeline editor, session sharing, and Tabletop Ready Apps with iMPC from Akai Pro! The update is free! Tabletop is free! http://bit.ly/TXTbd0
Ready. Set. Remix!
The exclusive Soundtrack in this video was created in Tabletop by Richard Devine. You can find the song Glitch Breaker Demo inside the Tabletop in-app community, or on SoundCloud. To celebrate the new update for Tabletop we're making a call for remixes! Download the Glitchbreaker Session right in Tabletop. You get access to all of the custom samples, sequencing, and arrangement. Remix to your heart's content. We can't wait to see what you come up with!
Richard Devine: http://www.facebook.com/pages/Richard-Devine/105387759760
Glitch Breaker https://soundcloud.com/richarddevine/glitch-breaker-made-with-1
In this video series Freth Productions go into detail about the Tabletop interface and the specifics about how the devices work, up to and including making music.
This video was made using Reflection (iPad screen and audio to PC wirelessly), Camtasia (recorded with) and Power Director 10 (processed for YouTube from a raw AVI to MP4). NOTE: There are audio glitches during extended audio, caused by the Reflection software. It is not caused by Tabletop.
Background data:
We finally had a chance to sit down with John-Paul Walton (co-founder of Retronyms) to have him showcase the early version of the XOX Drum Deranger. This video doesn't include all the final features and polish yet, but can provide you an idea of the final product that Retronyms is building for the neiro. It is only the first device they are bringing to the neiro with much more to come.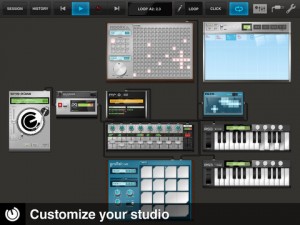 Retronyms today updated Tabletop, its virtual studio for the iPad.
Here's what's new in Tabletop 1.5:
CloudSeeder – access the Tabletop Community (powered by SoundCloud)
Audio Copy – collaborate with other Apps
Module Bundles – discounted collections of in-app add-ons
Here's what Retronyms has to say about it:
CloudSeeder makes it easy to publish your songs to a music community and receive feedback. It's also the perfect place to find inspiration before diving into a new track. Your fans are waiting, so don't be shy and jump in! Publish a track, leave a comment, find listeners and collaborators.
Tabletop is a free download from the App Store. It comes with a small collection of virtual modules. Additional modules are available as in-app purchases.