November 24, 2012 · Posted in
Uncategorized
·
Comments Off

on FXpansion Maul Tutorial
Maul: a multi-band distortion and tone-shaping plugin with advanced modulation.
http://www.fxpansion.com/index.php?page=193
FXpansion is proud to present Maul: a multi-band distortion and tone-shaping plugin with advanced modulation. Maul is suited to all music requiring powerful sound-sculpting abilities – everything from subtle warming and loudness generation to shredding distortion and experimental creative effects. Maul features 3 separate drive stages, each of which can act on a different frequency range with any of 32 distortion types. The available algorithms include DCAM-modelled germanium diode, tube and transistor-based circuits, clippers, overdrives, waveshapers of various kinds and bit-crushing devices for digital distortion flavours. Each drive stage also features control over transient-shaping, saturation circuitry and additional post-process tone filtering.
Availability & Pricing
Maul is available as a download-only product from the FXpansion web shop!
Pricing is USD $99.00, EUR €79.00, GBP £69.00 inc VAT where applicable
October 12, 2012 · Posted in
Uncategorized
·
Comments Off

on How to make your Moog Voyager sound FAT, overloaded, unstable, about to lose it…etc
This is a simple "overload" trick that's been posted on the Moog Music Forum for some time now (http://forum.moogmusic.com/viewtopic.php?f=2&t=14154), and the author of this video found it to be really helpful. you totally dont need a distortion pedal if you have a Moog Voyager. The whole thing IS a distortion pedal.
September 3, 2012 · Posted in
Uncategorized
·
Comments Off

on Piana – the Raspberry Pi Synthesizer – Filters and Modulation
More details on the Pi Synth:
A short demo showing filter cutoff, resonance and more LFO- and EG-driven Phase Distortion.
September 1, 2012 · Posted in
Uncategorized
·
Comments Off

on Raspberry Pi Synthesizer – live demo (Oscillators and Phase Distortion)
Background video information below:
You lot should be happy that it was a grim, wet, windy Bank Holiday as I got to plug in my Pi and make a video. Sorry the frame rate of the second half is low, it's my Mac not being fast enough to capture everything.
So – here's an indication of quite how rich a single-oscillator synth can be (as in, I left OSC B cranked down to zero throughout). OSC A is set to a 'sin' wave (which does actually have a *little* bit of harmonic content as it's not really a sin, it's a short power series), but all the amazing richness comes from manipulating the phase of the oscillator during each cycle of the waveform. An EG is used to stretch and squash the phase over the lifetime of each note, then the LFO is pulled in to add a warbly, squishy immenseness.
And no explicit frequency manipulation – everything here is being induced by messing with the phase within each cycle of the waveform, the fundamental is not being manipulated, at all. Things get beyond awesome when you add in pitch modulation at the same time as Phase Distortion.
But messing about with frequency is for next time – for the time being, let's get PHASEY!!!!
March 19, 2012 · Posted in
Uncategorized
·
Comments Off

on Expresso – new free distortion effect plug-in for Windows

Mark Holt has released Expresso, a free distortion effect plug-in for Windows.
My first ever release of a VST effect. Made in Synthmaker v2.0, so, sorry, no Mac version.

Most of the modules are my own (rather simple) code rather than stock modules. I've been using it a lot and thought I should give something back to a community that's given me a lot over the years.

The first knob is called offset and this adds DC offset to the input signal (the mod LED below changes the direction of offset). The next knob is labelled fold and adds some fold back distortion. The next knobs are sat (saturation), feed (feedback – the mod LED changes the signal slightly), delay (for the feedback), HPF (high pass filter), H-REZ (high pass resonance), LPF (low pass filter), clip (hard distortion), followed by a dry/wet control and finally gain (for output). The feedback path actually goes after the clip module and re-enters before the fold back distortion stage, so maybe a future update will change the knob order to reflect this (it's like it is for chronological reasons). Beware that on settings where all settings are high that you will get proper high squealing feedback. I've kept that as a feature and the tone can be changed with the delay knob when it appears.
Expresso for Windows (VST) is available to download as freeware.
March 7, 2012 · Posted in
Uncategorized
·
Comments Off

on Saturn – new distortion and saturation effect
FabFilter has introduced its latest audio processing plugin Saturn, a distortion and saturation effect. In this tutorial, Dan Worrall explains the basics of FabFilter Saturn. He starts with a simple single-band saturation example explaining the available algorithms and most important controls of the plug-in. Finally, he explains some more complex setups, using multiple bands and making use of the extensive modulation section.
FabFilter Saturn is a high quality multi-band distortion and saturation plug-in. From subtle, clean and warm tube or tape saturation to the wildest multi-band guitar amp effects: FabFilter Saturn delivers!
Saturn will be available March 8th, 2012.
More information: FabFilter
November 17, 2011 · Posted in
Uncategorized
·
Comments Off

on Ableton Live – Kasio-M4L virtual phase distortion synth
Ableton has released Kasio-M4L, a free Max for Live instrument by Oli Larkin.

Like its namesake CZ-series synths, Kasio-M4L uses Phase Distortion synthesis – in which the phase of a sine wave is modified in various ways to produce new waveforms. Kasio-M4L builds on its digital legacy, producing plastic basses, sharp bell-like timbres and shimmering resonant pads. Utilizing two CZ-style oscillators, ring modulation, three Envelope Generators and an LFO, a wide variety of timbres are possible. Kasio-M4L serves to bring the classic sounds of Phase Distortion to all Max for Live users.

Kasio-M4L comes with 32 presets inspired by the original CZ-synths. All controls are laid out on one easy-to-use panel for instant tweaking. Select from eight CZ waveforms for each oscillator in the "Wave" section. Different waveforms can be set for each alternating cycle; the second oscillator can also be detuned and mixed as a ring modulator signal. The ADSR Envelope Generator sections control amplitude, pitch and the all-important DCW (digitally controlled wave-shaping) which varies the amount of phase distortion. Vibrato is controlled via the LFO section.
Kasio-M4L is a free download from Ableton. Requires Ableton Live 8.2.6 or higher and Max for Live.
More information:Kasio-M4L
September 29, 2011 · Posted in
Uncategorized
·
Comments Off

on New distort unit from Rob Papen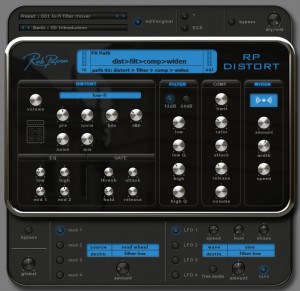 Rob Papen has announced RP-Distort, a new effect plug-in for Windows and Mac.
RP-Distort is not just a distortion unit, but much more. The distortion unit inside RP-Distort can be combined with an analog modelled filter, compressor and widener unit.

These units can be re-order, but also can be turned on or off. So in case you only want a great analog modelled filter… RP-Distort can offer this. Or only the unique widener unit which is great for widening a boring mono track.

On top of that, the controls can be modulated using midi sources or by one of the 4 build in LFO's that can sync to your host tempo..

The distortion unit offers 22 distortion types included ring modulator and lo-fi. Inside this section you can also find the EQ and noise-gate.

RP-Distort is in fact a wicked FX unit that will distort or alter your tracks in an inspirational way.
February 6, 2011 · Posted in
Uncategorized
·
Comments Off

on Swan Lake UVB Style
You'll either get what's going on here or you'll just think, "???". Exciting stuff to me, perhaps to some of you as well.
I'm using the Elektron Octatrack to recreate the sound of the UVB-76 Swan Lake broadcasts. A combination of the Octatrack's filter distortion, SSR, BRR, and Lo-Fi Dist are animated with LFOs to approximate the broadcast. The distorted harmonics that appear are as disturbing as those in the original. Expect this UVB-76 project to happen mid-2011.
Shared by Allerian1
October 5, 2010 · Posted in
Uncategorized
·
Comments Off

on Badass – cool distortion effect

Tek'it Audio unveils Badass, a Filter distortion effect for Windows.
"Badass filter and distortion plug-in, give to your sounds this little bad grain or destroy them completely with the help of distortion effects, filters, lowfi effect and ring modulator.

Each effect can be used individually, but combined they become a powerful tool to distort your sound."
Features:
– 7 Effects: filter, cut, drive, lofi, ring, shape and boost
– 8 Filter types: 24dB low-pass, 24dB digital low-pass, 24dB VCF Ladder low-pass, Modulo low-pass, 36dB State Variable, 12dB High-pass, 24dB High-pass, Bandpass
– Full MIDI automation and MIDI learn on all parameters
– Phase inverter and effect bypass
– Works in mono or strereo
– Integrated Patch manager
– Knob reset on initial patch value
– Randomize knobs position
– 32 Factory presets
– Easy installer
Price: 17 EUR