FabFilter has introduced its latest audio processing plugin Saturn, a distortion and saturation effect. In this tutorial, Dan Worrall explains the basics of FabFilter Saturn. He starts with a simple single-band saturation example explaining the available algorithms and most important controls of the plug-in. Finally, he explains some more complex setups, using multiple bands and making use of the extensive modulation section.
FabFilter Saturn is a high quality multi-band distortion and saturation plug-in. From subtle, clean and warm tube or tape saturation to the wildest multi-band guitar amp effects: FabFilter Saturn delivers!
Saturn will be available March 8th, 2012.
More information: FabFilter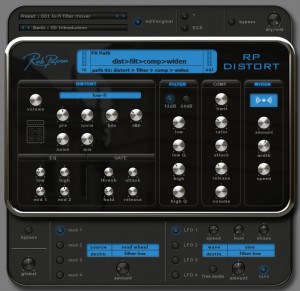 Rob Papen has announced RP-Distort, a new effect plug-in for Windows and Mac.
RP-Distort is not just a distortion unit, but much more. The distortion unit inside RP-Distort can be combined with an analog modelled filter, compressor and widener unit.

These units can be re-order, but also can be turned on or off. So in case you only want a great analog modelled filter… RP-Distort can offer this. Or only the unique widener unit which is great for widening a boring mono track.

On top of that, the controls can be modulated using midi sources or by one of the 4 build in LFO's that can sync to your host tempo..

The distortion unit offers 22 distortion types included ring modulator and lo-fi. Inside this section you can also find the EQ and noise-gate.

RP-Distort is in fact a wicked FX unit that will distort or alter your tracks in an inspirational way.
You'll either get what's going on here or you'll just think, "???". Exciting stuff to me, perhaps to some of you as well.
I'm using the Elektron Octatrack to recreate the sound of the UVB-76 Swan Lake broadcasts. A combination of the Octatrack's filter distortion, SSR, BRR, and Lo-Fi Dist are animated with LFOs to approximate the broadcast. The distorted harmonics that appear are as disturbing as those in the original. Expect this UVB-76 project to happen mid-2011.
Shared by Allerian1

Tek'it Audio unveils Badass, a Filter distortion effect for Windows.
"Badass filter and distortion plug-in, give to your sounds this little bad grain or destroy them completely with the help of distortion effects, filters, lowfi effect and ring modulator.

Each effect can be used individually, but combined they become a powerful tool to distort your sound."
Features:
- 7 Effects: filter, cut, drive, lofi, ring, shape and boost
- 8 Filter types: 24dB low-pass, 24dB digital low-pass, 24dB VCF Ladder low-pass, Modulo low-pass, 36dB State Variable, 12dB High-pass, 24dB High-pass, Bandpass
- Full MIDI automation and MIDI learn on all parameters
- Phase inverter and effect bypass
- Works in mono or strereo
- Integrated Patch manager
- Knob reset on initial patch value
- Randomize knobs position
- 32 Factory presets
- Easy installer
Price: 17 EUR
Listen in for yourself – Impressed


BISCUIT is a stereo sound effect processor. Thanks to a subtle blend of 8-bit digital and analog processing, BISCUIT is able to create a wide range of sounds. It goes from 8-bit character and lo-fi digital artefacts to numeric distortions.
BISCUIT is very useful to add depth and texture to any kind of electronic sounds. It works best with synthesizers (digital or analog), bassline, drum machines, loops, samplers or computers, but you can use it with any other sources.
BISCUIT is basically an enhanced bit depth and sample-rate reducer, known as "bitcrusher", followed by an analog filter and a simple mixing section (dry/wet). It also offers other features like removing or inverting each of the 8 bits, changing the sample rate from 250Hz to 30kHz, or adding one of the four effects (waveshaper, delay, pitch shifter and step filter).
Biscuit is MIDI compatible.
You can save the whole BISCUIT settings (pots and switches) in 16 presets.
A SysEx dump function let you save and recall as many presets you want on your computer.
Features
• Stereo inputs and outputs
• Input gain from -∞ to 15 dB with diode clipping
• Real 8-bit Analog to Digital and Digital to Analog converters
• True analog multimode filter with resonance control
• Variable sample clock from 250 Hz to 30 kHz
• Unique capability of muting and inverting each of the 8 bits
• FX section: Waveshaper, Delay, Pitch Shifter and Step Filter
• Separate control of dry and 8-bit signals
• 16 presets
• MIDI compatible
• True relay Bypass
• Rugged metallic Neutrik© jacks
• Built like a tank: Thick metal case and strong build
• Dimensions: 190mm x 60mm x 117mm / 7.48″ x 2.36″ x 4.60″ (W x D x H)
• Weight: 580g / 1.27 lbs
NoiseSoft have released their first effect plug in - Hard Line industrial distortion. They say that it's a custom noise based distortion effect that will take your sound from a clean 'natural' gain to an extreme level of distortion that simulates a white noise waveform at it's highest setting.
The plug-in has a single knob design:
GAIN: Lowest setting is pure bypass, highest setting is extreme distortion, almost to the point of white noise.
Pricing and Availability:
Free download