Adam Szabo has released Phazor, a is a free phaser effect plugin for Windows.
Phazor is a free effect plugin, which emulates the phaser effect found in the Virus synthesizers, which helped make its characteristic sound. A lot of time was devoted to make it sound very close to the original and every control has been carefully adjusted to behave just like the phaser from the Virus.

It has selectable 1 to 6 stage all-pass filters controlled by an LFO, with spread and feedback controls. The plugin is highly optimized and its CPU usage is minimal, allowing for multiple instances to be used in a project.
Phazor is avaialble to download as a freeware VST effect plugin for Windows.
This is a comparison video of the phaser from the Virus and Phazor. Phazor is made with SynthMaker and it does not support Mac or 64-bit. SO PLEASE DO NOT ASK FOR A MAC AND 64-BIT VERSION! Download: www.adamszabo.com
Sample Magichas a holiday gift for you – a free 170MB sample library: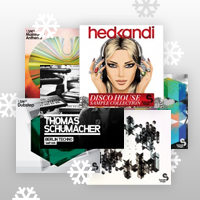 Not only has it been packed with massive sample releases: Hed Kandi's Disco House Samples, the runaway success story of Tech-House, the luscious Deep House and the neon-tinged Indie-Dance; we've also had a sterling take-up of our new sub-label, SM101 with everything from Drum Fills to Club Kicks getting the SM treatment in 101 bite-sized chunks.
Six years since we started out in the sample business we remain as passionate as ever – and as committed to our loyal customer base.
As a way of saying thanks – and Happy Christmas – we've compiled a tasty, exclusive 170+MB bundle of free loops and samples from some of this year's biggest hitters, from Hed Kandi and Thomas Schumacher to Techno and Indie-Dance by way of Dubstep and Mainroom Anthems.
You can download the library at the Sample Magic site.
No need to touch anything.
http://itunes.apple.com/us/app/a-particle-magnetophone/id485278828
Description:
Let me introduce you one of the best innovative iPad/iPhone apps, which brings a totally new concept of a touch-less, audio-visual application that literally make music in the air and visual effects at the same time. The audio control of generating sound can be compared to the theremin. The trick is that you need not to move or touch your device.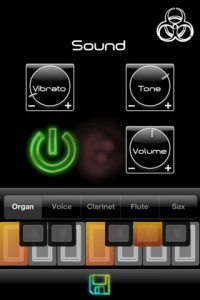 The application uses a combination of the magnetic sensor, great graphic possibilities, and marvelous sound which are offered by iPad/iPhone and iOS. The magnetic sensor is placed just around the biohazard sign on the app's view, so closer you get with a magnetic stuff the higher tones are generating. By included keyboard you can determinate in which musical scale will magnetic fields play sounds.
The sounds are very suitable for music like funky, dub step, electro, trip hop, noise, and many more.
So just grab some magnetic, metaled stuff or get closer to them by upper-right corner of your device and try out.
Use:
– unique musical instrument
– the most impressive metal detector ever
– practical tool to teach/learn how physics or music works
– magician's tool, to make illusion of a magical hand
Features:
– uses 3D space around magnetic sensor to make sounds and animations, touch-less control
- up to 5 octaves available (depends how strong magnet is)
– change speed or variation of particle animation sequences
– change particle size of animation sequences
– variety of 5 synth instruments simulating sound of organ, human voice, clarinet, flute and
saxophone
– tune color or vibrato of the generating tone
– change sound volume
– set your own musical scale by the virtual keyboard to be played
– save your settings
– play along with your music library or on the background while playing another touchable or shakeable instrument (more feasible for dual-core devices)
- designed for iPad2, but iPhone version included

Loopmasters has announced a DJ Mixtools Giveaway, offering a collection of sample taken from the DJ Mixtools libraries.
DJ MIXTOOLS from LOOPMASTERS is a brand new concept for forward-thinking DJs and live artists. Imagine buying a track but then being able to separate that track into its key elements and having ROYALTY FREE access to remix, effect, chop and loop the parts in your own individual style to create an exciting and refreshing new mix…

If you are curious just how the DJ Mixtools Packs are wrapped and delivered, here's a great chance for you to sample it. We are giving away a free pack that has audio material from the following packs: DJ Mixtools 14 – Groove Tech Vol. 2, DJ Mixtools 16 – Mix FX Vol. 1, DJ Mixtools 19 – Swedish House Vol. 3, DJ Mixtools 22 – Progressive House & Tech Vol. 2, and DJ Mixtools 24 – Progressive Tech House.
More information: Loopmasters
Roland Alpha Juno 2 sound bank demo by Hardballs
Hardball Records has released a free sound bank, Hoover Sound Bank, that features sounds of the Roland Alpha Juno 2 synthesizer:

This is exactly the same synthesizer that created the original Hoover sound, patch called "What The", originally created by Eric Persing for Roland Alpha Juno. Juno 2 is just an upgraded version of Roland Alpha Juno, thus we have the original Hoover sound. Additionally, I have sampled couple of bass sounds, which somebody may find useful.
As usually, each sound is a separate bank for NI Kontakt and EXS-24 samplers.
Each sample was recorded thru the Pro Tools HD from Roland Alpha Juno 2,
without any effects or processing, just clean original synth sound!
All samples are 44.1 kHz, 24 bit, Stereo WAV files.
The audio demo, above, is made using only the synth sounds in this sound bank, plus drums.
You can download the Hoover Sound Bank from the Hardball Records site.
Download the AfroDJMac Glitched Piano Rack @ http://bit.ly/freesynth25
This Ableton Live Rack was created by sampling my piano with the Singing Fingers iPad app and then sampling that into Ableton Live. The result is a glitchy piano pad type sound. Enjoy!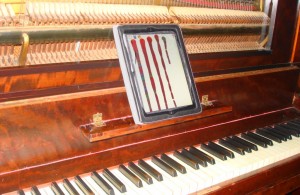 I've been experimenting with various apps on the iPad, and one of my favorite ones is a sampling app called Singing Fingers.   This app records sound as you draw on the iPad with your finger.  You then play the sounds back by tracing over what you have drawn.  The sound changes depending on how fast and which direct you move your finger.  It's very easy to use, creates interesting sounds, and is fun.  So, I decided to record some notes from my piano (the same piano from my reverse piano rack) into the app, and then I sampled the result into Ableton.  By nature, the app has a granular-glitch type sound to it, and this is pretty evident in the sound of the rack I have created, "AfroDJMac's Glitched Piano."  Have fun with it!

Click to Download the AfroDJMac Glitched Piano

Starting now, Ableton gives all users of Ableton Live 8 or Suite 8 its most popular Partner Instrument: Puremagnetik's Retro Synths! Registered users of Ableton Live 8 or Suite 8 can now download Retro Synths free of charge. In addition, purchasers of Ableton Live 8, Suite 8 or any relevant upgrade before October 31, 2011 will also receive Retro Synths for free.
We invite you to enhance your Ableton Live experience with a free download of Retro Synths by Puremagnetik, our most popular Partner Instrument. Retro Synths represents the best of Puremagnetik's meticulously multi-sampled vintage synthesizer packs, including samples from classics such as the Korg MS-20, Roland D-50 and more. With intelligently selected macros, Retro Synths is immediately playable in Live.

Retro Synths is free for all Ableton Live 8 and Suite 8 users. It is also included with any upgrade or new purchase of Ableton Live 8 or Suite 8 until October 31, 2011.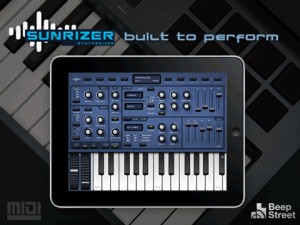 Beep Street has released a free sound bank for Sunrizer synth, featuring sounds by Artemiy Pavlov .
To install it:
Open Sunrizer on your iPad;
Open Safari on your iPad;
Click this link (or browse to http://www.beepstreet.com/Sinevibes.srb);
Select 'Open in Sunrizer' & click yes when you see the install prompt; and
Enjoy the goodness.
About the synth:
Sunrizer synth (previously known as 'Horizon synth') is a virtual analog synthesizer that takes the definition of iOs synthesizer to the next level. Thanks to carefully designed architecture and heavy usage of coprocessor it blurs the boundaries between iOs and hardware synthesizers. Sunrizer was built to perform and works perfectly with any MIDI keyboard or sequencer. A lot of research has been done in order to achieve unheard warmth and clarity.
Highlights
True SuperSaw sound emulation, first found in the legendary Roland JP-8000 synthesizer. SuperSaw is a layered waveform consisting of multiple saw waves which are detuned to create an extremely full and epic sound. It's possible to use 2 supersaw oscillators per voice * 7 polyphony = 98 saw oscillators playing the same time!
Two independent filters per voice with configurable routing. You can select between various filter types including classic resonant LP,HP,BP,Notch and less common like Comb and Formant. The Morph Group function lets you continuously morph of up to 30 parameters in a sound (including effects), using only the modulation wheel.
Oscillators
2 warm-sounding analog modelled oscillators per voice + 2 sub-oscillators (except SuperSaw). Available waveforms: Saw, PWM pulse,Triangle, SuperSaw.
Oscillator 2 hard-sync and configurable routing. Osc-mix, ring modulator. White noise oscillator.
Flexible multi filters
Two independent filters per voice with configurable routing. You can select between various filter types including: resonant LP,HP,BP,Notch, Comb and Formant. Configurable routing: serial or parallel with bypass option. ADSR envelope, keyboard tracking and full LFO control.
Modulation
Two LFOs per voice. It's possible to assing each LFO to almost any parameter. 3 LFO running modes: trigger, 1 shot, global. 6 waveforms, phase and fade-in knobs. The Morph Group function lets you continuously morph of up to 30 parameters in a sound (including effects), using only the modulation wheel. Two Modulation ADSR Envelopes for amplitude and filters cutoff. Pitch and modulation wheels.
Effects
A number of effects are built in: distortion, chorus, equalizer, stereo delay. All parameters can be modulated using mod-wheel.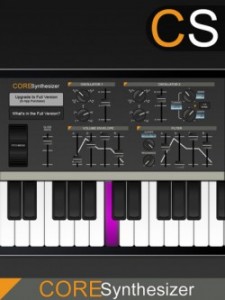 Jasmine Lee has released a free monosynth for the iPad – Core Synth HD.
Get your groove on with Core Synth HD, the definitive monophonic synthesizer for the iPad. With tons of features packed into a small package, Core Synth is great for live performing. A Pitch Wheel replicates perfectly the real thing!
While it's free and has a lot of features – no mention is made of MIDI support, at this time.
Features:
Pitch Wheel
2 Octave keyboard
Keys light up in different colors when pressed
Oscillator Module

Dual overlapping oscillators
Four wave patterns: Square, Triangle, Sawtooth and Reverse Sawtooth
Select from 5 octaves
Adjust glide between notes
Fine tune Oscillator 2 with option to sync with Oscillator 1

Volume Envelope Shaper

Edit ADSR (Attack, Decay, Sustain, Release)
Low Pass Filter Module
Adjust Cutoff and Resonance
Edit ADSR (Attack, Decay, Sustain, Release)

Upgrade to the full version within the app for the following additional features:

7 Octave Keyboard
Octave control to move along entire range
Modulation Wheel

Patches Module

Save an unlimited number of individually named patches
Browse through your collection before applying patch
Delete unwanted patches

Modulation Module

Four wave patterns: Square, Triangle, Sawtooth and Reverse Sawtooth
Modulate Filter, Pitch or Wave
Adjust LFO Rate and amount

Arpeggiator Module

Arpeggio moves up to 5 octaves
Four step modes: Up, Down, Up/Down, Random
Adjust rate
Core Synth HD includes open source code from MobileSynth, developed by Allen Porter.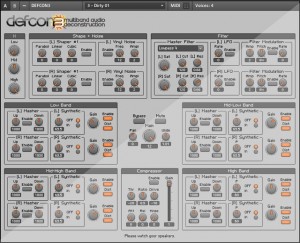 DNR Collaborative has introduced DEFCON3, a 'Multiband Audio Deconstruction Unit' for Native Instruments Reaktor.
According to the developers, 'DEFCON3 is a complete multiband lo-fi, distortion, audio deconstruction device that is capable of taking any audio and completely mangling it in a variety of ways. It can go from subtle dirt to all out war in just a few knob turns.'
The DNR Collaborative is an organization 'committed to community, constantly looking for new ways to help small developers, artists, designers and musicians reach others with their work.'
Pricing and Availability
DEFCON3 is available now, in beta, as a free download.
Link: