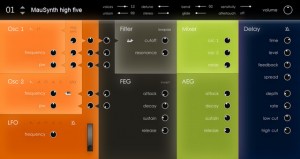 Pekka Kauppila has released a new beta version of MauSynth, a free polyphonic synthesizer plug-in for Windows.
MauSynth is a basic subtractive synthesizer with emphasis on high sound quality and friendly interface.

The plugin is written in c++. It is currently in beta stage, feedback is welcome. MauSynth will stay free even after beta.
Changes in the new beta version

Improved oscillators.
Improved filter.
Improved GUI.
Aftertouch support.
Adjustable velocity sensitivity.
Improved legato mode.
The MauSynth beta is available to download as a VST instrument plug-in for Windows.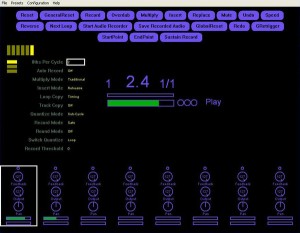 Circular Labs has announced a major update to its cross-platform looping software, Mobius.
Mobius is a free application for Mac & WIndows that was inspired by the hardware loopers of the past. But Mobius offers 8 synchronized stereo loopers that can be used in any combination with extensive MIDI and computer keyboard control.
Here's what's new in Mobius 2.0:
Redesigned synchronization engine for improved sync.
Support for Audio Units host sync (Logic, Garageband).
Support for other sample rates besides 44100.
Redesigned UI button window that works like other binding windows.
Improved OSC support.
Mobius is available now as a free download for Mac & Windows.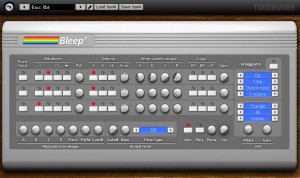 ToneBytes has announced Bleep', a free synthesizer instrument for Windows.
Bleep' — is a free VSTi synthesizer plug-in for Windows which inspired by the sound of MOS Technology SID. At the same time Bleep' is not emulator of this chipset but only partially similar to its architecture.
Bleep' features
3 oscillators with four waveforms: sawtooth, triangle, pulse (with PW) and noise.
Each oscillator has own detuner, ADSR envelope and multimode LP/BP/HP filter.
Multimode LFO synced with BPM.
Modulator Envelope Generator.
Pseudo arpeggiator.
Overall multimode filter.
Built-in preset manager with ability to patch name editing.
VST automation and full MIDI Learning are supported.
Bleep' is available to download as a freeware VST instrument plug-in for Windows PC.
Audio Zombie has released a collection of free synth patches for both Kontakt and EXS24:
AZ SimpleSynths is a collection of synth instruments for both Kontakt and Exs24 software samplers. This collection offers a number of typical synth instruments for electronic music
production.
I used Es2 synth for sound design here and modulation for each sound has been
made with Es2. So i made no use of samplers filters or fx all you get here are synth
instruments sampled from Es2 synth which i programmed. Of course you can make
use of samplers filters or fx's if you want to or when it's needed.
You can preview the patches above. They are available as a free download from the AZ blog.
Here's a new freebie from AfroDJMac featuring more quirky percussions
This is a free Ableton Live download featuring 309 unusual percussion sounds. Follow along in the video tutorial and I show you how to use my technique of sampling and resampling to create your own interesting and unique percussion sounds.
Download the Ableton Live Project here: http://bit.ly/freesynth50
This week's free Ableton Live AfroDJRack is a continuation in the my study in unusual percussion.  I've been looking for new ways to create percussion sounds and this download is the result.  This week I have a total of 309 different sounds for you to play around with.  More importantly, though, I show you the technique I used to quickly create loads of unique sounds.  If you missed part one, check it out here.

I began this Ableton Live project by sampling some ordinary sounds.  I recorded the sound of pencil and eraser on paper.  Then I tore the paper (I felt inspired by this awesome video with Robot Koch). I snapped my fingers and rubbed my hands together, and recorded that.  Next, I tapped  my foot on the mic stand, which created some surprisingly bass-y kick drum like sounds. After that I took out my Casio SK-1, which is a sampling keyboard from the 80s, very lo-fi.  I sampled crackles, drum sounds and even noises created by plugging in an instrument cable and touching the end to create buzzes.  All of those sounds were sent into Ableton and are on the track labeled "Original percussion."  Feel free to do what you like to those sounds.

From there I played around with the clips I created, reversing some and messing around with the transpose envelope.  Next I set them up to play somewhat randomly using follow actions, and recorded the result on to another audio track.  The resulting clip was then "sliced to midi" and that created the drum rack on track 5 "AfroDJMac Unusual Perc  NOFX."

I then repeated the process of randomly triggering clips and resampling them, but this time I placed a host of effect racks on the track which I turned on and off and manipulated at random, using an iPad running the Lemur app.  This yielded two more instrument racks, found on tracks 3 and 4.  In the end, this download features 309 different percussive sounds!

Adam Szabo has released Phazor, a is a free phaser effect plugin for Windows.
Phazor is a free effect plugin, which emulates the phaser effect found in the Virus synthesizers, which helped make its characteristic sound. A lot of time was devoted to make it sound very close to the original and every control has been carefully adjusted to behave just like the phaser from the Virus.

It has selectable 1 to 6 stage all-pass filters controlled by an LFO, with spread and feedback controls. The plugin is highly optimized and its CPU usage is minimal, allowing for multiple instances to be used in a project.
Phazor is avaialble to download as a freeware VST effect plugin for Windows.
This is a comparison video of the phaser from the Virus and Phazor. Phazor is made with SynthMaker and it does not support Mac or 64-bit. SO PLEASE DO NOT ASK FOR A MAC AND 64-BIT VERSION! Download: www.adamszabo.com
Sample Magichas a holiday gift for you – a free 170MB sample library: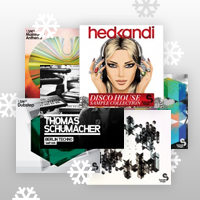 Not only has it been packed with massive sample releases: Hed Kandi's Disco House Samples, the runaway success story of Tech-House, the luscious Deep House and the neon-tinged Indie-Dance; we've also had a sterling take-up of our new sub-label, SM101 with everything from Drum Fills to Club Kicks getting the SM treatment in 101 bite-sized chunks.
Six years since we started out in the sample business we remain as passionate as ever – and as committed to our loyal customer base.
As a way of saying thanks – and Happy Christmas – we've compiled a tasty, exclusive 170+MB bundle of free loops and samples from some of this year's biggest hitters, from Hed Kandi and Thomas Schumacher to Techno and Indie-Dance by way of Dubstep and Mainroom Anthems.
You can download the library at the Sample Magic site.
No need to touch anything.
http://itunes.apple.com/us/app/a-particle-magnetophone/id485278828
Description:
Let me introduce you one of the best innovative iPad/iPhone apps, which brings a totally new concept of a touch-less, audio-visual application that literally make music in the air and visual effects at the same time. The audio control of generating sound can be compared to the theremin. The trick is that you need not to move or touch your device.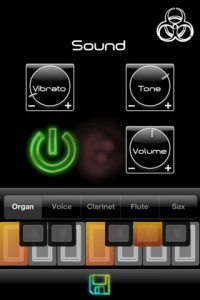 The application uses a combination of the magnetic sensor, great graphic possibilities, and marvelous sound which are offered by iPad/iPhone and iOS. The magnetic sensor is placed just around the biohazard sign on the app's view, so closer you get with a magnetic stuff the higher tones are generating. By included keyboard you can determinate in which musical scale will magnetic fields play sounds.
The sounds are very suitable for music like funky, dub step, electro, trip hop, noise, and many more.
So just grab some magnetic, metaled stuff or get closer to them by upper-right corner of your device and try out.
Use:
– unique musical instrument
– the most impressive metal detector ever
– practical tool to teach/learn how physics or music works
– magician's tool, to make illusion of a magical hand
Features:
– uses 3D space around magnetic sensor to make sounds and animations, touch-less control
– up to 5 octaves available (depends how strong magnet is)
– change speed or variation of particle animation sequences
– change particle size of animation sequences
– variety of 5 synth instruments simulating sound of organ, human voice, clarinet, flute and
saxophone
– tune color or vibrato of the generating tone
– change sound volume
– set your own musical scale by the virtual keyboard to be played
– save your settings
– play along with your music library or on the background while playing another touchable or shakeable instrument (more feasible for dual-core devices)
– designed for iPad2, but iPhone version included

Loopmasters has announced a DJ Mixtools Giveaway, offering a collection of sample taken from the DJ Mixtools libraries.
DJ MIXTOOLS from LOOPMASTERS is a brand new concept for forward-thinking DJs and live artists. Imagine buying a track but then being able to separate that track into its key elements and having ROYALTY FREE access to remix, effect, chop and loop the parts in your own individual style to create an exciting and refreshing new mix…

If you are curious just how the DJ Mixtools Packs are wrapped and delivered, here's a great chance for you to sample it. We are giving away a free pack that has audio material from the following packs: DJ Mixtools 14 – Groove Tech Vol. 2, DJ Mixtools 16 – Mix FX Vol. 1, DJ Mixtools 19 – Swedish House Vol. 3, DJ Mixtools 22 – Progressive House & Tech Vol. 2, and DJ Mixtools 24 – Progressive Tech House.
More information: Loopmasters
Roland Alpha Juno 2 sound bank demo by Hardballs
Hardball Records has released a free sound bank, Hoover Sound Bank, that features sounds of the Roland Alpha Juno 2 synthesizer:

This is exactly the same synthesizer that created the original Hoover sound, patch called "What The", originally created by Eric Persing for Roland Alpha Juno. Juno 2 is just an upgraded version of Roland Alpha Juno, thus we have the original Hoover sound. Additionally, I have sampled couple of bass sounds, which somebody may find useful.
As usually, each sound is a separate bank for NI Kontakt and EXS-24 samplers.
Each sample was recorded thru the Pro Tools HD from Roland Alpha Juno 2,
without any effects or processing, just clean original synth sound!
All samples are 44.1 kHz, 24 bit, Stereo WAV files.
The audio demo, above, is made using only the synth sounds in this sound bank, plus drums.
You can download the Hoover Sound Bank from the Hardball Records site.