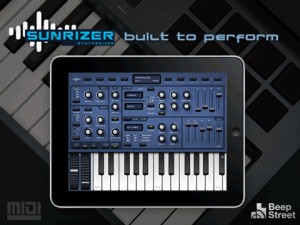 Beep Street has released a free sound bank for Sunrizer synth, featuring sounds by Artemiy Pavlov .
To install it:
Open Sunrizer on your iPad;
Open Safari on your iPad;
Click this link (or browse to http://www.beepstreet.com/Sinevibes.srb);
Select 'Open in Sunrizer' & click yes when you see the install prompt; and
Enjoy the goodness.
About the synth:
Sunrizer synth (previously known as 'Horizon synth') is a virtual analog synthesizer that takes the definition of iOs synthesizer to the next level. Thanks to carefully designed architecture and heavy usage of coprocessor it blurs the boundaries between iOs and hardware synthesizers. Sunrizer was built to perform and works perfectly with any MIDI keyboard or sequencer. A lot of research has been done in order to achieve unheard warmth and clarity.
Highlights
True SuperSaw sound emulation, first found in the legendary Roland JP-8000 synthesizer. SuperSaw is a layered waveform consisting of multiple saw waves which are detuned to create an extremely full and epic sound. It's possible to use 2 supersaw oscillators per voice * 7 polyphony = 98 saw oscillators playing the same time!
Two independent filters per voice with configurable routing. You can select between various filter types including classic resonant LP,HP,BP,Notch and less common like Comb and Formant. The Morph Group function lets you continuously morph of up to 30 parameters in a sound (including effects), using only the modulation wheel.
Oscillators
2 warm-sounding analog modelled oscillators per voice + 2 sub-oscillators (except SuperSaw). Available waveforms: Saw, PWM pulse,Triangle, SuperSaw.
Oscillator 2 hard-sync and configurable routing. Osc-mix, ring modulator. White noise oscillator.
Flexible multi filters
Two independent filters per voice with configurable routing. You can select between various filter types including: resonant LP,HP,BP,Notch, Comb and Formant. Configurable routing: serial or parallel with bypass option. ADSR envelope, keyboard tracking and full LFO control.
Modulation
Two LFOs per voice. It's possible to assing each LFO to almost any parameter. 3 LFO running modes: trigger, 1 shot, global. 6 waveforms, phase and fade-in knobs. The Morph Group function lets you continuously morph of up to 30 parameters in a sound (including effects), using only the modulation wheel. Two Modulation ADSR Envelopes for amplitude and filters cutoff. Pitch and modulation wheels.
Effects
A number of effects are built in: distortion, chorus, equalizer, stereo delay. All parameters can be modulated using mod-wheel.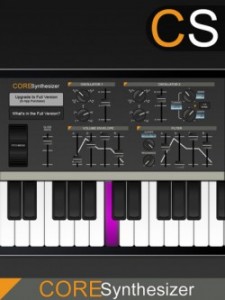 Jasmine Lee has released a free monosynth for the iPad – Core Synth HD.
Get your groove on with Core Synth HD, the definitive monophonic synthesizer for the iPad. With tons of features packed into a small package, Core Synth is great for live performing. A Pitch Wheel replicates perfectly the real thing!
While it's free and has a lot of features – no mention is made of MIDI support, at this time.
Features:
Pitch Wheel
2 Octave keyboard
Keys light up in different colors when pressed
Oscillator Module

Dual overlapping oscillators
Four wave patterns: Square, Triangle, Sawtooth and Reverse Sawtooth
Select from 5 octaves
Adjust glide between notes
Fine tune Oscillator 2 with option to sync with Oscillator 1

Volume Envelope Shaper

Edit ADSR (Attack, Decay, Sustain, Release)
Low Pass Filter Module
Adjust Cutoff and Resonance
Edit ADSR (Attack, Decay, Sustain, Release)

Upgrade to the full version within the app for the following additional features:

7 Octave Keyboard
Octave control to move along entire range
Modulation Wheel

Patches Module

Save an unlimited number of individually named patches
Browse through your collection before applying patch
Delete unwanted patches

Modulation Module

Four wave patterns: Square, Triangle, Sawtooth and Reverse Sawtooth
Modulate Filter, Pitch or Wave
Adjust LFO Rate and amount

Arpeggiator Module

Arpeggio moves up to 5 octaves
Four step modes: Up, Down, Up/Down, Random
Adjust rate
Core Synth HD includes open source code from MobileSynth, developed by Allen Porter.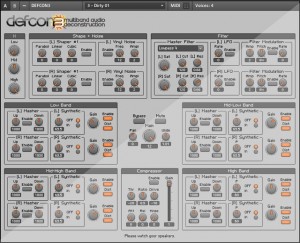 DNR Collaborative has introduced DEFCON3, a 'Multiband Audio Deconstruction Unit' for Native Instruments Reaktor.
According to the developers, 'DEFCON3 is a complete multiband lo-fi, distortion, audio deconstruction device that is capable of taking any audio and completely mangling it in a variety of ways. It can go from subtle dirt to all out war in just a few knob turns.'
The DNR Collaborative is an organization 'committed to community, constantly looking for new ways to help small developers, artists, designers and musicians reach others with their work.'
Pricing and Availability
DEFCON3 is available now, in beta, as a free download.
Link:
FREE VERSION A-T and STEPPER OUT NOW on TubeOhm.com
First prev from a free step sequencer. The free version contains velo, hold, shuffle, 16 steps, master pitch +/- 2 OCT 2x keyboard trigger modi.
We are working on a polyphonic version too.( but not for free)
Features:
external audio trigger, 16 steps, max 24 voices poly, 2x MIDI CC send.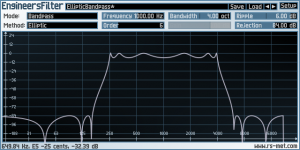 rs-met has released updated versions of EasyQ and EngineersFilter, two free effect plug-ins for Windows.
after some beta testing and bugfixing (thx to all who participated), it's now done. updated versions for EasyQ and EngineersFilter have been released. for EasyQ, it's only a maintenence update with a little bugfix related to colorscheme handling.

EngineersFilter now includes two new approximation methods: Bessel and Papoulis. The Bessel design approximates a linear phase response in its passband and the Papoulis design achieves the maximum negative slope at the cutoff frequency when a monotonically decreasing magnitude response is assumed.
EasyQ and EngineersFilter are available as freeware VST plugins for Windows.
More information: rs-met
this is a demo of the free vst effect mm fx 11 filtshitrev by MASCHINENMUSIK.
the signal ( a vocal sample ) is divided in 3 band and every band is processed seperately. the fx goes from subtle athmosphere to weird rooms and pitch shifted
echoes.
this vst effect is free and can be downloaded from the MASCHINENMUSIK website.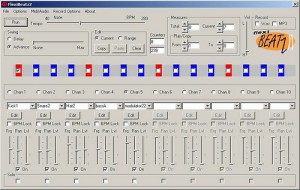 Despite the ugly looking UI you might want to give it a try

Jim Singh presents FlexibeatzII, a FREE self-contained, standalone ten channel pattern-based Step Sequencer for Windows.
"I have felt for some time that it'd be neat if there were a FREE easy to use step sequencer program that lets you use any .wav files for sounds, but also offers powerful editing and synthesis toolsets for each sound, with the ability to shape and sculpt sounds extensively and dynamically while the sequence is playing (but at the same time not compromising the ease of use of the sequencer). "
Download the FREE 14-day demo today
Experience first-hand the difference Lexicon can make in your mix. Be one of the first 100 to demo the product, and you will be instantly entered to win a full version courtesy of Lexicon.
Background info_
You've just wrapped up tracking with artists that are on the brink of breaking into the game. You start mixing when you realize you are craving more, the ability to envelope your mix with that "magical space" that delivers the clarity, depth and fullness that can only be created when recording in a major studio. So you turn to the most trusted name in reverb to achieve the ultimate sound. Lexicon's LXP Native Reverb Bundle provides your music with an engaging aura that brings it to life by placing it in the perfect resonant space.
Lexicon processors have become staples in the recording studio, on stage productions, as well as in every top post-production facility. Now Lexicon has complemented the finest hardware processors with the best software plug-ins available. The LXP Native Reverb Bundle offers four algorithm based plug-ins along with over 220 of the most versatile and finely-crafted studio presets that are sure to change the way you color your mix, forever.
Features at a Glance
4 classic Lexicon reverb plug-ins
Over 220 finely-crafted studio presets
Intuitive user-interface provides easy access to key parameters
Multi-platform compatibility (Windows 7, Vista, XP; Mac OS X 10.4, 10.5, 10.6)
Graphical real-time display illustrating the frequency stages of each algorithm
Formats that work seamlessly in any VST®, Audio Unit™ or RTAS® compatible DAW
Full parameter control and automation
Graphical real-time display illustrates the reverb tail, frequency content and impulse response
Presets can be stored in a DAW-independent format that can easily be transferred to a different DAW
Input and output meters for quick assessment of audio levels
iLok authorized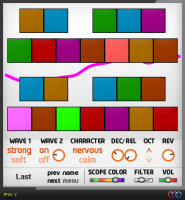 The Colorspace has released Piky, a free synthesizer instrument plugin for Windows.
2 OSCs synthesizer, it's a simple instrument based on the creation of pikes and plucks with extreme easiness.
Many times I need just a really simple pluck or pike, without the need of too much options so I decided to create an instrument only for that!
Piky for Windows (VST) is available as freeware.
Visit: The Colorspace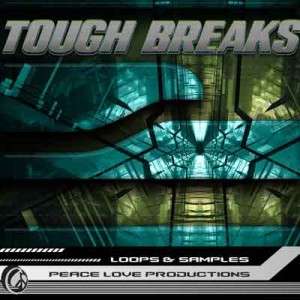 Join Peace Love Productions (PLP) as it celebrates its 10th year of specialized loop packs. For an entire decade, the company has released one pack of royalty-free loops after another, and now Peace Love Productions is giving away Metachemical's Tough Breaks Reason ReFill for free. It's a happy occasion for both PLP and its customers.
Tough Breaks is a Reason ReFill by Metachemical — the ideal collection for producers wanting to create hard-hitting break beat music. This collection includes drum sounds, basslines, synth riffs, and more; it boasts 163 loops, 33 drum one-shots, and 65 MIDI files (of drum beats, synth riffs, and basslines). The beats come with separated drum stems for each instrument, providing kicks, snares, percussion, hi-hats, and cymbals. Also included are synth riffs, basslines, and original sound effects. Likewise, Tough Breaks includes supporting MIDI files for select loops, and its included one-shot drums are mapped out in both EXS24 and Redrum.
Along with Tough Breaks, Peace Love Productions is also giving away a free 1 GB Taster collection to anyone who registers at the company's Web site. The PLP Taster is a sampling of the many different genres that the loop provider has to offer. To receive this taster, visit peaceloveproductions.com, sign up for it, and verify your email address. A download link will be sent to your verified address immediately afterward.
The PLP Taster is a two-part download containing two zips with loops in 16-bit and 24-bit stereo ACIDized WAV. Genres include hip-hop, rock, trance, electro house, deep house, chillout, trance, techno, DJ scratches, industrial, ambient, and more.
According to the manufacturer, PLP was one the very first to offer specialized loop packs. While other companies were releasing audio sample CDs that you had to extract and edit your self, PLP was offering edited ACIDized loops on data discs.
Background check (courtesy of PLP): "PLP got its start by producing content for Sonic Foundry's ACID Dj 3.0 back in 2000. One of the founders of PLP (Jason Donnelly, also known as DJ Puzzle) worked at Sonic Foundry from 1998 to 2000 and during Christmas break he received a phone call announcing he had just lost his dream job due to corporate downsizing. Thankfully he was kept on as a freelancer for many months after that editing and ACIDizing for their wonderful loop discs.
"The ACID DJ gig gave these two a nice little kick start and so they moved on to create even more underground dance loops. They ran a mail order business and printed the CDs as the orders came in. We thank you for supporting PLP and for helping us grow so that we could get inspired and in turn inspire others. To show our appreciation this whole time we have been giving back to the community. For over ten years without skipping a beat, so to speak, PLP has sent out 20 free loops every month to subscribers. Don't forget to grab this months set by the way! Keeping it real for the sake of music."
For more information on Peace Love Productions loop packs, visit peaceloveproductions.com.