Free Reaktor Plugin Delivers Multiband Sonic Mayhem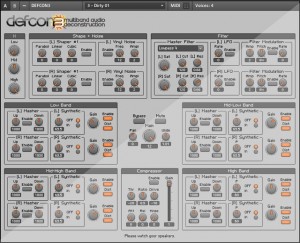 DNR Collaborative has introduced DEFCON3, a 'Multiband Audio Deconstruction Unit' for Native Instruments Reaktor.
According to the developers, 'DEFCON3 is a complete multiband lo-fi, distortion, audio deconstruction device that is capable of taking any audio and completely mangling it in a variety of ways. It can go from subtle dirt to all out war in just a few knob turns.'
The DNR Collaborative is an organization 'committed to community, constantly looking for new ways to help small developers, artists, designers and musicians reach others with their work.'
Pricing and Availability
DEFCON3 is available now, in beta, as a free download.
Link:
Comments