A Particle Magnetophone – free unique musical instrument
No need to touch anything.
http://itunes.apple.com/us/app/a-particle-magnetophone/id485278828
Description:
Let me introduce you one of the best innovative iPad/iPhone apps, which brings a totally new concept of a touch-less, audio-visual application that literally make music in the air and visual effects at the same time. The audio control of generating sound can be compared to the theremin. The trick is that you need not to move or touch your device.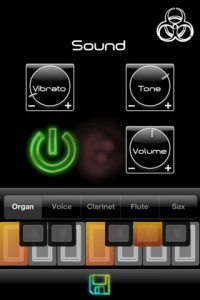 The application uses a combination of the magnetic sensor, great graphic possibilities, and marvelous sound which are offered by iPad/iPhone and iOS. The magnetic sensor is placed just around the biohazard sign on the app's view, so closer you get with a magnetic stuff the higher tones are generating. By included keyboard you can determinate in which musical scale will magnetic fields play sounds.
The sounds are very suitable for music like funky, dub step, electro, trip hop, noise, and many more.
So just grab some magnetic, metaled stuff or get closer to them by upper-right corner of your device and try out.
Use:
– unique musical instrument
– the most impressive metal detector ever
– practical tool to teach/learn how physics or music works
– magician's tool, to make illusion of a magical hand
Features:
– uses 3D space around magnetic sensor to make sounds and animations, touch-less control
– up to 5 octaves available (depends how strong magnet is)
– change speed or variation of particle animation sequences
– change particle size of animation sequences
– variety of 5 synth instruments simulating sound of organ, human voice, clarinet, flute and
saxophone
– tune color or vibrato of the generating tone
– change sound volume
– set your own musical scale by the virtual keyboard to be played
– save your settings
– play along with your music library or on the background while playing another touchable or shakeable instrument (more feasible for dual-core devices)
– designed for iPad2, but iPhone version included
Comments