LIVKONTROL – new Ableton Live controller for Android
LIVKONTROL – an Ableton Live controller previously available for iOS – is now available for Android devices.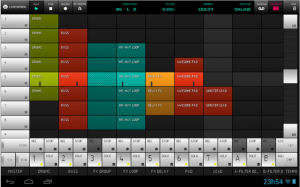 Here's what the developers have to say about it:
LIVKONTROL aims to deliver the best possible experience controlling Ableton Live remotely. Boasting an extremely simple yet functional design, all the main control features are at a distance of a finger. Alternative application views are toggled via multitouch gestures for a even simpler usage experience.
LIVKONTROL is also considered by users as the easier and most responsive Ableton Live remote controller for mobile devices due to it's plug & play connection to Ableton Live, using LKBRIDGE.
Features:
Remotely control your Live session
Easy to set up
Scrollable viewport for full scene access
Scene launch buttons with scene name
Clips reflect color, name, play status and position
8 MIDI sliders for custom MIDI assignment
Mute, stop, solo and arm tracks
Control track volumes and pan easily in a and space saving format
Interface lock feature
Song play, stop, record and tempo control
Metronome control
Tempo tap up and down
Quantization selection
Requirements:
In order to use LIVKONTROL, it is necessary to download and install LKBRIDGE, the required connection software. Windows and Mac OSX version are available.
LIVKONTROL for Android is available now, with a free version, a $9.99 basic version and a $29.99 Pro version.
Comments