New studio section turns VocaLive into a full-fledged DAW! More information at http://www.ikmultimedia.com/vocalive
VocaLive is now the digital audio workstation for singers and songwriters
What's new in VocaLive 2.0 –
• Studio section* (available via in-app purchase) offers DAW-style features: waveform visualization and editing, touch-and-drag looping, normalization, punch-in/punch-out recording, per-channel FX on/off button and full access to all mixing and recording controls
• AutoFreeze (allows each track to have its own full effects chain)
* requires iPhone 4, iPod touch (5th generation), iPad 2 or later
Image-Line has announced the release of a 64-bit version of its FL Studiomusic production software.
FL Studio 64 Bit is a free option for existing customers while new customers get FL Studio 32 and 64 Bit with no change to current FL Studio pricing.

FL Studio 64 is available in a single unified FL Studio 32/64 Bit installer or as a 64 Bit update installer for any version of FL Studio 11.
FL Studio 64 Bit features
Access up to 512 GB memory, depending on your Windows version.
32 Bit bridged and 64 Bit native VST plugin support.
Project compatibility between 32 and 64 Bit versions.
FL Studio available as a 64 Bit VST plugin for use in 64 Bit VST hosts.
Limitations: The following features & plugins rely on 3rd party code that is not available in 64 Bit at this time – Buzz Adapter, Edison 'Clean Audio' function*, FL Slayer, Fruity Soundfont Player*, Synthmaker/Flowstone*, Wasp/Wasp XT (*Planned for a future 64 Bit update).
Find more details on the 64-bit update at this news post.
FL Studio is available for purchase in various editions, starting at $99 USD. New Image-Line customers can save 10% off a purchase here.
Enjoy
Supplemental video to the Caustic 3 overview video to show what's new in this release.
The full app overview is here:
https://www.youtube.com/watch?v=q86Or…
New KSSynth tutorial is here:
https://www.youtube.com/watch?v=qaOF6…
As a thank-you to those who actually *watch* these tutorial videos, I've made this little tutorial showing how to unlock a fun little extra feature in Caustic 3.1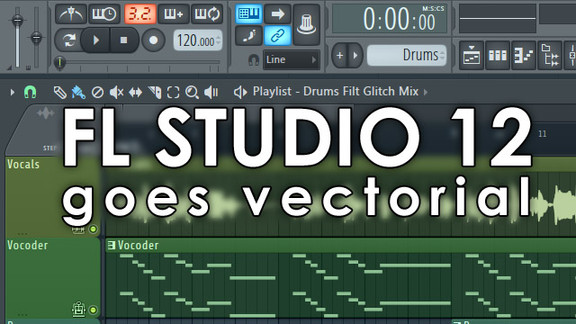 Image-Line has announced the release of an alpha preview version of FL Studio 12, the music production software for Windows.
FL Studio customers you can now download the FL Studio 12 ALPHA-PREVIEW to give us feedback about the extensive workflow changes.

What's this for?

We are looking for feedback about some of the major changes in workflow that have been made so far. Please try it out and let us know what you think of how it works. We're not really looking for bug reports, at this time.
Changes in FL Studio 12 (alpha preview)
Browser – The Browser has changed (now with category tabs and the ability to delete content on right-click).
Channel Menu – The Channel Options Menu has moved from the Toolbar Menus to the Channel rack.
Channel settings – Have been integrated into the Plugin Wrapper.
Interface – Vectorial user interface. See Options > General Settings > GUI display.
Per Channel Swing – The Channel Settings now has a 'swing multiplier' amount.
Pattern Menu – The Pattern Menu has moved from the Channel rack to the Toolbar Menu and Pattern Selector.
Piano roll – Piano roll Auto-zoom can now we deselected from Settings > General > Auto zoom in piano roll.
Playlist – Multiple drag and drop for audio files onto Playlist (from a Windows file browser).
Stepsequencer – Stepsequences are now interchangable with Piano rolls.
VST Plugins – VST plugin installation has changed.
The alpha preview version (currently only 32-bit) is available to download to registered Image-Line users.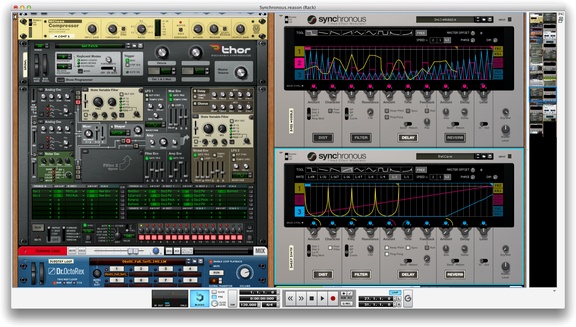 Propellerhead has released an update to its award-winning Reason software and Synchronous, a modulation Rack Extension plug-in for Reason.
Since its release in 2012, Propellerhead's Rack Extension platform has emerged as a powerful audio plug-in format currently with over 600 companies developing and over 200 instrument and effects devices available via Propellerhead's online store.
Rack Extensions blend seamlessly in the Reason rack offering great sound, smooth workflow, rock-solid stability, intuitive routing, automation, deep-editing and flexibility Reason users expect.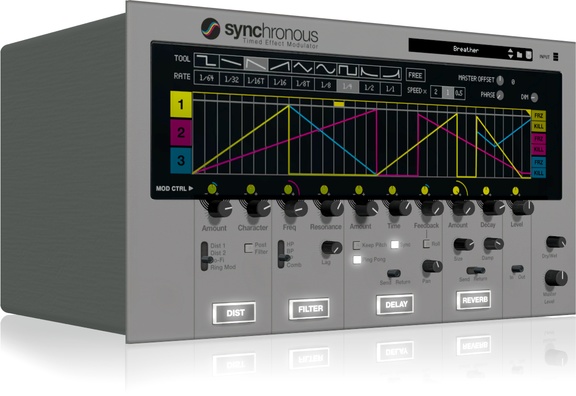 Highlighting new interactive graphic capabilities of the SDK2 technology, Synchronous is a Rack Extension plug-in for Reason that offers rhythmically synced effects that bring your music to life.
With a dynamic and intuitive graphic user interface and the ability to instantly recall over 100 patches, Synchronous is incredibly flexible.

With the built-in waveform tools, users can easily draw and dial in Distortion, Filter, Reverb, Delay and level for anything from side-chain pumping and tremolos to beat-repeating and tweaked out wobbles.
Reason 7.1 is a free downloadable update for all Reason 7 owners. Existing Reason upgrade pricing remain the same at $129 USD / 129 EUR. Synchronous is available for free for all Reason 7.1 customers up until June 30th, 2014.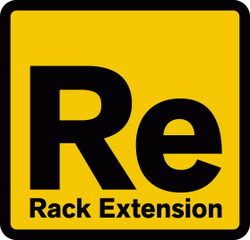 Propellerhead has announced further advancements to its software developer kit, that make it easier to build and sell Rack Extensions for its award-winning Reason platform.
Designed for both C++ engineers and sample instrument designers, the updated SDK2 and new Instrument Development Toolkit (IDT) have all the tools necessary to develop stunning instruments and effects and bring them to market with minimum effort.

"Our goal is to create a turn-key solution for developers to build, sell and market their Rack Extensions and extend the pool of instrument makers to content developers," remarks Timothy Self, VP Product Marketing.

Since its release in 2012, Propellerhead's Rack Extension platform has emerged as a powerful audio plug-in format currently with over 600 companies developing and over 200 instrument and effects devices available via Propellerhead's online store. Rack Extensions blend seamlessly in the Reason rack offering great sound, smooth workflow, rock-solid stability, intuitive routing, automation, deep-editing and flexibility Reason users expect.

Rack Extension SDK2 includes a programming interface to create custom interactive displays. The scriptable Instrument Development Toolkit allows developers build professional sample based instruments without writing C++ code and sell them directly in the Propellerhead Shop. In addition, instrument designers can quickly transfer existing Kontakt and NN-XT sound libraries into the Rack Extension instruments using the Toolkit.
Rack Extensions SDK2 is available today. The Instrument Development Toolkit is expected in May. Developers can sign-up now at Propellerhead's website.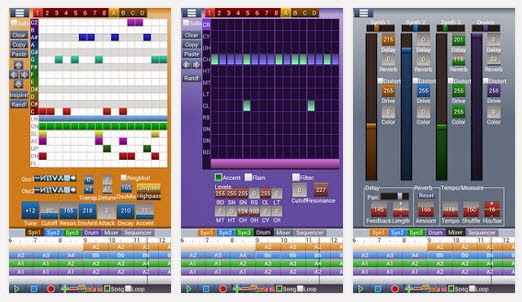 Phoenix Studio is coming to Android and iOS. Three monosynths, a drum machine, a mixer and some effects – what else do you really need? Oh yeah, a sequencer, so you can put it all together! And all this is what PhoenixStudio is!
Below is a text from Android Mobile on the topic:
This is a great new addition to the Android music making applications if you are interested in the more acid / synthesizer aspect of music making, but can of course be used for more than acid type of sounds. It comes with three Synthesizers and one Drum track with the possibility to sequence and comes with some effects plus the possibility to record changes on the fly.
It is the same amount tracks, sound modules and being 303'ish in the sounds it creates it could be compared to Mikrosonics RD4. The biggest difference is that RD4 is much easier to use as a Groovebox ( if not the easiest to use Groovebox ) and RD4 comes with more effects, more possibilites and full midi integration but…
Have not used PhoenixStudio much but my impression is it seems to have much clearer and better sound, making it interesting for people that would like something similar to RD4 but are more interested in the sound and less in the Groovebox aspect.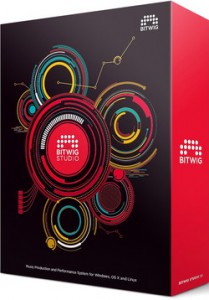 Bitwig has announced the release of Bitwig Studio, a multi-platform music-creation system for production, performance and DJing, with a focus on flexible editing tools and a super-fast workflow.
Record and arrange, improvise and perform, or do it all at once. Choose between several display profiles. Design your own sounds with dedicated container devices. Combine built-in instruments, effects, and VST plug-ins.

Bitwig Studio's unified mapping system allows you to modulate any device or VST parameter using macro controls and modulator devices. Explore a new world of creative possibilities, including audio and note expressions, histogram-based value editing, layered editing, extensive bounce-in-place functions, automatic slicing, smart controller integration, and the Open Controller Scripting API.

Every feature in Bitwig Studio was developed by musicians, for musicians. Welcome to the next generation of music creation and performance software for Windows, Mac OS X, and Linux.
Bitwig Studio features
Cross-platform DAW (Windows, OS X, Linux).
Intuitive non-linear sequencing for the studio world and beyond.
Full multi-core and multi-processor support.
VST 2.4 support with built-in 32-/64-bit bridging and plug-in crash protection.
Proprietary time-stretching technology.
Unlimited Audio Tracks.
Unlimited Effect Tracks.
Multi-display support for up to 3 displays.
Unlimited Note Tracks.
Unified Modulation System: Use Macro Controls, Note Expressions, LFOs, and Envelope Followers to modulate any device parameter, including nested internal devices and even VST plug-ins.
Note and Audio expressions, including per-note Micro-Pitch Control.
Automatic sample slicing to both Sampler or Drum Machine.
Record and edit both track and clip automation in absolute and relative modes.
Support for numerous MIDI controllers out of the box.
Multiple tools for specific tasks and editing workflows.
Macro Controls per device, as well as dedicated Device Panel Mappings with color-coded knobs and buttons for an overview at a glance.
Advanced layered editing.
Open Controller API: Lets you create and customize functionality for virtually any MIDI controller, including scripting access to nearly every feature of Bitwig Studio.
File import: WAV, MP3, AAC, WMA, FLAC, and Ogg Vorbis.
A PDF Manual is included with the Bitwig Studio application in English and Japanese.
Bitwig Studio for Windows, Mac, and Linux costs MAP $399 USD / 299 EUR.
We got a sneak look at the new features of Tracktion 5 at NAMM 2014
Just a couple of the features: Step mode patterns – address multiple instruments with a step based pattern type.
Track Freeze mode position – freeze the track after the compressor but before the EQ or whatever you need – very cool for CPU load management.
Nested edit patterns – take an entire arrangment or section, re-arrange, trim and edit and throw it back on the timeline as a single object – really cool idea.
There are many more enhancements demoed in the video.
Traktion is available from the Traktion website.
A sneak peek at what C3 E3 can do for your Caustic 3 tracks….. this one is HOT.