Subtractor, the original Reason synth, still packs a punch! In this tutorial we'll learn the basics of this virtual analog classic by creating a synth bass from scratch. Regardless if you own Reason, Reason Essentials or if you're just trying out the demo, this should get you started creating your own sounds with Subtractor!
Just a quick video on how to crreate cool drum and bass beats with iOS apps. Drums: GlitchBreaks and DM1, Bass: Magellan (2 instances), FX – Animoog, DAW – Cubasis.
Dennis from Ableton goes over a few of the key features within their new DAW and performance controller, Ableton Push.
Atlanta's own Tech Beats gives us a live demo using Ableton Push.
"Push is a new instrument that solves an old problem: how to make a song from scratch. With hands-on control of melody and harmony, beats, sounds, and song structure, Push puts the fundamental elements of music making at your fingertips – and it fits in a backpack alongside your laptop. 64 pads give you multiple ways to make beats. Play, step sequence, and navigate your loop – all at the same time."
Introduction to the A-Series Modular Synth Rack Extensions for Reason
The A-Series Modular Synth is the first fully modular synth for Reason, where you can design your synths however you want for whatever sound you can imagine. And because all the modules are mix-and-match, all those Reason effects and devices that you already have can go right inside your custom synth.
Brandon from Roland walks us through Cakewalk Sonar X2 and its ability for multitouch mixing on touch screens.
Cakewalk marcomm pitch:
From getting a great tone to releasing the final mix, today's musicians must master every element of the music production process. SONAR X2 is there every step of the way and takes each element to the next level of power and usability. And thanks to the revolutionary Skylight user interface, SONAR X2 lets you move seamlessly among the elements, instantly going from recording to editing to mixing and back again. And do it all with a single Smart Tool. It's genius.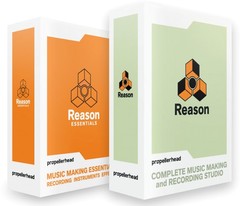 Propellerhead Software has announced updates to its Reason and Reason Essentials music production software.
Reason 6.5.3 and Reason Essentials 1.5.3 fix a few serious bugs, the most important being a problem where the program could crash under Mac OS X 10.8. These new versions replaces versions 6.5 and 1.5 of Reason and Reason Essentials. It is recommended that you update as soon as is convenient.
Changes in Reason / Reason Essentials
Fixed a problem related to scrollbars under Mac OS 10.8, where the program could crash.
Fixed a Create Menu bug, where sometimes the wrong device would be created.
Fixed a bug in how the Browser uses the registry under Windows. This could lead to situations where some file types couldn't be browsed and loaded.
The Download All function for Rack Extensions could cause the Authorizer to misbehave or fail.
The updates are now available to download.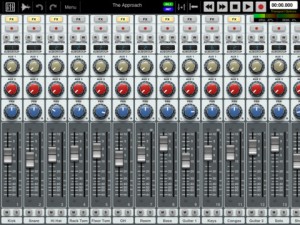 Auria LE – the professional digital audio recording system for iPad.
The mobile DAW you've been dreaming of has finally arrived. Auria LE is a 24-track digital recording system designed from the ground up for the iPad. With professional-level features and optional third-party plugin support from names like PSPaudioware, Overloud, Fab Filter and Drumagog (available via In-App purchase), Auria clearly sets a new standard for mobile recording.
FEATURES:
24 tracks of simultaneous playback of stereo or mono files (upgradable to 48 tracks).
Up to 8 tracks of simultaneous recording when used with compatible USB audio interfaces (upgradable to 24 tracks of recording) Camera Connection Kit required.
24-bit recording
Supports sample rate of 44.1KHz only (upgradable to support 48K and 96K sample rates)
Vintage-inspired ChannelStrip on every channel by PSPAudioware includes Expander, Multiband EQ and Compressor
MasterStrip on all subgroup and master channels featuring PSPAudioware BussPressor, EQ and Mastering Limiter
Third party VST effect plugin support available via in-app purchase (only iOS-version plugins are supported. All plugins must be purchased through the in-app store)
ClassicVerb reverb plugin included
StereoDelay and StereoChorus plugins included
2 Assignable subgroups(upgradable to 8) and 2 aux sends
Powerful waveform editor with features like cut/copy/paste, duplicate, separate, gain, and more
Flexible snapping tools allow snapping to events, cursor, bars, beats and more
DropBox, SoundCloud and Audio Copy/Paste support
Full automation support on all controls with graphical editing
True 100mm faders when used in Portrait Mode
Optional video import feature allows sample accurate sync of video to an Auria project with adjustable offset times and video export capability
Timeline ruler options include minutes:seconds, bars:beats, samples and SMPTE time
Auto-punch mode
Full delay compensation on all tracks and subgroups
Adjustable metering modes, including pre or post fader, RMS and peak
Adjustable pan laws
Sample accurate loop function
Automatic sample rate conversion
Built-in metronome
Includes a demo song mixed on Auria by Grammy winning producer/engineer David Kahne.
REQUIREMENTS:
iPad 2 or later strongly recommended.
Requires iOS 5.0 or later
USB audio interfaces require Camera Connection Kit
Additional videos for this title: http://j.mp/U6aBEw
Pro Tools First Look: Overview Of Pro Tools by Scott Freiman
Video 1 of 6 for Pro Tools First Look: Overview Of Pro Tools
This Pro Tools tutorial serves as a quick overview to the powerful new features in Pro Tools. If you want to see what Pro Tools is all about, or even if you want to compare Pro Tools Vs. Logic or Ableton Live, this free video is for you!
In 30 minutes of tutorials you'll learn about the Pro Tools interface, how MIDI & notation work, and how to use Track Comping and Playlists in your Pro Tools sessions. There's also an overview of Pro Tools' new plugins!
If you like this free Pro Tools tutorial, be sure to check out our comprehensive Pro Tools 101: Core Pro Tools tutorial video, which is also produced by Scott Freiman.
More info on this title: http://j.mp/U6aBEw
In this video we are showing all the effects that come with Cubasis for iPad.
Download Cubasis from the AppStore – goo.gl/p25xN
Portable Music Production System
Cubasis is Steinberg's streamlined, multitouch sequencer for the iPad. Specially designed for quick and easy operation, Cubasis makes recording, editing and mixing a breeze. Record tracks in CD audio quality, and edit your music with the Key and Sample Editors, while the included mixer and audio effects polish your song to perfection. Cubasis comes loaded with dozens of virtual instrument sounds which can be played in real time using the virtual keyboard and drum pads. Cubasis' projects can be even opened in Cubase under Windows and OS X! Cubasis places touch-intuitive production tools in your hands, opening up a new world of possibilities for your creativity.
Key features
• Unlimited audio and MIDI tracks (depends on the device used)
• Over 70 virtual instrument sounds based on HALion Sonic
• MixConsole with over 10 effect processors
• Over 300 MIDI and audio loops
• Virtual keyboard and virtual drum pads
• Sample Editor and Key Editor
• Export projects to Cubase, Dropbox, SoundCloud, AudioCopy and email
• Core Audio and Core MIDI compatible hardware supported
• Sequence other CoreMIDI apps (MIDI recording only) and run Cubasis simultaneously via background audio
• Audio import from iTunes music library, AudioPaste, Wi-Fi server and iTunes file sharing
• Audio mixdown and MIDI export
Drums. They're absolutely everywhere and vital to most music. A good drum track can make or break a track. Luckily Mattias has some useful tricks up his sleeve to help you spice up your drum patterns!
Learn about ghost notes, tips for using REX loops to add some groove and how to create complex patterns in simple ways using polymeter.