Our favorit tracker/DAW gets a major upgrade adding new features and many improvements.
* Supercharged instruments with per-sample modulation effects and more
* New real-time performance options
* Instrument phrases
* New DSP effects and pattern commands
* Reworked GUI
2.8 includes some major feature additions like full 64 bit support, reworked pattern matrix, track groups, DPS effects, sample editor additions, pattern effects and LUA changes!
Still in beta so only registered users can try it!
Demo test video of an early beta version of Cells! for Renoise. Cells! turns Renoise into a real-time performance tool.
Note: The screen capture application makes the GUI a bit more sluggish than it really is. Also the audio and video go out of sync towards the end.
Development thread on the Renoise forums: http://bit.ly/vfJd4B
With Renoise you create loops, beats and melodies efficiently step-by-step. It's a complete, expandable Digital Audio Workstation (DAW) with a refreshing twist.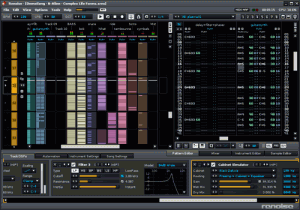 The Pattern Sequencer and the Pattern Matrix are shown on the left half of the screenshot above. They are intended to view and edit the song structure. The Pattern Sequencer is a playlist for Patterns. You can also use it to navigate around the song. The Pattern Matrix gives you a more detailed view of the song and speeds up the workflow by letting you copy/paste blocks.
On the right is the main editor, the Pattern Editor. It displays notes and effects in a grid that can be navigated and controlled with the computer keyboard. The Pattern Editor takes the best things about text editors and brings them into the audio world: they are perfect for precise, repeating operations. Constructing a beat just makes more sense when you can punch in the drum hits with a keyboard rather than clicking and dragging lines with a mouse.
On the bottom of the screen is the effect chain of the selected track. Renoise comes with a large set of built-in effects, but also supports VST, AU, DSSI and LADSPA plugins.
New Features in Renoise 2.7
Sample Keyzone Editor
Sample Slicing
Improved Automation
Redesigned Instruments
MIDI Input Routing
Real-time Line-In Rendering
Multiband Send Device
Some new Instrument & Sampler features at a glance:
Sample Keyzones GUI editor per instrument
Map different samples to different velocity ranges
Map samples to key release as well as key press
Stack samples and create overlapping sections
Toggle envelope on/off per keyzone
New Release sample loop option for exiting the loop on key release
MIDI Input can now be routed to individual instruments and tracks
Extended drumkit and keyboard layout generation options
Sample envelopes now have Points mode in addition to Linear and Curve
Autofade setting per sample for quickly fading beginning and end of samples
Select multiple samples and batch edit properties
Overhauled instrument properties GUI, now in lower tab