Here is a video breaking down the creative process of a sampled based beat using Native Instruments Maschine and Vinyl records. We included a few screen shots of the Maschine software as I made changes on the control surface. We start off by grabbing a few records, pulling some drums, Choosing some samples and then we put the whole thing together and sequence it using the Maschine's software.
Want to hear more? Check out B.A.D Company – Bars and Drums (Produced by Asterix) on Itunes http://itun.es/iLY3LT.
Get WerkBench here: http://bit.ly/L6jhd9
WerkBench is a live sampling step sequencer. There is nothing else like it! The next update (1.03) includes the ability to easily define custom tuning and scales.
Now you can use WerkBench to turn any sound into awesome melodies.
In this demo, I build a beat quickly and then play with this new feature with sounds from a Casio.
WerkBench features:
–"Fancy Controls" (pitch, lowpass filters, envelopes, and more!)
–Edit pitch and levels independently for each step!
–Funky lo-fi tape echo for spacey effects with a sweet real-time visualizer.
–The two sequencers can be chained to make a 32 step sequencer!
–Save and load loops.
–Export loops and recordings via Audio Copy, iTunes file sharing, and email.
–MIDI sync and MIDI trigger modes
–Custom scales (never play a wrong note!)
Something to try perhaps – bring out the samplers into the wild:
unshine in England is precious, so when the weather is fine it feels sinful to be cooped up in a studio, I'm very lucky to have the choice, so why not choose?
When the weather is fine, I like to take a few bits of gear outside and enjoy being creative in a different environment, plus there are all sorts of other sounds to explore outdoors, and in this case, sample.
A quick video of me making beats entirely out of recordings of objects found in the garden. No previously recorded samples were used.
Capturing sounds with a vintage Sennheiser MD-21 microphone, then using the EMU SP1200 for its inimitable fidelity, then resampled and sequenced on an Akai MPC 5000.
Videoed by me on a Canon 5D mkii.
This programme is an experiment. An exploration. It's been put together with enormous enthusiasm and equipment designed for other purposes. The basis of it is an unlimited supply of magnetic tape, recording machine, razor blade, and some thing to stick the bits together with. And a group of technicians who think that nothing is too much trouble – provided that it works.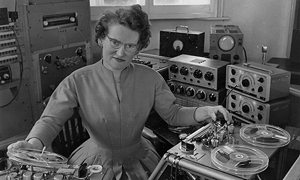 "You take a sound. Any sound. Record it and then change its nature by a multiplicity of operations. Record it at different speeds. Play it backwards. Add it to itself over and over again. You adjust filters, echos, acoustic qualities. You combine segments of magnetic tape. By these means and many others you can create sounds which no one has ever heard before. Sounds which have indefinable and unique qualities of their own. A vast and subtle symphony can be composed from the noise of a pin dropping. In fact one of the most vibrant and elemental sounding noises in tonight's programme started life as an extremely tinny cowbell.
"It's a sort of modern magic. Many of you may be familiar with it. They've been exploiting it on the continent for years. But strangely enough we've held aloof. Partly from distrust. Is it simply a new toy? Partly through complacency. Ignorance too. We're saying at last that we think there's some thing in it. But we aren't calling it 'musique concrète'. In fact we've decided not to use the word music at all. Some musicians believe that it can become an art form itself. Others are sceptical. That's not our immediate concern. We're interested in its application to radio writing – dramatic or poetic – adding a new dimension. A form that is essentially radio.
"Properly used, radiophonic effects have no relationship with any existing sound. They're free of irrelevent associations. They have an emotional life of their own. And they could be a new and invaluable strand in the texture of radio and theatre and cinema and television."E
Defame and Nathan Monk present [Circuit Bent Beats]. A collaborative experimental project based around Defame sampling and chopping/looping sounds recorded by Monk through various circuit bent objects; kids toys, turntables, etc. The 5 song EP will be available 3.27.12 via audiorecon.net and defame.bandcamp.com.
In this video see an extended explanation and review of the amazing Iris synthesizer plug-in from iZotope.
Description:
Unearth a world of sounds you've never heard before. Driven by iZotope's award-winning visual selection technology, iZotope Iris™ is a groundbreaking sample-based synthesizer that harnesses the power of both your eyes and your ears. Fuel your creativity with Iris's new spin on sound design: a "visual instrument" that's perfect for musical inspiration and sonic experimentation.
KEY FEATURES
Discover what's inside any sound: Load audio into Iris and explore spectral details that a regular waveform locks away.
Highlight what intrigues you: Extract and isolate the most interesting sonic components with a full suite of visual selection tools.
Combine the unthinkable: Layer completely diverse sound sources into totally unique combinations… what do a tattoo needle and a swamp bird and a slot machine sound like together?
Stay musical: Rely on intelligent root note detection to help shape musical material from noise, ambient textures, soundscapes… even mistakes!
Enhance and invigorate your sound: Apply world-class iZotope reverbs, distortions and delays, then take advantage of extended synth features like amp envelopes and LFOs.
Get amazing sounds immediately: Spark your imagination with over 500 patches by world-class sound designers, or design your own with Iris's 4 GB library of diverse sound samples.
BeatCleaver is a slicing tool for sampling from songs and cutting up beats. This new 1.2 release adds MP3/M4A support, smooth zooming, a new timeline bar, and more! Check it out at: http://www.oscillicious.com/beatcleaver
Here's what they have to say about the update:
"With new support for MP3 and AAC formats, sampling from existing songs and recordings has never been easier. DJs can now easily save loops from songs to use with sampler decks and artists can cut samples for remixes and mashups.
The new Advanced Slicing menu facilitates slicing audio by fixed bars or beats, perfect for chopping multi?track exports for live resequencing."
Additional – Santoni shares info on an open source library that they've been working on:
In partnership with Mixxx, the free DJ software, we've released an open
source library for decoding compressed audio in a cross-platform way
called "libaudiodecoder". This library grew out of the common needs of
both projects, and we hope it'll help other audio developers too.
BeatCleaver now ships with libaudiodecoder for enhanced audio format support.
BeatCleaver 1.2 is available now for US $15 /13 EUR. It's a free update for existing users.
The first half of the video is an interview with Midge Ure on sequencing, guitar synths, and sampling.The second half features some behind-the-scenes footage of Peter Wilshire and Robin Lumley gathring field recordings at a zoo for sample-based compositions.
"From a very old VHS (1986/7?). The reasons I just had to upload it were: a) it has to be the inspiration for Look Around You's Synthesizer Patel; b) Midge Ure demonstrates the keytar by playing Stairway! There's a big jump in the middle as this is a cut-and-shut job."
Nanoloop comes without sample-kits or pre-set instruments, you have to build all sounds from scratch. This little tutorial shows how to create a hihat-like sound by re-sampling the internal synth.
iPhone application:
Nanoloop for iPhone combines sequencer, synthesizer and sampler in one package. It provides all functions for creating electronic music from scratch.
Features:
- Straight, minimalistic graphical interface
- Pattern-based stepsequencer
- 6 channels, each can be synth or sampler
- Song editor with loop function
- Synth with envelope, filter, lfo etc
- Sample on the fly
- Re-sampling
- Save function
- Sample-import via e-mail
- Copy & paste of samples
- File management via iTunes
- WAV-export
- Export to clipboard
- Send and receive projects via e-mail
Six example projects are included.
Sequencer
Built from ground up and specifically optimised for touchscreens, nanoloop's stepsequencer is very fast and simple to use.
Synth
The simple but powerful synthesizer allows to create a great bandwidth of sounds, including beats, noises, basses and pads. Available synthesis types are:
- rectangular wave with filter
- FM
- LFSR noise generator
Each synth channel is two-voice polyphonic and an additional stereo effect can be applied.
Sampler
Short samples can not just be used in a drum-machine style, but also be pitched and played as notes.
Samples can be recorded via microphone (iPhone only), headset microphone (iPhone, iPod touch 2nd gen only) and from nanoloop's own sound output.
Simple and basic, but serves its purpose
SoundMashine granular synthesis based sound sampler and sequencer app for iphone 4 ipad 2, sound sequencer
SoundMashine is a granular synthesis based sound sampling and sequencing instrument.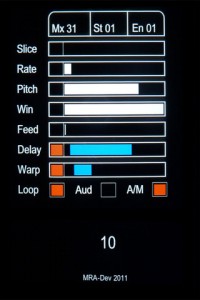 Fully utilising touch gestures to provide a fast and easy to use compositional tool. The app records sound using the devices built-in microphone, then divides the sound into slices which are then automatically assigned to each of the 16 screen tiles. Each tile has its own set of parameters allowing you to adjust window size, playback rate, pitch, feedback, delay and delay modulation, all of which are easily set by the swipe of a finger. Each parameter listed can also be randomised between a set of assignable values. Using the sequencer function patterns of tiles can be recorded and played back at different speeds, again using simple touch gestures.
With its flexibility for working with sound at different pitches, rates and sequencer speeds, SoundMashine lends itself well to a variety of compositional paradigms, from beat based through to drone or noise based music forms.
Combines the synthesis power of Addictive Synth with an easy to use 4 track loop recorder. It was never so easy to create beautiful sounds and driving loops.
The unique dynamic wavetable synthesis allows you to explore an unprecedented wide range of sonic territory. From acid loops, crystal clear percussions, realistic human choirs to complex musical soundscapes nothing seems impossible with only a handful parameters to tweak.