The first half of the video is an interview with Midge Ure on sequencing, guitar synths, and sampling.The second half features some behind-the-scenes footage of Peter Wilshire and Robin Lumley gathring field recordings at a zoo for sample-based compositions.
"From a very old VHS (1986/7?). The reasons I just had to upload it were: a) it has to be the inspiration for Look Around You's Synthesizer Patel; b) Midge Ure demonstrates the keytar by playing Stairway! There's a big jump in the middle as this is a cut-and-shut job."
Nanoloop comes without sample-kits or pre-set instruments, you have to build all sounds from scratch. This little tutorial shows how to create a hihat-like sound by re-sampling the internal synth.
iPhone application:
Nanoloop for iPhone combines sequencer, synthesizer and sampler in one package. It provides all functions for creating electronic music from scratch.
Features:
– Straight, minimalistic graphical interface
– Pattern-based stepsequencer
– 6 channels, each can be synth or sampler
– Song editor with loop function
– Synth with envelope, filter, lfo etc
– Sample on the fly
– Re-sampling
– Save function
– Sample-import via e-mail
– Copy & paste of samples
– File management via iTunes
– WAV-export
– Export to clipboard
– Send and receive projects via e-mail
Six example projects are included.
Sequencer
Built from ground up and specifically optimised for touchscreens, nanoloop's stepsequencer is very fast and simple to use.
Synth
The simple but powerful synthesizer allows to create a great bandwidth of sounds, including beats, noises, basses and pads. Available synthesis types are:
– rectangular wave with filter
– FM
– LFSR noise generator
Each synth channel is two-voice polyphonic and an additional stereo effect can be applied.
Sampler
Short samples can not just be used in a drum-machine style, but also be pitched and played as notes.
Samples can be recorded via microphone (iPhone only), headset microphone (iPhone, iPod touch 2nd gen only) and from nanoloop's own sound output.
Simple and basic, but serves its purpose
SoundMashine granular synthesis based sound sampler and sequencer app for iphone 4 ipad 2, sound sequencer
SoundMashine is a granular synthesis based sound sampling and sequencing instrument.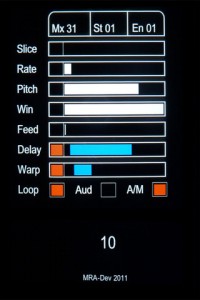 Fully utilising touch gestures to provide a fast and easy to use compositional tool. The app records sound using the devices built-in microphone, then divides the sound into slices which are then automatically assigned to each of the 16 screen tiles. Each tile has its own set of parameters allowing you to adjust window size, playback rate, pitch, feedback, delay and delay modulation, all of which are easily set by the swipe of a finger. Each parameter listed can also be randomised between a set of assignable values. Using the sequencer function patterns of tiles can be recorded and played back at different speeds, again using simple touch gestures.
With its flexibility for working with sound at different pitches, rates and sequencer speeds, SoundMashine lends itself well to a variety of compositional paradigms, from beat based through to drone or noise based music forms.
Combines the synthesis power of Addictive Synth with an easy to use 4 track loop recorder. It was never so easy to create beautiful sounds and driving loops.
The unique dynamic wavetable synthesis allows you to explore an unprecedented wide range of sonic territory. From acid loops, crystal clear percussions, realistic human choirs to complex musical soundscapes nothing seems impossible with only a handful parameters to tweak.
Roland has introduced the SPD-SX Sampling Pad, a multi-pad percussion instrument with 2 GB of onboard sampling memory and three powerful effects engines.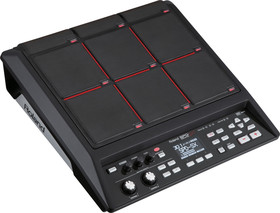 The SPD-SX replaces the popular SPD-S, the industry-leading sampling pad, which has been the overwhelming choice of professional drummers and percussionists. The SPD-SX leads the way with the latest pad-sensing technology, enhanced sampling performance, an assignable click output, and a host of other features.
SPD-SX features
Unique sampling-pad concept — the only instrument of its kind in the world.
2 GB internal memory, enabling approximately 360 minutes of sampling (mono) without requiring external memory.
Nine velocity-sensitive rubber pads, two external dual-trigger inputs.
Easy capturing and assignment of audio data through Multi-Pad Sampling.
Three units of multi-effects onboard, with two real-time control knobs and four dedicated effect buttons.
Individual Pad Dynamics indicators show pad status and audio-level activity during performance.
Expanded USB functionality (USB Mass Storage, USB MIDI/AUDIO, USB Memory).
Wave Manager software included for easily importing, assigning, and organizing samples.
Large backlit LCD.
The SPD-SX will be available in October with an MSRP of $1199.00 USD.
Experimental analog sampling with modified vinyls.
Sectors from a vinyl record are cut and replaced by pieces with exact shape from other records. When played in a vinyl player the needle follows the grooves from both sectors creating sampled tunes or loops.
Music sampling has been done for years using different techniques. Currently samplers (either as a piece of hardware or as software) is the most extended tool for playing samples that can come from digital formatted music, live recording, vinyls or tapes. One of the most old techniques for sampling was cut&paste the audio tape. I love this video from Delia Derbyshire using reel-to-reel recording, creating loops by cut&pasting the audio tape, and sync the samples to create music. More information here: blog.ishback.com/​?p=918

In this video:

Supertramp – Crisis? What Crisis?
Paul Anka – My Way
Chicago – Chicago X
Lil Jon – Kings of Crunk
Sampling is now part of the Fairlight app for iPhone and iPad. In this video Peter Vogel, who pioneered sampling technology in the late seventies, demonstrates sampling with the app with the assistance of some kitchen utensils.
A demo of Expert Sleepers plug-in "Crossfade Loop Synth", a sample playback synth and live resampling effect.
From version 3, Crossfade Loop Synth is actually two plug-ins: Crossfade Loop Synth and Crossfade Loop Synth Effect. The effect version takes the power of Crossfade Loop Synth and turns it into a live sampler, a looper and a very unusual and powerful delay effect. Version 3 is a major upgrade from version 2, adding many powerful means of shaping your sound, whilst maintaining the simplicity and CPU efficiency that made version 2 so popular.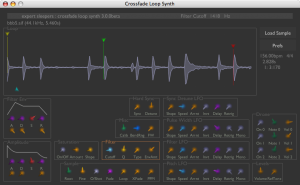 Crossfade Loop Synth
Crossfade Loop Synth is at heart a simple sample playback synth plug-in. It plays samples in the classic sampler manner – by simply altering the playback speed according to the desired note. No fancy timestretching or pitchshifting is applied. You can control how the sample is looped as it is played. An adjustable amount of crossfade can be applied to the loop endpoints to smooth the transitions. This makes it extremely easy to produce glitch-free pad sounds. The loops can also be played backwards and alternately forwards and backwards (pendulum-style).
Further sound processing can be applied in the form of overdrive/saturation, filtering, envelopes (for amplitude and filter), pulse-width modulation, oscillator sync and LFOs (one each for filter, pitch, PWM and sync). The synth is 32 note polyphonic, and all parameters can be controlled by MIDI controllers.
Crossfade Loop Synth Effect
Crossfade Loop Synth Effect is the same as Crossfade Loop Synth except you can record live audio to use as the sample, rather than just loading it from disk. You can record continuously, even while playing back. This allows you to use the plugin as an extremely unusual and creative delay effect. For example you can have the delays played back at double the pitch/speed you played them. Or at double the pitch and backwards. Or as a chord. Or repeat the first beat of every bar… the possibilities are legion. You can save the recorded sample to disk as an AIFF/WAV file for later use.
http://www.expert-sleepers.co.uk/xfadelooper.html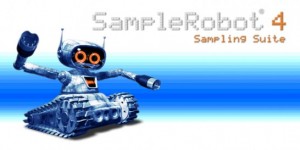 Skylife has announced SampleRobot 4 Sampling Suite, a collection of applications designed to automate sampling tasks.
SampleRobot 4 Sampling Suite contains the following products:
SampleRobot 4
WaveRobot 4
Camel Audio Alchemy Player 1.2
Awave Studio 10.4, and
more than 1 GB of premium samples in Soundfont 2 file format.
Description:
With the Sampling Suite you can easily do automatic sampling of acoustic and electronic instruments. Remote control your MIDI gear and sample all sounds automatically. Integrated WaveRobot software lets you find loop points for whole multi-samples with different velocity layers during recording.
Import older sampler formats like Ensoniq, Kurzweil, Roland and Yamaha or even use original AKAI S1000 series CDs with Awave Studio and export them with SampleRobot to various software sampler formats. Or send new multi-samples back to your old hardware. You can convert about 290 audio file formats.
Alchemy Player is a powerful sampling synthesizer that offers a broad range of high end effects and sample playback features. With the newly created Alchemy Export Bridge you can export samples from SampleRobot directly to Alchemy and Alchemy Player. Play and shape instruments and samples instantly within your favorite DAW both on Mac and PC.
SampleRobot 4 Sampling Suite comes with new export options like "Export all Projects at once" and "Export to Waldorf Blofeld". SampleRobot and WaveRobot are optimized for Windows 7 and offer better Win7 performance than previous versions.
Features:
Turn acoustic and electronic instruments, voices and noises into virtual instruments fast
Fully automated sampling
Intuitive project assistant
Sophisticated auto-loop processing and editing
Alchemy Export Bridge
Sampling of virtual instruments
Direct sample playback on Mac and PC, edit effects, modulation and envelopes
Convert about 290 audio and multi-sample formats
Import formats like AKAI S1000, MPC, Kurzweil K2xxx, Roland S, Ensoniq and MIDI Sample Dump
Extract samples from sampling CDs
Audio batch processing, auto-loop for all, resampling, normalizing, gaining, fading
Export samples directly to Steinberg HALion 4, Logic Pro EXS24, NI Kontakt 4, Reason NN-XT, Waldorf Blofeld, Soundfont2 and many others
Import and export for Yamaha Tyros 2+3, Motif XS+XF
Full MIDI remote control, incl. program and bank changes, multi-velocity layering
Release-Sample editing
Optimum loop handling incl. forward-backward loop with 2 independent crossfades and auto-gain functionality
Sample and export whole synthesizer sound bank in one go (equipment copier)
Premium multi-samples from classic synthesizers included
SampleRobot 4 Sampling Suite is expected to be available in August 2011, priced at US $399.
In this second video preview of the new Fairlight CMI-30A, Peter Vogel demonstrates the sampling page. This video includes what is probably the most expensive method of generatng a sawtooth wave known to mankind.
A bit of trivia: the sounds sampled in the making of this demo are used in the sting at the start and end of the video. Listen on big speakers.
The new CMI is unique in that it produces the classic "Fairlight sound" that defined music of the eighties as well as the modern Fairlight sound — that of uncompromising signal purity.

Both these extremes are made possible by the extraordinary processing power of the Crystal Core engine which lies at the heart of the system.

The Crystal Core media processor(CC-1) was developed by Fairlight.AU as the engine for its range of top-end digital audio workstations. The CC-1 uses FPGA (field-programmable gate array) to achieve performance far in excess of what can be achieved using even the fastest digital signal processor of conventional design.
Learn how you can use Reason to sample everyday noises, objects and machines around the house, circuit bent toys, and synths to create your own unique sonic fingerprint.