iOS – SoundMashine and an Addictive microSynth
Simple and basic, but serves its purpose
SoundMashine granular synthesis based sound sampler and sequencer app for iphone 4 ipad 2, sound sequencer
SoundMashine is a granular synthesis based sound sampling and sequencing instrument.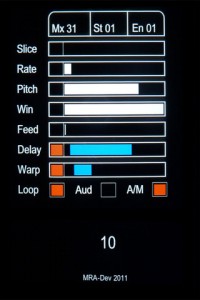 Fully utilising touch gestures to provide a fast and easy to use compositional tool. The app records sound using the devices built-in microphone, then divides the sound into slices which are then automatically assigned to each of the 16 screen tiles. Each tile has its own set of parameters allowing you to adjust window size, playback rate, pitch, feedback, delay and delay modulation, all of which are easily set by the swipe of a finger. Each parameter listed can also be randomised between a set of assignable values. Using the sequencer function patterns of tiles can be recorded and played back at different speeds, again using simple touch gestures.
With its flexibility for working with sound at different pitches, rates and sequencer speeds, SoundMashine lends itself well to a variety of compositional paradigms, from beat based through to drone or noise based music forms.
Combines the synthesis power of Addictive Synth with an easy to use 4 track loop recorder. It was never so easy to create beautiful sounds and driving loops.
The unique dynamic wavetable synthesis allows you to explore an unprecedented wide range of sonic territory. From acid loops, crystal clear percussions, realistic human choirs to complex musical soundscapes nothing seems impossible with only a handful parameters to tweak.
Comments