April 18, 2013 · Posted in
Uncategorized
·
Comments Off

on Sennheiser Element – Laser Drum Microphone System
The laser drum microphone measures the physical vibration of the drum head directly. We use this to run the sidechain of a standard gate to achieve excellent bleed suppression and reduced false triggering. This allows the microphones to stay off until the drum is physically hit, giving a tighter, more controlled drum sound.
…but most importantly, we did it with lasers.
Noise-gate diagram by Iain Fergusson. Licensed under the Creative
Commons Attribution 3.0 Unported license. (via Wikipedia)
September 7, 2012 · Posted in
Uncategorized
·
Comments Off

on Vocoder stuff: Sennheiser VSM 201 and EML POLYBOX in action
A brief, stereotypical vocoder demo featuring the amazing Sennheiser VSM 201 Vocoder with an EML POLYBOX. These were both units that were in for repair at The Analog Lab in NYC. The tone generator is routed through the EML where it is divided into user selected pitches/chords. The chords remain static, but the pitch shifts with the change of the frequency of the tone generator.
Sennheiser Vocoder VSM201
made in 1978
this is a luxury 20bands vocoder
fully analogue
of course only the "creme de la creme" used THIS, because it is really not cheap.. Kraftwerk!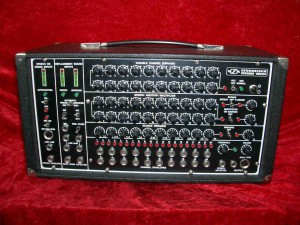 The vocoder was first a military device to encode speech signals
www.theanaloglab.com
June 16, 2012 · Posted in
Uncategorized
·
Comments Off

on Bibio – Sampling in the garden…
Something to try perhaps – bring out the samplers into the wild:
unshine in England is precious, so when the weather is fine it feels sinful to be cooped up in a studio, I'm very lucky to have the choice, so why not choose?
When the weather is fine, I like to take a few bits of gear outside and enjoy being creative in a different environment, plus there are all sorts of other sounds to explore outdoors, and in this case, sample.
A quick video of me making beats entirely out of recordings of objects found in the garden. No previously recorded samples were used.
Capturing sounds with a vintage Sennheiser MD-21 microphone, then using the EMU SP1200 for its inimitable fidelity, then resampled and sequenced on an Akai MPC 5000.
Videoed by me on a Canon 5D mkii.
May 4, 2011 · Posted in
Uncategorized
·
Comments Off

on Sennheiser MK4 – NAB 2011
Video from SOS:
Studio Condenser Microphone, Cardioid Polar Pattern