Vocoder stuff: Sennheiser VSM 201 and EML POLYBOX in action
A brief, stereotypical vocoder demo featuring the amazing Sennheiser VSM 201 Vocoder with an EML POLYBOX. These were both units that were in for repair at The Analog Lab in NYC. The tone generator is routed through the EML where it is divided into user selected pitches/chords. The chords remain static, but the pitch shifts with the change of the frequency of the tone generator.
Sennheiser Vocoder VSM201
made in 1978
this is a luxury 20bands vocoder
fully analogue
of course only the "creme de la creme" used THIS, because it is really not cheap.. Kraftwerk!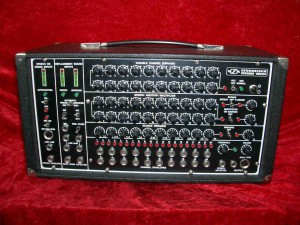 The vocoder was first a military device to encode speech signals
www.theanaloglab.com
Comments