Here are the details:
This is a quick demo of an iPad app 'step poly arp'. It sends midi via wifi to a DAW running Logic. The sound is generated by Arturia's Jupiter 8V. The combination isn't quite stable yet, even with an 'ad hoc' connection between the iPad and Mac. I haven't yet figured why…still, the app looks very promising.
http://www.pointblankonline.net/courses/logic-courses.php This week Paul Yarrow shows you how to open up a new world of performance capabilities for Korg's Monotron by turning it into a polysynth enabling it to play chords.
Learn more techniques like this on our wide range of Logic courses: http://www.pointblankonline.net/courses/logic-courses.php
Check out even more free tutorials at http://www.logic-cafe.com/
Hal Leonard Books has published The Power in Logic Pro by Dot Bustelo. They claim that this book is the first choice for any artist seeking quick, fun, easy-to-digest insight into the depth of Logic. Author of "The Power in Logic Pro," Dot Bustelo, introduces her new book, goes over the basic concepts covered, and gives a quick example from the book!
PURCHASE BOOK:
http://halleonardbooks.com/product/viewproduct.do?itemid=333399&lid=1&…
Dot Bustelo's signature approach to teaching Logic will get you up and running quickly. She'll help you move beyond the basics to discover a professional-level Logic workflow, taught through highly musical examples that expose Logic's essential features and powerful production tools. You'll find many of the tips, tricks, and insider techniques that powered Logic to its industry-leading status as the best tool for unleashing creativity in songwriting, composing, making beats, and remixing. Plus, find out why musicians over the years have sworn Logic "grooves better."
Dot provides the powerful methodology for creating in Logic that she has shared with countless high-profile bands and Grammy Award–winning producers and engineers. Here's just a sampling of what some of music's most successful artists say about Dot's approach to Logic:
Ronnie Vannucci, The Killers: "Dot has made Logic, well, logical."
Ryan Tedder, OneRepublic: "Dot Bustelo has hands down the most extensive working knowledge of Logic and all its intricacies."
James Valentine, Maroon 5: "Dot was the first one to introduce me to Logic. . . . She knows this software inside and out, and she breaks everything down in an easy-to-understand way. And she knows the best insider techniques that will make your recording more efficient and creative. . . . I wonder when Dot will get sick of me asking her Logic-related questions?"
Nathaniel Motte, 3OH!3: "Dot has provided me with an incredible source of in-depth and practical knowledge of Apple's Logic program. She has shown me tricks in Logic that have opened creative doors that I didn't even know existed."
Chad Hugo, N.E.R.D., The Neptunes: "When you got a Logic problem / Dot has wrote a book to solve 'em . . . / And this right hear is it. Yeya!"
$16.99 (US)
Inventory #HL 00333399
ISBN: 9781458414199
UPC: 884088602147
Width: 8.5″
Length: 11.0″
200 pages
New video featuring the iMoov wireless MIDI controller:
After 2 years of research into sensor technology, we are proud to present the iMoov by TangibleFX. To celebrate this release, the app is free for the first 5000 users.
The iMoov is a fully customisable wireless MIDI controller that can be used to control multiple effect parameters within leading softwares like Logic Pro 9, Traktor, Ableton Live, etc, using your movement. The iMoov is also compatible with the Line6 MIDI Mobilizer II.
It's useful for DJs, live musicians and producers alike. Hold it in your hand, or strap it to your guitar – the possibilities are limited only by your imagination.
We have also developed the TangibleFX School of Moovology to help you get the most out of your iMoov:
http://tangiblefx.com/moovology/
We hope you enjoy this app as much as we do! We're very excited.
Available now on the App Store – FREE FOR A VERY LIMITED TIME!
Song used:
Royalston – Carnivore (Med School)
www.tangiblefx.com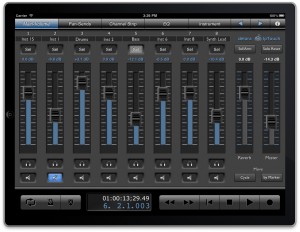 Harmony Systems, Inc. announced the worldwide availability of Delora lpTouch, an iPad application that functions as a remote controller for the Apple Logic Pro application program on a Mac. lpTouch is an intuitive, powerful control surface app optimized for use with Logic. It uses Logic's built-in Open Sound Control (OSC) control surface support, so all that's needed is a working Wi-Fi connection between the Mac and iPad.
lpTouch expands the Delora Software line of music controller apps for iOS devices and the Mac, including gbTouch and gbRemote for GarageBand.
Features & Benefits
Adjust track settings, send values, Logic's EQ, plug-in effects, and software instruments to "dial in" to the right sound. Mute or solo any track to evaluate a mix during playback. Arm one or more tracks for recording. Know where you're at with the timecode and bar-beat display, and track name and number identification. Access transport controls from any screen.
No more frustrating attempts to make sound setting adjustments with tiny computer screen controls and mouse. lpTouch's five screens offer large, usable multi-touch faders and rotaries – with values displayed – to easily edit software instruments, insert parameters, EQ settings, or track volume, pan, and send levels.
Pricing & Availability
lpTouch is available for $4.99 (USD) on the iTunes App Store >>
Video demonstration of and step-by-step tutorial on changing melodies and harmonies of a mixed musical recording in real-time, using the Zynaptiq PITCHMAP AudioUnits Plug-In controlled by live MIDI input in Apple Logic Pro. Original recording provided courtesy of absolutesongs.com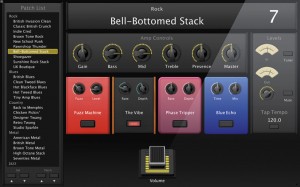 So far no apparent plans to turn Logic into Garage Band, as many have feared
Apple is reportedly finishing an update to Logic Pro 9, its professional digital audio and music sequencing program, taking care not to rile existing users with significant changes.
The new update is reportedly called Logic Pro X to maintain the same branding as Apple's recent Final Cut X. However, according to a report by Japanese blog Macotakara, Apple's Logic team is making great efforts to stress that it will not shift toward a GarageBand interface, heading off fears that Logic Pro might lose its professional edge.
Like Aperture and Final Cut Pro X, the new Logic Pro X package will be released via the App Store. In the move, the Logic Pro accessory app MainStage (used to manage virtual instruments during live performances) will reportedly spin off into a separate app, while WaveBurner (a standalone app used to master audio CDs) will have its functionality incorporated into Logic Pro X itself.
SoundTrack Pro 3, formerly included in both Final Cut Studio and Logic Studio as a tool for synching background audio to video, is reported to have a replacement but the report has not filled in any details regarding that program. The new app will likely be added to the Mac App Store alongside Final Cut Pro X, Logic Pro X, MainStage and the existing Aperture.
Via Apple Insider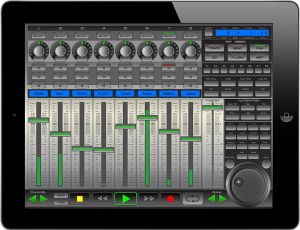 xMix – Logic Edition is an interactive, user friendly MIDI DAW (Digital Audio Workstation) Control Surface specifically designed and optimized for use with Logic Pro 9. No drivers required. Powered by CoreMidi Networking Technology with speeds of almost zero latency, xMix-Logic Edition connects wirelessly and seamlessly interacts with Logic Pro 9. The xMix user interface displays the absolute state of play in Logic Pro direct to your iPad. Giving you the freedom to control your session from anywhere within wifi range, delivering a new sense of control in your studio.
Unlimited Tracks (in banks of 8)
8 Virtual Faders assignable to almost any purpose.
8 Virtual Multi-purpose Rotary Pots
Complete Channel Strip Control over Pans, Solo, Mute, Record arm.
Full VU db Meter displays for each channel.
Scribble LCD strip displays name for each highlighted track.
For each channel, with one touch you have the power to access, control and modify the current EQ settings, with a mix of faders and VPots you can infinitely and precisely control each band of EQ.
Once your instrument has been selected xMix auto-configures all controllable parameters to the either the 8 VPots, 8 Faders, or a mix of both. Each control available is noted in the LCD display area so you are always 100% on top of the controls.
Once in Plugin Mode, xMix will offer you access to all the plugins loaded in the channel. As with the Instruments, xMix automatically maps the available functions and parameters to the 8 VPots or faders.
All the important Play, Stop, FF, Rewind, Record and Loop are situated at the bottom of screen. you can also use the scrub wheel to surf from one end of the track to the other.
xMix offer a wide range of extra controls over your Logic session. From automation to general copy pasting xMix has it all available directly from your iPad.
xMix gives you easy control over the views and screens which presented in Logic. Direct from your iPad you can open close the mixer window, select form audio/midi/instruments channels, quickly change to notation mode. Any screen you want to access, with one or maximum 2 touches you are there. No more reaching for the mouse, just touch and go..
This is just the beginning, the best is yet to come. xMix will be updated continuously over the forthcoming months and years to expand this control base into new futuristic and minimalist designs to help propagate the flow of creativity and energy into your working Logic session.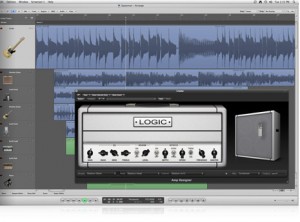 Apple has released version 9.1.4 of Logic Pro, the music production software for Mac.
You already know how to write great music. Logic Pro 9 streamlines the technical side of things, so you can record, edit, and mix it, too. Whether you work in a state-of-the-art studio or in your garage, now you can easily put the power of the most advanced tools to work for your projects. Tap into a huge collection of instruments, sounds, and loops for inspiration. Get set up and recording quickly. Perform complex edits in a fraction of the time. And mix down projects of any scale with full automation and surround capabilities. It's a pro studio that's not just for pros.
Changes in Logic Pro v9.1.4
Compatibility

Logic can now open songs created by GarageBand for iPad.

Performance and Stability

Logic now provides more specific messaging when playback is stopped because of hard drive performance issues.
Resolves an issue in which Logic sometimes performed very slowly after a project that was saved without assets was consolidated.
Logic no longer quits unexpectedly when copying, pasting, or swapping voices between slots in Ultrabeat.

64-bit Mode

Resolves an issue in 64-bit mode in which a generic interface for some 32-bit plug-ins was displayed.

Automation

Resolves an issue in which moving a region to a different Arrange track assigned to the same channel strip could cause automation to be deleted.
Drag-copy of automation curves now works as expected on grouped tracks.
Moving an automation node that lies between two other nodes of the same value to the left or right no longer causes it to decrease by -0.1 db in value.
Resolves an issue introduced in Logic 9.1 in which performing Undo after using the "Move Visible Track Automation to Region" command would delete the automation.

Audio Editing

Resolves an issue in which performing Undo after creating an alias for a region would shorten the region in No Overlap mode.
Audio Regions that contain slashes in the name can now be successfully merged using the Glue Tool or Merge command.
Quantization of audio regions that have stretched or compressed and contain tempo information now works reliably.
Quantize and Q-Strength now work properly on regions created by exporting a Comp from a Take Folder.
Resolves an issue where lengthening an audio region could sometimes cause the audio to unexpectedly stretch.
Performing Undo after flattening Takes on a group of flexed tracks now works as expected.
Takes no longer sometimes display as soloed when their parent Take folder is disclosed but not selected.
Resolves an issue in which moving a take region with Quick Swipe Comping disabled sometimes did not move the corresponding take region(s) in tracks within the same Edit Group.
Fixes an issue in which dividing a take region that had been created by merging several take regions together could cause the area to the right of the edit to disappear.
Resolves an issue in which moving a take region with Quick Swipe Comping disabled sometimes did not move the corresponding take region(s) in tracks within the same Edit Group.
Fixes an issue in which dividing a take region that had been created by merging several take regions together could cause the area to the right of the edit to disappear.
Resolves an issue in which importing a Take folder into a project with a matching track could cause existing takes to be removed from Take folders in the original track.

Control Surface Support

Resolves an issue introduced in Logic 9.1.2 in which pickup mode for generic control surfaces did not work as expected.

General

Resolves an issue in which the key commands Next Screenset and Previous Screenset were reversed.
If the Startup Action preference is set to "Ask," it is again possible to open a project by dragging it onto the Logic icon while the Startup window is open.
The default region quantize setting is now maintained after importing channel strips from another project.
Logic Pro is available to purchase as part of Logic Studio for $499 USD.