Trogotronic Noise (Trogotronic model 676 & Teenage Engineering OP-1)
All sounds (including drums, percussions etc.) made with Trogotronic Model 676 Fury M Series and sampled, edited & arranged with Teenage Engineering OP-1. Voice with Qneo Voice Synth on iPhone (thru Trogotronic 676) Mixdown & some edits in Logic Pro.
Like any Trogotronic worth its salt the 676 Fury's functions are not conservative… Meaning, while there are two Main Oscillators, other parts of the circuit can command more complicated frequencies in an intuitive manner. Similarly the Main Oscillators themselves may be applied as filters serving to broaden the utility of the instrument even more so. With regard to BOTH mayhem AND stability 676 Fury's switch settings offer different parameter reactions: Toggles "down" Oscillators & Track navigate pitch black F-5 electron turbulence; Switched "up" same controls "play nice" in crimson livery with accordance to classical form.
The sound? Curiously akin to R. Lee Ermey switching on the kilowatt floods & screaming through an Orange Full-stack set to "11" first thing the morning after an all-night gin bender; i.e. relentless punishment applied to all head-holes within audio range. Add to this the inclusion of 5 CV inputs compatible with sequencers, envelopes etc. and this little box may well become a classic in its own right; "May the Gods save us from this menace; girls and mothers—dress our Fury now in blood-red robes!"
I'm not shure about the sound because I'm not at home & had to mix the track on some cheep iPhone earbuds

Okay – I did this track just 4 fun, messing around with this sick module, thinking the guys from Togotronic still don't know what it's doing – I don't know that too 😀

So let's go noise!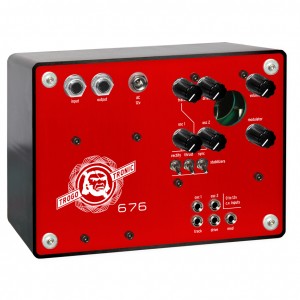 All Analog Circuit
2 Main-Oscillators 
2 Amplifiers
2 Unique Filter/FX parameters (Drive & Modulation) 
Input for use with other audio elements
5 Modular compatible CV inputs for patchable parameter control 
1 Medium Frequency Control Oscillator: Track
3 Stabilizer Switches (on for stability, off for mayhem) 
Slovakian Max. Gain, Twin-Triode Vacuum Tube run at high voltage
Comments