Tutorial: EDM Automation Tricks in Reason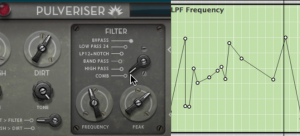 ASK Audio has a nice tutorial out focusing on automation, read the scope below and if of interest head over to their site for the full version:
With groundbreaking plug-ins coming out, like BreakTweaker and Ultraloop, that utilize automation, LFOs, pitching and effects automation for percussive, melodic and rhythmic creation, it's easy to want to blow some serious money. However, if you think about it and understand the basics of what's taking place in some of these amazing new plug-ins, it won't take you long to remember that all of those, and sometimes more options, are available in DAWs, right now!
Reason is one of those DAWs that is perfectly capable of dishing out the same slick effects and editing oddities, especially with its awesome automation lanes and Parallel Channels. In this tutorial, we're going to go through some of these features with an emphasis on building an arrangement for electronic music from a single tone, similarly to the Alligator in Reason, but on a bigger scale. Let me show you what I mean! Go ahead and set your tempo to 150, and let's get going!
Step 1 – Lay the Ground Work
Before we do anything crazy, we need some tone to build from. I'm going to use a Thor that's bumping a basic square wave oscillator. To achieve this tone, make sure to turn the Pulse Width knob to the square symbol. I would also suggest turning the Octave down, once, or twice. Working with a deeper tone will ensure some bigger overall results. >>>>>
Comments