New Avid Pro Tools 11 is now shipping. Pro Tools 11 offers a major upgrade of Avid's digital audio workstation that provides users with new, high-powered audio and video engines, 64-bit architecture, expanded metering, and direct HD video workflows.
"Pro Tools 11 represents a quantum leap in creative power," states Chris Gahagan, senior vice president of products and services at Avid. "The newly designed architecture turbo-charges production with more plug-in processing, the ability to run more virtual instruments—and a host of new features—letting users create ambitiously, without holding anything back."
Key benefits and features of Pro Tools 11 include:
Redesigned Audio Engine & 64-Bit Architecture
New Avid audio engine — Delivers multiple times the processing power of Pro Tools 10 on the same hardware configurations.
64-bit architecture — Exponentially increases the number of simultaneous virtual instruments and the performance to handle the most sophisticated sessions.
Offline bounce — Delivers mixes up to 150 times faster than real time.
Low-latency input buffer — Ensures ultra-low latency record monitoring without sacrificing plug-in performance.
Dynamic host processing — Maximizes plug-in count by reallocating processing resources as needed.
Expanded Metering
Extended standards support — Features a broad range of built-in metering standards, from peak and average to VU and PPM, to maintain adherence to regional broadcast requirements.
Gain reduction — Shows gain reduction for all dynamics plug-ins on each channel.
Direct HD Video Workflows
Built-in Avid video engine — Enables audio post professionals to play and edit a wide range of HD video formats including Avid DNxHD, directly in the Pro Tools timeline without transcoding, using the same core engine as in Media Composer.
Video interface support — Enables monitoring of DNxHD and QuickTime media through Avid Nitris DX, Avid Mojo DX, and other video interfaces.
"In the world of professional mixing, I constantly need more processing power, and the extra power in Pro Tools 11 is exactly what I need," says Tim Palmer, mixer and engineer for U2, Robert Plant, Ozzy Osbourne, The Cure, and INXS. "I love the new metering and the new sends view is excellent. It is really impressive. Pro Tools 11 is a big leap forward."
Pro Tools 11 and Pro Tools HD 11 are available in the online Avid Store and at Avid resellers worldwide. For more information, click here.
Pricing:
Pro Tools 11 software (full version)— $699 USD
Pro Tools 10 to 11 upgrade— $299 USD
Pro Tools 9 to 11 upgrade— $399 USD
Pro Tools Express to Pro Tools 11 cross grade— $499 USD
Pro Tools HD 10 to 11 upgrade— $599 USD
Pro Tools HD 9 to 11 upgrade— $999 USD
Additional videos for this title: http://j.mp/U6aBEw
Pro Tools First Look: Overview Of Pro Tools by Scott Freiman
Video 1 of 6 for Pro Tools First Look: Overview Of Pro Tools
This Pro Tools tutorial serves as a quick overview to the powerful new features in Pro Tools. If you want to see what Pro Tools is all about, or even if you want to compare Pro Tools Vs. Logic or Ableton Live, this free video is for you!
In 30 minutes of tutorials you'll learn about the Pro Tools interface, how MIDI & notation work, and how to use Track Comping and Playlists in your Pro Tools sessions. There's also an overview of Pro Tools' new plugins!
If you like this free Pro Tools tutorial, be sure to check out our comprehensive Pro Tools 101: Core Pro Tools tutorial video, which is also produced by Scott Freiman.
More info on this title: http://j.mp/U6aBEw
This tutorial demonstrates how to use Bjork's 'Biophilia' App as a creative music production tool in Pro Tools. Utilising the WI-FI options on the iphone/ipad and a computer, users can lean how to create a connection between both devices, and compose or produce sound in Pro Tools using the Biophilia app. In the Composition and Music Production department at AIM, students can utilise this process to produce and create their own sound and music.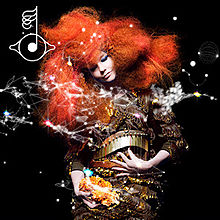 Biophilia is the musical project and overall eighth full-length studio album by Icelandic recording artist Björk. The album was released on 10 October 2011, over four years after her previous studio album, Volta (2007). The album is "partly recorded" on an iPad and, as well as a standard CD release, was released in the form of a series of apps. Biophilia is the world's "first app album" in collaboration with Apple. Björk has described the project as a multimedia collection "encompassing music, apps, Internet, installations, and live shows". Material from the album debuted during a concert series which was held in the summer of 2011 at the Manchester International Festival.
Check out our Website, http://www.aim.edu.au/
Maggot software has just released a new ProTools plugin called SPANNER that is a no-brainer for anyone working in 5.1 or 7.1 surround!
Introduction to maggot software's new AAX plugin "Spanner". explains the basic layout and features.
spanner is a powerful surround channel manager, panner, remapper and folddown plugin for AVID Pro Tools.
it is the result of years of personal frustration with the Pro Tools panner and bussing setup and solves many of the common complaints about the surround workflow in Pro Tools.
if you ever work in surround you'll appreciate this plugin I'm sure, but if mixing-in-the-box is your thing you're going to see this as a major step forward.
Xpand2 is FREE with Pro Tools 8,9 and 10, yet so many users don't realise how powerful it can be.
Russ creates one MIDI track of 4 notes and then makes a whole song from it using just those 4 notes and a single instance of Xpand2.
Learn more about Xpand:
Xpand!™, developed by the Avid Advanced Instrument Research group, provides fast, efficient ways to access and manipulate thousands of high-quality sounds directly from within your Pro Tools® system. Built for songwriters, film composers, DJs, electronic musicians, and music producers — and offered as a free RTAS® plug-in for Pro Tools systems, Xpand! is a sonic powerhouse that will become an indispensable component of your creative Pro Tools environment.
Extensive Patch Library
Xpand! makes it easy to start creating music right away. Equipped with more than 1,000 preset patches, Xpand! puts a wealth of sonic options right at your immediate disposal. Browse the patch database by category to find what you need quickly. Whether you're looking for a warm pad to fill out your mix, building a new rhythm track for a remix, or composing a soundtrack for a feature film, Xpand! offers a huge assortment of possibilities. Choose from synth pads, leads, acoustic and electric pianos, organs, strings, vocals, brass and woodwinds, mallet percussion, ethnic instruments, loops, and more. Use the presets or make modifications to create distinctive sounds. Save your favorite patches for instant recall.
Robust Sound Engine
Xpand! uses Avid's proprietary multi-synthesis engine to combine sampled instruments with synthesized tones, creating complex sounds extremely efficiently. Each Xpand! patch comprises a blend of up to four individual "parts," created with oscillator multi-samples, 32- or 64-step wavetable synthesis, virtual analog synthesis, FM synthesis, or virtual tonewheel synthesis.
The preset patches are excellent starting points, but you can modify patches easily by mixing and matching up to four of the 500 included part presets for millions of possible combinations. Mix a warm pad with a wind chime for an ethereal texture, or combine a drum loop with a bass line and a gated pad for an instant techno track. Xpand! offers 64-note polyphony and is efficiently integrated with Pro Tools software as an RTAS plug-in, so you can run multiple instances on your session to build multi-timbral compositions.
Tweaking Made Easy
Fine-tune the parts further for truly unique sounds. Each part gives you access to six "SmartKnobs" to control the most useful parameters for that part. For an electric guitar part, select an amp, then adjust the distortion level and the amount of fret noise. For a vibraphone, modify the level of mallet attack noise. For a synth pad, tune the sweep rate, effect level, and resonance. Adjust the rotary settings for a tonewheel organ part or change the wah settings for a clavinet.
Each part also includes a built-in arpeggiator and two effects sends. Choose the type of arpeggiation or chord phrase and the note-based rate. Then route the effects sends into the two effect sections: Pick from a full range of reverbs and add delay, chorus, flanger, phaser, vocoder effects, or another effect. Adjust the size and shape of rooms, and the depth and rate of delays and choruses.
Once you've perfected the tone of each part, you can adjust how parts blend into the overall patch. Modify the volume, mix, pan, transposition, and effects levels for each part. Set high and low keys for each part to achieve keyboard splits, in which parts are assigned to specific note ranges.
In the Global Mode, use the SmartKnobs to adjust essential sound parameters for the entire patch, including attack, decay, release, cutoff, envelope depth, and fine-tuning.
Click on the mod tab to adjust a wide range of settings for aftertouch and the modwheel. To finalize your creation, save your new patch for instant recall.
Xpand Your Creative Palette
Whether you need fast access to a comprehensive preset sound set or want to create something unique without having to spend hours editing patches, Xpand! offers you an easy way to get started creating with a full range of sounds.
Features 
Comprehensive sound factory for all musical styles and applications
More than 1,000 factory patches and 500 combinable part presets
Four layer-able parts for millions of combinations
Multi-synthesis engine
64-note polyphony
Quick and easy sound tweaking
Sample playback and virtual tonewheels
Two built-in effect sections and four arpeggiators/phrase generaftors
Highly efficient on system resources
RTAS format

Solid State Logic in Oxford, UK, releases new features for its Nucleus control surface. Nucleus users can now download dedicated DAW control profiles for Ableton Live and Propellerhead Reason, in addition to existing profiles for Pro Tools, Logic, Cubase/Nuendo, and any other DAW applications that support MCU or HUI.
SSL states that OS X Lion is now fully supported for Nucleus, with a revised Java-based Console Browser. The Nucleus soundcard now also supports 64-bit for Mac users.
Sam Counihan, International Sales Manager at Ableton AG, says, "This new template tightly connects the feature sets of both the Nucleus and Ableton Live. Live's unique and dynamic workflow is brought to life through the Nucleus' tactile worksurface, and is complimented by the console's high-end audio interface featuring the same SuperAnalogue technology as found in the company's flagship Duality and AWS consoles. In other words, bring a laptop with Ableton Live to any studio with an SSL rig and you're good to go."
This download contains the latest upgrades for the Nucleus console: Nucleus console software Version 1.5; Nucleus browser V. 1.06; Mac Soundcard driver V. 2.00.05; IpMIDI (latest versions for both Mac and PC).
Additional documentation is available via the Documentation tab on the Nucleus product page.
Registered Nucleus users with a serial number can download the upgrade bundle by clicking on the download link on the Downloads tab of the Nucleus product page.
Avid has released a 30-day trial version of Pro Tools 10.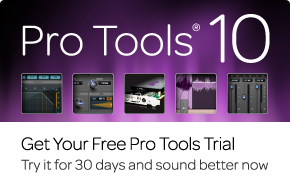 Note: You must have an iLok USB Smart Keyand an iLok.com account to authorize your Pro Tools 10 trial, plus meet the minimum system requirements for the software you request:
New in Pro Tools 10:
Speed up editing and mixing with Clip Gain, and easily adjust and match gain levels, pre-mixer (watch the video)
Use multiple audio formats in a session—including interleave—without file duplication
Record and master higher resolution sound with more headroom in 32-bit floating-point format
Get great responsiveness on slower hard drives with the enhanced disk handler
Record in low-latency mode, with direct monitoring when using third-party audio interfaces
Get the sound of System 5 console EQ and dynamics with the Avid Channel Strip plug-in
Get access to over 500 additional Pro Tools commands when using EUCON controllers (watch the video)
Work more easily with AudioSuite-rendered clips with reverse processing, handles, and more (watch the video)
Create extra long-format projects for sequential versioning with the extended 24-hour timeline
Open fade-heavy sessions faster and get better responsiveness with real-time fades
Export mixes directly to SoundCloud to share and promote your music to the world
BECOME A PRO TOOLS BEAT GURU IN UNDER AN HOUR
Want a crash course in creating and manipulating beats in Pro Tools? Well, Pro Tools master Russ Hughes shows you how in this power packed micro tutorial series focused on creating and transforming beats in Pro Tools. Filled with tons of cool tips and tricks as well as practical examples, this series is a "no brainer" for anyone just getting started with beats in Pro Tools.
Russ takes you step by step showing you things like how to make beats using Boom and MIDI, getting your virtual instrument sounds down onto audio tracks, how to use basic effects to transform the stock sounds and extract grooves from one beat and then use them on other beats to lock their grooves together. Russ also shows you how to pitch shift beats, use gates and side chains to create fantastic new electro drum beats, how to destroy beats and mash them up as well as slice beats and rearrange them using Structure FREE.
If you're starting out with Pro Tools or just want some great tips and tricks on creating and manipulating beats, look no further. Become a Pro Tools Beat Guru today…
Product Highlights 8 tutorials / Almost 1 hour total runtime For all beginner to intermediate Pro Tools users Shot with Pro Tools 10, but info works with Pro Tools 8 & 9 as well. Tutorials written by AIR Users Blog founder and Pro Tools wizard Russ Hughes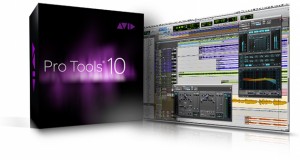 The new Pro Tools 10 software adds major new features to the world's leading digital audio workstation, delivering on top requests from both audio post and music professionals.
With it, Avid introduces several new tools and timesaving workflows, such as the top-requested Clip Gain, which separates pre-mix levels from Pro Tools software's renowned mixing automation, greatly speeding up and improving the workflow between sound editors and mixers. Customers will also be able to achieve higher sound quality and better performance than ever, whether they're recording, composing, editing, mixing, or playing back their sessions.
Work faster and easier with the most robust tools
Speed up pre-mix and editing workflows with Clip Gain
Experience better performance—even on network-attached or slow local drives—with disk handling improvements and real-time fades
Get more flexibility—and 24-hour timeline capability—when conforming multiple projects into a single timeline
Sound your best, faster than ever
Use multiple file formats and mixed bit depths in the same project—including interleaved—without converting files
Record, edit, and mix in higher resolution with 32-bit floating-point file format support
Get the sound of the renowned System 5 console EQ and dynamics with the Avid Channel Strip plug-in, now included with Pro Tools 10
"Today's audio post and music professionals are faced with evolving challenges and much more demanding productions that require more power, extended capabilities, and better sound quality than ever before," says Chris Gahagan, Avid's senior vice president of products and solutions.
"Pro Tools|HDX and Pro Tools 10 software mark an enormous leap forward in sound quality and efficiency, enabling our top professional customers to deliver their best sounding, most creative work in less time."
Pro Tools 10 software is available worldwide now. Pricing is as follows:
Pro Tools 10 software (full version) retails for $699 US MSRP (please note that Pro Tools HD 10 software is bundled with Pro Tools|HD family systems only, and is not available for separate purchase except as an upgrade)
Pro Tools 9 owners can upgrade to Pro Tools 10 for $299
Pro Tools HD software owners can upgrade to Pro Tools HD 10 starting at $999
More info can be found at www.avid.com
This is the first video in a series on how to use your keyboard more when editing inside ProTools
This video is part two of my editing bootcamp series, diving into shortcuts for making selections without a mouse – mainly using the tab key and modifiers
Provided by Brent Heber of DigiDesign