A nearly six minute-long audio demo using the M-Audio Venom synthesizer as both a synth and an audio interface, with Pro Tools and Ableton Live.
The M-Audio Venom 49-key synthesizer combines the character of classic analog synths with modern digital processing to deliver an aggressive, infectious new sound. Whet your appetite with the included presets, then sink your teeth into creating original sounds—from atmospheric and subtle, to angry and downright nasty. Easily tweak parameters from the intuitive top-panel interface, or explore endless sound design and configuration possibilities with the included software editor. Perform bass lines, leads, and more with a full-size keyboard designed to satisfy serious players. You can even use Venom as an audio interface with Pro Tools* and other music software—forming a powerful production machine to take your music in dangerous new directions.
Recording of an on stage technology preview at IBC Amsterdam 2011
This video shows you exactly how to use the optical ADAT connection of the Behringer ADA8000 (or similar mic pre) to stream 8 channels of audio into a Digi002/003 as well as how to set things up properly in Pro Tools.
Rupert Brown from The DSP Project discusses with freelance sound engineer Mike Hiller about drum processing in Pro Tools:
Mike Hillier is THE Pro Tools guy for MusicTech magazine so I was thrilled when he agreed to show us how he approaches mixing down a real drum kit. While he is using Pro Tools most of the mixing techniques can be used in any DAW.
thedspproject.com/​drum-processing-in-pro-tools-pt1 for comments and more info on Mike.
This is a very nice video of a new audio experiment we came across
Ambient Analogue 001 is the first release of an audiovisual experiment with footage of Chicago cut to an ambient music track of classic vintage and modern analogue synthesizers.
Audio/Video produced by Logan Mannstrane
Music is available as a free download on SoundCloud:
soundcloud.com/​loganmannstrane
Audio information:
Sequential Circuits Prophet VS: From 0:05 – 4:19
Roland Jupiter 8: @ 1:55, 2:21, 2:45, 2:51,
Sequential Circuits Pro One: From 4:20 – 4:48
Oberheim FVS (Four Voice): From 4:49 – 6:26 and 7:57 – 8:32
Roland TR-808: At 4:53-END
Moog Voyager: From 6:28 – 7:56 and 8:32 – 11:09
Sequencing done with Logic Pro and StepPolyArp for iPad. Mixed in Pro Tools 9. Filtering of drums and select synths with the Oberheim Four Voice stereo inputs.
Longcat Audio Technologies has released AudioStage, 3D audio authoring and mixing software, but comes at a price that, unfortunately, puts it out of the range of most users.
Aimed at movie and music postproduction, AudioStage inserts in major audio workstations such as ProTools, Pyramix, Nuendo or Logic Pro, and lets you visually place and animate audio tracks in editable 3D environments.
Features
Input tracks: Mono or multichannel.
Acoustic environment: complete with connected rooms, physical simulation of openings, walls and reverb.
Authoring: infinite number of scenes, tracks and environments in one single project.
Automation: Full parameter automation and animation of audio objects.
Commercial editions: AudioStage Stereo, Surround and Unlimited.
Free LITE edition: to achieve your first 3D mixes.
3D object-based mixing: simultaneously mix in stereo, surround or any full-3D format up to 64 channels.
Spatialization: Comprehensive techniques (including stereo, binaural, stereo3D, surround, Ambisonics and VBAP) applied individually to audio sources in each mix.
AudioStage starts at 990 € (special introductory price for Stereo edition), and is available immediately in Longcat's online shop for Windows and Mac OS X, with VST/AU/RTAS plug-in connectors.
The free AudioStage LITE edition is also immediately downloadable from Longcat Audio's website.
Boom running on the Indamixx tablet, via Windows. Trinity Audio Group tells us running a selected set of tracks with plug-ins is well within the capabilities of the CULV processor. The architecture of this tablet does greatly exceed that available on tablets like the iPad, or Atom-powered solutions.
The machine is not powered by an Atom processor; instead, it uses a low-voltage CULV SU3500 processor, which in turn is based on Intel Core 2 architectures. (The 3500 is a 1.4G Core Solo processor.) Trinity is pre-installing Pro Tools 9 with an iLok key so you can run out of the box. Performance certainly won't be stellar, but it's good enough for some applications. Trinity tells CDM they got 8 stereo tracks (16 total) with 2-6 plugins on 2GB RAM; the finished system they say will be tuned for better performance, and will ship with twice the RAM. The price, unfortunately, puts the tablet alongside high-end laptops, at US$1799.
The Indamixx tablet is an interesting proof of concept, but it faces tough competition. There's nothing stopping you from watching the marketplace in 2011 to find a tablet you like and installing it yourself, and I would hope some of those machines will ship with beefier processors. (Knowing readers of this site, that may hold more appeal, too, with options from Ableton Live to Reaper to SONAR, none requiring an iLok.) And while you don't get a touchscreen, the MacBook Air is still fairly light and portable, significantly faster, and costs a fraction of the price – and it runs Mac OS in place of Windows, which will be a draw for at least some consumers.
ElectroBeats is a very intuitive beat making application conceived in collaboration with worldwide renowned and most demanded producer David Guetta.
Right away, you'll create great sounding beats thanks to a powerful real-time approach and an impressive sound library.
ElectroBeats by David Guetta features
Realtime workflow experience with sixteen pads and five different modes: Pad, Pitch, Velocity, Erase, Mute/Solo.
Exclusive and electro oriented sound library, with hundreds of samples including Bass Drum, Snare, Clap, Rimshot, Cymbal, Hi-Hat, Open Hi-Hats, Acoustic Percussion, Electronic Percussion, FX, Bass, Chords, Leads, Instruments, Vox…
Two sound generators : sample playback and synthesis oscillator.
Dozens of ready to use drum and construction kits.
Hundreds of patterns to use with the drum kits..
Note Repeat in multiple resolutions..
Dynamically change the quantize/repeat resolution while recording : the key to build beats very fast..
Default quantization for instant gratification.
Save and share your tracks using iTunes.
Bounce song in Wav format.
Multitrack export for use in sequencers like Logic™, Live™, ProTools™, Cubase™ and many more..
Tap Tempo.
Realtime previews (pattern, kits and sounds).
Convenient undo with snapshots support.
Embedded help in English, French, Spanish and Japanese.
More info at www.uvi.net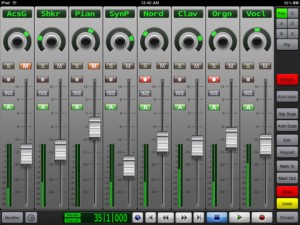 V-Control Pro (App Store link) is a $49.99 iPad app that provides a fully-featured, multi-touch control surface for Pro Tools on a Mac and soon for Windows.
V-Control Pro uses WiFi to control transport, editing, and mixing functions with Pro Tools 9, HD, or LE. V-Control Pro provides advanced control of sends, automation, groups, auditioning, plug-ins, scrub/shuttle, I/O assignment, and other controls within an easy-to-use interface.
Features:
Large, touch-sensitive moving faders
Solo, mute, record, and pan controls
Flip mode send editing
Scrub / shuttle control
Automation mode controls and display
Automation and group suspend buttons
Automation and group status display
Automation write enable controls
Plug-in editing
Input monitoring switch
Big counter display
Save and Undo buttons
Pre-roll / Post-roll buttons
I/O assignment
Zoom presets
Window display controls
Keypad popover provides access to many Pro Tools features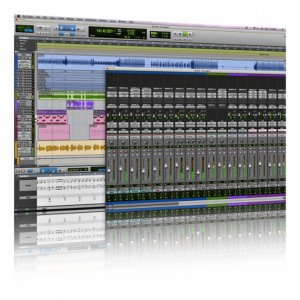 Avid has just released Pro Tools 9, the new version of the industry standard DAW, now packed with more features (including very cool news for post-sound guys, both LE and HD users) and also a new philosophy (yes, finally… they're "changing").
So.. What's new?
Pro Tools now works with Core Audio and ASIO drivers (no more interface limitations)
Supports OMF/AAF/XMF
Adds native ADC
Adds EUCON support
Supports up to 96 tracks natively, and 512 tracks with Complete Production Toolkit 2 and Pro Tools HD
Several of the features of the previous toolkits are included natively in Pro Tools 9, such ast DigiBase Pro, Time Code Ruler, MP3 export, and more. There's also the new Complete Production Toolkit 2, which adds HD features to Pro Tools 9:
Exchange sessions with Pro Tools|HD users without ever losing session information
Create huge mixes with up to 192 simultaneous audio tracks** on playback—512 total
Get full VCA mixing capabilities and support for up to 64 video tracks
Mix in 7.1 surround while monitoring in stereo with the Neyrinck SoundCode Stereo plug-in
Speed up your workflow with advanced automation, audio, and video editing tools
Shift time and pitch with natural-sounding results using the X-Form plug-in
Pro Tools 9 is available now at $599. Crossgrade from LE costs $249, and from HD to PT9HD costs $349. More info at Avid. Feature comparison here.