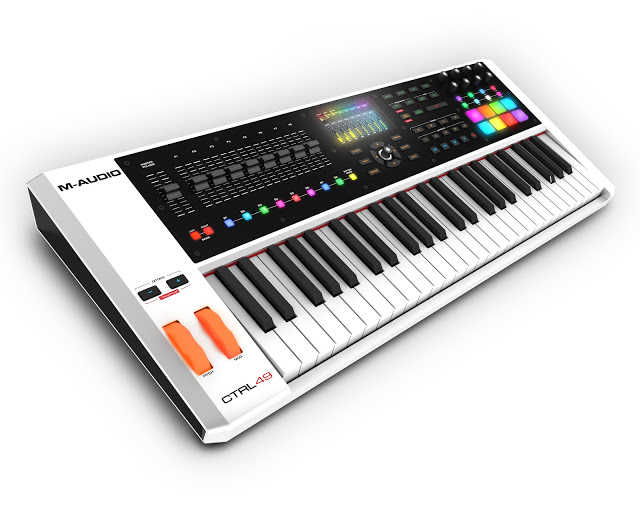 M-AUDIO ADDS REVOLUTIONARY VIP SOFTWARE TO ITS LEGENDARY KEYBOARDS IN GROUNDBREAKING NEW CTRL 49 CONTROLLER
Producers can now load, play and control all their virtual instrument plugins directly from the CTRL 49 keyboard, for seamless hands-on performance and perfect VI software integration.
Cumberland RI, USA (January 21, 2016)— M-Audio (m-audio.com), synonymous with innovative music production technology, today announced the introduction of their revolutionary, premier controller, the CTRL 49. The new keyboard provides advanced control of virtual instruments and DAWs via a full-color, high-resolution 4.3-inch screen. It features a 49-key semi-weighted keybed, and the directional cluster of hardware controls has been meticulously thought out for effortless operation. Producers will find the CTRL 49 to be an inspiring and intuitive experience.
The CTRL 49 is powered by the included Virtual Instrument Player (VIP) software. VIP software enables users to access any VSTi virtual instrument or effect in their computer directly from the keyboard. Users can quickly filter and search through every patch in their plugin library by using the built-in tagging function, making it simple to find the sound they're after quickly. VIP auto-maps the CTRL 49's controls to the selected plugin, and displays the plugin parameters directly on the full-color display for a natural, familiar 1:1 workstation-style experience.
VIP software in the CTRL 49 also creates a multi directly from the keyboard. Using a multi, producers can combine up to 8 patches from 1 or more plugins, and have the option to layer, mix and pan these patches all at once. Users can even set keyboard splits and transpose individual patches within their multi. This advanced design feature means users can save all the new sounds they've created and easily recall them at any point.
For optimum live performance use, VIP software also creates 'setlists' that deliver fast on-demand access to virtual instruments and effects. With the press of a single button, users can switch to the next plugin they want—without ever reaching for a computer.
CTRL 49 Features:
• Integrated 4.3-inch high-resolution full-color screen with dedicated interface buttons
• Screen provides 1:1 real-time feedback of plugin parameters
• Includes Virtual Instrument Player software— load, play and control any VST or effect plugin quickly
• Mackie/HUI for DAW control
• 49-key M-Audio semi-weighted keybed
• 9 faders and 8 buttons with Mackie Control® and HUI® for seamless control of the DAW
• Performance-ready 360-degree encoders
• FX button for future VIP updates
• 4 banks of 8 velocity- and pressure-sensitive drum pads with RGB illumination
• Roll mode, time division, transport, arpeggiator, and tap tempo buttons
• Functions as a standalone MIDI controller or controls your plugins and DAW simultaneously
• Includes software: Ableton Live Lite, AIR Creative Collection FX (20 World Class FX AU/VST
plugins as made famous by Pro Tools®), Vacuum Pro, Loom, Hybrid 3, Xpand!2, Velvet, Transfuser, Eighty Eight Ensemble
'The CTRL 49 is a game-changer for serious producers,' said JC Sutherland, Product Manager for M- Audio. 'Now they can access their entire virtual instrument library right from their keyboard, without ever being distracted by a computer, which makes the creative/performance process smoother than ever before. Working together, the CTRL 49 and VIP unlock your VSTs and enable them to function like actual instruments. Once you get used to this, there's no going back.'
The M-Audio CTRL 49 has a U.S. retail price of $499
It will be available in the 2nd Quarter of 2016.
Please visit us in Hall A, Booth #6700 at Winter NAMM.
M-Audio's Trigger Finger was one of the first MPC pad style controller only devices. Its been a while since M-Audio revisited that particular model. At the NAMM 2014 show, they are introducing the Trigger Finger Pro.
Its a nice looking machine with a large, three line LCD monitor, 16 pads and MIDI and USN connections while still being bus-powered.
Available in the Spring 2014 at $399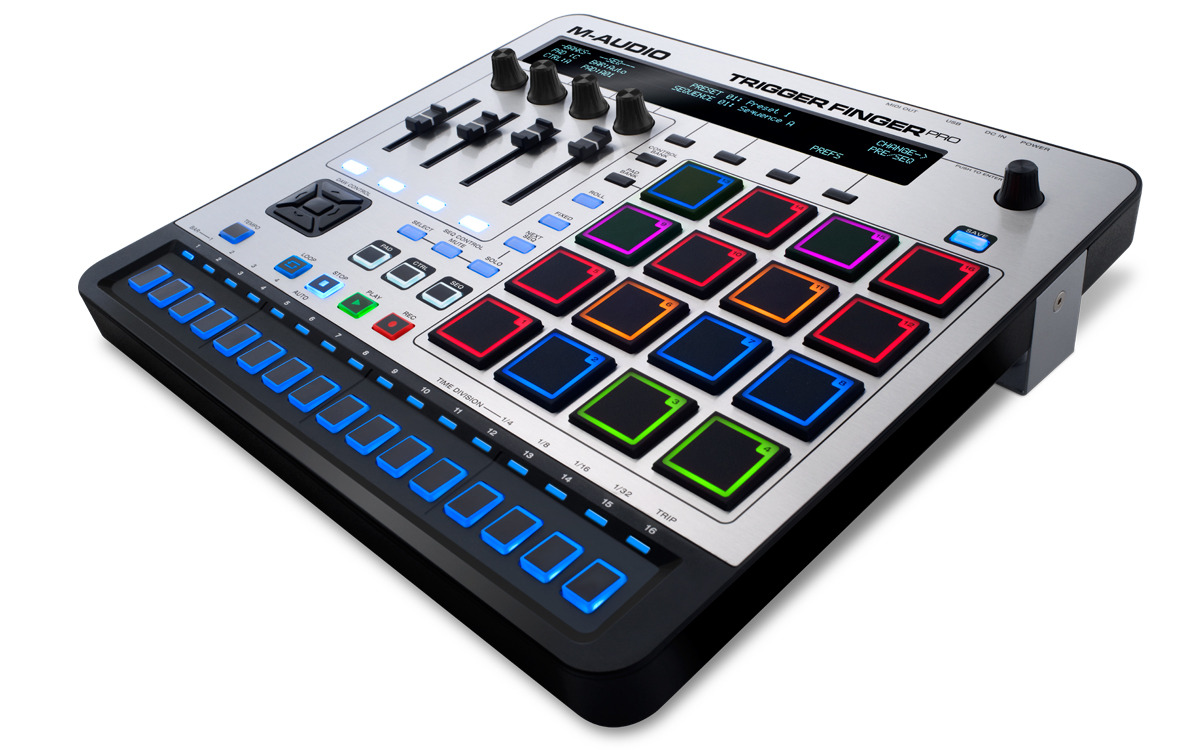 M-Audio unexpectedly brings out something that looks like NI Maschine but with 16-Step Sequencer Line – this is basically Drum Pads and a jam-type of sequencer like the Akai MAX49 has, so – this is still a controller not a groovebox or host or even a drummachine. that sequencer can not be reprogrammed but could be a cool tool if one could access it – it has built in midi as well to send the sequences somewhere. since M-Audio belongs to the Akai/Numark/Alesis Group (inMusic) this might be the same concept as the MAX Keyboards but as a pad controller. 4 memory banks – so really just for jamming.
More Information
M-Audio's top of the range MIDI controllers to replace the Axiom Pro. Quite a change in concept – see what we make of it.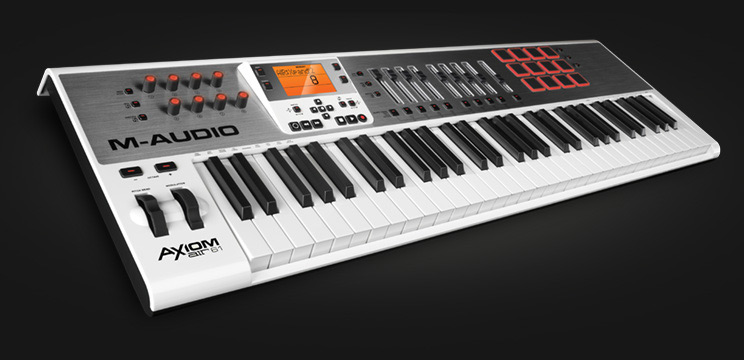 About the Axiom Air 61 (marketing pitch):
Take command of your studio while achieving higher levels of musical expression with Axiom® AIR 61 from M-Audio®. Offering unprecedented control, Axiom® AIR 61 brings together unmatched ease-of-use plus empowering software to form the ultimate studio centerpiece. Stretch out and play your best on 61 semi-weighted piano-style keys—with aftertouch. The illuminated pads are velocity sensitive and even respond to pressure. Experience total hands-on control of your sessions using assignable LED lit buttons and rotary encoder knobs, long-throw faders, plus an array of dedicated transport and software navigation buttons. HyperControl® interactive controller mapping unites your hardware and software so you can start working faster. Completing this powerful package are two complementary software selections: Avid® Pro Tools® Express and Ignite by AIR music creation software. Together, they deliver a comprehensive path for transforming the ideas in your head into a finished piece of music.
Nate from Akai Professional shows of the new Max 25 MIDI keyboard controller at Winter NAMM 2013.
Nate from M-Audio shows us their latest keyboard controller the M-Audio Axiom Air 25.
New M-Audio Keyboards Controller range extended with three new Axiom AIR models
A little teaser on what is happening behind closed doors at the labs of Retronyms:
Working on some new features for Tabletop. Hardware featured in this video: Arturia Spark, Akai LPD8, Korg NanoKey 2, M-Audio Axiom 25. Tabletop devices: Goblin MX-8, Glitchboard, RS4000, RS3, Gridlok, 3EQ, Krush.
A nearly six minute-long audio demo using the M-Audio Venom synthesizer as both a synth and an audio interface, with Pro Tools and Ableton Live.
The M-Audio Venom 49-key synthesizer combines the character of classic analog synths with modern digital processing to deliver an aggressive, infectious new sound. Whet your appetite with the included presets, then sink your teeth into creating original sounds—from atmospheric and subtle, to angry and downright nasty. Easily tweak parameters from the intuitive top-panel interface, or explore endless sound design and configuration possibilities with the included software editor. Perform bass lines, leads, and more with a full-size keyboard designed to satisfy serious players. You can even use Venom as an audio interface with Pro Tools* and other music software—forming a powerful production machine to take your music in dangerous new directions.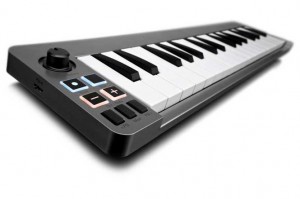 Avid has announced the availability of the new M-Audio Keystation Mini 32ultra-portable keyboard controller, a 32-note, USB bus-powered keyboard controller designed for musicians on the go. Small enough to fit in a backpack, Avid say that this ultra-portable controller delivers unmatched playability in its class, with features including:
32 low-profile mini-keys, enabling musicians to play two-handed parts
Highly musical velocity curves, allowing keyboard sensitivity customization to individual playing styles
4 assignable controls, including a knob, providing real-time control of DAW and virtual instrument functions
USB bus-powered, plug-and-play connectivity including iPad compatibility (iPad Camera Connection Kit required; check specific apps to verify MIDI support)
Pricing and Availability:
Keystation Mini 32 is available from September in EMEA for £54.99 GBP / €63 EUR $99.95 MSRP in USA.
More information:
Via Sonic State
The new Vyzex editor – FREE software that comes with the new Venom Synth
Shared by AUB