Want to know more about the Axiom Air 61 – Review
M-Audio's top of the range MIDI controllers to replace the Axiom Pro. Quite a change in concept – see what we make of it.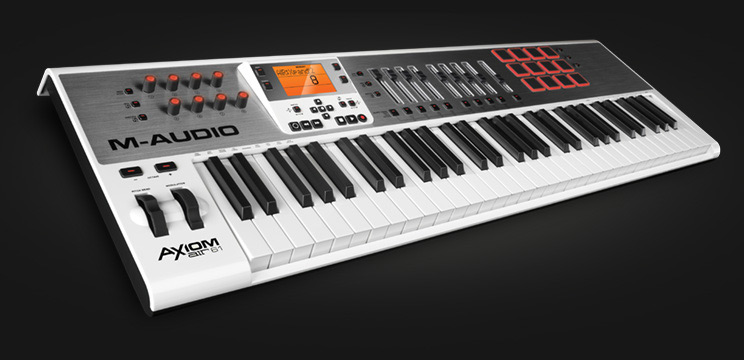 About the Axiom Air 61 (marketing pitch):
Take command of your studio while achieving higher levels of musical expression with Axiom® AIR 61 from M-Audio®. Offering unprecedented control, Axiom® AIR 61 brings together unmatched ease-of-use plus empowering software to form the ultimate studio centerpiece. Stretch out and play your best on 61 semi-weighted piano-style keys—with aftertouch. The illuminated pads are velocity sensitive and even respond to pressure. Experience total hands-on control of your sessions using assignable LED lit buttons and rotary encoder knobs, long-throw faders, plus an array of dedicated transport and software navigation buttons. HyperControl® interactive controller mapping unites your hardware and software so you can start working faster. Completing this powerful package are two complementary software selections: Avid® Pro Tools® Express and Ignite by AIR music creation software. Together, they deliver a comprehensive path for transforming the ideas in your head into a finished piece of music.
Comments