Exploring filter modulation on the Prophet, details below:
I was able to to borrow a Prophet 12 recently. Since it has analog filters, I thought it might be interesting to do "analog things" to it. This is part of what happened next.
At first I was disappointed when I saw that there were no CV connections, but I soon found that the two pedal inputs can be used with a variety of CV gear.
In this video I have the Koushion Step Sequencer iPad app sending MIDI notes to the Moog Mult-Pedal. The Multi-Pedal converts them to an analog control Voltage which step-sequences the Prophet 12's filter.
The Moog CP-251 allows us to make multiple copies of the Control Voltage so we can also step-sequence a Moog Voyager and Little Phatty. Learn more at www.experimentalsynth.com
This Bitwig Studio beta video demonstrates the unified modulation system in Bitwig Studio. Whether you're working with macro controls, setting up modulation devices (such as LFOs or envelope followers controlling plug-ins), or just assigning velocity to the filter in our virtual analog synth—assignments are all made using the same powerful but easy-to-use concept.
For more information visit: www.bitwig.com
An implementation of the Bob Borries modulation trick to mimic PWM on a Miniwave.
Simply put, an LFO (or EG, or other modulation source) sweeps the cutoff on a ramp (rising sawtooth) wave being fed into a highpass filter. The output of the highpass HPF drives the Miniwave input.
Changing the waveshape of the ramp changes the spectral content of the Miniwave, lending a PWM style tonal sweep.
Not everything sounds great, but they beauty of it is that one can go from subtle sweeps to nails-on-a-chalkboard grind with relatively little effort.
This overview is an exploration into the versatility of the Braids' wavetable synthesis using heavy modulation. The Timbre, Color, FM, Trigger inputs are being fed intense modulation. If you want to hear specific waveforms, they are all timestamped on Youtube in About/Show More. All the waveforms are timestamped on the YouTube page. The basic waveforms can be heard below in Equinoxoz Music Solutions' video. This overview does not cover the universal paramaters like Bits, Rate, Trig, META, etc… You can find additional information in the Braids Manual.
More information: http://trashaudio.com/?p=9333
Waveforms:
CSAW
/\/|-_-_ 0:21
/|/|-_-_ 0:45
SYNC 1:01
FOLD 1:15
_|_|_|_|_ 1:35
RING 1:54
/|/|/|/| 2:16
/|/|_|_|_ 2:36
TOY* 3:05
ZLPF 3:20, ZPKF 3:42, ZHPF 4:01
VOSM 4:11
VOWL, 4:29 VFOF 4:57
FM 5:15, FBFM 5:37, WTFM 5:50
BELL 6:09
PLUK 6:19
BOWD 6:40
BLOW 7:09, FLUTE 7:29
WTBL 7:49
WMAP 8:02
NOIS 8:18
TWNQ 8:32
CLKN 8:41
CLOU 8:51, PRTC 8:59
QPSK 9:18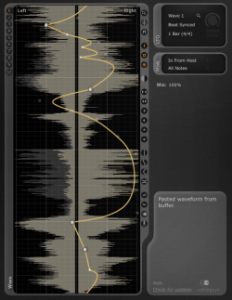 CableGuys has released PanCake 2 – an plugin that allows you to create flexible pan modulations.
Key Features:
Free, and available for both PC and Mac.
Creative Modulation Tool: Create complex pan modulations with ease.
Unique Waveform Drawing Capabilities:Construct your own modulation curves in a very intuitive manner. Waveforms can be easily drawn using soft or hard control points, thus producing gentle transitions or sharp bends in the waveform.
Customized Waveforms: Up to 10 customized waveforms can be stored.
LFO Speed: LFO speed can be set free-running from 0.02 Hz to 5.24 kHz. It can also be set in rhythmic units synced to the host sequencer, from a fast 1/128 note modulation up to 32 bars.
Always in Sync: The LFO will always stay in sync, even when you make tempo changes in your host software, or jump ahead to different parts of your track.
Complete Parameter Control via Automation: Absolutely everything in PanCake can be automated. Even the shape of the modulating waveform can be automated. And if you want to use more than four modulation curves in a song, you can automate the plugin to switch between them.
New in version 2: A precise display of channel left/right volume for helpful visual control, an option to trigger the LFO via MIDI notes, a dry/wet control, plus a redesigned interface.
The Moog Foundation has really been busy over night – uploading some 20+ videos, below you will find a snapshot on what you can explore on their Youtube channel
This is the introductory video for the Bob Moog Foundation/macProVideo series "The Foundation of Synthesis." In it, Marc Doty sets the stage for the intent of these videos, which is an integrative instruction which not only describes synthesizer function and operation, but also gives a historical foundation for the functionalities and their implementation.
Pulse Width Modulation is a pleasing aural effect generated by the voltage-controlled adjustment of the width of a square wave. In this Foundation of Synthesis video, Marc demonstrates this function on several classic synthesizers. The video includes an oscilloscope, which shows you exactly what is happening when the width of the square wave output of the oscillator is changed!
In this part of the 3rd Tutorial of the Foundation of Synthesis, Marc outlines the history of the filter from its origin in the telephone to its application in electronic devices in order to give a firm understanding of how the filter came to be an important part of modern synthesizers. The filter is a function which removes harmonics from a sound. Since harmonics define the timbre of the sound, this is a fast and easy way to create new timbres.
Control voltage is the concept synthesis had waited for for 60 years. This technology united the synthesizer into a single device as well as allowed that device to become fully controllable and automated. Control voltage was a revolution in synthesis. In this video, Marc gives a short history to this amazing development.
Maul: a multi-band distortion and tone-shaping plugin with advanced modulation.
http://www.fxpansion.com/index.php?page=193
FXpansion is proud to present Maul: a multi-band distortion and tone-shaping plugin with advanced modulation. Maul is suited to all music requiring powerful sound-sculpting abilities – everything from subtle warming and loudness generation to shredding distortion and experimental creative effects. Maul features 3 separate drive stages, each of which can act on a different frequency range with any of 32 distortion types. The available algorithms include DCAM-modelled germanium diode, tube and transistor-based circuits, clippers, overdrives, waveshapers of various kinds and bit-crushing devices for digital distortion flavours. Each drive stage also features control over transient-shaping, saturation circuitry and additional post-process tone filtering.
Availability & Pricing
Maul is available as a download-only product from the FXpansion web shop!
Pricing is USD $99.00, EUR €79.00, GBP £69.00 inc VAT where applicable
Kevin Spears explores new soundscapes playing his kalimba through a Moog MF-102 Ring Modulator.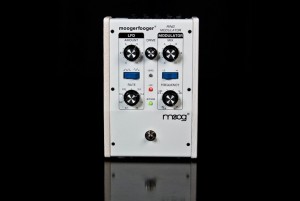 The MF-102 Ring Modulator is a direct descendant of the original Moog modular synthesizers. It contains three complete modular functions: a ring modulator, a voltage-controlled carrier oscillator, and voltage-contolled dual-waveform LFO. It can be used to process any instrument-level to line-level signal.
A ring modulator produces sum and difference frequencies between the audio input and a carrier oscillator. The ring modulator's LFO can be used to modulate the carrier frequency. The moogerfooger ring modulator can create effects ranging from subtle tremolo to harmonically rich distortion, gong-like sounds, sweeps, swoops, and divebombs. It can be subtle, or outlandish in it's use – you decide!
The moogerfooger ring modulator's control parameters are signal mix, carrier frequency, LFO rate, and LFO amount. All of the ring modulator's parameters can be controlled by the great feeling knobs that beg to be tweaked as well as with expression pedals or external control voltages. Panel switches select LFO waveform and carrier frequency range. 1/4″ jacks are provided for audio input and output, pedal/control inputs, carrier input and carrier output. The heavy-duty yet smooth acting bypass switch allows tabletop or floor use.
Imagine that the ring modulator's carrier oscillator is producing a 500 Hz sine wave, and your input signal is a 100 Hz sine wave. The ring modulator's output will be a complex waveform. You will hear two pitches: 400 Hz and 600 Hz. You will not hear your original input or the carrier oscillator.
More at www.experimentalsynth.com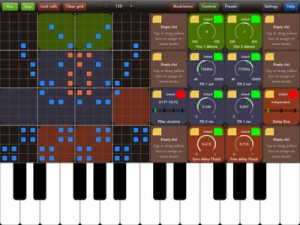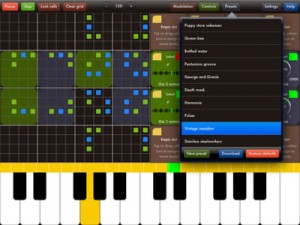 WOPR is a polyphonic, stereo virtual analog synthesizer with totally unique evolving modulation driven by vintage 1970s cellular automata. It's made for iPad 2 or later only. WOPR is a performance instrument, a stand-alone instrument in the same spirit as the Korg Monotron.
It's brilliantly playable: the full-width Wribbon keyboard lets you play pitch-perfect notes every time, then bend them like a guitar god to convey your inner pain to the screaming masses.
It's performance-friendly: you can create customized control panels for comfortable access to parameters. That's much better than contorting your fingers to fit some tiny panel layout.
WOPR is a seriously powerful analog, but what sets it apart is its modulation grid: you paint a pattern of cells into a grid, set the tempo, hit 'run' and let the cellular automata evolve your pattern. You link areas of the grid to any of the synth's parameters and your patches come to life, rhythmically pulsating as the patterns shift with each beat. Constrain parameters to ranges for tight control over rhythmic modulation, or set them free to dynamically breed new patches.
Being a virtual analogue synthesizer, we'd be remiss if we didn't include some allusion to the past. Here it is: the modulation grid is a bona fide 1970s invention called Conway's Game of Life. Look it up, marvel at the infinite variety of patterns, geek out on the math, then put them to work twisting knobs in WOPR.
The core synth engine justifies its powerful modulation. WOPR has:
– 2 pannable oscillators with sine, saw, square and triangle waves. Each oscillator has an incredible range: 32′ to 1′, with +/- 500 cent detune (a perfect fourth either way). There's also a white noise generator.
– 3 ADSR envelopes, 2 assignable between osc 1 & 2 and the third dedicated to the noise source.
– 2 fruity, resonant 24Db/octave low pass filters, assignable to osc 1 & 2 or to the left and right stereo channels.
– 2 delays, a free-running delay with fine control over low intervals, and a tempo-synced delay running from 32nds to two whole beats. Delays are independent, or can be assigned to feed eachother in any sequence. Howls, rings and reverbs are easy to create; so are good, old-fashioned solid, rhythmic delays.
– 2 octave, full-width Wribbon keyboard: play piano like a guitar, bending individual notes or entire chords. All without losing fixed-key pitch accuracy when you don't want to bend. Best of all the whole width of your iPad 2 is there for performance.
– 6 voice polyphony. If that's not enough (maybe you have tiny fingers), it comes with the best note stealing algorithm on the iPad.
– Modulation matrix: use this to link controls to the Game of Life, or simply use it to define a custom control panel for easy performance.
WOPR is version 1.0.0. It doesn't yet have these features, but they're being worked on:
– Audio copy/paste (it's coming soon.)
– A giant preset library. (More are available for free download within the app.)
WOPR's architecture might change a bit too. It's young and has a lot of growing up to do. Right now Omnivore is experimenting with stereo BPF & LPF filters that you can insert into various places in the signal pipeline. We're looking at ways to drive a wavetable library from the grid, too. Feedback is welcome, so please send your requests to feedback@omnivoresoft.com.
Finally, what does WOPR stand for? Anything you like. Wave Oscillator Piano Replacement? Wickedly Optimized for Phat Response? Who knows. All we can say is that it's the synth David Lightman would choose…
In this video, the demonstrator will present all of the Rhizome Host Step Automations functionalities, allowing you to use your Rhizome as a full Effects Sequencer.