More details on the Pi Synth:
A short demo showing filter cutoff, resonance and more LFO- and EG-driven Phase Distortion.
Synapse Audio has released three new Rack Extension effects for Propellerhead Reason:
RM-1, above, is a virtual-analog ring modulator with a unique soft-saturation characteristic. Both an internal oscillator as well as mono and stereo side chains are available as a modulation source.

The AF-4 is a virtual-analog lowpass filter module, based on the well-known transistor ladder design. The filter can be driven into a warm, musical saturation, as well as into self-oscillation. Additionally, the resonant tuning is correct across the entire frequency range. The filter can be toggled between a 12dB/oct and 24dB/oct lowpass response, and supports both mono and stereo processing.
Full integration into the Reason enviroment and workflow is provided by the CV Inputs on the backside, allowing to control all front panel parameters.

The Synapse DC-2 dual chorus offers a warm, sweeping stereo chorus effect based on a classic two-stage design with matched delay times. Sound parameters include the delay time, modulation rate, depth and a bipolar feedback control.
The delay time, modulation rate and feedback parameters can be controlled via CV Inputs on the backside.

Second video tutorial featuring the Xpander:
http://gstormelectronica.blogspot.com/
In this video I will introduce the MODULATION PAGES used for creating a SINGLE-mode patch.
0:10 Introduction
1:06 Modulation Matrix Theory
1:55 Modulation Pages
2:29 Adding and Deleting Modulation Sources
Programming:
3:58 Simple Juno Bass Sound
6:44 Classic SYNC Sweep Lead
My next video will continue discussion of modulations and programming a Rave Hoover sound, and a Hi-Fi Crescendo Deep Chord as heard at the end of Tutorial 1.
The Freqbox is a very underrated device.
This is very simple programming, just some slight modulation of the waveshape, to an overdriven 101 LPF. Then a random sequence with most of the pots totally CCW seemed to simulate a two person morse code conversation using the Ringmod as a pitch source.
Oscs sent to a synthesiers.com VCA and to the MF 104z Delay prior to going to the board.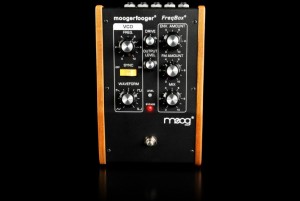 The MF-107 FreqBox is different from other effects – the effected sound is not a processed version of your input signal, but the sound of the input signal modulating an internal oscillator. It contains a VCO with continuously variable waveshape, and the capacity to modulate that Oscillator in the following ways:
– the VCO can be hard synced by the input signal
– The VCO can be frequency modulated (FM) by the input signal
– The VCO frequency can be modulated by an envelope follower which tracks the dynamics of the input signal
– The Amplitude of the VCO also tracks the dynamics of the input signal
Hard sync is a classic analog synthesis technique where the start of an oscillator's cycle can be reset by another. The oscillator being synced takes on the frequency characteristics of the other oscillator, and when its frequency is swept, it reinforces the harmonics of the fundamental frequency. In the case of the FreqBox, the input signal is used to reset the FreqBox's VCO.
FM is a technique used to get really rich sounds from simple waveforms. The type of FM used in the FreqBox is linear FM. Sounds range from gong or bell-like tones to sizzly sweeps.
The FreqBox, like all moogerfoogers, works with any instrument to line-level input. In addition to the panel controls there are control inputs for use with expression pedals or control voltages and control outputs for interconnecting moogerfoogers like you would a modular synth.
The demo was recorded with an electric guitar, the FreqBox, a Moog EP-1 expression pedal, and recording software on a laptop. That's it!
The FreqBox can provide some really unusual processing to all types of signals – guitars, synths, drum sounds, vocals or wind instruments allowing you to enter previously unexplored sonic territory.
A short video demonstration of Delta Modulator VST/AU plugin by Xfer Records.
Xfer Records has released Delta Modulator, a free bitcrusher VST/AU plugin based on a signal modulation technique found in Nintendo NES video game console's delta modulation channel.
I just threw Delta Modulator together out of mild curiosity of how it sounded compared to traditional sr/bit-reduction.
more info: http://bedroomproducersblog.com/2012/06/03/delta-modulator-free-nintendo-nes-…
download: http://xferrecords.com/freeware/
Using a keyboard tracking external VCO to achieve Tuned Ring Modulation.
The track used in this tutorial for download:
Adam Pietruszko – Chillishit.mp3
http://youtu.be/j__oRPAruqk
A short improvisation featuring processed audio from a really bad Sci-Fi movie, HP and BK sine wave generators, ring modulators, tape echo, various effects, and a dash of reverb.
www.facebook.com/AtomicShadow
Playing the Orphion iPad app through a Moog MF-102 Ring Modulator and MF-104Z Analog Delay. Moogerfooger parameters are controlled with the Moog Voyager Touch Surface CV outputs. Learn more at www.experimentalsynth.com
Demonstration using the Moog MF-102 Ring Modulator as an extra "atonal" oscillator for the Moog Voyager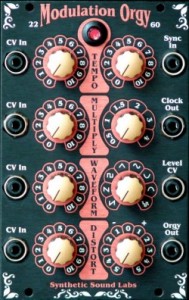 Synthetic Sound Labs has just released its first Euro rack format module, the Model 2260 Modulation Orgy, further expanding its line of 5U format synthesizer modules.  This new 16 HP width module contains a unique Low Frequency Oscillator (LFO) that offers unmatched modulation flexibility.
Synthetic Sound Labs has been in the analog synthesizer business since 1973, but the 2260 is the first Euro rack module and the sixth in SSL's continuing line of new analog synthesizer modules.
LFOs are typically used by analog music synthesists in conjunction with other analog sound producing devices for creating slow, undulating rhythms and sound patterns. The SSL 2260 Modulation Orgy features both manual and external voltage control over LFO Tempo (speed), tempo Multiplier, Waveform and Waveform Distortion.  A total of eight Waveforms are produced, including Sawtooth, Ramp, Rectangle, Triangle, Sine, Sweep, Lumps and Random.  All these (except Random) may be modified using the Wave Distort controls to vary waveform duty cycles.  Independent output jacks provide both normal and inverted LFO phases.

2260 'Modulation Orgy' Specifications at a glance:
Model  2260 Tap Tempo LFO
Function: Flexible Low Frequency Oscillator (LFO)
Tempo Adjust: .05 Hz to >50 Hz (approx)
Tempo Multipliers: Six (0.5, 1, 1.5, 2, 3, 4; overlapping) – Manual & voltage controlled
Waveforms: Saw, Ramp, Square, Triangle, Sine, Sweep, Lump and
Random – Manual and Voltage controlled
Wave Distortion: 10% to 90% (approx, except Random) – Manual and
Voltage controlled Inputs
Tempo CV, Multiplier CV, Waveform CV, Distort CV, Sync, Level CV.  0 to +5V nominal.
1/8" Phone jacks. 100k impedance.
Outputs: Clock (0 to +5 digital), LFO voltage (10V P-P;  +/-5V).  1K impedance.
1/8" Phone jacks.
Panel Indicators: LFO Rate – Red LEDs
Panel: High quality 0.062" aluminum. Durable black Metalphoto finish with
natural aluminum and copper graphics.  Complimentary Brass colored knobs.
Power: Euro rack standard 16 pin keyed header.
+5VDC @ 14ma, +15vdc @ 16ma, -15vdc 18ma
Size: 5.0" H x ~3.25" W x ~1.25" D (16 HP). Skiff ready.
Modulation Orgy Details
A unique feature allows the 2260 to synchronize to precise multiples of the musical beat permitting timed vibratos, tremolos, and clocking of external sequencers and sample & hold type devices.  Synchronization is accomplished by manually operating a front panel button, or supplying external clock pulses via the external Sync input.  Multiple 2260s may also be cascaded to provide complex polyrhythmic modulation patterns, which is aided by use of the Clock output jack.
The basic LFO Tempo (frequency) is adjustable from approximately 0.05Hz (a 20 second cycle) and 12.8Hz.  However, in conjunction with the Multiplier, this range is extended from 0.025Hz (a 40-second cycle) to over 50Hz in six overlapping tempo multiplication factors, ranging from 0.5 (1/2 note) to 4.0 (sixteenth note).
The external Level CV input responds linearly and is normalled internally to +5V so that with no input, the 2260 outputs are at maximum. This convenient input can frequently save a separate VCA when doing voltage controlled modulation depth.
A panel LED displays the LFO output rate.  Knobs are conveniently placed for ample room for manual adjustment.  Top quality 1/8" jacks permit smooth, effortless patching.
Quality, solder masked, fiberglass-epoxy printed circuit boards and meticulous hand-crafted assembly assure years of trouble-free service.
Pricing is $250 US and is available today from Synthetic Sound Labs and from distributors worldwide, including Analogue Haven, in whose booth the Modulation Orgy is being demo'ed at NAMM.