Demo of a few patches on the Roland DEP-5, a digital effects processor from 1986.
Waves has introduced the Dave Clarke EMP Toolbox, a collection of selected effect plug-ins.
Dave Clarke (Depeche Mode, Chemical Brothers, John Foxx, I am Kloot, Louisahhh!!! & Maelstrom) has been among the leading techno DJ/producers of the past two decades, commanding the respect of listeners everywhere, from massive outdoor festivals such as Tommorowland to the grittiest clubs of the underground scene.

The Dave Clarke EMP Toolbox contains seven supreme sound–crafting processors – the ones he uses regularly in his mixing and mastering sessions. With this collection of plugins, electronic music producers of any style will find what they need to give their mixes a professional lift. And if techno or electro is your trade, you will find even more.
Dave Clarke EMP Toolbox features
API 560 Graphic EQ.
Scheps 73 EQ/Preamp.
Aphex Vintage Aural Exciter.
LoAir Subharmonic Generator.
MetaFlanger.
Kramer Master Tape.
Dorrough Meters (Stereo).
The Dave Clarke EMP Toolbox is available for purchase for the introductory price of $599 USD (regular $800 USD).
Dave Clarke EMP Toolbox: http://www.waves.com/bundles/dave-cla…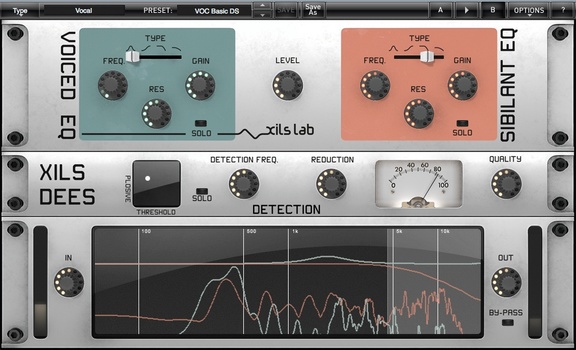 XILS-lab has announced the release of XILS DeeS, a new transparent de-esser effect plug-in for Windows and Mac.
With the help of the XILS DeeS you can get rid of all the Voice recordings faults and problems in a flash, while preserving their unique, precious character.

Getting clean, professional vocals, dubbing recordings, restoring voices in all their beauty has never been so easy.
DeeS features
Easy to use: Find the sweet spot in a flash and remove all unwanted signals. Just move the Frequency Knob and apply Reduction. No more sibilance.
Easy to understand: Clear Dual Signal path. Solo buttons for each channel (Voice, Sibilants).
Visualize what you do: Instant Correlation between ears, eye and brain in a glance with the fast, precise 4 signals real time Frequency Graph (Bottom of unit).
Easy to tweak: Go further and adapt the character of a voice to your project. Or make special effects and creative use of the DeeS.
Entirely Transparent: No filter sweep effect like with traditional similar tools.
Fast: The detection can be applied as fast as it should be, resulting in lively, natural voices (No more lifeless voices).
Input independent detection: Retains the whole dynamic range of the incoming audio.
Simple: Sibilant and Voice Channels are clearly identified on each UI part: Knobs, Graphs share common color code.
Exclusive: Plosive detection for better recognition.
Then go even further: Endless possibilities to change, adapt, or polish the character of voices with two independent EQing audio paths (Analog like 0-delay-feedback filters).
XILS DeeS for Windows and Mac (VST/AU/AAX) is available for purchase for the introductory price of 59 EUR until September 1st, 2014 (regular 89 EUR).
Coming soon… Don't miss the launch! http://caramelfxapp.com
ALL sounds in this video were processed through Caramel, recorded directly into Auria via Apogee ONE interface and Audiobus. No EQ or any other processing was done, just a super quick balance of levels in Auria.
If you enjoyed the music in this video you can also sign up to my newsletter to get notified when I release new material later this year. http://eepurl.com/Zgcen
I've also released a few E.P.'s as The Landwhale, these are available from Bandcamp, Spotify, iTunes, etc.
http://thelandwhale.bandcamp.com
Other apps and hardware used in this video:
Arturia Microbrute – All synth and bass sounds, heavily processed by Caramel. Main synth sequence also processed by Crystalline (http://crystallineapp.com/download)
Funkbox drum machine app – Drums, processed with Caramel
SoundPrism Pro – Choir sound, distorted by Caramel
Korg Volca Beats – extra snare roll percussion in right channel, processed with Caramel
99Sounds has released Rumore Cinematic Impacts, a free collection of impact sound effects designed by Alessandro Alcinesio (aka HAL9K). The library contains 50 cinematic impacts suitable for modern film scoring and electronic music production.
The included sounds range from classic sonic booms to spooky sound effects inspired by horror and sci-fi movies. All samples are available in 24-bit WAV format.
Contents:
50 audio samples in total.
24-bit WAV format.
44.1 kHz Stereo.
240 MB size on disk.
Price: Free.

audioD3CK has released ChopChop, a compressor effect plug-in for Windows and Mac.
ChopChop's algorithm was originally designed to be reasonably clean while operating with a very fast attack time and classic peak detection. The result is a very flexible compressor with a distinct sound. ChopChop is best used when the compression is meant to be heard, but it can act as an invisible tool too!
ChopChop features
External side chain.
Linear domain compression for an old school sound.
High pass filter in side chain.
Range control to limit amount of gain reduction.
Range knee to alter character of compression range.
Mid/side mode.
Freely adjustable channel linking.
Adjustable compression knee.
Full range ratio, all the way form 1:1 to 1:infinity.
Flexible metering.
Parallel compression.
Release acceleration control to alter compressors behavior.
ChopChop for Windows and Mac (VST/AU) is available for purchase for 19 EUR (non-commercial) / 49 EUR (commercial).
AudioD3CK has also released a version 1.1 update for all its plugins, which includes the following new features:
Resizable UIs.
Internal preset handling.
Undo/redo for parameter changes.
Updated manuals.
Better authorization process.
Improved installer.
Registration free demo versions.
Some presets.
[Krucz] Additional makeup parameter.
The updates are free to existing customers. AAX and VST3 versions are in development.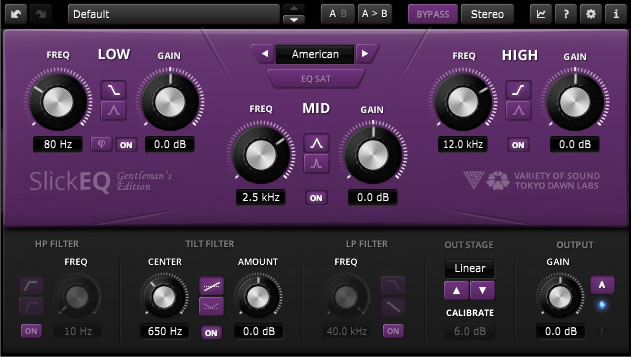 Tokyo Dawn Records and Variety of Sound have released SlickEQ – Gentleman's Edition, an equalizer effect plug-in for Windows and Mac.
SlickEQ – Gentleman's Edition takes SlickEQ's concept to new heights and adds an exotic "Tilt"-filter flanked by flexible low-pass and high-pass filters. Five distinct EQ models provide a rich set of predefined EQ curves and behaviours for the three main semi parametric filter bands.

SlickEQ GE offers a switchable EQ non-linearity as well as six different output stages. These options offer subtle and interesting textures, from the typical "mojo" often associated with high quality analogue audio gear, up to more obvious saturation.
SlickEQ – Gentleman's Edition features
Modern user interface with outstanding usability and ergonomics.
Carefully designed 64bit "delta" multi-rate structure.
Three semi-parametric filter bands, each with two shape options.
Five distinct EQ models: American, British, German, Soviet and Japanese.
Low band offers an optional phase-lag able to delay low frequencies relative to higher frequencies.
High pass filter with optional "Bump" mode.
Low pass filter with two different slopes (6dB/Oct and 12dB/Oct).
Parametric Tilt filter with optional "V" mode..
Six output stages: Linear, Silky, Mellow, Deep, Excited and Toasted.
Advanced saturation algorithms by VoS ("Stateful saturation").
Highly effective loudness compensated auto gain control.
Stereo, mono and sum/difference (mid/side) processing options.
Frequency magnitude plot.
Tool-bar with undo/redo, A/B, advanced preset management and more.
SlickEQ – Gentleman's Edition for Windows and Mac (VST/AU/AAX) is available for purchase for 30 EUR.
A first go on deregulator the new iPad app by Ashshaosh Daa. The app is a delay/echo/reverb combo but with a twist…all components can be randomized to alter each/any setting over time.
the concept is very simple but in use it is a great way of creating mangled textures that recycle what you put in and spitit back out at you in new in interesting ways.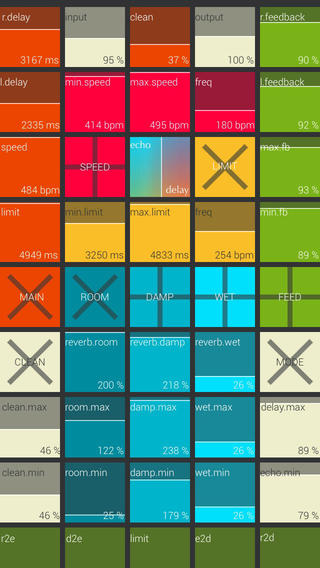 Deregulator it's a mini-processor of stereo effects with Echo, Delay and Reverberator. Input signal goes to echo and delay simultaneously. Then delayed and echoed signal lands into reverberator. All parameters of this effects may be randomised at once and some key parameters can be randomised dynamically all time. On output we have wide effects range from simple mono echo/delay/reverb and combinations to near granulation live when remains of sounds create nebula around original input and like morning mist its blurring and smudging sound into scape of something new, vibrant and beautiful (degree of beautifulness depends on what you feed in D). 
Delay just repeat sound pieces and size of every piece can be randomised, this chop and remix original sound into sometimes very glitchy, something new. Echo behaves like a usual echo unless you start randomising delay and feedback parameters. Reverb have three parameters, room size, damping and wetness of output. Off course all of them are randomisible. Randomising its a root of conception in this little app.
How it sounds like? Lets walk together to the border that splits effects from synthesisers where only granular with live input lives and question this line, she is exist? You must play with it or go to soundcloud(tag deregulator) for examples. 

Go to look at instruction and detailed description on ckek.ru

Feature list:
+ Three linked effect module (Echo, Delay and Reverb)
+ Randomisers for every parameters of this effects
+ Ability to randomise all parameters at once
+ Recording of affected audio to wav
+ Share files to iTunes, AudioCopy 2, AudioShare
+ Audiobus of course
+ 25 non-factory presets slots
+ Stereo/mono

Coming soon:
+ Universal app(Yeah, download once and run everywhere)
+ Audiobus 2 and all slots
+ IAA

Tested on iPhone 4s(iOS 6&7), iPhone 5, iPhone 5s, iPad 2, iPad New and iPod touch 4. And i don't recommend run this app on something lower then 4s. On iPod4 lag is too big, Deregulator need ~100mb ram and more power in heart. iPhone 4s/iPod5 is recommended as low line to work comfortably. 

B.Serrano tells us that IO is a set of VST effects for Windows driven by a sophisticated GUI envelope. He says that duration is theoretically infinite, so the envelope can run from 1 nanosecond to several minutes,even hours. Here's B.Serrano's descriptions of the individual effects:
Paraphonic multifilter
Multimode filtering: LP, HP, BP, Peak
Cascade filtering up to 4 stages (stack)
Advanced GUI envelope up to 32 stages
Loopable or 1 shot
Host-Bpm syncable
Individual curve-type for each segment
High precison editing
Stereo Phaser
4, 8 or 12 stages
Advanced GUI envelope up to 32 stages
Loopable or 1 shot
Host-Bpm syncable
Individual curve-type for each segment
High precison editing
Multi level adjuster
Advanced GUI envelope up to 32 stages
Loopable or 1 shot
Host-Bpm syncable
Individual curve-type for each segment
High precison editing
Multi level Auto-Pan
Advanced GUI envelope up to 32 stages
Loopable or 1 shot
Host-Bpm syncable
Individual curve-type for each segment
High precison editing
Ring Modulator
Advanced GUI envelope up to 32 stages
Loopable or 1 shot
Host-Bpm syncable
Individual curve-type for each segment
High precison editing
Pricing and Availability:
Free download.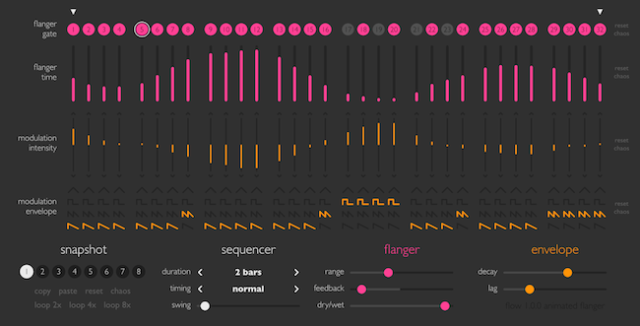 SineVibes has introduced Flow – a flanger that's designed to create effects that go far beyond tradtitional up and down 'swoosh' effects.
Flow uses a sophisticated envelope sequencer to modulate the sound in a rhythmical fashion. Flow has two different flanger characters, with positive or negative feedback, advanced synchronization and timing features, plus a host of automation and randomization options.
This allows you to create a myriad of unique effects: from intricate "jet plane" patterns and dancing comb filtering to complex swooshes or stuttered glitches. In addition, each instance of Flow stores eight snapshots of itself that can be switched in realtime or via automation.
Specifications:
Flanger with positive/negative feedback, adjustable time range from 0.5 to 20 ms.
Step sequencer with up to 32 steps, variable speed, timing and shuffle.
Flanger gate, flanger time, envelope modulation depth, and envelope shape individual per each sequencer step.
Eight full instance snapshots, multiple utility and randomisation functions.
Advanced transport sync algorithm with support for tempo and time signature automation.