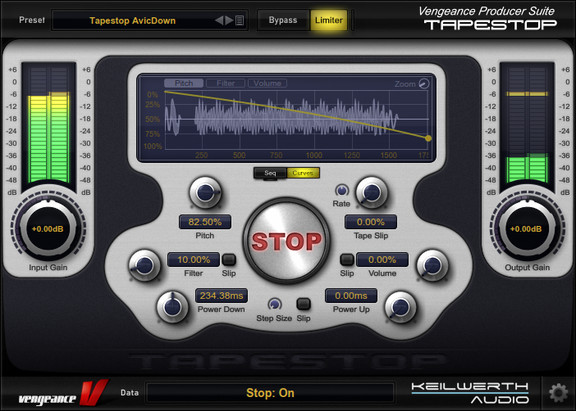 Vengeance Sound has launched Tapestop, a new Vengenace Producer Suite effect plug-in for Windows and Mac.
The Tapestop effect is as old as it is famous, and Vengeance has the deluxe version of this effect for you: VPS Tapestop is your new favourite tool when it comes to all kind of pitch effects.

But stop, it can do a lot more: with the build in sequencer, volume and filter envelopes or the new "tape slip" feature you can create crazy effects, way beyond the classic Tapestop pitch-down.
VPS Tapestop features
Simulates Pitch-Down and Pitch-Up.
LP Filter can be added.
Volume Fades can be added.
Tape Slip: simulates worn Tapes/Vinyls.
Stepped or smooth pitch effects.
internal sequencer.
3 independend envelopes for pitch, filter and volume.
realtime scope.
80 presets with pitch, wobble or special fx presets.
no clicks and 100% sync with your song.
The tapestop effect duration can be set in note values.
The Tapestop plug-in for Windows and Mac (VST/AU/AAX) costs 49 EUR. It is currently 20% off in as part of Vengeance's Easter sale. Use coupon vEaster at checkout.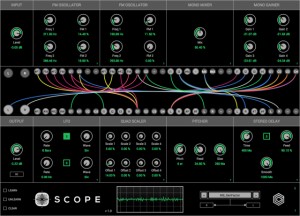 Glitchmachines has released Scope, a modular sound generator and effects processing plugin, for Mac & Windows, that is geared toward experimental sound design and electronic music production.
Scope's open-ended graphical patching system and diverse set of modules let you create a custom audio processing environment, capable of a very broad range of effects.
Features:
Fully patchable modular sound generator and signal processor
Sample library with 1500+ modular SFX in 24bit/96khz .wav
26 Modules ranging from Oscillators & Delays to LFOs & Mixers
Freely configurable module slots and signal flow
Tactile graphical patching system with virtual patch cables
Real-time animated audio analyzers and visualizers
160 patches from 8 cutting-edge sound designers and artists
Cross-platform compatibility (PC/Mac – VST/AU 32bit & 64bit)
This is Overview video going over the SCOPE plugin and included modular synthesizer sample library.
This is a basic tutorial video showing how to set up a couple of basic patches in Scope.
We worked with 6 of the best module manufacturers to put together the Eurorack system used to generate all the content. Our goal was to create a functional counterpart to Scope; something you can't easily achieve with a computer that interacts well with the plugin and gives you a new palette of sounds to work with right out of the box.

Focused on the darker side of modular synthesis, sound designer Ivo Ivanov created a collection of compelling effects that are equally distinctive and indicative of the depth of Eurorack's prodigious sonic landscape.
This video is showing behind the scenes footage from the making of the modular synthesizer sample library included with Scope.
This video is showing behind the scenes footage from the making of the modular synthesizer sample library included with Scope.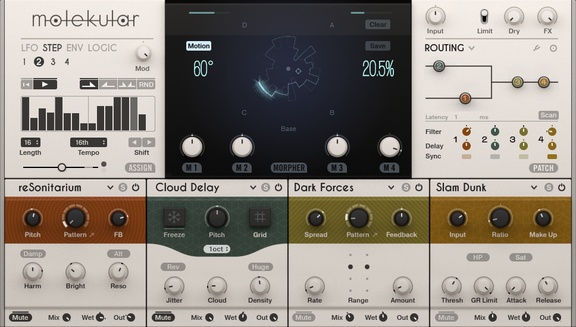 Native Instruments has released Molekular, a modular multi-effects system for the flagship synthesis studio REAKTOR 5 or the free REAKTOR 5 PLAYER.
MOLEKULAR features slots for up to four effect modules and near-limitless routing options for unique effect arrangements. Modules include a pitch and resonator section for transforming percussive sounds into melodic arpeggios. Delay, stutter, and glitch modules allow users to create new rhythmic structures or turn any incoming signal into washed-out soundscapes. Eight modulation effects offer incredible sonic versatility for augmenting tone – from classic modulation effects like flanger and chorus to yet-unheard effects such as a purposefully broken pitch shifter to create unusual new textures. Six dynamic and distortion effects include a 16-stage wave folder and a DSP that tracks a signal's pitch to control a variable waveform oscillator. MOLEKULAR also comes with essential 'bread and butter' effects for additional sonic adjustments and finetuning.

MOLEKULAR features 16 modulation sources, which can be routed to any parameter within the effects system. Modulators include four customizable LFOs and four step sequencers for emphasizing any part of the meter with rhythms from simple eighth notes to odd metric subdivisions. What's more, MOLEKULAR includes analog modular-inspired trigger sequencers – each with a dedicated envelope and an envelope follower to set accents or add bursts of effects to any production. A logic module adds an irregular, organic feel to the structure of sound sources with any degree of precision or chaos. Frequency-based parameters can be quantized to custom scales and it's even possible to route one modulator into another producing unusual, constantly evolving modulation structures.

By using the Morphing Field, it is possible to drastically twist the results via the interactive display. Producers can assign a starting point, define four master mutations and easily morph between them in real time – a new and near-limitless approach to performing with effects. The morpher can also be controlled by any of the modulation sources. Though highly advanced technology works under the hood, MOLEKULAR is straightforward to use, and also comes with a multitude of presets of highly inventive effects ready to use as creative starting points.
Molekular is available for $149 USD / 149 EUR / £129 GBP.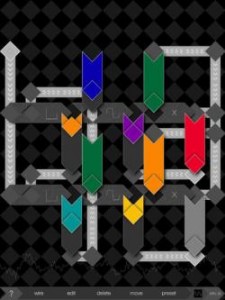 Alexey Nadzharov has introduced rrarrow – described as an 'experimental modular audio effect and noise machine' for the iPad.
Features:
Simplicity – The interface is simplified for faster assembly and more flexible connectivity – you can assemble your effect very fast and control all the processing parameters with the audio signal!
Feedback capabilities – You can add feedbacks to the audio chain to get some chaotic noise sounds .
Twelve blocks for audio processing:

Sine generator. Basic oscillator with sine waveform
Signal multiplier
Delay
Frequency shifter
Envelope follower
Lorenz attractor
Quantizer
Sample-and-hold
Reverb
Special Lowpass filter
Clipper
Nonlinear shaper (for self-oscillating circuit)

Audiobus support. Now you can stream live audio directly to other Audiobus-compatible apps! See http://audiob.us for more information. Works as input and filter.
Background audio support: enabled when connected to Audiobus and user switchable otherwise.

SoundToys has announced the release of MicroShift, a micro pitch shifter effect plug-in that allows for widening of your sound.
MicroShift makes it wide. Be it vocals, synths, guitars, backing vocals or whatever you choose to run through it, MicroShift uses this classic studio trick to spread out, thicken up, or give a new space to any track you hit with it. Of course, the SoundToys spin takes it beyond the original with the new FOCUS knob that lets you push and widen specific ranges without affecting the rest of the track.

Amazing for adding "shimmer" to a vocal, or "air" to a guitar. Control of the detune amount, delay, and a mix knob let you tweak the effect to fit just right in the track. MicroShift combines the classic sound of the hardware with new advanced features, and an intuitive interface. Simply huge.
MicroShift for Windows and Mac (VST/AU/RTAS/AAX) is available to purchase for $89 USD. Users of MicroShift Little can upgrade for $49 USD, and MicroShift Little is also included with a purchase of MicroShift before March 4th, 2014.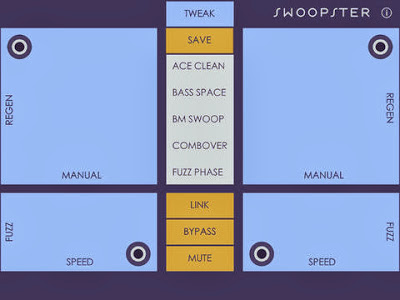 Swoopster is a wild, fuzzed out Flanger/Vibrato effect designed for Audiobus and Inter-app audio.
Process synths, drum machines and hundreds of other apps by connecting through Audiobus. Use Swoopster as an effect inside Garageband, Auria, Cubasis, and AudioShare using Audiobus or Inter-app audio.
Swoopster features two distinct modes:
PERFORM and TWEAK.
PERFORM mode is focused around four XY touch pads. Touch to control flanger speed, manual, feedback and fuzz amount independently for left and right channels.
TWEAK mode features large expressive sliders and additional effect parameters, allowing you to fine tune your sound.
The center panel of Swoopster's interface is part of the instrument and meant to be played in real-time, including the scrollable preset list. Tap a preset to instantly load it's settings, play different presets in rhythmic patterns, or re-trigger the current preset to restart the sweep of the Flanger. The MUTE and BYPASS buttons function as momentary switches for DJ mixer style control.
Echo Pad users loved the creative stereo imaging possible with its effects, and this approach continues with Swoopster. Both Perform and Tweak modes allow you to control the left and right channel's effect parameters independently for wide stereo sound design. You can easily toggle between linked and unlinked channel parameters by tapping the LINK button.
In addition to Audiobus and Inter-app Audio support, Swoopster can also process external instruments such as guitar, voice and synths by connecting a microphone or professional audio interface such as the Apogee Jam, ONE, or any iOS compatible USB audio interface.
For more info visit www.swoopsterapp.com
WHOOSH is a true sound design instrument and enables you to create breath taking whoosh and pass-by effects. It is possible to precisely design sounds varying from whistling wind whooshes to air ripping engine pass-bys or completely over the top granular sci-fi effects.
The included doppler effects engine was designed from ground up to physical model the acoustic phenomena of an object that approaches, passes, and recedes from an observer. The individual playback engines, the source mixer and doppler engine can be manipulated in synchronized connection to each other. This makes it possible to playback the desired sound effect at different durations while remaining everything in perfect sync.
Whoosh comes with an extensive onboard sample library licensed from leading sound effect recordists. It includes categories like wind, fire, metal, water, engine and explosion effects.
Whoosh is built for Native Instruments Reaktor 5.8 or later – (Player not supported).
Features:
• Enables you to design breath taking whoosh and pass-by sound effects.
• Complex but intuitive to use sound design engine.
• 4 loop / grain samplers, 4 impact samplers, wave mixer, doppler engine and post effects.
• Comes with over 240 sounds exclusively licensed from professional sound effect recordists.
• Note: Loading your own sounds is not supported at the moment – but it is possible.
(This will become officially available in a future update)
System Requirements:
• Mac or PC running a full version Native Instruments Reaktor 5.8 or later
• Download size: 150 MB zipped (200 MB uncompressed)
• Note: whoosh does not run in Reaktor Player – a full version of Reaktor is required.
Price: $79,00 US

Sound Magic has announced the release of Neo DynaMaster, a dynamic processor effect plug-in for Windows and Mac.
Neo DynaMaster is a full-featured, multi-purpose stereo dual dynamics processor utilising a unique custom designed metering system and modelling engine, providing emulations of many vintage units, e.g. SSL, Tube-Tech and so on.

Neo DynaMaster performs simultaneous compression and expansion allowing more complex dynamics response curves than common compressors and provides huge scope to engineer your final sound. Neo DynaMaster's intuitive GUI allows you to precisely edit view the dynamics response curve which is essential if you want to take full control of your dynamic range.

The comprehensive metering section comprising Peak and RMS bar meters, multi-channel scope, and Input/Output volt meters continuously provides all the information you need to better control your dynamics and levels.

Neo DynaMaster features a transparent, natural sound. In order to achieve this, Neo DynaMaster utilises a new, custom designed Peak Metering system to provide an unrivalled stable metering signal which eliminates audible level modulation artefacts while still retaining sample accurate transient detection resulting in -122dB THD+N (Total Harmonic Distortion + Noise); far below the human audible range.
The plug-in is available to purchase for 99 EUR.

SoundMod Tritone is a multiband waveshaper allowing you to split your signal into three separated band and apply an individual waveshaping algorithm with a sets of control available for each band thus creating rich overtones. Transform simple tones into complex one, add punch to your guitar and bass line, destroy drum beats, fatten up your synth sounds and create movement. This is what Tritone will do for you.
Intro Price.:
25.00 Eur, 29.00 USD til Nov.10th
32.00 Eur, 39.00 USD from Nov.11th til Nov.17th
Here is a quick description of the main features:
Input section:
-1 Input gain control
Crossover section:
-1 Low/Mid-Low control
-1 Mid-High/High control
Envelope follower modulator section:
-1 EF response control
-3 EF amount control (1 per band)
-3 EF target control (2 per band)
Waveshaper section:
-3 Drive control (1 per band)
-3 Algorithm selector(1 per band, 11 algorithm at this point)
-3 Asymmetry control(1 per band)
-3 Blend control(1 per band)
-3 Level control(1 per band)
Bandwidth limiter section:
-1 On/Off control
-1 Offset control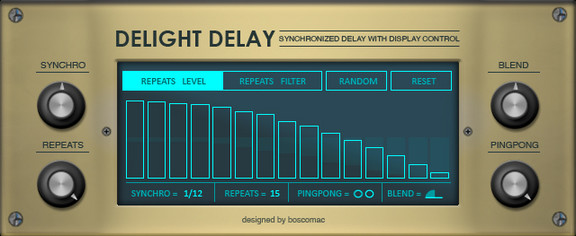 Boscomac has announced the release of Delight Delay, a free delay effect ensemble for Native Instruments Reaktor.
DELIGHT DELAY is a pattern-based delay controlled by a sequencer.

A central display allows you to set the level and filtering rehearsals and so draw a pattern. You can set the number of repetitions (1 to 15) determine the tempo (1/4 to 1/32), adjust the stereo (mono or pingpong) and adjust the blend.

Very easy to use, this delay grooves with guitars, runs with synths, installs synchronized vibes and many other things …
The ensemble is a free download for Reaktor (requires full version). Donations are appreciated.