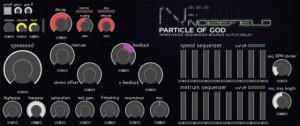 Max Pfetscher let us know about a free Reaktor ensemble effect, Particle of God, that he created as part of KVR's 2012 Developer Contest. Particle Of God is an ensemble effect for Native Instruments Reaktor. The idea behind this effect is to create a delay where the delay time is accelerated. The single delays are getting faster (or even slower) for each time the delay is repeated. To get a "musical" result, the delay time and also the delay acceleration is synchronized in time and tempo.
Several parameters can be changed in real-time an tweaked by the step-sequencers. There is also an template for hexler touchOSC available.
"This is sort of another audio mangler that I am testing. It is by Noizefield Instruments and it is named Particle Of God. Again, and probably always, I got it free from the KVR Audio site. I would give it a 5 out of 5 voting points but the KVR Audio Developer Challenge 2012 rules say us members can give 5 out of 5 points votes one time only and I have already done so with the Boids plugin by ToneCarver. So, I am forced to give it a 4 out of 5. There are about 50 other free plugins to vote on and we can only vote a total of 5 times."
If you make Ellipsynth monophonic (by setting the polyphony to 1), it's pretty easy to make a sound scrubber. You can actually do this polyphonically as well, but it's easier to control with just one voice. Here, I'm not playing with the pitch or the playback speed too much, but you can see what that might get you.
WretchUp is a unique handheld effect and instrument for the iPhone that anyone can play. Developed by Mouse on Mars, it's easy to learn, but also sophisticated enough that it's heavily used in their live shows and new albums. Now with your help, we want to bring it to everyone.
"We're launching an IndieGogo campaign to support developing WretchUp for all iOS users. (With enough funding, we'll port to Android, too.) We'll share exclusive music, updates from the band and development team, and more with backers – plus, of course, the app. And the entire project will be open source, including iOS projects and a free Pure Data (Pd) patch for users of any OS.
Here, Andi and Jan explain what the app is about and how they use it."
See you on IndieGogo!
Peter KIRN, createdigitalmusic.com
Jan St. Werner, Mouse on Mars
Andi Toma, Mouse on Mars
Shot at Mouse on Mars' studio at the Funkhaus, Berlin; edited by Peter Kirn
Echo Pad for iPad/iPhone (universal) coming soon!
http://www.holdernessmedia.com/home/ios-applications/music/echo-pad
Echo Pad is a realtime Echo effect processor featuring a unique delay + sound on sound looper controlled by a multi-touch XY interface on your iPad, iPhone and iPod touch device.
Use the built in mic on your headphones, plug in a guitar, microphone, synth, drum machine, iOS device, or whatever you want using an audio interface such as the Apogee Jam or MIC, or one of the many other compatible iOS and USB audio interfaces. (Verified up to date list of compatible audio interfaces below.)
Echo Pad was born out of love for tape echoes, sound on sound loopers and noisy, dirty analog delay pedals. Echo Pad excels at hands on warping delay tones and controlled feedback, and is not afraid to get loud.
Great for both live performance and sound design, Echo Pad was designed to have fun with the ability to sculpt a wide range of delay tones from subtle rhythms to heavy, dubbed out ambient swirls, to aggressive feedback explosions.
M-RGT has announced the release of psyGEN, an experimental granular synthesizer plug-in for Windows.
Using granular synthesis as a basis it adds extensive Modulation and FX capabilities to take any type of .wav file source and turn it into a multi-layered composition of great complexity.

With the built-in 16 track sequencer, long evolving ambient/drone sounds can be created and cross-faded with other sounds to create dense tapestries of sound. Also, the sequencer allows for more rhythmic based compositions or patches as well. It is possible to create an entire composition with just one track incorporating many variations.

psyGEN can be used as a standalone synthesizer with a plug-in like SaviHost or similar program or can be installed as a VSTi with a Host DAW.
The psyGEN plug-in for Windows (VST) is available to purchase for $33.50 USD.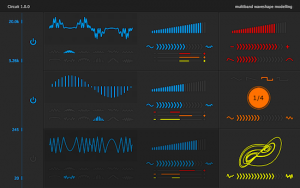 Sinevibes has announced the release of Circuit, its latest Audio Unit effect plugin for multiband waveshape modelling.
Circuit splits the signal into three frequency bands, and passes each band through its own processing engine which offers 12 different algorithms – from sine-based waveshape transformers and foldback distortion, to circuit-bent filters, lo-fi and ring modulation. These models can be further modulated by an input envelope follower, tempo-synchronized LFO or two-dimensional Lorenz attractor. All this is wrapped into a stylish, colour-coded interface based on Sinevibes' innovative design language, which makes it incredibly fun to work with.
Circuit features
Morph lifeless waveforms into entirely new, rich and dense sounds.
Transform synth basses and leads into completely different, layered material.
Re-synthesise and mangle electronic drum loops beyond recognition.
Circuit is available to purchase for $29 USD. It is also included in the Sinevibes plug-in bundle for $119 USD.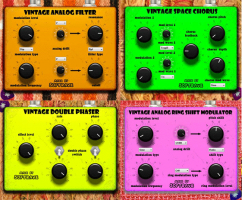 Softrave has released Vintage Effect Pack for Windows, which includes four VST Effects:
Vintage Analog Filter


Vintage Analog Filter Vst is constructed

to emulate analog instability of electric circuits of vintage filters. You can control the level of analog detune with analog drift section. you also have big choice of waves to modulate filter to make psychedelic, cosmic or just disco and house effects.
Vintage Double Phaser
Vintage Double Phaser Vst is providing classical phase shift effect and some extended possibilities. You can create phase shift effect on left and right channel separately that makes strange unique sound. Or just enjoy classic phaser sound. Its good for guitars, pads, drums and percussion lines. This plugin was inspired by The Worm guitar pedal by Electroharmonix.
Vintage Analog Ring Shift Modulator
Vintage Analog Ring Shift Modulator Vst is providing mix of pitch shifting with ring modulation. You can create unusual vibrato effects, distortions or bell like sounds and also weird strange effects. This plugin was inspired by Ring Thing guitar pedal by Electroharmonix.
Vintage Space Chorus
Vintage Space Chorus is intended to create unusual stereo chorus space effects good for rock, electronica, disco and experimental styles of music With this plug you can add some vintage analog feel to boring digital sound.
Price: €31 / $40.

u-he has announced the release of the Uhbik-F Rack Extension flanger effect unit for Propellerhead Reason.
Our flanger, from through-zero tape flanging (dramatic jet-effect!) to classic stomp-box type chorus, with LFO modulation and feedback / resonance.

Uhbik-F simulates two tape machines per audio channel, with recording and playback heads that can even occupy the same position if you want – impossible in the real world! Bass frequencies can bypass the effect ('bass sanctuary') to ensure LF-stability while the rest of the sound is swept around. Turn up the drive (2nd harmonic distortion), and your lead line will scorch its way through any mix!
The Uhbik-F Rack Extension is available to purchase for the introductory price of $19 USD until November 12th 2012 (regular $39 USD).
More info on Polar: https://www.propellerheads.se/products/reason/index.cfm?fuseaction=get_articl…
"The Polar Dual Pitch Shifter is more than meets the eye and who better to explain it than our product specialist Mattias! Learn how you can experiment with locking the buffer and do glittering delay effects with the feedback part of the pitch shifter."
Polar is an old school harmonizing and pitch-shifter effect with a host of modern tricks up its sleeves. Use it for classic harmonizing, stereo-widening, and realtime pitch-shifting, or experiment with buffer looping and audio freezing to create otherworldly effects.
http://gstromelectronica.blogspot.com/
This is a quick demonstration of the Peavey DSC-4 Dual Clock Stereo Chorus.
"I stumbled across this pink nightmare in a second hand store for cheap. It was hard to pass up being an analog pedal. And holy sh*t it's made in USA. After my not finding any demos out there I wanted to make a quick demo of my own."
The DSC-4 is a mono input, stereo output effect pedal. It uses a simple sine wave on MOD 2, and a rectified wave on MOD 1. Each side of the chorus has its own speed and depth controls. This is an analog pedal using an MN3101 clock chip to drive an MN3007 Bucket Brigade chip. The pedal is capable of having one of its outputs fed back into the input for obnoxious noises as I show in Part 3.
Part 1 – Oberheim Matrix-6 Synthesizer, one synth voice enabled.
Part 2 – Fender Strat
Part 3 – Feedback loop using OUT A. Warning: loud obnoxious sounds.
Recorded straight to a Tascam DR-05 from an Alesis Multimix-8 mixer.
No other effects were used. This being a stereo effect demo make sure to listen on some decent studio monitors or headphones.
Multi-Band Waveshape Modelling Plug-In
Sinevibes has announced Circuit, its newest AudioUnit effect plug-in designed for multi-band waveshape modelling. Circuit splits the signal into three frequency bands, and passes each band through its own processing engine, which offers 12 different models – from sine-based transformers and foldback distortion, to circuit-bent filters, lo-fi and ring modulation. These models can be put in motion by an envelope follower, tempo-synchronized modulator or two-dimensional Lorenz chaos generator.
Sinevibes says that all of these features are wrapped into a fun and simple to use, yet stylish colour-coded interface, which features the company's innovative new design language. Circuit is also based on a future-proof graphics engine that supports the Retina MacBook Pro and of course all forthcoming high-resolution Mac computers.
Pricing and Availability:
Circuit will be available in October 2012 as an AudioUnit plugin for OS X 10.5 or later (Intel 32/64 bit). It can be pre-ordered for just $19. Customers who purchase the Sinevibes' Complete AudioUnit collection (and those who purchased it after 1st September 2012) will receive Circuit as a free bonus.
More information: