MaxSynths lets us know that DSP-2 is a high precision insert effect for vocal processing which includes an Intelligent Dynamic Processor, a saturator, a four band equalizer fixed on vocal key frequencies and a room emulator based on the Schroeder reverberator. They say that DSP-2 has been designed to be an easy to understand solution for all your vocal processing needs.
Features:
Intelligent Dynamic Processor (IDP)
Four different automatic operative modes:
Fast attack, fast release
Fast A, slow R
Slow A, fast R
Slow A, slow R
Selectable compression ratio
Saturator with three different operation modes
EQ fixed on vocal key frequencies
Room emulator based on Schroeder reverb model
Transparent increment of the perceived volume level
High precision input/output VU-meter
Low CPU usage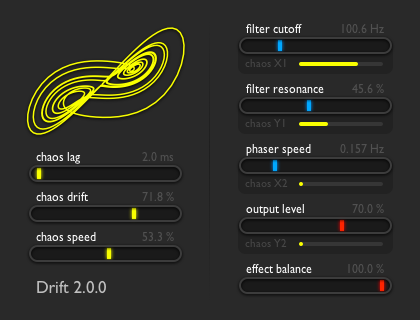 Sinevibes has released version 2.0 of its Drift chaos modulator plugin. It is designed to be a simple but flexible tool that can enrich static sounds with random yet organic motion, create chaotic filter and phaser effects, or add never-repeating, stereoscopic pulsations.
Inside Drift run two instances of the Lorenz attractor algorithm, which is a two-dimensional wave typically used for airflow modelling. Each of the four resulting outputs is separately used as a modulation source.
With the featured four-pole resonant low-pass filter and barberpole phaser the user can create many different stereo chaos effects which are designed to remain organic and natural regardless of the type of the source sound.
Price: $19. The update is free for existing owners.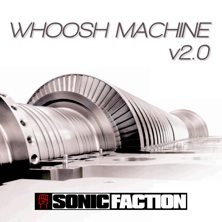 Sonic Faction has introduced Whoosh Machine v2.0 for Ableton Live 9, an effects creation tool designed for creating 'face-melting' transitions.
Key Features:
Major update to the original instrument? 'this is the Whoosh Machine on steroids'.
Live 9 browser support: Search for effects based on keywords and categories.
High quality sampled white noise and sampled analog oscillators.
Built in Filter & Pitch Envelopes for one-push auto sweeping.
Integrated LFO's for rhythmic textures and pitched mayhem.
8 filter types, built in Multi FX Rack.
Includes 50 custom made clips for drag/drop whoosh intervals.
Here's an audio demo of Whoosh Machine v2.0:
Featuring new tape echo sequencer and FX section.
For full version of NI's Kontakt 4.2.4 or 5.1.0 or later
www.tronsonic.com
If you've ever wanted your music to sound like it came off of a VCR tape then the AfroDJMac VHS Rack is the answer for you. It's a free Ableton Live audio effect rack that will allow you to add a video tape characteristic to your sounds. Best of all it is free

Free download: http://bit.ly/freesynth80
Roland Alpha Juno 2 Ableton Pack: http://bit.ly/alphajuno2
Super Tape Drums Ableton Pack: http://bit.ly/supertapedrums
Visit AfroDJMac's site for more stuff like this, including Live Instrument downloads, tutorials and music! http://www.afrodjmac.com
More info on Reason: https://www.propellerheads.se/product…
The Audiomatic Retro Transformer is a new Rack Extension that comes free with Reason 7. Audiomatic is for your music what those insta-hipsta-analogififcation apps are for your cellphone pics. It's about taking your sounds and making them a little bit wrong in the right way. Color your sounds, add extra grit, or indulge in the lo-fi goodness.
In this microtutorial, we'll show you how Audiomatic was deployed across an entire mix to bring authenticity to the retro vibe. A little retro here… a little retro there… and it adds up to a dramatically awesomized mix.
More info: http://bit.ly/175awvf
In this video, Reason guru James Bernard takes a look at Propellerhead Reason 7′s new features including MIDI / CV output, the spectrum EQ analyzer, parallel processing, some new retro effects, and the addition of ReCycle to the already powerful music production and sound design software.
Moog Guitar processed only by the effects in Ableton Live Suite, primarily the Grain Delay. Background is constructed with Korg Wavestation VST, Yamaha MO8 and Korg MicroX. Learn more at www.experimentalsynth.com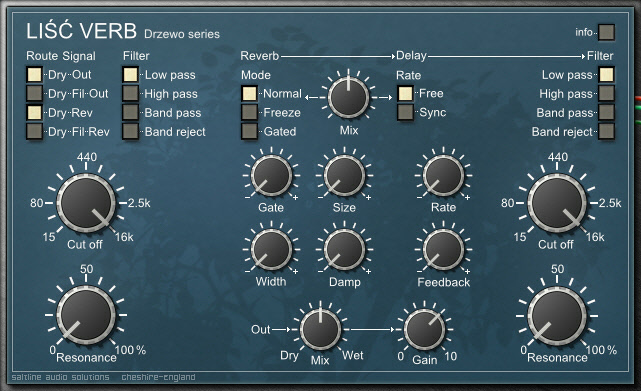 Saltline has announced Liść-verb, a freeware reverb and delay effect plug-in for Windows.
Liść-verb is a reverb and delay effect. It's simple layout and structure can bring texture and space to any sound source, from creating strange ambience for pads to interesting musical textures for beats.

Liść-verb for Windows (VST) is available to download as freeware.
Listen to a demo that Liść-verb has been used in to create most of the space and ambiance:
Sugar Bytes awarded effects plugin TURNADO is now available for the iPad!
It features the full Turnado software with 24 effects which can be turned on and off
using big knobs.
For better iPad experience, we added a nice audio player, 4 XY pads and more!
Sugar Bytes Turnado, now on the App Store!
http://www.sugar-bytes.de/content/pro…