More info on Reason: https://www.propellerheads.se/product…
The Audiomatic Retro Transformer is a new Rack Extension that comes free with Reason 7. Audiomatic is for your music what those insta-hipsta-analogififcation apps are for your cellphone pics. It's about taking your sounds and making them a little bit wrong in the right way. Color your sounds, add extra grit, or indulge in the lo-fi goodness.
In this microtutorial, we'll show you how Audiomatic was deployed across an entire mix to bring authenticity to the retro vibe. A little retro here… a little retro there… and it adds up to a dramatically awesomized mix.
More info: http://bit.ly/175awvf
In this video, Reason guru James Bernard takes a look at Propellerhead Reason 7′s new features including MIDI / CV output, the spectrum EQ analyzer, parallel processing, some new retro effects, and the addition of ReCycle to the already powerful music production and sound design software.
Moog Guitar processed only by the effects in Ableton Live Suite, primarily the Grain Delay. Background is constructed with Korg Wavestation VST, Yamaha MO8 and Korg MicroX. Learn more at www.experimentalsynth.com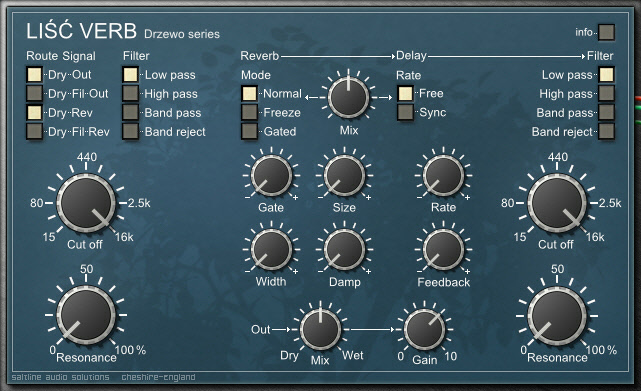 Saltline has announced Liść-verb, a freeware reverb and delay effect plug-in for Windows.
Liść-verb is a reverb and delay effect. It's simple layout and structure can bring texture and space to any sound source, from creating strange ambience for pads to interesting musical textures for beats.

Liść-verb for Windows (VST) is available to download as freeware.
Listen to a demo that Liść-verb has been used in to create most of the space and ambiance:
Sugar Bytes awarded effects plugin TURNADO is now available for the iPad!
It features the full Turnado software with 24 effects which can be turned on and off
using big knobs.
For better iPad experience, we added a nice audio player, 4 XY pads and more!
Sugar Bytes Turnado, now on the App Store!
http://www.sugar-bytes.de/content/pro…
Background video description:
I seem to have acquired a lot of eurorack delays. So I thought, let's make some demos. These are however a lot of work. I also note I have a lot of dust on my modular! But anyway: here is the first: a demo of the Analogue Systems RS-390 echo (digital delay). I got bored with filming the synth itself, so I added a few shots of the vegetable patch on my balcony … Probably next demo will be the Pittsburgh Analog Delay. But don't hold you breath, this may take a while.
Any suggestions for other patches to try are welcome.
This is actually quite nice going on the iMS20

Watch the magic of Sound & Visual come to life..
Step by Step Mee Zanook works the iMS-20 into Motorcycle Effects and then combines the established sounds with racing footage,he works the oscillators live while different types of footage comes in and out..
Footage: Bottledvideo.com(free footage for the masses)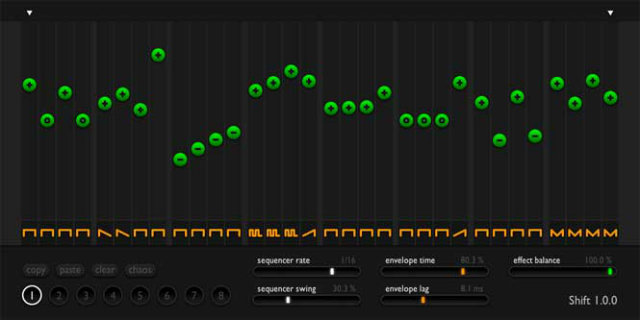 Sinevibes has announced its new AudioUnit effect plugin called Shift, an animated frequency shifter. They tell us that it is designed to add tasty vibes to basses, synths and pads, spice up drum and percussion loops, or simply turn anything into a mad glitch. Here's the details directly from Sinevibes…
Processing bliss
At the core of Shift lies a precise model of the Bode frequency shifter with a silky smooth sound. It can be tuned to produce anything from phasing and wobbling to metallic ringing, beeps and buzzes. And this effect works well with absolutely any type of sound source.

Advanced motion
To modulate the frequency shifter, Shift uses its built-in sequencer with up to 32 steps, variable rate and shuffle. With an ability to assign one of 8 envelope shapes per individual step, you can build incredibly elaborate patterns. Inside a single preset, Shift can also store up to 8 separate sequences which you can instantly switch between or automate via your host.
Never-ending fun
Shift has been meticulously designed to blend usability with flexibility. Its colour-coded, single-view interface has fluid visual feedback and takes no time to learn. This makes it a kind of tool you will want to use again and again.
Pricing and Availability:
Shift is immediately available for $29 as an AudioUnit plugin for OS X 10.6 or later.
More information:

Soundtoys has just released Little MicroShift, the latest in their new Boutique plug-in series, and it's free for a limited time.
The company tells us that Little Microshift is based on a simple, but effective studio trick for creating wide stereo tracks from mono sources. Originally done using hardware pitch shifters, as well as the original SoundToys SoundBlender plug-in, this technique has been used in pro studios as a "secret weapon" on countless vocals, guitars and more for a widening, doubling and interesting spatial effect that adds focus or power to tracks run through it. Soundtoys says that, now, three of the most popular versions of this effect are available at the touch of a button.
The Contest

As in years past with Devil-Loc and Little Radiator, Little MicroShift is available free to anyone who can find a friend with a "sharing code".  They're all over FaceBook and forums like GearSlutz and KVR Audio. Once you've got Little MicroShift, you can share it with your friends by using your own unique sharing code. The top share-masters win more cool stuff. The grand prize is an autographed original H3000 D/SE Ultra-Harmonizer from our Gear Closet. The promotion ends on March 29th.
Pricing and Availability:
Free
More information here:

iZotope has announced the release of Nectar Elements, the latest addition to the Nectar family of vocal plug-in effects. Built on the same award-winning DSP as Nectar, Nectar Elements features an easy-to-use interface designed with the singer-songwriter, podcaster, or home recordist in mind. iZotope says that, with ten vocal processing effects working behind the scenes, Nectar Elements simplifies vocal production, allowing users to focus on their sound, not their set-up.
iZotope Product Manager, Brett Bunting, told us, "By introducing Nectar Elements, iZotope is pleased to offer single-click vocal production to a broader set of users. Our vocal product line is focused on great sound and simple workflow. With Nectar Elements, anyone can quickly explore a wealth of complete vocal sounds, each with unique and intuitive control."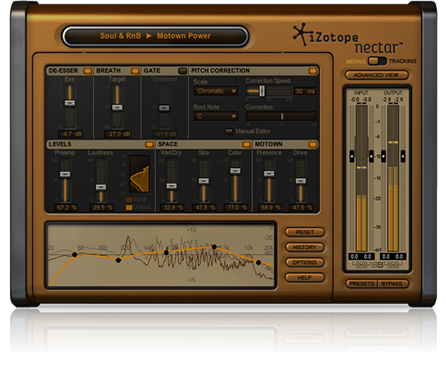 Nectar Elements features dozens of Style presets that let you choose between a variety of classic and creative vocal styles, from Motown to Grunge to radio-ready podcast. Easily and quickly adjust the simple controls to find your voice and make it shine.
Key Features:
Rapidly audition different vocal sounds with professionally-designed Style presets in a wide variety of Genres.
Personalize your sound with easy-to-use controls that drive sophisticated vocal processing.
Even more:
Levels: Quickly get punchy vocals with the loudness you need for consistency across your tracks.
Space: Help settle your vocals into your mix with delays and reverbs that add ambience and "smoothing."
Dedicated per-Style controls: Adjust intelligent sliders that perfectly complement the Genre and Style of choice.
EQ: Enhance and sculpt the tone of your voice, or adapt any Style to suit your sound's needs.
De-Esser: Easily remove unwanted "ess" sounds and sibilance using just one intelligent slider.
Gate: Remove room tone and other unwanted noise quickly to get vocals crisp and broadcast-ready.
Automatic Pitch Correction: Fix out-of-tune notes so you can keep those "almost perfect" takes.
Pricing and Availability:
Nectar Elements is now available for MSRP $129 USD or €99 EUR.
Additional preset packs for Nectar and Nectar Elements are available for free at www.izotope.com/nectar/presets