Cerberus Audio has announced the release of Epoch Dynamic Comb Filter, an effect plug-in for Windows and Mac.
Epoch Dynamic Comb Filter is a unique alternative to traditional filtering and dynamics processes such as equalizers and compressors.

Unlike most equalizers, Epoch is musically reactive, and Epoch has a wider range of tonal color than most compressors.

The heart of Epoch is its Comb Filter Section which features a 360° Phase Rotator and a Fractional Delay. The filtered signal is applied selectively by Epoch's bespoke Dynamics Section.
Epoch (VST/AU) is available to purchase for $72 USD (single user) / $86 USD (commercial).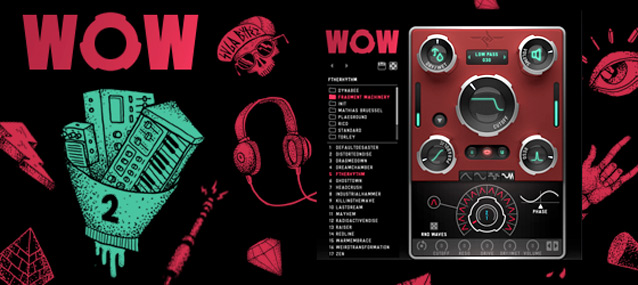 SugarBytes dreamt of a WOW2 and now it is here! With a future-dripping user interface, 21 incredible filter types with the famous vowel mode. With distortions that cover your tracks with gas and put them on fire. Modulations that cause more trouble than your modular dark room. And finally that warm and juicy sound, that you were looking for.
– 21 Filter types like Lowpass, Bandpass, Highpass, Bandreject, Comb and much more. Low pass types up to 48 db, including flavors like SVF, Diode Ladder and Transistor Ladder.
The filters and distortions have been designed for best harmonics without aliasing, for high definition audio quality.
– Three different analog modeling overdrives and four digital distortion functions are included. Use them pre or post the filter.
– Modulation is power. Power is sex. Create stunning trance gates with the step sequencer, do some giant wobbles with the wobble generator or let all the modulators interact with each other. The LFO offers many different wave forms, restart options and sync flavors.
– Presets are just one click away. Randomize presets to inspire yourself.
Get WOW2 now! Skrillex, Boys Noise, SiriusMo, Modeselektor, MouseOnMars already did.
WOW2 is the new filter plugin from Sugar Bytes.
Find it on www.sugar-bytes.com.
A nice add on to the LushOne. The Inca module arrives.
The LushOne Inca module provides features to generate percussive, random and multi-source effects from the LushOne synthesizer. The LushOne Inca also provides features to make it easy to connect the LushOne to Eurorack or other external modular systems. Finally the module contains a "thumbstick" to allow fully analog control of the synthesizer.
Full details here.
The LushOne Inca provides:
Four input signal mixer/signal processor

Combine up to four inputs to create new signals
Works with audio signals or control voltages
Can be used to match LushOne signal levels to interface to Eurorack or external systems
Two non-inverting and two inverting inputs
Independent control of levels of all inputs
Control of DC offset
AC and DC coupled outputs
LED indication of output signal polarity and level

Noise source

Analogue noise source with signal level and CV-level outputs
Excellent for drum and percussion sounds
Can provide control voltage input to any other module for random effects
Variable level control

Sample and Hold (S&H)

Capture the level of an input signal and hold it under the control of an external clock
Great for time quantizing the noise source output
Generates weird effects on audio signals

Utility Low Frequency Oscillator (LFO) with square wave output

Primarily intended to be used as a clock input to the Sample and Hold
Can also be used as a control voltage feed to any other LushOne CV input
Gate input can be used to stop oscillator under external control

Analogue thumbstick input

Fun way to manipulate multiple control voltages simultaneously
Game console-style joystick with X and Y control voltage output
Button press and output

Signal breakin/breakout

Connect the LushOne 2mm patch leads to mono 3.5mm socket to allow easy interconnect to external systems, particularly Eurorack
Can be used in conjunction with the mixer/signal processor for easy interfacing to external systems
Single board design including all controls and connectors (except power-in) providing straightforward construction and neat presentation. A laser cut case is available that contains the LushOne base and the Inca or it can easily be housed in a project box.
Open-source access to schematics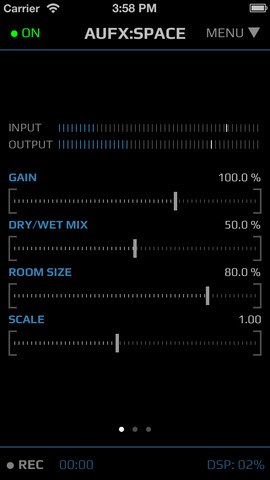 Kymatica has introduced AUFX:Space – a real-time reverb audio effect for AudioBus.
Features:
High quality 32-bit DSP engine.
A multitude of parameters to tweak to get a wide range of sounds.
Process hardware input/output
Process other apps through Audiobus (input/filter/output slots supported).
Ready for the future inter-app audio standard.
Save and load user presets.
Comes with several bundled presets.
Fully MIDI controllable, including Virtual MIDI.
Background Audio.
Record the result directly in app.
Email recordings or export to AudioShare audio document manager app.
Access user presets and recordings through iTunes File Sharing.
AUFX:Space is available for US $3.99.
Dan-D plays around with Effectrix on his latest track!
Effectrix is an advanced effects sequencer, or perhaps I should say was since it appears you are not able to purchase it anymore if you go to Sugar Bytes homepage…
Sugar Bytes describes Effectrix as "as a musical instrument with lots of possibilities for different expressions of existing material. Sounds of any kind can be transformed to exciting beat structures and soundscapes."
Effectrix lets you do advanced looping –  loops can also be scratched, stretched, reversed or modulated in loopsize and pitch.
Here is a simple yet deep Vocal Effect Rack for Ableton Live 9. It has many common effects and some tools to help fight feedback.
AfroDJMac uses a variation of this exact rack for my live performances. It's a lot of fun and can add a lot of excitement to your performances.
Free Download: http://bit.ly/freesynth85
Visit his site for more stuff like this, including Live Instrument downloads, tutorials and music! http://www.afrodjmac.com

Tek'it Audio has announced the release of Winkl, a free foldback distortion effect plug-in for Windows and Mac.
Winkl is not a subtle distortion, this is well suited for bass and leads, made to make scream your sounds.
Winkl features
Foldback distortion.
Drive and Output Gain controls.
Bypass switch.
x16 Oversampling.
64-bit internal processing.
Full MIDI automation support.
Works in mono or stereo.
Zero-latency.
Winkl for Windows and Mac (VST/AU) is available to download as freeware.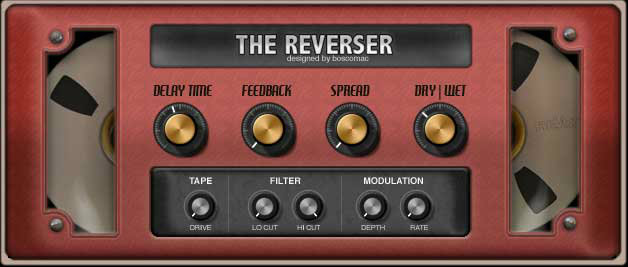 Boscomac tells us that The Reverser is a delay that reverses the sound.
A spokesperson had this to say, "Originally, we recorded a sound and then we returned the tape to play it backwards, it was pretty perilous. Today, we are far from the mechanics, but the principle remains the same except that the sound is processed in real time. Here you can set the delay time of the signal which will be read backwards, the feedback, stereo offset (spread) and mix the processed signal. In terms of Vintage, you can saturate the tape, cut of frequencies and modulate the sound reversed."
Full version of Reaktor 5.8 needed.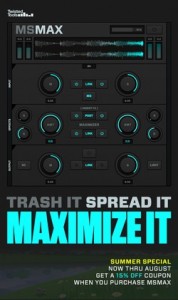 Twisted Tools has announced the release of MSMAX, a Maximizer effect and Mid/Side Matrix plugin for Reaktor.
As a Maximizer, MSMAX can be used for anything from subtle to extreme loudness maximization to get individual tracks or mixes sounding loud and finalized. As a Mid/Side matrix, MSMAX can be used to encode, decode and process Mid/Side signals to add width or create stereo imaging effects. With near-zero latency and CPU efficient code, you can use it on any type of track and run multiple instances without bogging down your system.

MSMAX also features a flexible and easy to use insert effects path, that allows you to insert your own effects to be applied to either the Left/Right or Mid/Side signals. To get you started, MSMAX includes an example effect called Nanoverb, which allows you to apply EQ and/or Reverb to any channel.

Lastly, MSMAX has a Sidechain Ducker at the output stage for some classic volume ducking or pumping effects. There are several modes to choose from to achieve instant results. For example, setting the Sidechain Ducker to auto mode will produce a 1/4 note pumping effect. Set it to 'Self' mode and you can duck a delay on a vocal track using the vocal itself as the sidechain input.

Whether you use MSMAX to slam your drum bus, apply creative M/S techniques within Reaktor or squeeze some more volume out of your master, MSMAX is a versatile production tool with several tricks up its sleeve.

MSMAX comes with a Lemur template by Antonio Blanca to control MSMAX remotely using an iPad and Liine's Lemur application.
MSMAX features
Stereo Maximizer.
Flexible Mid/Side Matrix (Encode/Decode Input and Output).
Sidechain Volume Ducker (Sidechain using: Audio, MIDI, Auto, Self).
Insert effects path (Pre/Post Maximizer).
Use your own effects.
Output Limiter.
Mono Summing.
Dry/Wet Mix with internal latency compensation.
Near-zero Latency (1 sample).
Low CPU.
Phase flip (Standard or Pre-Decode M/S for 180 degree flip).
Nanoverb Example Insert Effect (Reverb and EQ).
Switchless switching for instant A/B'ing settings without clicks or pauses.
Lemur template by Antonio Blanca.
Free incremental updates.
MSMAX for Reaktor costs $39 USD. MSMAX comes with an additional 15% OFF coupon when you buy it before August 1st, 2013. All other Twisted Tools products are available at a 15% discount in the Summer Special Savings sale.

MaxSynths lets us know that DSP-2 is a high precision insert effect for vocal processing which includes an Intelligent Dynamic Processor, a saturator, a four band equalizer fixed on vocal key frequencies and a room emulator based on the Schroeder reverberator. They say that DSP-2 has been designed to be an easy to understand solution for all your vocal processing needs.
Features:
Intelligent Dynamic Processor (IDP)
Four different automatic operative modes:
Fast attack, fast release
Fast A, slow R
Slow A, fast R
Slow A, slow R
Selectable compression ratio
Saturator with three different operation modes
EQ fixed on vocal key frequencies
Room emulator based on Schroeder reverb model
Transparent increment of the perceived volume level
High precision input/output VU-meter
Low CPU usage