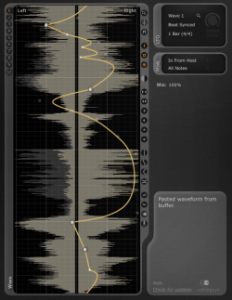 CableGuys has released PanCake 2 – an plugin that allows you to create flexible pan modulations.
Key Features:
Free, and available for both PC and Mac.
Creative Modulation Tool: Create complex pan modulations with ease.
Unique Waveform Drawing Capabilities:Construct your own modulation curves in a very intuitive manner. Waveforms can be easily drawn using soft or hard control points, thus producing gentle transitions or sharp bends in the waveform.
Customized Waveforms: Up to 10 customized waveforms can be stored.
LFO Speed: LFO speed can be set free-running from 0.02 Hz to 5.24 kHz. It can also be set in rhythmic units synced to the host sequencer, from a fast 1/128 note modulation up to 32 bars.
Always in Sync: The LFO will always stay in sync, even when you make tempo changes in your host software, or jump ahead to different parts of your track.
Complete Parameter Control via Automation: Absolutely everything in PanCake can be automated. Even the shape of the modulating waveform can be automated. And if you want to use more than four modulation curves in a song, you can automate the plugin to switch between them.
New in version 2: A precise display of channel left/right volume for helpful visual control, an option to trigger the LFO via MIDI notes, a dry/wet control, plus a redesigned interface.
"Using the Korg ims-20 for ipad I showed from scratch the creation of a "It's freezing sound effect" to go with footage from the Rocky Mountains which fades into view.
Sound Effect Series 1 by Mee Zanook"
Julien Bayle has released ultraGlitcher 1.0 - a new audio FX unit for for Ableton Live
Ableton Live effects available here: http://designthemedia.com/ultraglitcher
FEATURES
- 3 fx stages based on step sequencing
* frequency modulator modulating the input with a raw and gloomy carrier
* crusher crushing bit depth resolution + sample rate of the input
* dirty delay delaying and modulating the feedback on very uncanny manners
- independant step sequencers for audio-channels L/R
- global bypass switch
- global dry/wet
- master shaper envelope based with retriggering rate
The signal pass thru several internal modules, successively:
- frequency modulator
- crusher
- dirty delay
Each module are based on a step sequencer, except the step shaper.
Each module can have its own step number. At each step, a value is popped out to a dsp depending on the nature of the module.
You can tweak steps for both L/R channels and you can also link them, the L step sequencer becoming the one used for both channel modulation.
Each module contains a small step sequencer helper providing an eay way to create sequences increasing or decreasing, including a small cycle, on-the-fly
At last, each module contains a smoother providing a small interpolation between each step.
frequency modulator modulates the frequency of the signal by using a carrier. You change frequency from min to max and you can adjust the range corresponding to min & max. You also have a multiplier to make it sounding crazier.
crusher crushes the signal by degrading sample rate & bit depth. You can choose each value for each step for each audio channel. You also have a divider that provide a sample rate tweak for very low frequency with a better resolution.
dirty delay delays the signal. You can choose feedback amount for each step. You can also choose the delay time manually or sync with the transport. A Bizarre mode provides a very strange noise/sample-and-hold delay time movements that is interesting.
A global waveshaper can be enabled at the master output.
You choose a triggering rate and the envelope is applied to the incoming waveform just before to be popped out to the next device in the chain.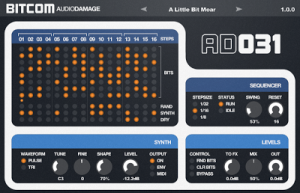 There are subtle plug-ins you put on the two-buss to give a nice gentle vibe to a track. Bitcom is not one of those. There is no "analog modeling" in this effect. There is no warmth or tube saturation. It is utterly devoid of anything to which the word "vintage" can be applied. Bitcom is a modern bit-shredding digital banshee that beggars description and lives on the edge of instability.
In a nutshell, a step sequencer drives a custom-designed bitcrusher, with a synth sidechain. But that sentence doesn't begin to describe the abuse that Bitcom is capable of. We pulled out every trick in the book to build a modern electronic music effect that can turn even the most sedate input in to a swinging, screaming pain-monkey, wreaking havoc on lesser sounds.
Bitcom requires OS X Intel 10.6.0 or later, or Windows XP SP 2 or later; the installers include both 32- and 64-bit versions.
Bitcom Features:
Bit Banging: Bitcom's bit engine is unique; each step has eight switches that (to simplify matters greatly) turn individual bits on and off. So all 8 switches on, and the output is pretty much like the input. Start turning them off and Strange Things Happen.
Synth Signal: Bitcom includes a simple monophonic synth that can either be always on, envelope driven, or controlled via MIDI. This is mixed with the input signal to create strange new sounds. Alternatively, Bitcom can be used without any input at all, as a moderately capable synth.
Sidechain: When using the VST3 version, the sidechain input can replace the synth section. This has the net effect of putting two input signals in to a meat grinder. Strange Things Ensue. Don't say we didn't warn you.
Sequencer: Bitcom's step sequencer syncs to the host DAW. The sequence can be of arbitrary length from 1 to 16 steps, and the sequencer has internal swing.
James Bernard, master of all things Propellerhead Reason, is BACK! In this video James demonstrates using Buffre Rack Extension for Reason 6.5 as a performance tool to create stutter and pitch fade effects in real time using the Livid Instruments OHM64.
25% Holiday Discount Code: buffreholiday
http://shop.propellerheads.se/product/buffre-beat-repeater/
http://www.mcrow.net/Reaktor%20Ensembles.htm
SuperPan is part of Musicrow Golden Ensembles 3: Premium ensembles for NI Reaktor
Place your sound out of the speakers, create extreme stereo and 3D effects, explore distorted and unnatural spaces, and choose from many surprising 'spacey' presets. Superpan is the perfect panning tool for extremists!
Main Features:
• Pan out of the speakers
• Create super wide stereo mixes
• Extreme 3D effects
• Add unusual motion
• Modulators: Two Sequencers and an LFO
• Many surprising 'spacey' presets
SuperPan is available as part of Golden Ensembles 3 that now contains 45 ensembles, synthesizers and effects for NI Reaktor 5. The update is available for free for Golden Ensembles 3 users.
Musicrow also offers Golden Ensembles 3 for a special Xmas price of 99EURO (Instead of 169Euro) until 31 Dec, 2012.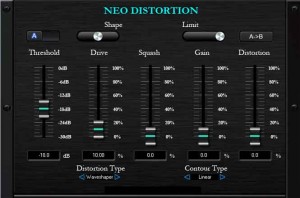 Sound Magic tells us that Neo Distortion is a distortion effect unit which features a 2-stage distortion Overdrive, followed by 4 optional distortion units including a Waveshaper, Fuzz, Soft Distortion and Contour.
They say that it provides meticulous controls for the 4 distortion types and combined with the Overdrive unit, you can build your own style of distortion to feature your unique sound style.
Features
Internal 64-bit floating point precision.
2 Stages Distortion, First OverDrive, Followed by 4 optional distortion units including a Waveshaper, Fuzz, Soft Distortion and Contour.
Support up to 32Bit/384KHz resolution.
Pricing and Availability:
Neo Distortion costs €49
More information:
How to map the Korg NanoPad to work like a Korg KaossPad in Looper mode. Using Ableton Live. This video  takes a look at using the Korg NanoPad with Ableton Live for Kaoss Pad type effects
Maul: a multi-band distortion and tone-shaping plugin with advanced modulation.
http://www.fxpansion.com/index.php?page=193
FXpansion is proud to present Maul: a multi-band distortion and tone-shaping plugin with advanced modulation. Maul is suited to all music requiring powerful sound-sculpting abilities – everything from subtle warming and loudness generation to shredding distortion and experimental creative effects. Maul features 3 separate drive stages, each of which can act on a different frequency range with any of 32 distortion types. The available algorithms include DCAM-modelled germanium diode, tube and transistor-based circuits, clippers, overdrives, waveshapers of various kinds and bit-crushing devices for digital distortion flavours. Each drive stage also features control over transient-shaping, saturation circuitry and additional post-process tone filtering.
Availability & Pricing
Maul is available as a download-only product from the FXpansion web shop!
Pricing is USD $99.00, EUR €79.00, GBP £69.00 inc VAT where applicable

SKnote has launched the C165a, a circuit modeled emulation of a VCA compressor with internal peak limiter.
C165a has been developed by measuring and testing a classic VCA compressor with a great sound and very simple to use. Its features have been extended including sidechain filters, a sample-aligned parallel mixing control and a limiter switch.
C165a features
Mono/stereo.
Auto mode for easy compression, punch and smooth sustain.
4x oversampling for nice saturation.
Internal sidechain equalizer (low, mid and high bands).
Internal limiter with controlled distortion (for more punch, peak control or creative drive – switchable).
Sample aligned internal parallel compression.
Knee meter (leds) and in/out/compression meter.
Simple 3D interface.
From transparent compression to extreme punch, sustain and creative distortion.
The plugin is available for Windows and Mac (32/64bit, VST/AU/RTAS), priced at $29.99 USD.