Sound Magic has announced the release of Neo DynaMaster, a dynamic processor effect plug-in for Windows and Mac.
Neo DynaMaster is a full-featured, multi-purpose stereo dual dynamics processor utilising a unique custom designed metering system and modelling engine, providing emulations of many vintage units, e.g. SSL, Tube-Tech and so on.

Neo DynaMaster performs simultaneous compression and expansion allowing more complex dynamics response curves than common compressors and provides huge scope to engineer your final sound. Neo DynaMaster's intuitive GUI allows you to precisely edit view the dynamics response curve which is essential if you want to take full control of your dynamic range.

The comprehensive metering section comprising Peak and RMS bar meters, multi-channel scope, and Input/Output volt meters continuously provides all the information you need to better control your dynamics and levels.

Neo DynaMaster features a transparent, natural sound. In order to achieve this, Neo DynaMaster utilises a new, custom designed Peak Metering system to provide an unrivalled stable metering signal which eliminates audible level modulation artefacts while still retaining sample accurate transient detection resulting in -122dB THD+N (Total Harmonic Distortion + Noise); far below the human audible range.
The plug-in is available to purchase for 99 EUR.

SoundMod Tritone is a multiband waveshaper allowing you to split your signal into three separated band and apply an individual waveshaping algorithm with a sets of control available for each band thus creating rich overtones. Transform simple tones into complex one, add punch to your guitar and bass line, destroy drum beats, fatten up your synth sounds and create movement. This is what Tritone will do for you.
Intro Price.:
25.00 Eur, 29.00 USD til Nov.10th
32.00 Eur, 39.00 USD from Nov.11th til Nov.17th
Here is a quick description of the main features:
Input section:
-1 Input gain control
Crossover section:
-1 Low/Mid-Low control
-1 Mid-High/High control
Envelope follower modulator section:
-1 EF response control
-3 EF amount control (1 per band)
-3 EF target control (2 per band)
Waveshaper section:
-3 Drive control (1 per band)
-3 Algorithm selector(1 per band, 11 algorithm at this point)
-3 Asymmetry control(1 per band)
-3 Blend control(1 per band)
-3 Level control(1 per band)
Bandwidth limiter section:
-1 On/Off control
-1 Offset control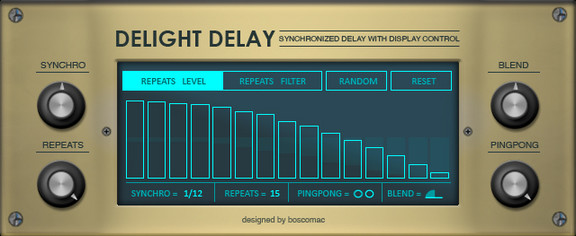 Boscomac has announced the release of Delight Delay, a free delay effect ensemble for Native Instruments Reaktor.
DELIGHT DELAY is a pattern-based delay controlled by a sequencer.

A central display allows you to set the level and filtering rehearsals and so draw a pattern. You can set the number of repetitions (1 to 15) determine the tempo (1/4 to 1/32), adjust the stereo (mono or pingpong) and adjust the blend.

Very easy to use, this delay grooves with guitars, runs with synths, installs synchronized vibes and many other things …
The ensemble is a free download for Reaktor (requires full version). Donations are appreciated.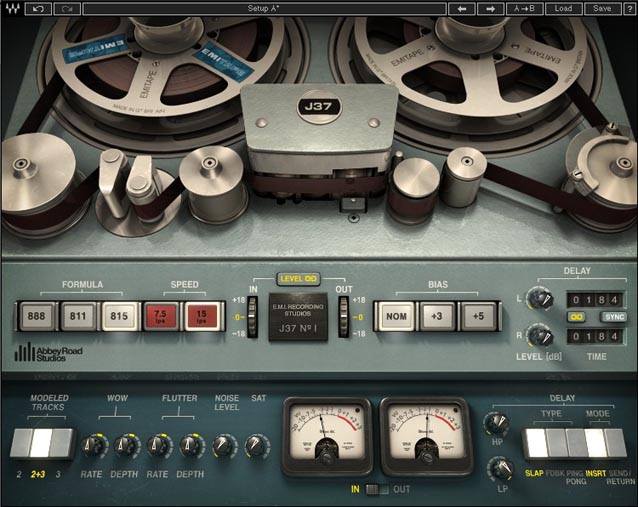 Waves Audio and Abbey Road Studios have released the J37 tape saturation plugin, which they describe as a precision model of the very machine used to record many of the greatest masterpieces in modern music. With a variety of user-adjustable controls including Tape Speed, Bias, Noise, Saturation, Wow and Flutter, the Waves: Abbey Road J37 faithfully recreates the inimitable sonic signature of the original machine. In addition to the J37 itself, three exclusive oxide tape formulas have been modeled. Specially developed by EMI during the 60s and 70s, each formula has its own unique frequency response and harmonic distortion behavior.
While the J37 was used on many famous recordings, it is perhaps best known for its innovative use on The Beatles' Sgt. Pepper's Lonely Hearts Club Band. Producer George Martin utilized the machine not only for recording but also as a creative production tool, bouncing tracks between two J37s and creating layer upon layer of sound to achieve ground-breaking sonic textures.
Mirek Stiles, Head of Audio Products, Abbey Road Studios, told us, "The winning combination of Abbey Road Studios' Studer J37 Four-Track machine and EMI Tape has been used to create some of the most important recordings of all time. As well as modeling the J37, with the amazing warmth of 52 valves, Waves has teamed it with the last remaining blank 60s and 70s tape stock from the EMI archives. EMI Tape has stood the test of time; it never needs baking and sounds wonderful. Abbey Road Studios' technical staff from the J37's heyday were consulted on the line-up procedures that they used over 50 years ago, with the end results sounding simply stunning. Waves has given us yet another unique example of Abbey Road Studios' heritage, available for the first time as a software plugin."
A Waves spokesperson added, "The Waves: Abbey Road J37 tape emulation plugin delivers a level of hardware realism never before experienced 'in the box', bringing stunning analogue warmth to your digital recordings."
J37 tape saturation plugin features:
Created in association with Abbey Road Studios
Modeled on the machine used to create countless classic 60s tracks
Adds analog warmth to digital recordings
Controls for Bias, Wow, Flutter, Tape Speed and more
Comprehensive Tape Delay including three different delay types, Sync, LP and HP filter controls and more.
The J37 is Native and SoundGrid-compatible. It is not included in any Waves bundle; it is only available separately.
Pricing and Availability:
The Waves: Abbey Road J37 Tape Saturation plugin is now available with a U.S. MSRP of Native $249 and SoundGrid $375. Both are now available at special introductory pricing of $149 (Native) and $249 (SoundGrid).
METAMORPH – Electroacoustic and designed sound effects library
BUY NOW: http://twistedtools.com/shop/samplepa…
AUDIO DEMOS:
https://soundcloud.com/twistedtools/s…
METAMORPH is a vast collection of electroacoustic and designed sounds, developed by Italian sound artists BJM Mario Bajardi and Komplex (Iter-Research). METAMORPH takes heavily processed violins, pianos and acoustic instruments and morphs them into impacts, sci-fi atmospheres, user interface elements and beyond.
METAMORPH features over 2.1 gigabytes of 24bit/96khz audio, embedded with Soundminer ready metadata to easily facilitate the discovery of new sounds for your next music or game production. Also included in the package are sampler presets for most major formats. Native Instruments Reaktor owners may take advantage of the included MP16d sampler, which comes equipped with a custom Lemur Template by Antonio Blanca.
Whether you're a sound designer looking for alien textures or an electronic musician seeking out unusual timbres, METAMORPH features something for you.
METAMORPH is available at the Twisted Tools shop for just $69.
Main Features:
Over 2.1 Gigabytes of sound effects and designed sounds
24bit/96khz wavs
Soundminer enriched metadata
Maschine ready metadata
Sampler instrument presets for Maschine, Ableton Live 9, Battery, EXS24, Kontakt, Maschine and Reaktor
A brand new version of Twisted Tools' MP16 sampler, called the MP16d
Reaktor MP16d Features:
16 Voice Polyphonic Sampler
Pad style layout
Unique parameter and modulation settings for per voice
FM and Delay FX per Voice
Note repeat effect per voice
Two LFOs per voice
BPM Sync
Lemur OSC Template by Antonio Blanca
Pricing: $69
Availability: Now available exclusively at http://twistedtools.com/shop/samplepa…
About BJM Mario Bajardi and Komplex
BJM Mario Bajardi is an Italian electroacoustic composer and sound designer, who is currently a lecturer at the Academy Art, at the University of Palermo in Italy.
Komplex is Paolo Bigazzi Alderigi, multimedia artist and owner of Iter-Research music publishing. Paolo is a lecturer at SAE in Milan, Italy.
Video Audio Demo by Richard Devine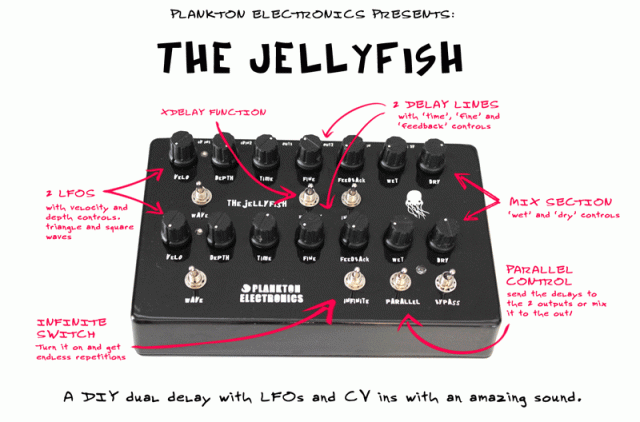 Plankton Electronics has introduced The Jellyfish – a DIY double delay, with modulation options capable of a wide variety of sounds, from simple delay lines to crazy modulated stereo sounds.
Features:
Analog passive filters
CV inputs
Two LFOs
Infinite feedback switch
Xdelay function
Dry/Wet controls
Pseudo-stereo (1 in-2 outs) or mono mixed sound
The Jellyfish is available as a kit for 120 Euro (the case is additional).  Schematics and other documentation are provided on their site – right here >>
The leaked news from Moog last week is now official – the new Minifoogers
In this video Queens of The Stone Age guitarist, Troy Van Leeuwen, explores the fundamental capabilities of all 5 Minifooger Analog Effects Pedals – The MF Drive, MF Delay, MF Trem, MF Boost, and MF Ring. Each Minifooger is assembled by hand at the Moog factory in downtown Ashville, NC in a rugged, cast aluminum enclosure and features a 100% analog signal path, true bypass design, optional battery power, and a single expression pedal input that provides hands-free control of one specified parameter for under $200 a piece.
Recording Chain: 2x Blue Dragonly condenser microphones – Apogee Quartet interface.
No EQ or Compression has been applied to the audio in this video. For best results set quality to HD.
Learn more about the entire family of Minifooger Analog Effects Pedals at: MINIFOOGERS.COM
Xander Singh and Ian Hultquist of the band Passion Pit came into the Moog Soundlab to Experiment with the new Minifooger family of analog effects pedals. Hultquist played a Fender Telecaster through all five Minifoogerwhile Singh experimented with the sonic capabilities of to create an evolving musical landscape,
Demo of the new AUFX DUB from Kymatica, tested this with the Yamaha DD65 kit and the Korg Wavedrum Global running through the iPad via a Behringer UCA222. Then into Audiobus and into Cubasis. The recorded reggae drum pattern that plays about half way through was programmed with DM1 then treated with the other AUFX SPACE reverb app, and had some compression from Cubasis added..
AUFX:Dub. A highly tweakable stereo delay audio effect, suitable for everything from clean digital delays to filthy dub echoes and broken cassette tapes. It features tape simulation (noise and warble), filters in the delay loop for typical dub sound, stereo detune, ping-pong delay, and more
All AUFX apps have the following features:
High quality 32-bit DSP engine.
Process hardware input/output or other apps through Audiobus (input/filter/output slots supported).
Ready for the future inter-app audio standard.
Fully MIDI controllable, including Virtual MIDI.
Built-in look-ahead limiter to avoid clipping.
Background Audio.
Save and load user presets.
Comes with several bundled presets.
Record the result directly in app.
Email recordings or export to AudioShare audio document manager app.
Access user presets and recordings through iTunes File Sharing.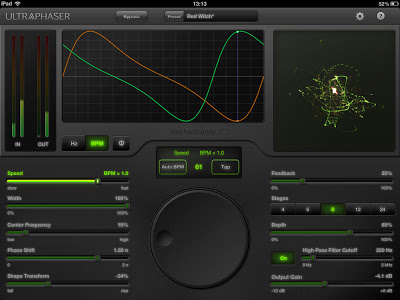 UltraPhaser is an extremely flexible phaser effect, with a unique user interface. With very low latency and stereo input, the wide range of phasing effects can be applied to all kinds of input sounds, from guitar, bass and keyboard to full mixes and electronic setups. Full Audiobus compatibility allows for the interconnection with other iPad apps.
UltraPhaser gives you total control. You can precisely adjust the stereo LFO's speed, width, center frequency, phase shift and shape. Choose between 4, 6, 8, 12 or even 24 stages. Ultraphaser also includes an optional High Pass Filter.
UltraPhaser's unique user interface includes an LFO Control view, through which the stereo LFO can be evaluated and edited. You can see the speed, width, phase shift and shape of the LFO in this view.
The Vectorscope shows a plot of the output's left versus right audio channels, to give you an idea of the 'spatiousness' of the sound.
UltraPhaser comes packed with presets various classic and more unusual phasers, but of course you can also make your own.
UltraPhaser supports very low latency. This low latency is ideal when processing live audio or an instrument, as hardly any delay is introduced.
UltraPhaser is priced at $5.99.

Cerberus Audio has announced the release of Epoch Dynamic Comb Filter, an effect plug-in for Windows and Mac.
Epoch Dynamic Comb Filter is a unique alternative to traditional filtering and dynamics processes such as equalizers and compressors.

Unlike most equalizers, Epoch is musically reactive, and Epoch has a wider range of tonal color than most compressors.

The heart of Epoch is its Comb Filter Section which features a 360° Phase Rotator and a Fractional Delay. The filtered signal is applied selectively by Epoch's bespoke Dynamics Section.
Epoch (VST/AU) is available to purchase for $72 USD (single user) / $86 USD (commercial).