June 22, 2015 · Posted in
Uncategorized
·
Comments Off

on Antresol – new stereo flanger plugin inspired by classic analog BBD flangers
Promotional video about Antresol showing some key features of the plug-in.
Here's what they have to say about it:
The original, conceived in the mid-70s, quickly became a benchmark for flanger-type effects by offering a uniquely rich character defined by luxuriously harmonious interacting resonances, and has been heard ever since on countless classic recordings. That's why D16 couldn't resist the opportunity to resurrect the soul of this classic in a thoroughly modern incarnation with Antresol, our newest effect in the SilverLine Collection!

Features:
True emulation of BBD based analog delay line
Optional independent parameter control for each stereo channel
Selectable L/R or M/S stereo processing modes
'Mistress mode' allows the whole unit to work the same as the classic flanger
LFO can be synchronized with your host application
3 different LFO-to-BBD clock curves
Ultra-low aliasing output
Highly musical and pleasant sound
Tag-based browser
Two alternative GUI sizes
MIDI-learn functionality throughout
64bit internal processing
Antresol is available now for US $49/39 Euro. A demo version is also available.
May 31, 2014 · Posted in
Uncategorized
·
Comments Off

on Flow – new flanger that goes far beyond traditional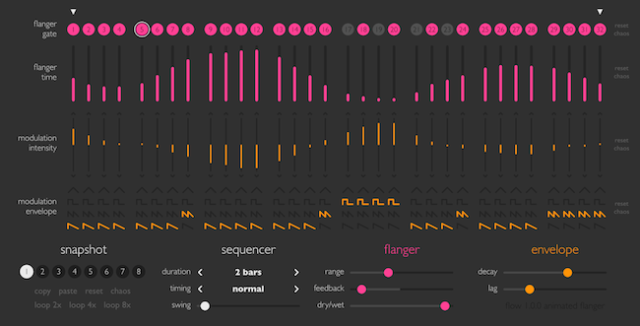 SineVibes has introduced Flow – a flanger that's designed to create effects that go far beyond tradtitional up and down 'swoosh' effects.
Flow uses a sophisticated envelope sequencer to modulate the sound in a rhythmical fashion. Flow has two different flanger characters, with positive or negative feedback, advanced synchronization and timing features, plus a host of automation and randomization options.
This allows you to create a myriad of unique effects: from intricate "jet plane" patterns and dancing comb filtering to complex swooshes or stuttered glitches. In addition, each instance of Flow stores eight snapshots of itself that can be switched in realtime or via automation.
Specifications:
Flanger with positive/negative feedback, adjustable time range from 0.5 to 20 ms.
Step sequencer with up to 32 steps, variable speed, timing and shuffle.
Flanger gate, flanger time, envelope modulation depth, and envelope shape individual per each sequencer step.
Eight full instance snapshots, multiple utility and randomisation functions.
Advanced transport sync algorithm with support for tempo and time signature automation.