Synthetik – free synth VST/AU plugin designed to deliver sounds for Hip-Hop and R&B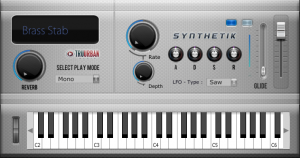 Tru-Urban has released Synthetik, a free synth VST/AU Plugin. Synthetik is designed to deliver inspiring sounds and FX for Hip-Hop and R&B productions.
The Synthetik VST/AU Plugin is called a "semi-synth" because it does not posses all of the traditional functions of a full synthesizer. Instead, the user gets sounds that can be fine-tuned and tweaked further using the LFO settings, Reverb and ADSR. Synthetik has glide control and the full range of play modes such as Mono, Poly and Legato.
Price: Free.
Comments