Tek'It Audio has released 8kut version 2 – an updated version of their free 8-band frequency cutter effect plug-in.
8kut 2 cuts frequencies with 8 pads, from bass to mids range, high mids and treble, and is designed with Dj's and live performance in mind.
This new version brings 8kut to Mac OS X in addition to Windows and add 64-bit support to both platforms. 8kut 2 also comes with a "zero-delay filter" which sounds much clearer. The user interface has been redesigned to be bigger, cleaner and improve your workflow.
Features:
8 bands frequency cutter.
Independent left and right channel pass through.
Phase inverter, Effect bypass, Gain boost and Dry/Wet Mix.
ZDF Filter design.
64-bit internal processing.
Full MIDI automation support.
Works in mono or stereo.
Integrated Preset manager, rename, copy, save, load…
40 Factory presets.
Up to 128 user presets per bank.
Comes with user manual.
Easy installer.
Freeware
8kut v2 is a free download for Mac & Windows.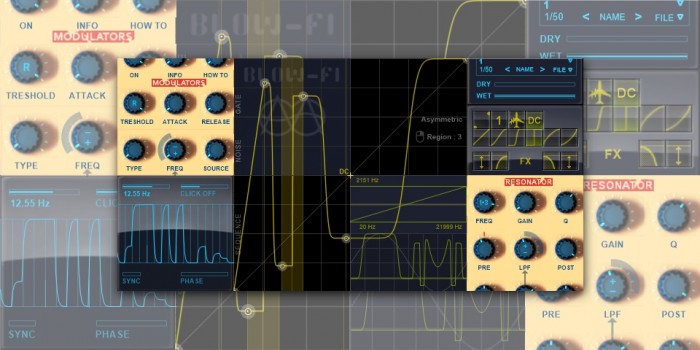 Outofmind has released Blow-fi, a shaper distortion effect plug-in for Windows.
Blow-fi is designed to change an audio signal into a different result that fits into genres like industrial, noise, dark ambient, or hard electro, and experimental. Methods of use can be from screamer, noise gate, bit crusher, filter, loudness maximizer to noise generation, re-looping, changing synths waves and others.
Blow-fi features
Symmetric / Asymmetric shaper mode.
Up to 20 editable points and 19 areas with six shapes per one area on transmission curve with cubic interpolation.
Editable frequency range at distortion input, with modulated lowpass filter on output.
Envelope follower, noise and sequence modulators.
Modulated PRE and POST gain.
Graphic display of the FX behavior on example sine wave.
Optional DC offset filter in asymmetric mode.
Blow-fi for Windows (VST) is available for purchase for 24 EUR.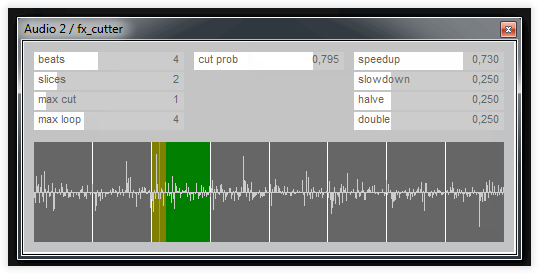 Tor-Helge Skei has released fx_cutter, a free loop slicer/buffer FSU effect plug-in for Windows.
Audio is continually recorded into a buffer (length is 'beats', each slice subdivided into 'slices'), and randomly ('cut prob'), a few slices will be selected ('max cut'), and subdivided ('max loop'), and then this small bit is looped for the duration of the outer selection, the longer bit (the 'max cut' part).. and each time this loop wraps around, it can possibly halve ('slowdown') or double ('speedup') its playback speed, or halve ('halve') or double (yes, 'double') the size of the looped bit..

it is pretty uncontrollable and unrepeatable with all the probibilities, so i usually run a track several times through this, and cut out the good parts..
The plug-in is available for download for Windows (VST).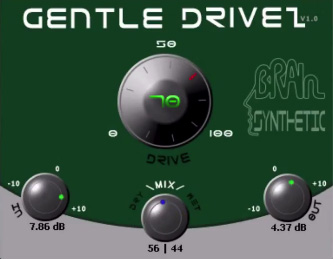 Bedroom Producers Blog has introduced GentleDrivez by Synthetic Brain, a free effect plug-in for Mac based on a gentle saturation/distortion algorithm suitable for warming up synthesizers, electronic drums and other digital sound sources.
GentleDrivez comes with a simple and easy to use GUI, with no more than four parameters. There's the Drive knob for controlling the amount of distortion being applied to the processed signal, the Mix knob for easy parallel processing, and the Input and Output knobs for gain staging.

The plugin is optimized for subtle distortion (and this kind of effect really does sound nice in the demo video), but it can also be pushed harder to achieve some more devastating distortion types.
GentleDrivez for Mac (VST/AU) is available for download from Bedroom Producers Blog.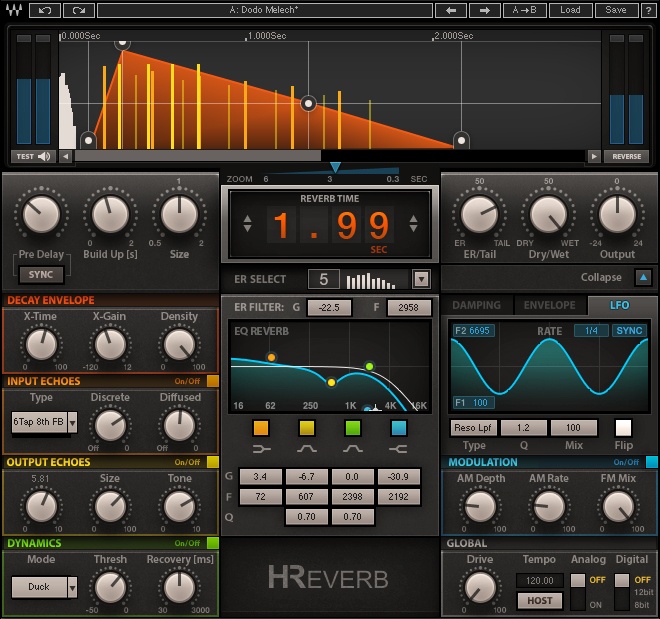 Waves Audio has announced it is now shipping the H-Reverb effect plug-in, a pioneering reverb based on innovative algorithmic FIR (Finite Impulse Response) reverberation technology, providing richer, deeper reverb tails that sit beautifully in the mix while breathing crisp air into your tracks.
The FIR engine that powers H-Reverb lets you shape and customize the reverb decay envelope beyond the standard linear forms, resulting in perfectly gated, real reverse, and dense reverb tails that don't muddy up the mix. Taking things one step further, H-Reverb incorporates Waves' advanced analog modeling along with a drive control, offering signal behavior that until now was found exclusively in high-end hardware reverb devices. This unique design also enables input drive, a technique favored by many top engineers.

To top it off, H-Reverb includes an impressive library of artist presets from the industry's leading mixing engineers (including Toni Maserati, Brad Divens, Daniel Green, Dave Darlington, Dave Stagl, James Ebdon, Ken "Pooch" Van Druten, Kevin Madigan, Pete Keppler, Ross Hogarth and Yoad Nevo, to name just a few). Their personal settings may be the perfect space you're looking for, or simply the perfect point to start from.

By fusing classic reverb concepts with forward-thinking features that break new ground in digital reverb processing, H-Reverb provides uncompromising sound quality and boundless creative control.
H-Reverb features
Impulse-variable resonant filtering for creating unfamiliar and advanced reverb effects.
EQ and dynamics module for compression, ducking and de-essing.
ADA analog modeling and drive control for input clipping.
Full buildup timing and shaping.
Pre-delay BPM sync.
Artist presets from the industry's leading mixing engineers.
Support for full 5.1-channel surround setups.
H-Reverb is available for purchase for the introductory price of $199 USD (regular $349 USD).
Aegean Music has released Doppler Dome a free audio plug-in, for Mac & WIndows, based on the Doppler effect.
Explained simply, the Doppler effect is something that happens to sound when the listener and the sound source are getting closer together or farther appart. For example, a car sound when you are in the car might have a particular frequency, but the frequency will be lower if the car is moving away from you, and will be like a record played at a lower speed. If the car passes right by you it will be high as it gets closer and then low as it gets farther. Doppler dome lets you adjust the amount of the pitch effect as well as pan and volume based on distance.
In Doppler Dome, the center is the listener and the sound source moves along a path. Drag the dots to adjust the path's bezier curves. The path can act like an LFO, or a loop. A midi note in message sent to the plugin will reset the path position to sync it with the project.
The Blend will mix the pitch effect with the dry signal, this is a bit like a chorus or modulated delay. The Pitch Scale knob determines how much pitch is affected, it can be turned off by setting it to zero. The Volume Scale Scale knob determines how much volume affected, based on distance. The Pan Scale Scale knob determines how much L/R position is affected, based on left and right position.
The buttons and switches can be used to set up curves and lines for the path (mouse over them to see their description).
Doppler Dome is a free download from the Aegean Music site.
Control any effect in Ableton Live with a wave of your hand
Get it for free at Utami.co
Make a remix on the spot with Deconstruct.  It works with live input, so you can cut up your tracks on the fly, create new rhythms, reverse your drums, screw with live vocals, repitch or detune anything and snap it right back to where it was with just a knob twist.
Deconstruct is designed to be played — both on stage or in your studio.  With eight buttons for quick remixing, you can tap out new rhythms with your controller or a mouse.  Slice and change the pitch and everything stays connected to your underlying BPM.  Add legato and when you chop up your sounds you'll find secret effects and tricks waiting to come out.
If you are using a Mac, you can send out the visualizer to your favorite VJ software and make music for people's eyes too.
Deconstruct requires Max for Live 6.1.9 or higher and Ableton Live.  Syphon support requires a Mac.
Get it exclusively at the Utami online shop  with credit card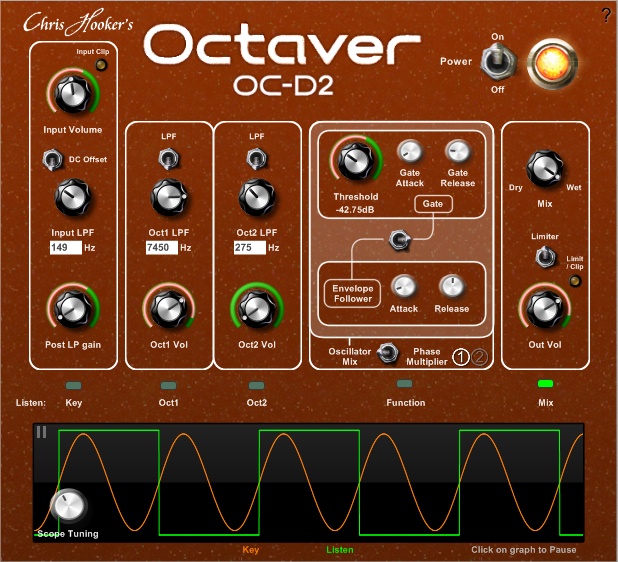 Christopher Hooker has released Octaver OC-D2, a free octave divider effect plug-in for Windows.
OC-D2 is an octave divider plug-in that generates signals one and two octaves below the original. It's based on the popular Boss OC-2 pedal, but with many more features and customizability far beyond what other octavers offer (both pedal and plug-in types).
Octaver OC-D2 features
Control the tracking accuracy.
Control the oscillator tone.
Control the dynamic envelope.
View the waveforms.
Tap the audio at any stage.
OC-D2 is available for download for Windows (32-bit VST).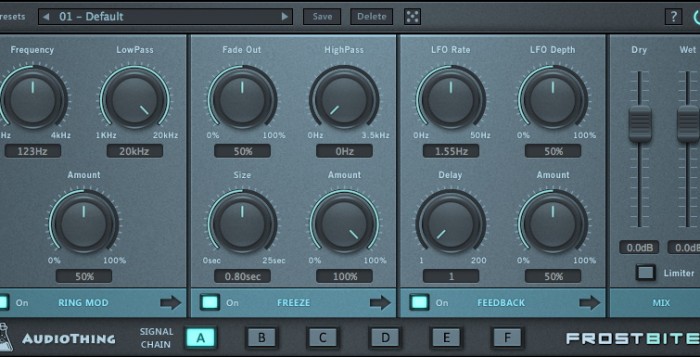 AudioThing has released Frostbite, a multi-effect plug-in featuring Ring Modulator, Feedback, and Freeze effects.
Frostbite is aimed at ambience and cinematic music, but can also be used for extreme sonic experiments.The Signal Flow is flexible with 6 different combinations.

The Ring Modulator multiplies the input signal with a Sine wave (with frequency up to 4kHz). It is also possible to reduce the high-end with the Low Pass filter.

The Feedback module features a delay function (up to 200 samples) which can be modulated by an LFO.

The Freeze module features a Freeze effect that can hold the input up to 25 seconds. The Fade Out and High Pass controls can additionally shape the behaviour of the freezed sound.
FrostBite features
Ring Modulator.
Feedback.
Freeze.
Preset system with randomizer.
Formats: VST, AU, and AAX (32/64-bit).
Platforms: OS X, Windows.
The plugin is available for purchase for the introductory price of 29 EUR/$34 USD until April 8th, 2015 (regular 36 EUR/$42 USD).
Producer Butch Vig (Nirvana, Smashing Pumpkins, Garbage, Foo Fighters) demos the Butch Vig Vocals plugin, created in collaboration with Waves.
Butch Vig Vocals Plugin:http://www.waves.com/plugins/butch-vi…
Waves has released the Butch Vig Vocals plugin, created in collaboration with ProducerButch Vig (Nirvana, Smashing Pumpkins, Garbage, Foo Fighters).
Features: