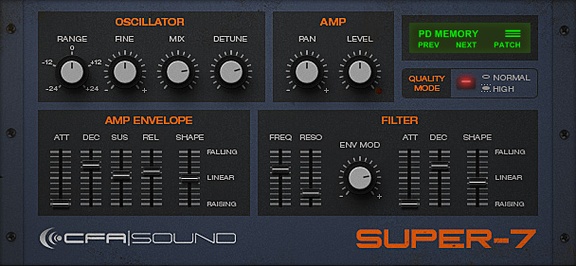 CFA-Sound is celebrating its 7th anniversary with the release of SUPER-7, a free supersaw synthesizer plug-in for Windows.
Everyone who produces electronic music knows the infamous Supersaw of the Roland JP8000/8080, and even it`s a relatively old synthesizer this specific waveform or better sayed oscillator mode is still heavy in use and wanted. Also for myself, but more in terms of discovering how it works and how to emulate it.

During the last year, i worked on a small emulation of it as little side project for fun & learning primary, and well here it is, the final result. Surely in some specific areas not 100% like original but very close based on the comparision to the real one and the specs. All packed into a slim synthesizer shell with an easy-to-use interface, decent on CPU usage and most of all – it`s for free.
SUPER-7 features
Polyphonic virtual-analog modelled synthesizer.
32 voices polyphony.
One emulated supersaw oscillator.
4-pole lowpass filter.
Shape-able envelopes.
20 presets included.
The plug-in is available to download for Windows (VST).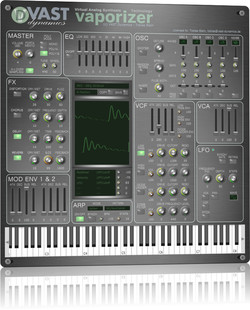 VAST Dynamics has launched Vaporizer, an analogue/subtractive synthesizer plug-in for Windows and Mac.
The intention of this development is to combine a fat virtual analog sound with low system CPU resource usage. And all this with an unbeatably low pice (factor 10 lower than usual synths in that category).

Even though this synth basically follows a traditional subtractive analog synthesis model, we believe that is has it's own character and sound that needs to be explored. A main focus was laid on modelling fat supersaw-like sounds with various unison and detune models. VAPORIZER does not want to be smooth and gentle. It has sharp edges and can also be brutal. Check it out.
Vaporizer features
Innovative virtual analog synthesis model that allows an almost unlimited number of oscillators per voice (e.g. 96 saw-tooth oscillators).
Three modes – 16 and 4 voice polyphony plus monophonic mode.
Full stereo – all generators, effects and chains.
Full effect bank with high quality oversampling effects (distortion, chorus, delay, reverb, comb filter and parametric EQ).
Old school UI with real analog feeling.
Everything at sight – no hidden tabs or menus.
Eye-catching retro-style oscilloscope for immediate visual feedback.
Monophonic and polyphonic portamento in all modes including ARP.
More than 50 presets with many different styles.
Completely alias free oscillators (6 different waveforms).
Up to 97 parallel oscillators per voice (4 unison / detune banks with max 24 plus 1 noise oscillator).
16 voice polyphony with a maximum number of 1552 oscillators per plug-in at a time.
Vaporizer for Windows and Mac (VST/AU) is available for purchase for 24.90 EUR (+VAT within EU).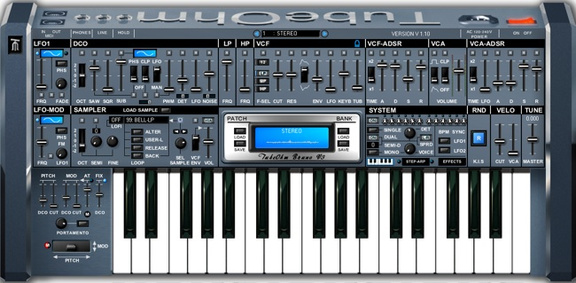 TubeOhm has announced the release of Super Bruno-III, a synthesizer instrument plug-in for Windows.
Bruno III is the update of Bruno-RP, now with a sampler, a new sequencer and a new ARP. The GUI and the DSP have been completely revised. Bruno III comes with 2 sound banks (2×128 new sounds).
Super Bruno-III features
Sampling.
Stepper.
Arp.
Random functions for sound design.
Multi mode filter.
Comp filter, stereo delay, chorus.
Micro tuning.
256 sounds.
External MIDI out to control other Synths with the stepper/ARP.
Easy to use interface.
The plug-in is available for Windows (VST) for 49 EUR. Owners of Bruno-RP can upgrade for 29 EUR.
Alan ViSTa has released Cymbalistic, a free Audio Unit / VST plug-in featuring a sampled Cymbals Set. It contains 68 stereo 24-bit samples from the University of Iowa Electronic Music Studios public domain library:
1 Hi hat.
1 ride cymbal.
4 crash cymbals.
2 chinese cymbals.
4 stereo outputs.
Release time for each cymbal.
Volume and Pan for each cymbal.
Amplitude dynamic range control.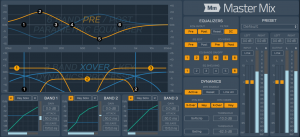 Tracktion DSP has released Master Mix, a stereo mastering-grade plug-in that offers multi-band dynamics processing and equalization.
Master Mix has three individual dynamics processors, each with its own set of controls and selectable crossover points. There are two separate six-band parametric EQs, one located before the dynamics section, and the other after. Each dynamics band is typically used as a compressor, but expansion is also possible. A dynamics contour edit screen provides setup of compressor parameters and allows a user to create the soft knee curve. Master Mix also offers a noise gate and soft-clip limiter.
Price: $59.99 – Master Mix, and other Tracktion DSP plug-ins such as the Micro Synth Pack, are currently offered at a 50% discount introductory price at marketplace.tracktion.com.
Eiosis has released AirEQ, a plugin for AAX32 & AAX64, VST3, VST2, AU, RTAS, OSX and Windows, 32 and 64 bits formats.
http://www.eiosis.com/aireq.html
AirEQ was designed with a vision of achieving musical, technical and sonic excellence.
Simple, intuitive and quick to use, AirEQ always sounds great : it is the best equalizer plugin for efficient every day mixing, mastering and post production equalization.
The Water and Fire curves as well as the Character and Strength parameters were adjusted by ear, so mixing engineers can focus on one thing – making music sound great.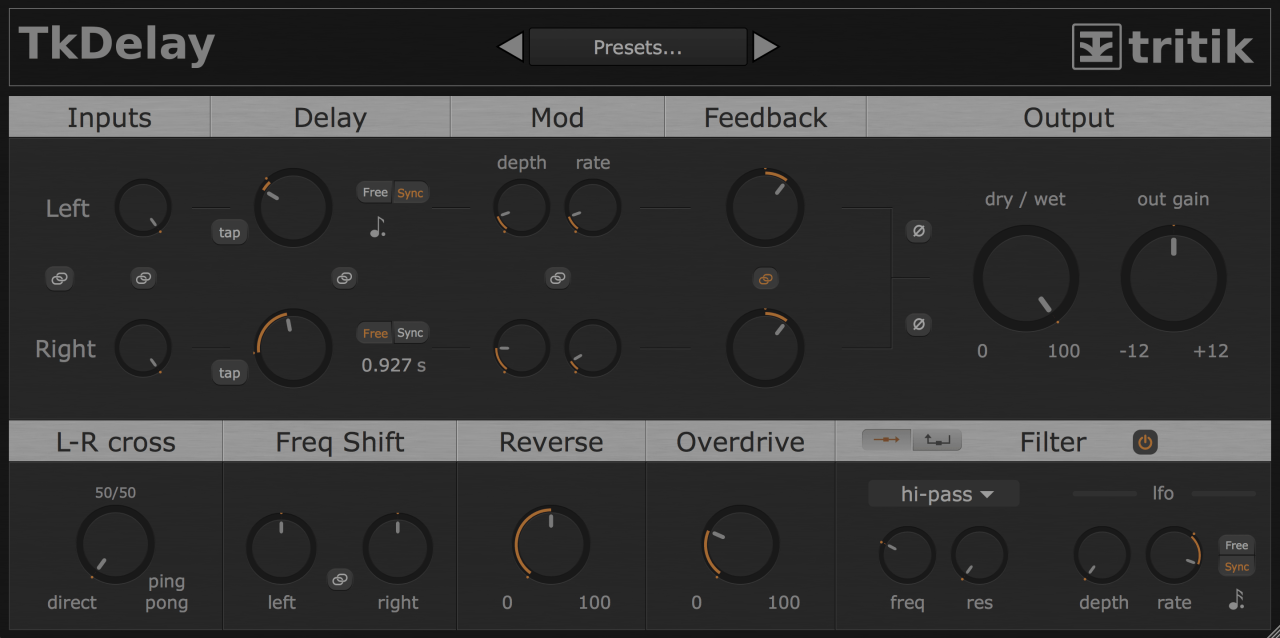 Tritik has introduced TkDelay – a versatile delay audio plugin for Mac & Windows.
According to the developers, TkDelay's range runs from classic delays to experimental sounds.
Key Features: 
Main Controls

Host-synced and free delay times (per channel)
Delay times modulation (per channel)
Feedback gains with infinite loop support (per channel)
Frequency shifter (per channel)
Reverse mode
Ping-pong (via cross-feedback control)
Tap-tempo
Overdrive
Wet/Dry and output gain controls
Phase inversion

Filters

Resonant low-pass
Resonant hi-pass
Band-pass
Highpass + lowpass combination
Freq modulation with free or host-synced rate
Inside or outside the feedback loop
Bypass switch

Interface

Fully resizable interface !
Clean and intuitive
Fast access to synced times through menus
Display synced delay times as notes or ratios
Interactive MIDI-learn
Left-Right params links
Tooltips and prefs in english, french or spanish

Presets

File based preset system
Access through menu or browser
Presets 'freezer' for safe recall
TkDelay is available now for 29 Euro via the Tritik site.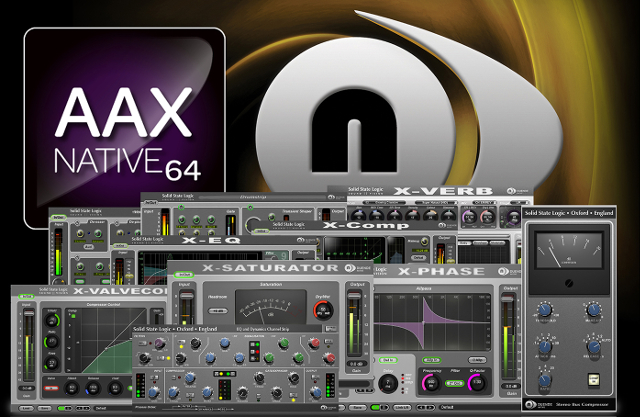 The release of new AAX (Avid Audio eXtension) versions makes SSL's Duende Native plug-ins compatible with any 32-bit or 64-bit system running Pro Tools®/Pro Tools HD® 11 software. The continued compatibility with VST, AU and RTAS systems means that SSL plug-ins are available to almost all DAW users.
The new versions are available to download now from the SSL web site and are free to all existing owners. SSL is celebrating the release with 14 day introductory pricing on the Duende Native Essentials bundle at £99/$169/129€ (offer ends 25th Nov 2014. Terms and Conditions apply. Available online from the SSL web store only).
SSL Duende Native plug-in collection delivers SSL's renowned signature superior audio quality, sophistication and benchmark performance to inside-the-box DAW audio producers. The Duende Native range has grown to the current portfolio of 10 different beyond benchmark quality processing tools. The EQ & Dynamics Channel plug-in provides an EQ & Dynamics processing solution with all the power, precision, flexibility and signature tone of a SSL 9K and later SSL console channel strip.
The legendary Stereo Bus Compressor plug-in gives you the classic SSL stereo master bus compressor that brings power and punch to your mix without compromising clarity. Drumstrip and Vocalstrip are 'task specific' plug-ins which each gather together a set of carefully selected and lovingly crafted processing tools to get you straight to outstanding Drum and Vocal sounds quickly and easily.
X-EQ and X-Comp are both mastering grade processors that deliver superb balance of precision and tonal character. X-Verb is an incredibly powerful and flexible processor which brings beautiful hardware standard reverb to your DAW. X-Valvecomp and X-Saturator are both new plug-ins designed to inject some analogue style saturation into your digital DAW. X-Phase also a new release is designed to help you fix awkward phase issues with our high-precision frequency-specific phase control toolkit.
more info at www.solidstatelogic.com/duende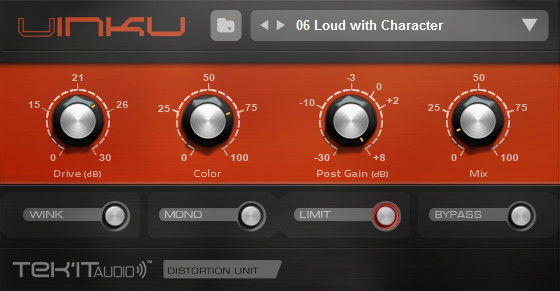 Tek'it Audio has announced the release of Uinku, a fold-back distortion effect plug-in for Windows and Mac.
Uinku creates subtle harmonic changes to extreme distortion helped by the "Drive" control to add saturation and the "Color" control in an effort to bake the perfect tones.

The interface features a "Mix" control for blending the original sound with the sound of Uinku and an "Output Gain" control with a clipper stage to drive distortion further.
Uinku features
2 Flavors of Foldback distortion, including the "Winkl" sound.
Distortion drive and color controls.
Mix and output gain controls.
Activable gain stage clipper.
Bypass switch.
x16 Oversampling.
64-bit internal processing.
Full MIDI automation support.
Preset manager, rename, save, load presets and banks.
Works in mono or stereo.
16 factory presets.
The plug-in is available for Windows and Mac (VST/AU), priced at 39 EUR / $49 USD.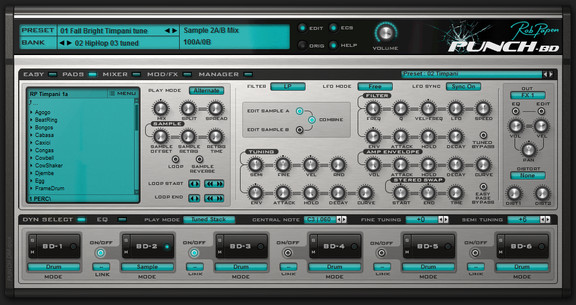 Rob Papen has introduced Punch-DB, a bass drum synthesizer and sample player plug-in based around the BD module of the multi award winning Punch virtual drum synthesizer.
Stacking bass drums is a popular technique used by today's music producers and Punch-BD gives you the ability to stack up to 6 in total. Divide the 6 BD pads over the keyboard or use them 'stacked' in tuned mode to produce creative new BD sounds for all styles of contemporary music.

Punch-BD delivers synthesized drums in the finest audio quality or you can choose to load in your own samples for complete flexibility. Each pad has its own distortion module with several distortion types as well as its own 3 band graphic EQ. What's more, each individual pad also has its own preset section next to the overall 'BD kit'.

Like its big brother, Punch-BD features four FX units each with many 31 types of top quality FX plus further filters, envelopes, modulation routings and more for crafting your own unique sound.

From Electronic Dance and Hip Hop to Soundtrack projects, Punch-BD provides a solid speaker-busting sound for your productions.
Punch-DB will be available soon for Windows and Mac (VST/AU/AAX), priced at 49 EUR / $59 USD.