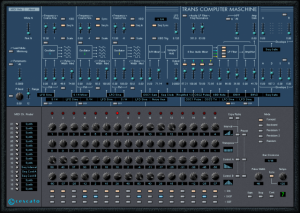 Developers have created 55 new free synths and audio effects as part of the KVR Developer Challenge 2012.
49 of the free music apps run on Windows, 7 on Mac OS X and 6 are soundware for other products.
Entrants include:
Heliox - a simple experimental synthesizer
Aliquoter - an aliquote simple synth built from 6-aliquote tuned oscillators. It is an additive/subtractive synth, but oscillators are tuned to aliquote intervals.
Total Composure Orchestra (TCO) is a full orchestral sample library created using only samples that are in the public domain.
Hot Robot Vocoder is a vocoder VST effect.
Hydra PL is a digital/analog hybrid style polyphonic synthesizer.
Orchestral Strings One is an orchestral string library.
HYDi is a simple 3 osc subtractive synth, but with some twists.
Trans Computer Maschine is a semi-modular Vintage Lead Synthesizer + Pattern Sequencer, modeled after two legendary mono synths and a custom analog sequencer from Germany.
Kamioooka is a polyphonic Full-Modular synthesizer with patch cable system.
See the KVR site for details and downloads.
ReaComp is REAPER's compression effect. In this quick tip Ken Theriot uses ReaComp on a vocal track and demonstrates how to make the most of it.
Exponential Audio has announced PhoenixVerb and R2, which they describe as a pair of high-quality reverb plugins for audio professionals. They say that PhoenixVerb is an easy-to-use neutral reverb appropriate for instrumental, vocal and post-production applications and that it features an attractive user interface, flexible control, and a novel new preset organization method.
Exponential Audio tells us that R2 is an active reverberator, with chorus, gate and flexible equalization and that it features the same keyword-based preset structure as PhoenixVerb as well as the same processor efficiency. Both plugins are cross-platform and multi-format, working both as 32 and 64-bit plugins. On OSX, the AU, VST, RTAS and AAX formats are supported. On Windows, the VST format is supported.
Exponential Audio is a new company founded by longtime audio developer Michael Carnes, who says it is committed to creating powerful tools for demanding professionals.
Pricing and Availability:
PhoenixVerb will be available for sale in late 2012, at a list price of $199.
R2 will also be available in late 2012, at a list price of $299.
More information:
M-RGT has announced the release of psyGEN, an experimental granular synthesizer plug-in for Windows.
Using granular synthesis as a basis it adds extensive Modulation and FX capabilities to take any type of .wav file source and turn it into a multi-layered composition of great complexity.

With the built-in 16 track sequencer, long evolving ambient/drone sounds can be created and cross-faded with other sounds to create dense tapestries of sound. Also, the sequencer allows for more rhythmic based compositions or patches as well. It is possible to create an entire composition with just one track incorporating many variations.

psyGEN can be used as a standalone synthesizer with a plug-in like SaviHost or similar program or can be installed as a VSTi with a Host DAW.
The psyGEN plug-in for Windows (VST) is available to purchase for $33.50 USD.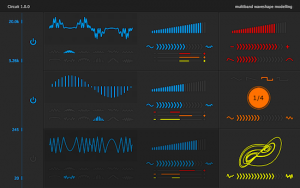 Sinevibes has announced the release of Circuit, its latest Audio Unit effect plugin for multiband waveshape modelling.
Circuit splits the signal into three frequency bands, and passes each band through its own processing engine which offers 12 different algorithms – from sine-based waveshape transformers and foldback distortion, to circuit-bent filters, lo-fi and ring modulation. These models can be further modulated by an input envelope follower, tempo-synchronized LFO or two-dimensional Lorenz attractor. All this is wrapped into a stylish, colour-coded interface based on Sinevibes' innovative design language, which makes it incredibly fun to work with.
Circuit features
Morph lifeless waveforms into entirely new, rich and dense sounds.
Transform synth basses and leads into completely different, layered material.
Re-synthesise and mangle electronic drum loops beyond recognition.
Circuit is available to purchase for $29 USD. It is also included in the Sinevibes plug-in bundle for $119 USD.
D16 Group has announced the availability of LuSH-101 (formerly known as SHIOITOR), the long awaited authentic sounding virtual synthesizer for Windows and Mac.
LuSH-101 is a synthesizer created from modules that can be found in many modern virtual synthesizers, all combined into a single compact and logically intuitive design. This basic simplicity combined with its multilayer architecture turns it into an easy-to-use but extremely powerful instrument that can be programmed and tweaked quickly.

The multilayer architecture guarantees that both the sound design possibilities and number of unique situations in which LuSH-101 can be used are virtually limitless. Any combination of keyboard splits, layers, and multitimbrality is possible with just a single instance of LuSH-101. Each layer working as an independent synthesizer with its own polyphony, parameters, enhanced arpeggiator, and a palette of eight insert effects.

LuSH-101 comes complete with a powerful built in mixer, complete with layer-independent parametric equalizers, compressors and three send effects: reverb, delay and chorus.

Innovative oscillator algorithms developed by D16 Group make LuSH-101 sound exactly like a sampled hardware analog synth. Filters with constant resonance across the entire frequency domain has natural warmth and character.

A generous factory library contains more than 1600 presets of every type, while intuitively designed preset browser keeps everything organized and easy to locate.
LuSH-101 for Windows and Mac (32 & 64bit VST/AU) is available to purchase for 149 EUR/$199 USD/£119 GBP incl. taxes (if applicable). LuSH-101 is now also included in the Total Bundle. Discounts are available to registered product owners from their User Area at the D16 Group website.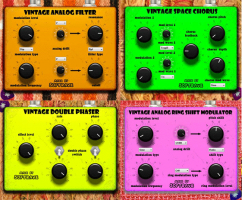 Softrave has released Vintage Effect Pack for Windows, which includes four VST Effects:
Vintage Analog Filter


Vintage Analog Filter Vst is constructed

to emulate analog instability of electric circuits of vintage filters. You can control the level of analog detune with analog drift section. you also have big choice of waves to modulate filter to make psychedelic, cosmic or just disco and house effects.
Vintage Double Phaser
Vintage Double Phaser Vst is providing classical phase shift effect and some extended possibilities. You can create phase shift effect on left and right channel separately that makes strange unique sound. Or just enjoy classic phaser sound. Its good for guitars, pads, drums and percussion lines. This plugin was inspired by The Worm guitar pedal by Electroharmonix.
Vintage Analog Ring Shift Modulator
Vintage Analog Ring Shift Modulator Vst is providing mix of pitch shifting with ring modulation. You can create unusual vibrato effects, distortions or bell like sounds and also weird strange effects. This plugin was inspired by Ring Thing guitar pedal by Electroharmonix.
Vintage Space Chorus
Vintage Space Chorus is intended to create unusual stereo chorus space effects good for rock, electronica, disco and experimental styles of music With this plug you can add some vintage analog feel to boring digital sound.
Price: €31 / $40.
Jonas "Missing Identity" Hagenvald explains the new plugin "Dialog" from Wave Arts and enhances a vocal from the singer Lulablue.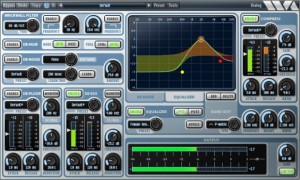 Dialog combines in one plug-in all the processing needed to clean up, adjust, and sweeten recordings of the spoken voice. It is perfect for voice-over, film/tv recordings on location or sound stage, and broadcast.
Dialog includes brickwall filters, de-hum and de-buzz processing, broadband noise reduction, de-ploding, de-essing, 10-band equalization, compression, and limiting. Separate presets for each section allow you to get results fast.
The brickwall filters have variable rolloff slopes and can be used to cutoff low or high frequency ranges. The de-hum processor uses notch filters to eliminate 10 harmonics of either 50 Hz or 60 Hz hum. The de-buzz processor squelches nasty line frequency buzzes. The de-noise processor is the stellar sounding MR Noise algorithm with a simplified interface. De-plode and de-ess are custom processors; use de-plode to tame plosive sounds and use de-ess to adjust the amount of sibiliants. The EQ section is the powerful and easy to use TrackPlug equalizer, with 10 bands of equalization, 11 different filter types to choose from, and a variety of presets. The compressor is the TrackPlug Vintage compressor, with presets tailored to voice processing.
Free 30-Band Graphic Equalizer

Mildon Studios has released a free 30-Band Graphic Equalizer VST plug-in for Windows with a look that blends perfectly with Cubase.
Pricing and Availability:
Free download
More information:
AudioThing has released TX-101 for Native Instruments Kontakt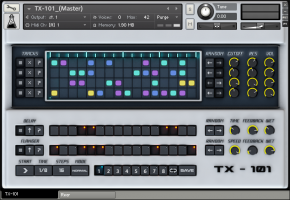 TX-101 is a 4-track sequencer designed for the creation of evolving rhythm patterns. Each track has 4 different samples (for a total of 16 samples), including organic glitches and metal hits. It is possible to store eight presets that can be joined and looped together to build a 128 steps sequence (16×8). It is also possible to sequence Delay and Flanger effects as two additional tracks. Both parameters (cutoff, resonance, effects) and steps can be randomized separately.
There are 6 different variations (.nki instruments) of TX-101 for different mood/styles. The modulation wheel is also assigned to a different set of parameters for each instrument.
Details:
Sequencer: 4 Tracks and 16 Steps + tracks for Delay and Flanger.
8 Patterns presets.
6 Kontakt Instruments (.nki) presets.
Mod. Wheel assigned to different parameters for each preset.
Size: 16 MB installed / 9 MB Download.
Price: $18. TX-101 is available for the introductory price of $14 until October 11th, 2012.
Native Instruments Kontakt 4.2.4+ full version is required.
Cableguys Curve 2
Curve 2 out now!
FULLY FUNCTIONAL DEMO: http://www.cableguys.de/downloads.html
MORE INFO: http://www.cableguys.de/curve.html
Curve is a software synthesizer with an irresistible waveform editor, huge sound library and slick interface. Ideal for both experimentation and detailed tweaking at an excellent sound quality.
• Sound Features - Curve features aliasing-free oscillators with custom waveforms, noise generation and broad FM options. Waveform crossfades provide for changing timbres; a comprehensive unison mode delivers fat lead sounds, wide pads and massive sound. Drawable LFOs deliver everything from melodic and rhythmic patterns to dubstep wobbles and punishing bit-crushing effects. Flexible filter routing, a feature-rich mono mode plus legato and glide, are all designed for great depth of control.
• Preset Library - Curve's preset library is a shared online database, providing a constant source of inspirational sound. Public preset sharing allows an ever-increasing number of great presets, public preset voting will help you manage the vast number of sounds, all from within the plugin. Curve ships with an excerpt of this ever-growing sound library. Macro knobs let you explore vast sound variations quickly, for quick access to those parameters that define the core of a sound.
• Elegant Interface - Curve shows you everything important at a glance, featuring high contrasts and a fresh color scheme. Inbuilt MIDI assignment allows you to set up external MIDI controllers quickly.
• Curve Community - Since the first beta of Curve 1.0, the Curve community has steered the synthesizer's future by submitting feature requests, comments and bug reports, and by sharing presets. Curve 2 is the result of our users submitting wishes and uploading great sounds. Big thanks to all of you!"
Multi-Band Waveshape Modelling Plug-In
Sinevibes has announced Circuit, its newest AudioUnit effect plug-in designed for multi-band waveshape modelling. Circuit splits the signal into three frequency bands, and passes each band through its own processing engine, which offers 12 different models – from sine-based transformers and foldback distortion, to circuit-bent filters, lo-fi and ring modulation. These models can be put in motion by an envelope follower, tempo-synchronized modulator or two-dimensional Lorenz chaos generator.
Sinevibes says that all of these features are wrapped into a fun and simple to use, yet stylish colour-coded interface, which features the company's innovative new design language. Circuit is also based on a future-proof graphics engine that supports the Retina MacBook Pro and of course all forthcoming high-resolution Mac computers.
Pricing and Availability:
Circuit will be available in October 2012 as an AudioUnit plugin for OS X 10.5 or later (Intel 32/64 bit). It can be pre-ordered for just $19. Customers who purchase the Sinevibes' Complete AudioUnit collection (and those who purchased it after 1st September 2012) will receive Circuit as a free bonus.
More information:
Thavius Beck is back with a new Live tutorial focusing on plug-ins, additional info below:
More info: http://bit.ly/O8U711
Dubspot Instructor, Ableton Certified Trainer, and electronic musician Thavius Beck returns with a brand-new season of Did You Know? We launched the series back in January, and for eight consecutive Mondays, Thavius shared invaluable production advice, tips, tricks, and techniques and examined some of the less explored and slightly hidden features in Ableton Live. In this episode, Thavius offers tips and techniques for configuring third-party plug-in effects with Live, using Novation's Bass Station VST.
As nice as it is to have so many instruments and effects available within Live, there are many times when you will want to use a third-party plug-in instead. Thankfully not only are you able to use third-party effects, but you can also automate them and MIDI or key map their individual parameters to control them. There are many simple ways to do this, but in this video we will look at the Configure button that shows up when you unfold a third-party plug-in inside of Live.
For this example, I am using Novation's Bass Station plug-in. When I first put my Bass Station (or just about any other third-party plug-in not built into Live) onto a track, I get a pretty generic interface with a black square and circle (representing an X/Y grid) and not much else. What I would like to see instead are the parameters that I want to either automate or potentially map to my controller without having the Bass Station interface blocking my view of the arrangement. One way to do that is to unfold the effect (hit the triangle in the upper-left corner), which will reveal the Configure button. Once Configure is enabled, you can just click on the parameters in the effect that you want to see in Live's generic third-party effect interface. This will also make these parameters show up in the Arrangement View's automation lanes.
This can also be done by simply entering the MIDI or key mapping mode and clicking on parameters of the effect (without mapping them), or by altering the parameters while recording to the arrangement view. Using Configure is a great option when you don't want to inadvertently alter the parameters on other sections of the track or song after the fact; you can select the parameter you want to tweak, go the exact spot in the arrangement you want to tweak and automate it without recording it live. Just another way to give you more control over your effects. – Thavius Beck