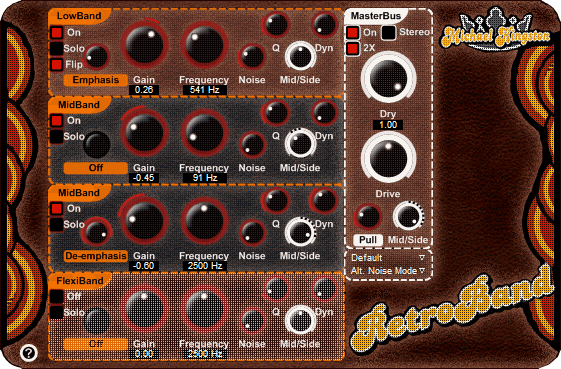 Michael Kingston is now offering his RetroBand effect plug-in for Windows and Mac as freeware.
RetroBand models several interaction aspects of gain stages and transformers. It generates IMD and crossover distortions present especially in Class A/B gain stages. RetroBand also features several forms of transient shaping.
RetroBand features
Digital model of interaction between gain stages and transformers.
Three flexible distortion models with noise modulation.
Transient shaping within the distortion models.
Mid-side stereo image controls.
Advanced noise modes to imprint effects of noise on signal without the hiss and rumble.
64-bit signal path with highly optimised algorithms.
RetroBand is available for Windows and Mac (VST).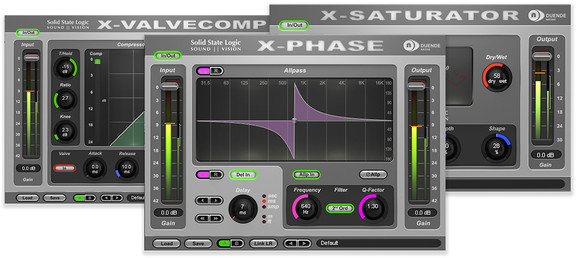 Solid State Logic has announced that three new Duende Native plug-ins and migration to iLok 2 copy protection are now available online.
The superior audio quality and deep feature set of the SSL Duende Native plug-in range has earned the respect of a very discerning clientele through the years.

The three new plug-ins complement the existing range with two plug-ins (X-Saturator & X-ValveComp) designed to bring some analogue saturation and distortion emulation to your digital DAW and the third (X-Phase) delivering high precision frequency specific phase correction.

The new plug-ins are available now via the SSL web site. To coincide with the new plug-in release SSL has migrated the entire Duende Native plug-in collection to the iLok 2 copy protection system. SSL has also announced a summer release for AAX native versions of the entire suite.
New Duende plug-ins
X-Phase is an All-pass Filter plug-in that offers the user manual control and benchmark audio quality. It enables the user to apply a phase shift (sometimes called a phase offset) at a specified frequency within a signal. Unlike other filter types where the gain of selected frequencies is altered, with an All-pass Filter the gain remains unchanged throughout the signal. This is useful for fixing phase problems with microphones when recording: eg overheads causing phase problems when mixed with close mic's.
X-Saturator delivers a stunning range of analogue style distortion effects. It is an emulation of an analogue circuit that introduces either 2nd order valve style or 3rd order transistor style distortion or a blend of the two. At low drive settings the distortion is mild and can add gentle warming to help instruments sit nicely in a mix or to add a little extra edge to help instruments cut through a mix. As drive levels are increased so too is the level of distortion until at high drive levels heavy distortion occurs.
X-ValveComp is a fully-featured mono or stereo channel compressor with a full set of classic channel compressor controls and an added 'valve' emulation stage. The valve emulation stage sits after the compressor in the signal path and adds a variable degree of primarily 2nd order harmonic saturation and distortion that thickens and colours the sound. The compressor can be switched between Peak or RMS modes and has a full set of standard controls.
X-Phase is available for purchase for £199 GBP/249 EUR/$329 USD. X-Saturator and X-ValveComp are £69 GBP/89 EUR/$119 USD each, with an introductory price of £49 GBP/59 EUR/$85 USD for the first 30 days only. Prices exclude tax.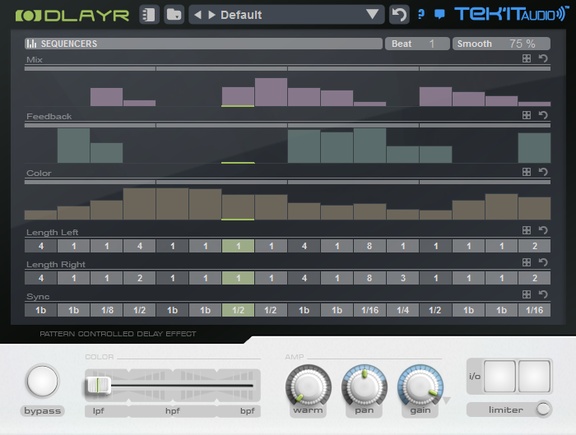 Tek'it Audio has announced the release of DlayR, a pattern controlled delay effect plug-in.
DlayR can be used to create delay, stutter and filter effects sync on the beat of your track. Control six parameters on 16 step sequencers, feedback, color, mix, delay length R/L and time.

Mix 3 filter types to color your effect, use the tube saturation and the soft limiter to give it more character.
DlayR features
16 steps pattern controlled delay.
6 sequence-able parameters, Mix, Feedback, Color, Length L/R and Sync division.
Sync on the beat of your DAW with selectable speed.
3 mixable filter types to color your effect, low-pass, high-pass and band-pass.
Amp tube saturation and soft limiter.
Panoramic and output gain controls.
Randomize and Undo on each sequencer.
Full MIDI automation support.
Easy MIDI learn on all parameters.
Integrated Preset manager, rename, copy, save, load…
90 Factory presets.
Up to 128 user presets per bank.
Easy installer.
The plug-in is available for Windows (VST) for 29 EUR / $39 USD.
Sinevibes has updated its Cluster,Hexonator, Multitude and Octagon Audio Unit plugins for OS X.
Changes in Multitude v1.0.7:
Multiple minor user interface enhancements.
Improved user interface responsiveness.
Fixed transport sync for hosts that hibernate plugins.
Fixed validation issue on OS X 10.6.8.
Changes in Octagon 1.0.1:
Command-click can now be used to reset sliders to default values.
Fixes and enhancements in the plugin's parameter interface.
Fixed transport sync for hosts that hibernate plugins.
New presets.
Changes in Hexonator 1.0.2:
Command-click can now be used to reset sliders to default values.
New presets.
Changes in Cluster 1.1.2:
Fixed validation issue on OS X 10.6.8.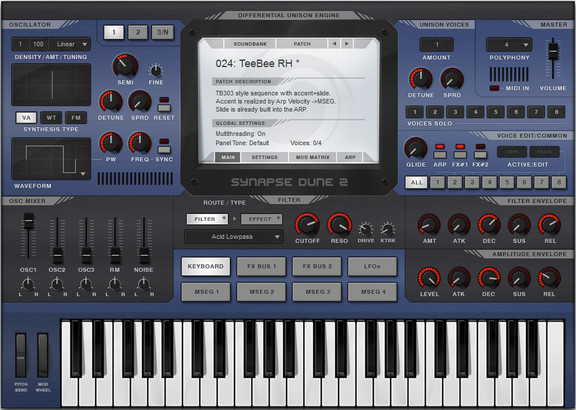 Synapse Audio has announced the release of DUNE 2, a new version of the synthesizer plug-in for Windows and Mac.
DUNE 2 was rewritten from scratch, in order to provide a yet higher sound quality and allow for an even wider range of sounds. New oscillators, new filters, new effects and graphical envelopes are just some of the new additions.

With a maximum reserve of 8320 oscillators at full polyphony, DUNE 2 is a true unison monster, unlikely to ever run out of oscillators.
DUNE 2 features
VA, Wavetable and FM Synthesis.
Two oscillator stacks with 32 oscillators each.
Third oscillator and noise generator.
8x Unison = up to 520 oscillators per note!.
16 voices of polyphony = up to 8320 oscillators total.
Zero-delay feedback filters.
Four graphical envelopes (MSEG).
Modulation matrix for synth and FX parameters.
Two Master FX busses with 9 high-quality effects each.
Innovative Arpeggiator with MIDI file import.
DUNE 2 for Windows and Mac (VST/AU) is available for purchase for $169 USD. The upgrade from DUNE is $79 USD, and a bundle of both DUNE 1 and 2 costs $198 USD. Prices excl. 19% VAT within EU.
The TDR VOS SlickEQ is a collaborative effort from the likes of Variety of Sound (Herbert Goldberg) and Tokyo Dawn Labs (Vladislav Goncharov and Fabien Schivre).
The SlickEQ is a mixing/Mastering EQ that was designed for ease of use and of course great sound. It's arranged in a LOW/MID/HIGH semi parametric layout for a fast and intuitive workflow when mixing. It also comes with access to four distinct EQ modes, each one having a set of pre-defined EQ curves and behaviors.
Download SlickEQ here http://bit.ly/1mInrKZ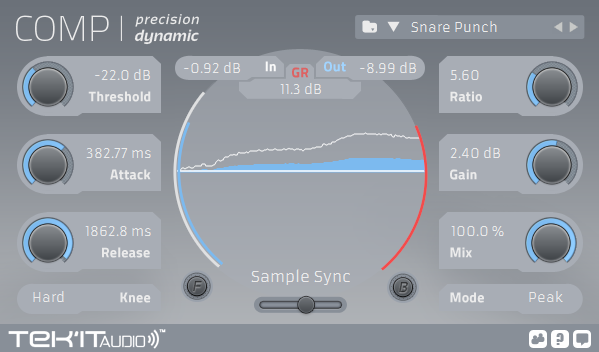 Tek'it Audio has announced the release of Comp, a compressor plug-in in VST format. Comp is a modern compressor that is designed to provide visual tools to help a user visualize the dynamics applied to a sound.
Features:
Real time visualization.
RMS and Peak compression.
Soft and Hard knee.
Attack range from 0.01ms to 0.9s.
Ratio up to 30:1.
Wet/Dry mix for parallel compression.
Input, Output, Gain reduction readouts and VU.
Scope visualization at sample sync to 200ms window.
Zero Latency.
Full MIDI automation support.
Easy MIDI learn on all parameters.
Use 7-bit MIDI Continuous Controller or High resolution 14-bit MIDI NRPN and RPN.
Integrated Preset manager, rename, copy, save, load…
Price: €29 / $39. A demo version of "Comp" is available to download as a VST plug-in for Windows. The full version is available to purchase for.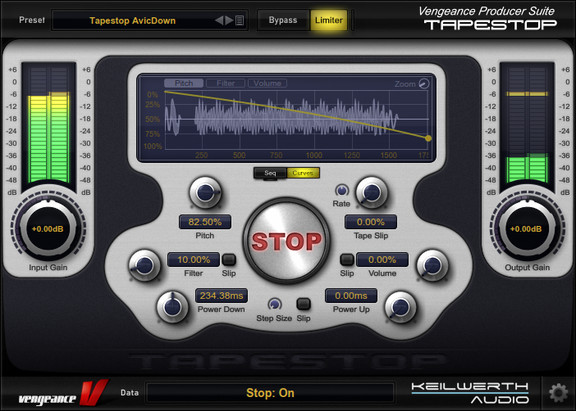 Vengeance Sound has launched Tapestop, a new Vengenace Producer Suite effect plug-in for Windows and Mac.
The Tapestop effect is as old as it is famous, and Vengeance has the deluxe version of this effect for you: VPS Tapestop is your new favourite tool when it comes to all kind of pitch effects.

But stop, it can do a lot more: with the build in sequencer, volume and filter envelopes or the new "tape slip" feature you can create crazy effects, way beyond the classic Tapestop pitch-down.
VPS Tapestop features
Simulates Pitch-Down and Pitch-Up.
LP Filter can be added.
Volume Fades can be added.
Tape Slip: simulates worn Tapes/Vinyls.
Stepped or smooth pitch effects.
internal sequencer.
3 independend envelopes for pitch, filter and volume.
realtime scope.
80 presets with pitch, wobble or special fx presets.
no clicks and 100% sync with your song.
The tapestop effect duration can be set in note values.
The Tapestop plug-in for Windows and Mac (VST/AU/AAX) costs 49 EUR. It is currently 20% off in as part of Vengeance's Easter sale. Use coupon vEaster at checkout.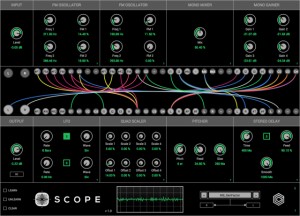 Glitchmachines has released Scope, a modular sound generator and effects processing plugin, for Mac & Windows, that is geared toward experimental sound design and electronic music production.
Scope's open-ended graphical patching system and diverse set of modules let you create a custom audio processing environment, capable of a very broad range of effects.
Features:
Fully patchable modular sound generator and signal processor
Sample library with 1500+ modular SFX in 24bit/96khz .wav
26 Modules ranging from Oscillators & Delays to LFOs & Mixers
Freely configurable module slots and signal flow
Tactile graphical patching system with virtual patch cables
Real-time animated audio analyzers and visualizers
160 patches from 8 cutting-edge sound designers and artists
Cross-platform compatibility (PC/Mac – VST/AU 32bit & 64bit)
This is Overview video going over the SCOPE plugin and included modular synthesizer sample library.
This is a basic tutorial video showing how to set up a couple of basic patches in Scope.
We worked with 6 of the best module manufacturers to put together the Eurorack system used to generate all the content. Our goal was to create a functional counterpart to Scope; something you can't easily achieve with a computer that interacts well with the plugin and gives you a new palette of sounds to work with right out of the box.

Focused on the darker side of modular synthesis, sound designer Ivo Ivanov created a collection of compelling effects that are equally distinctive and indicative of the depth of Eurorack's prodigious sonic landscape.
This video is showing behind the scenes footage from the making of the modular synthesizer sample library included with Scope.
This video is showing behind the scenes footage from the making of the modular synthesizer sample library included with Scope.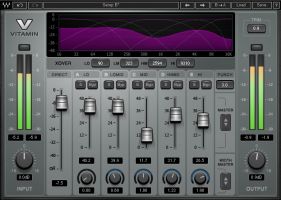 Waves has released Vitamin, a multiband harmonic enhancer and tone-shaping plugin that can make any track sound powerful and full of spark by mixing an enriched version with the original signal.
With its zero-latency processing, Vitamin caters to studio and live mix engineers alike. Used as an insert on any track or buss, Vitamin delivers a warm, vital result that is comparable to what you would get from a parallel chain of EQ, compression and saturation processors, but without the hassle.
Vitamin's controls are intuitive, easy to use and responsive, letting you smooth or accentuate punchiness and dynamics, determine the crossover frequency points between the plugin's five bands, and control the mix of the direct signal with its enhanced version. To top it all off, when Vitamin is in stereo mode, each band has a width control that lets you create wider sound images or make room for a vocal right in front of the mix – a great tool for mastering.
Features:
Parallel multiband harmonic enhancer with five individual bands.
Control over the crossover frequency points between bands.
Control over the mix of the direct signal with the enhanced version.
Per-band stereo width control.
Punch control for smoothing or accentuating punchiness and dynamics.
Zero-latency processing.
Pricing & Availability
Vitamin Native costs $200 but is currently available for the introductory price of $99. The SoundGrid version is $300 (intro $149).
Vitamin is available separately as well as in the following bundles: Gold, Platinum, Diamond, Horizon, Mercury, Prelude, Essentials, Pro Show, and SD7 Pro Show. Owners of these bundles with current Waves Update Plan coverage can update now to receive Vitamin at no additional cost.
Waves V9r18
The Waves V9r18 installers include the following changes:
The new Vitamin Sonic Enhancer available separately as well as in Mercury, Horizon, Diamond, Platinum, Gold, Pro Show, SD7 Pro Show, Essentials and Prelude.
WLM Loudness Meter is added to the list of single plugins (in addition to WLM Plus).
Manny Marroquin Distortion: minor sound related fix.