sonicLAB has announced the release of Cosmosƒ Plugin V1, offering its stochastic synthesizer in native plug-in formats for for Mac and Windows.
After its introduction in 2012, the most advanced stochastic synthesizer finally meets today the AU/VST plugin format. Cosmosƒ offers tremendous possibilities within a DAW environment and we are happy to present this achievement to you.

While there is an upgrade offer for the registered Cosmosƒ users, there is also an educational discount for new users.
A simple introduction to the possibilities of using Cosmosƒ Plugin V1 in a DAW. This new version is a leap in the product range and offers AU or VST compatibility on Windows or OSX platforms in 32/64bit.
Cosmosƒ Plugin V1 features
All the features of Cosmosƒ V2.2.
Full automation capability inside any DAW.
Multiple instances of Cosmosƒ each with unique OSC port number.
Multiple preset bank handling.
Independent quantization settings for each universe.
32/64bit support.
Cosmosƒ Plugin V1 is available to purchase for $205 USD ($130 USD for student version). A lite version with limited features is $115 USD. Existing users of Cosmosf V2.2 can upgrade to the plugin version (PRO only) for $50 USD.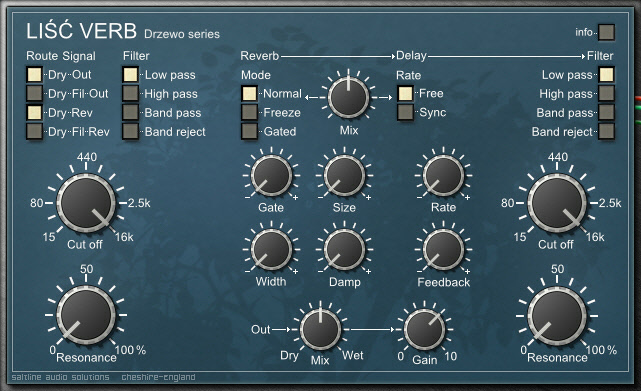 Saltline has announced Liść-verb, a freeware reverb and delay effect plug-in for Windows.
Liść-verb is a reverb and delay effect. It's simple layout and structure can bring texture and space to any sound source, from creating strange ambience for pads to interesting musical textures for beats.

Liść-verb for Windows (VST) is available to download as freeware.
Listen to a demo that Liść-verb has been used in to create most of the space and ambiance: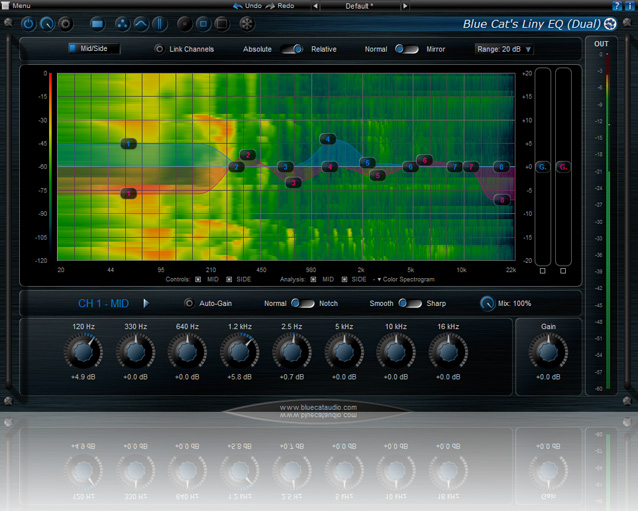 Blue Cat's Liny EQ 5.0 is a complete rewrite of their low latency linear phase EQ plug-ins. Liny EQ is an 8 bands linear phase graphic equalizer with very low latency and comprehensive visual feedback: it processes audio signals without phase distortion, with an unusually short latency (less than 3 milliseconds). Version 5.0 has now a brand new, fully customizable user interface, and includes many new features and enhancements: premium visual feedback with EQ curves, spectrum and spectrogram displays, new EQ shapes, single and dual channels modes, a new presets manager, Windows AAX support, multiple display sizes, new MIDI and automation mapping capabilities, and much more.
The plug-in is available alone or as part of Blue Cat's Master Pack, a bundle including the company's recommended plug-ins for mastering. A special introduction offer is available to new customers until June 15th: 25% off the plug-in and 15% off the bundle. Customers who recently purchased the software (in the past 3 months) will receive the upgrade for free, and others can upgrade to the new version for a small fee. Other Blue Cat Audio customers can purchase the plug-in with 40% discount.
Demo versions are available for download on www.bluecataudio.com, in VST, RTAS, AAX, Audio Unit and DirectX formats, for both Mac and PC (32 and 64-bit).
New Features:
- Brand new, fully customizable user interface:
–  New look and feel.
–  Show/hide what you need.
–  New EQ curve display.
–  New instant spectrum curves display.
–  New color or greyscale overlayed spectrogram view.
–  New output peak levels meters.
–  Multiple display sizes.
–  Improved readability.
–  Animated transitions.
- New "mix" parameter for instant dry/wet control or side chain dynamic equalization.
- New interpolation mode for up to four different EQ shapes.
- Now includes both single and dual channels versions and superseds the three plug-ins previously included in the Blue Cat's Liny EQ Pack bundle.
- Spectrum and spectrogram displays can be frozen to capture spectral snapshots.
- New integrated presets manager:
–  Load/save presets from the plug-in's user interface.
–  Organize presets with folders.
–  Customize the default preset.
–  Exchange presets easily.
- Automation range and response curve can now be customized for each parameter (in and out).
- Automation and MIDI settings (channel, MIDI learn etc.) are now accessible from the main user interface.
- AAX plug-in format is now also supported on Windows (Pro Tools 10.2 required).
Blue Cat's Liny EQ 5: 74 EUR or $96 (instead of 99 EUR or $129) , until June 15th. Upgrade from Blue Cat's Liny EQ 4: 19 EUR or $25. Blue Cat's Master Pack: 390 EUR or $509 (instead of 459 EUR or $599), until June 15th.
Sugar Bytes awarded effects plugin TURNADO is now available for the iPad!
It features the full Turnado software with 24 effects which can be turned on and off
using big knobs.
For better iPad experience, we added a nice audio player, 4 XY pads and more!
Sugar Bytes Turnado, now on the App Store!
http://www.sugar-bytes.de/content/pro…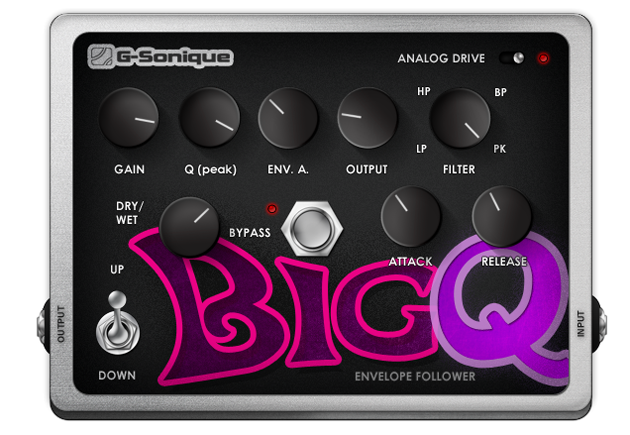 123 Creative, known for their Veldwerk synth, have released BigQ. It is a envelope follower/multifilter plugin. Cutoff (frequency) of the filter is controlled by the amplitude of the input signal. The louder you play, the more intensive the cutoff frequency of filter is modulated. Perfect for BASS guitar, Electric guitar and Drums.
Top features
- 4 selectable filters (low pass, high pass, band pass, peaking)
- Envelope follower module with attack and release knobs, which modulate filter´s cutoff frequency
- Envelope amount knob
- Input gain knob – louder is input signal more significantly is modulated filter frequency/cutoff
- Dry/Wet knob – set ratio between dry and wet (effected) signal
- Up/Down switch – cutoff frequency of filter can be modulated in negative or positive direction (up or down)
- Analog drive switch adds little bit of warm
- Bypass switch

Taking a look at the u-he Satin Tape Machine and speak to developer Sascha Eversmeier about the new plugin currently in beta stages.
MESSE13: U-He Satin Tape Machine We take a look at the new tape simulator and find out that you can really get under the hood
At Musikmesse, u-he is showing Satin – Tape Machine, a new plug-in for Windows and Mac OS X offering "authentic tape simulation and beyond".
Features:
Continuous tape speed control from 7.5 to 30 ips.
Saturation with realistic bias and hysteresis, wow & flutter.
Rec/repro equalisation, selectable industry-standard curves.
Tape delay with up to 4 repro heads, on-the-fly flanging.
Head adjustments, various coating formulae.
Pricing and release date TBA

Acidgrooves has announced the LSD-525 amplifier and parallel EQ plug-in with Entropy technology.
This is the first of a new breed of Plug-Ins developed by Acidgrooves that feature the Acidgrooves Entropy Technology™.

This patent pending technology brings to the Audio Plug-In world one of the characteristics of analog hardware that provides them with some of their unique sound qualities: the passage of time.

With time, capacitors, resistors, transformers and other analog components will decay and lose some of their original specifications which will effectively change the sound and personality of that particular unit.

Our technology tries to recreate exactly that.
LSD-525 features
4 channel parallel equalizer: bass lift, low, mid and highs.
Mix knob for dry /wet control.
2 Entropy Sound Technologies: TAD & USP.
A / B Setups, Presets, Undo & Redo capabilities.
Designed from day one with low cpu usage in mind.
Ideal to be used along virtual synths.
Up to 64x oversample.
Built-in limiter.
Lifetime updates.
The LSD-525 for Windows and Mac (VST/AU) is available to purchase for the introductory price of $39 USD until May 11th, 2013 (regular $49 USD).
conTRAPtion is one of the most innovative VSTs to come out in recent memory, a plug-in that can take any song and convert it into trap! Created by Icelandic software company Polarfoils Industries, conTRAPtion combines elements of Southern rap music with EDM synths and sounds.
conTRAPtion opens up new directions in trap music production! This VST is guaranteed to meet the demands of today's DJs and trapaholics everywhere.
Load any song you want and after a brief analysis conTRAPtion slows down the tempo, rolls off the low end and adds distorted 808 kicks. Then it adds syncopated hi-hats alternating between 1/8th-note and 1/16th-note patterns. The final layer is classic trap sounds like gun shots, air horns, explosions, and of course "Damn Son, Where'd You Find This?"
conTRAPtion has multiple settings. If you want a subtle track spin on it, simply apply the first setting SWAG.
If SWAG isn't cutting it and you need to get more hard in the paint, that's what TURNT UP is for.
The next setting, MAYBACH MUSIC, adds flair, snares, and track IDs. And when there's no turning back and you need to turn the trap up to 11, simply apply "Damn Son, Where'd You Find This?"
conTRAPtion also has a "chopped and screwed" feature, simply flip the CHOPPED & SCREWED switch to apply the effect.

Soundtoys has just released Little MicroShift, the latest in their new Boutique plug-in series, and it's free for a limited time.
The company tells us that Little Microshift is based on a simple, but effective studio trick for creating wide stereo tracks from mono sources. Originally done using hardware pitch shifters, as well as the original SoundToys SoundBlender plug-in, this technique has been used in pro studios as a "secret weapon" on countless vocals, guitars and more for a widening, doubling and interesting spatial effect that adds focus or power to tracks run through it. Soundtoys says that, now, three of the most popular versions of this effect are available at the touch of a button.
The Contest

As in years past with Devil-Loc and Little Radiator, Little MicroShift is available free to anyone who can find a friend with a "sharing code".  They're all over FaceBook and forums like GearSlutz and KVR Audio. Once you've got Little MicroShift, you can share it with your friends by using your own unique sharing code. The top share-masters win more cool stuff. The grand prize is an autographed original H3000 D/SE Ultra-Harmonizer from our Gear Closet. The promotion ends on March 29th.
Pricing and Availability:
Free
More information here: