The TDR VOS SlickEQ is a collaborative effort from the likes of Variety of Sound (Herbert Goldberg) and Tokyo Dawn Labs (Vladislav Goncharov and Fabien Schivre).
The SlickEQ is a mixing/Mastering EQ that was designed for ease of use and of course great sound. It's arranged in a LOW/MID/HIGH semi parametric layout for a fast and intuitive workflow when mixing. It also comes with access to four distinct EQ modes, each one having a set of pre-defined EQ curves and behaviors.
Download SlickEQ here http://bit.ly/1mInrKZ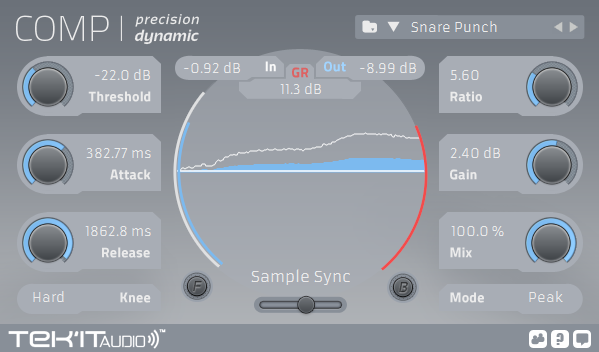 Tek'it Audio has announced the release of Comp, a compressor plug-in in VST format. Comp is a modern compressor that is designed to provide visual tools to help a user visualize the dynamics applied to a sound.
Features:
Real time visualization.
RMS and Peak compression.
Soft and Hard knee.
Attack range from 0.01ms to 0.9s.
Ratio up to 30:1.
Wet/Dry mix for parallel compression.
Input, Output, Gain reduction readouts and VU.
Scope visualization at sample sync to 200ms window.
Zero Latency.
Full MIDI automation support.
Easy MIDI learn on all parameters.
Use 7-bit MIDI Continuous Controller or High resolution 14-bit MIDI NRPN and RPN.
Integrated Preset manager, rename, copy, save, load…
Price: €29 / $39. A demo version of "Comp" is available to download as a VST plug-in for Windows. The full version is available to purchase for.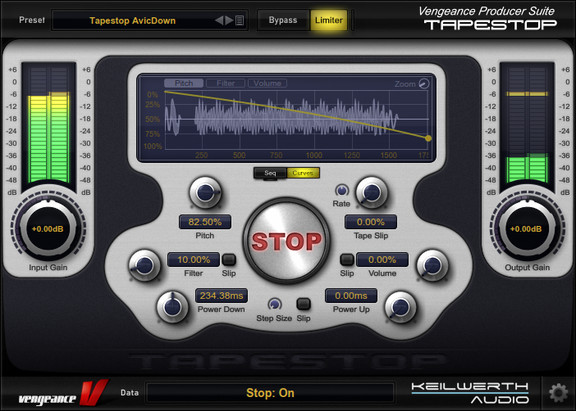 Vengeance Sound has launched Tapestop, a new Vengenace Producer Suite effect plug-in for Windows and Mac.
The Tapestop effect is as old as it is famous, and Vengeance has the deluxe version of this effect for you: VPS Tapestop is your new favourite tool when it comes to all kind of pitch effects.

But stop, it can do a lot more: with the build in sequencer, volume and filter envelopes or the new "tape slip" feature you can create crazy effects, way beyond the classic Tapestop pitch-down.
VPS Tapestop features
Simulates Pitch-Down and Pitch-Up.
LP Filter can be added.
Volume Fades can be added.
Tape Slip: simulates worn Tapes/Vinyls.
Stepped or smooth pitch effects.
internal sequencer.
3 independend envelopes for pitch, filter and volume.
realtime scope.
80 presets with pitch, wobble or special fx presets.
no clicks and 100% sync with your song.
The tapestop effect duration can be set in note values.
The Tapestop plug-in for Windows and Mac (VST/AU/AAX) costs 49 EUR. It is currently 20% off in as part of Vengeance's Easter sale. Use coupon vEaster at checkout.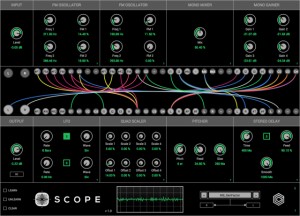 Glitchmachines has released Scope, a modular sound generator and effects processing plugin, for Mac & Windows, that is geared toward experimental sound design and electronic music production.
Scope's open-ended graphical patching system and diverse set of modules let you create a custom audio processing environment, capable of a very broad range of effects.
Features:
Fully patchable modular sound generator and signal processor
Sample library with 1500+ modular SFX in 24bit/96khz .wav
26 Modules ranging from Oscillators & Delays to LFOs & Mixers
Freely configurable module slots and signal flow
Tactile graphical patching system with virtual patch cables
Real-time animated audio analyzers and visualizers
160 patches from 8 cutting-edge sound designers and artists
Cross-platform compatibility (PC/Mac – VST/AU 32bit & 64bit)
This is Overview video going over the SCOPE plugin and included modular synthesizer sample library.
This is a basic tutorial video showing how to set up a couple of basic patches in Scope.
We worked with 6 of the best module manufacturers to put together the Eurorack system used to generate all the content. Our goal was to create a functional counterpart to Scope; something you can't easily achieve with a computer that interacts well with the plugin and gives you a new palette of sounds to work with right out of the box.

Focused on the darker side of modular synthesis, sound designer Ivo Ivanov created a collection of compelling effects that are equally distinctive and indicative of the depth of Eurorack's prodigious sonic landscape.
This video is showing behind the scenes footage from the making of the modular synthesizer sample library included with Scope.
This video is showing behind the scenes footage from the making of the modular synthesizer sample library included with Scope.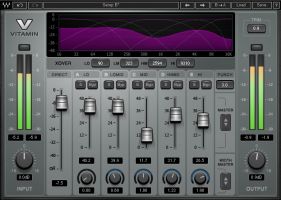 Waves has released Vitamin, a multiband harmonic enhancer and tone-shaping plugin that can make any track sound powerful and full of spark by mixing an enriched version with the original signal.
With its zero-latency processing, Vitamin caters to studio and live mix engineers alike. Used as an insert on any track or buss, Vitamin delivers a warm, vital result that is comparable to what you would get from a parallel chain of EQ, compression and saturation processors, but without the hassle.
Vitamin's controls are intuitive, easy to use and responsive, letting you smooth or accentuate punchiness and dynamics, determine the crossover frequency points between the plugin's five bands, and control the mix of the direct signal with its enhanced version. To top it all off, when Vitamin is in stereo mode, each band has a width control that lets you create wider sound images or make room for a vocal right in front of the mix – a great tool for mastering.
Features:
Parallel multiband harmonic enhancer with five individual bands.
Control over the crossover frequency points between bands.
Control over the mix of the direct signal with the enhanced version.
Per-band stereo width control.
Punch control for smoothing or accentuating punchiness and dynamics.
Zero-latency processing.
Pricing & Availability
Vitamin Native costs $200 but is currently available for the introductory price of $99. The SoundGrid version is $300 (intro $149).
Vitamin is available separately as well as in the following bundles: Gold, Platinum, Diamond, Horizon, Mercury, Prelude, Essentials, Pro Show, and SD7 Pro Show. Owners of these bundles with current Waves Update Plan coverage can update now to receive Vitamin at no additional cost.
Waves V9r18
The Waves V9r18 installers include the following changes:
The new Vitamin Sonic Enhancer available separately as well as in Mercury, Horizon, Diamond, Platinum, Gold, Pro Show, SD7 Pro Show, Essentials and Prelude.
WLM Loudness Meter is added to the list of single plugins (in addition to WLM Plus).
Manny Marroquin Distortion: minor sound related fix.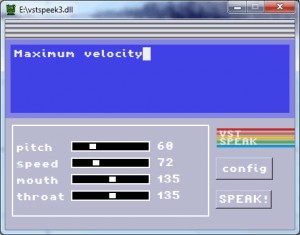 VST Speek is a free vocal synthesis VST plug-in for recreating the old skool robotic text to speech. You simply choose a preset, type any text and get the speech.
VST Speek – http://www.vstplanet.com/News/2014/Wa…
Developer: Wavosaur
Official audio demo!
– you can trigger the speech with MIDI keyboard (velocity sensitive)
– you can use MIDI pitchbend
– you can change original pitch or mouth/throat parameters while it's speaking
This is not a vocal synth like "Vocaloïd", it's intended to do crunchy robotic lofi techno voices! It's not intended for good quality speech synthesis too, better speech synthesis softwares exist now.
– 64 bit version
– MAC version
– ability to assign different text to MIDI notes
– ability to read longer text (and / or read from text file)
– assign pitchbend or midi CC to voice parameters.
– Android version ?
– more parameters

SoundToys has announced the release of MicroShift, a micro pitch shifter effect plug-in that allows for widening of your sound.
MicroShift makes it wide. Be it vocals, synths, guitars, backing vocals or whatever you choose to run through it, MicroShift uses this classic studio trick to spread out, thicken up, or give a new space to any track you hit with it. Of course, the SoundToys spin takes it beyond the original with the new FOCUS knob that lets you push and widen specific ranges without affecting the rest of the track.

Amazing for adding "shimmer" to a vocal, or "air" to a guitar. Control of the detune amount, delay, and a mix knob let you tweak the effect to fit just right in the track. MicroShift combines the classic sound of the hardware with new advanced features, and an intuitive interface. Simply huge.
MicroShift for Windows and Mac (VST/AU/RTAS/AAX) is available to purchase for $89 USD. Users of MicroShift Little can upgrade for $49 USD, and MicroShift Little is also included with a purchase of MicroShift before March 4th, 2014.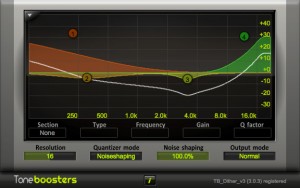 ToneBooster has announced the release of TB-Dither, a quantization and noise shaping plugin for Windows and Mac.
TB Dither is a plugin designed to modify the bit depth of audio signals, for example when authoring a CD or for archival purposes, with minimum quality degradation. Such process typically involves dithering, quantization, and noise shaping.

TB Dither supports industry-standard dithering noise types such as RPDF (rectangular probability density function, 1 LSB wide) and TPDF (triangular probability density function, 2 LSBs wide). A GPDF (Gaussian probability density function) is provided as well.
TB-Dither features
Zero-latency processing.
Support of all sampling rates from 44.1 to 192 kHz.
Supports industry-standard RPDF and TPDF dithering noise.
Unrivalled flexibility to shape dithering and quantization noise.
Suports any bith depth between 8 and 24 bits.
Dedicated modes to listen to quantization noise only.
Advanced noise-shaping overload protection algorithm.
TB-Dither for Windows and Mac (VST/AU) is available to purchase for 9.95 EUR.
ToneBoosters has also updated it's plug-in line to version 3.0.3.
Changes in v3.0.3
All plugins

Fixed a minor GUI memory leak.

Dither
Barricade

Improved accuracy of RMS output VU meter.
Improved quantization and noise shaping algorithm (derived from TB Dither).

EBULoudness

Fixed an issue causing the loudness history graph not displaying correctly when closing and re-opening the GUI.
Mitigated a crash due to a bug in Wavelab when using EBU Loudness on stereo tracks.

Module

Fixed a bug that could result in inresponsiveness of Module.

ReelBus

Added 'legacy' saturation mode to simulate v2.9 behavior.

BusCompressor

Added channel linking control and stereo gain meters.
Improvement in transient detection/compression algorithm.

MaxSynths has announced the release of DSP-3, a dynamics processor specifically designed to be used on the main bus.
The main purpose of DSP-3 is to increase the perceived loudness of the track and make the mix more compact without introducing any distortion or audible artifacts.

Unlike other compressors DSP-3 is incredibly simple and intuitive: thanks to the internal IDP (Intelligent Dynamic Processor) circuit all the key parameters, necessary to have an adequate compression, are set automatically.

DSP3 includes four different dynamics processing models, selectable via a XY crossfade pad, which allows to crossfade the signal processed by the different algorithms.
DSP-3 features
Intelligent Dynamic Processor (IDP).
Four different automatic dynamic processor models.
Transparent increment of the perceived volume level.
High precision input/output VU-meter.
Easy to operate.
Low CPU usage.
DSP-3 for Windows (VST) is available to purchase for 19.90 EUR.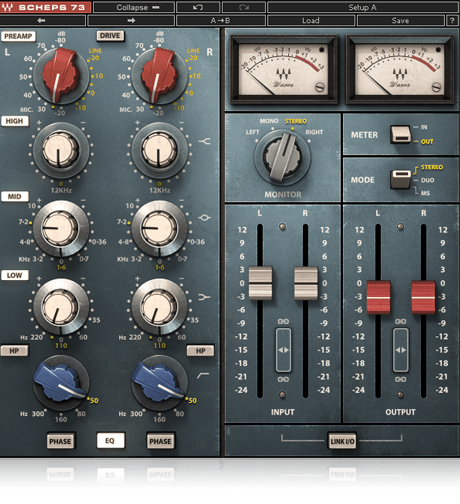 Waves has released the Scheps 73 plug-in. Scheps 73 is a 3-band EQ modeled on the classic 1073 console's EQ and mic preamp module and developed in association with world-renowned mixing engineer Andrew Scheps (Adele, Red Hot Chili Peppers, Black Sabbath, Lana Del Ray, Metallica, Jay-Z.)
The Scheps 73 EQ features interrelated bands that adhere to the 1073's original specs and emulate its behavior: a fixed 12kHz high-frequency band, switchable low and midrange bands with cut and boost controls, and an 18dB/octave high-pass filter. Additionally, a little-known 10kHz midrange band discovered in the original 1073 schematics, but operable only on the rare 1078 channel strip has been modeled and incorporated into the plugin.
Using innovative procedures to model the acclaimed Marinair transformer, Waves has meticulously captured all the sonic characteristics of the 1073, including its harmonic distortion. These overtones were tweaked by Andrew Scheps himself.
Price: $149 – There is an introductory price of $99.