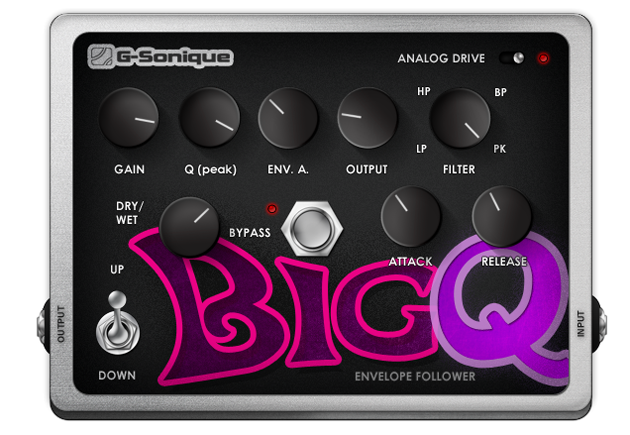 123 Creative, known for their Veldwerk synth, have released BigQ. It is a envelope follower/multifilter plugin. Cutoff (frequency) of the filter is controlled by the amplitude of the input signal. The louder you play, the more intensive the cutoff frequency of filter is modulated. Perfect for BASS guitar, Electric guitar and Drums.
Top features
- 4 selectable filters (low pass, high pass, band pass, peaking)
- Envelope follower module with attack and release knobs, which modulate filter´s cutoff frequency
- Envelope amount knob
- Input gain knob – louder is input signal more significantly is modulated filter frequency/cutoff
- Dry/Wet knob – set ratio between dry and wet (effected) signal
- Up/Down switch – cutoff frequency of filter can be modulated in negative or positive direction (up or down)
- Analog drive switch adds little bit of warm
- Bypass switch

Taking a look at the u-he Satin Tape Machine and speak to developer Sascha Eversmeier about the new plugin currently in beta stages.
MESSE13: U-He Satin Tape Machine We take a look at the new tape simulator and find out that you can really get under the hood
At Musikmesse, u-he is showing Satin – Tape Machine, a new plug-in for Windows and Mac OS X offering "authentic tape simulation and beyond".
Features:
Continuous tape speed control from 7.5 to 30 ips.
Saturation with realistic bias and hysteresis, wow & flutter.
Rec/repro equalisation, selectable industry-standard curves.
Tape delay with up to 4 repro heads, on-the-fly flanging.
Head adjustments, various coating formulae.
Pricing and release date TBA

Acidgrooves has announced the LSD-525 amplifier and parallel EQ plug-in with Entropy technology.
This is the first of a new breed of Plug-Ins developed by Acidgrooves that feature the Acidgrooves Entropy Technology™.

This patent pending technology brings to the Audio Plug-In world one of the characteristics of analog hardware that provides them with some of their unique sound qualities: the passage of time.

With time, capacitors, resistors, transformers and other analog components will decay and lose some of their original specifications which will effectively change the sound and personality of that particular unit.

Our technology tries to recreate exactly that.
LSD-525 features
4 channel parallel equalizer: bass lift, low, mid and highs.
Mix knob for dry /wet control.
2 Entropy Sound Technologies: TAD & USP.
A / B Setups, Presets, Undo & Redo capabilities.
Designed from day one with low cpu usage in mind.
Ideal to be used along virtual synths.
Up to 64x oversample.
Built-in limiter.
Lifetime updates.
The LSD-525 for Windows and Mac (VST/AU) is available to purchase for the introductory price of $39 USD until May 11th, 2013 (regular $49 USD).
conTRAPtion is one of the most innovative VSTs to come out in recent memory, a plug-in that can take any song and convert it into trap! Created by Icelandic software company Polarfoils Industries, conTRAPtion combines elements of Southern rap music with EDM synths and sounds.
conTRAPtion opens up new directions in trap music production! This VST is guaranteed to meet the demands of today's DJs and trapaholics everywhere.
Load any song you want and after a brief analysis conTRAPtion slows down the tempo, rolls off the low end and adds distorted 808 kicks. Then it adds syncopated hi-hats alternating between 1/8th-note and 1/16th-note patterns. The final layer is classic trap sounds like gun shots, air horns, explosions, and of course "Damn Son, Where'd You Find This?"
conTRAPtion has multiple settings. If you want a subtle track spin on it, simply apply the first setting SWAG.
If SWAG isn't cutting it and you need to get more hard in the paint, that's what TURNT UP is for.
The next setting, MAYBACH MUSIC, adds flair, snares, and track IDs. And when there's no turning back and you need to turn the trap up to 11, simply apply "Damn Son, Where'd You Find This?"
conTRAPtion also has a "chopped and screwed" feature, simply flip the CHOPPED & SCREWED switch to apply the effect.

Soundtoys has just released Little MicroShift, the latest in their new Boutique plug-in series, and it's free for a limited time.
The company tells us that Little Microshift is based on a simple, but effective studio trick for creating wide stereo tracks from mono sources. Originally done using hardware pitch shifters, as well as the original SoundToys SoundBlender plug-in, this technique has been used in pro studios as a "secret weapon" on countless vocals, guitars and more for a widening, doubling and interesting spatial effect that adds focus or power to tracks run through it. Soundtoys says that, now, three of the most popular versions of this effect are available at the touch of a button.
The Contest

As in years past with Devil-Loc and Little Radiator, Little MicroShift is available free to anyone who can find a friend with a "sharing code".  They're all over FaceBook and forums like GearSlutz and KVR Audio. Once you've got Little MicroShift, you can share it with your friends by using your own unique sharing code. The top share-masters win more cool stuff. The grand prize is an autographed original H3000 D/SE Ultra-Harmonizer from our Gear Closet. The promotion ends on March 29th.
Pricing and Availability:
Free
More information here:

iZotope has announced the release of Nectar Elements, the latest addition to the Nectar family of vocal plug-in effects. Built on the same award-winning DSP as Nectar, Nectar Elements features an easy-to-use interface designed with the singer-songwriter, podcaster, or home recordist in mind. iZotope says that, with ten vocal processing effects working behind the scenes, Nectar Elements simplifies vocal production, allowing users to focus on their sound, not their set-up.
iZotope Product Manager, Brett Bunting, told us, "By introducing Nectar Elements, iZotope is pleased to offer single-click vocal production to a broader set of users. Our vocal product line is focused on great sound and simple workflow. With Nectar Elements, anyone can quickly explore a wealth of complete vocal sounds, each with unique and intuitive control."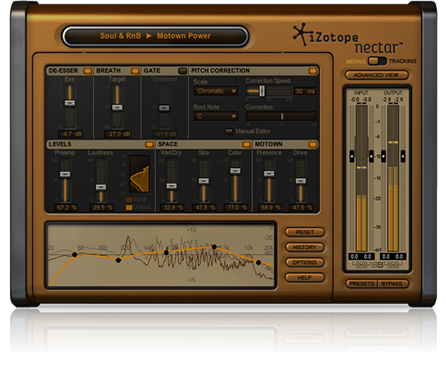 Nectar Elements features dozens of Style presets that let you choose between a variety of classic and creative vocal styles, from Motown to Grunge to radio-ready podcast. Easily and quickly adjust the simple controls to find your voice and make it shine.
Key Features:
Rapidly audition different vocal sounds with professionally-designed Style presets in a wide variety of Genres.
Personalize your sound with easy-to-use controls that drive sophisticated vocal processing.
Even more:
Levels: Quickly get punchy vocals with the loudness you need for consistency across your tracks.
Space: Help settle your vocals into your mix with delays and reverbs that add ambience and "smoothing."
Dedicated per-Style controls: Adjust intelligent sliders that perfectly complement the Genre and Style of choice.
EQ: Enhance and sculpt the tone of your voice, or adapt any Style to suit your sound's needs.
De-Esser: Easily remove unwanted "ess" sounds and sibilance using just one intelligent slider.
Gate: Remove room tone and other unwanted noise quickly to get vocals crisp and broadcast-ready.
Automatic Pitch Correction: Fix out-of-tune notes so you can keep those "almost perfect" takes.
Pricing and Availability:
Nectar Elements is now available for MSRP $129 USD or €99 EUR.
Additional preset packs for Nectar and Nectar Elements are available for free at www.izotope.com/nectar/presets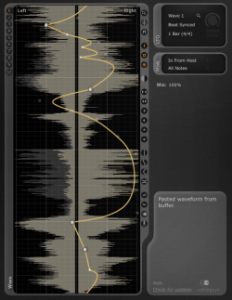 CableGuys has released PanCake 2 – an plugin that allows you to create flexible pan modulations.
Key Features:
Free, and available for both PC and Mac.
Creative Modulation Tool: Create complex pan modulations with ease.
Unique Waveform Drawing Capabilities:Construct your own modulation curves in a very intuitive manner. Waveforms can be easily drawn using soft or hard control points, thus producing gentle transitions or sharp bends in the waveform.
Customized Waveforms: Up to 10 customized waveforms can be stored.
LFO Speed: LFO speed can be set free-running from 0.02 Hz to 5.24 kHz. It can also be set in rhythmic units synced to the host sequencer, from a fast 1/128 note modulation up to 32 bars.
Always in Sync: The LFO will always stay in sync, even when you make tempo changes in your host software, or jump ahead to different parts of your track.
Complete Parameter Control via Automation: Absolutely everything in PanCake can be automated. Even the shape of the modulating waveform can be automated. And if you want to use more than four modulation curves in a song, you can automate the plugin to switch between them.
New in version 2: A precise display of channel left/right volume for helpful visual control, an option to trigger the LFO via MIDI notes, a dry/wet control, plus a redesigned interface.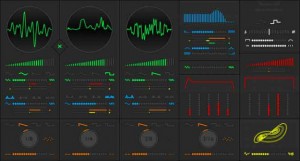 Sinevibes has announced Torsion, its new monophonic Audio Unit instrument plugin. They tell us that Torsion is built upon a unique combination of multiple synthesis technologies and modulation sources, wrapped into an intuitive interface which makes working with it as fun as playing a game. Sinevibes believes that it has a very distinctive, original sound character – and is ready to push your musical creativity in a fresh new direction. Here's the details in Sinevibes' own words…
Reinvented classics
At first glance, Torsion's sound structure is similar to a traditional subtractive synthesiser – three oscillators going into a low-pass filter and into an amplifier – and it's certainly as easy to use. But Torsion's oscillators are completely different: they produce simple additive waves based on just a few partials, which are then enriched with lots of new spectral content using a technique called waveshape modelling (which literally "curls" the wave in real time). To further spice the sound up, there is a ring modulator and an audio-range oscillator for filter FM.
Modulation galore
Torsion features as many as four separate LFO generators – one for each oscillator and one for the filter and output amplifier. In addition to precise synchronisation, each LFO cycle can be self-randomised, which makes the modulation rhythmical yet non-repetitive. There are also two AHDSR envelope generators, as well as a two-dimensional chaos oscillator.
Interactive experience
The interface of Torsion is designed with high-contrast, colour coded elements, which lets you operate the instrument intuitively in just a few minutes. It also includes graphic representations for every building block – oscillator waves, LFO phases, envelope shapes and filter spectrum all change as you modify them, making sound design with Torsion a truly engaging, fun process.
Specifications
• Three oscillators each with four basic additive waveforms and four waveshape models.
• -24 dB/octave resonant low-pass filter.
• -12 dB/octave high-pass filter.
• Ring modulator.
• Modulation oscillator for low-pass filter FM.
• Four tempo-synchronised LFO generators with four waveforms and per-cycle randomisation.
• Two AHDSR envelope generators.
• Two-dimensional chaos modulation generator based on Lorenz attractor.
Pricing and Availability:
Torsion is immediately available as an Audio Unit plugin for OS X 10.6 or later (32/64 bit Intel), and costs $49.
More information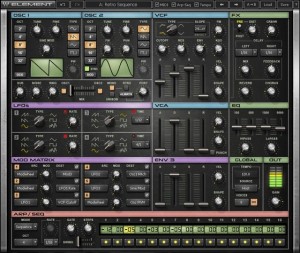 Waves has announced the release of Element, a synthesizer instrument plug-in for Window and Mac.
Introducing Element: The first ever synthesizer from Waves. Powered by Virtual Voltage™ technology, Element is an analog-style polyphonic instrument engineered to deliver the fat, gritty sound of the classics, with all the precision, flexibility and control of contemporary digital synths.

Element includes a vast array of convenient features and functions. Like integrated effects. A 16-step arpeggiator / sequencer. MIDI Learn for all controls. And a massive preset library, with total tweakability. Plus, all parameters are laid out right there in front of you, so when inspiration strikes, there's no need to scroll through page after page to customize your sounds. Searing leads, booming basses, ethereal pads, electro-percussion, sequential motions, mind-blowing FX and lots more: Element does it all.
Element for Windows and Mac is available to purchase for the introductory price of $99 USD (regular $200 USD).