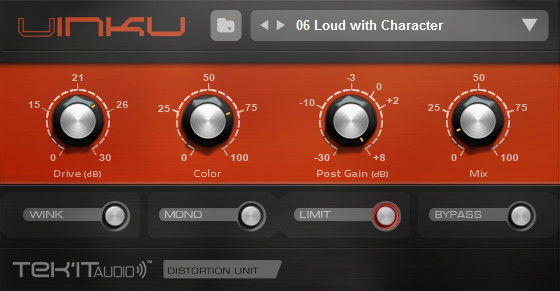 Tek'it Audio has announced the release of Uinku, a fold-back distortion effect plug-in for Windows and Mac.
Uinku creates subtle harmonic changes to extreme distortion helped by the "Drive" control to add saturation and the "Color" control in an effort to bake the perfect tones.

The interface features a "Mix" control for blending the original sound with the sound of Uinku and an "Output Gain" control with a clipper stage to drive distortion further.
Uinku features
2 Flavors of Foldback distortion, including the "Winkl" sound.
Distortion drive and color controls.
Mix and output gain controls.
Activable gain stage clipper.
Bypass switch.
x16 Oversampling.
64-bit internal processing.
Full MIDI automation support.
Preset manager, rename, save, load presets and banks.
Works in mono or stereo.
16 factory presets.
The plug-in is available for Windows and Mac (VST/AU), priced at 39 EUR / $49 USD.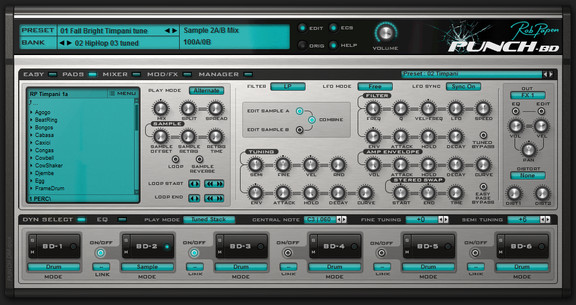 Rob Papen has introduced Punch-DB, a bass drum synthesizer and sample player plug-in based around the BD module of the multi award winning Punch virtual drum synthesizer.
Stacking bass drums is a popular technique used by today's music producers and Punch-BD gives you the ability to stack up to 6 in total. Divide the 6 BD pads over the keyboard or use them 'stacked' in tuned mode to produce creative new BD sounds for all styles of contemporary music.

Punch-BD delivers synthesized drums in the finest audio quality or you can choose to load in your own samples for complete flexibility. Each pad has its own distortion module with several distortion types as well as its own 3 band graphic EQ. What's more, each individual pad also has its own preset section next to the overall 'BD kit'.

Like its big brother, Punch-BD features four FX units each with many 31 types of top quality FX plus further filters, envelopes, modulation routings and more for crafting your own unique sound.

From Electronic Dance and Hip Hop to Soundtrack projects, Punch-BD provides a solid speaker-busting sound for your productions.
Punch-DB will be available soon for Windows and Mac (VST/AU/AAX), priced at 49 EUR / $59 USD.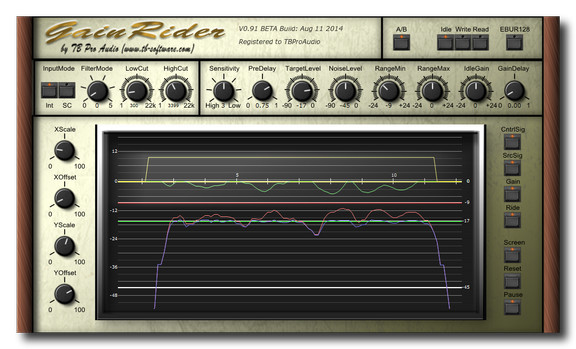 TB Pro Audio has launched GainRider, a gain riding effect plug-in for Windows and Mac.
Gainrider is a (vocal-) gain riding tool which gives fully control over the gain riding process.
GainRider features
Easy setup of algorithm sensitivity.
Detailed control of gain modification (min, max, idle).
Exact control when gain modification happens (pre delay).
Large display to monitor visually impact of plugin parameters.
Flexible pre filter including preset ITU 1770 filter curve.
DAW side chaining (VST3/RTAS) or channel 3+4 (VST2).
Read/Write automation data.
A/B control.
GainRider for Windows and Mac (VST/AU/RTAS) is available for purchase for 59 EUR.
FabFilter has released Pro-Q 2, an updated version of its equalizer effect plug-in for Windows and Mac.
Here are all the details:
Completely redesigned EQ engine

For Pro-Q 2, FabFilter has completely redesigned the internal filter engine from the ground up — not only improving the existing Zero Latency and Linear Phase processing modes, but also introducing a unique Natural Phase mode. Besides perfectly matching the magnitude response of analog EQ'ing, Natural Phase also closely matches the analog phase response, without introducing noticeable pre-ring or a long latency. Last but not least, FabFilter Pro-Q 2 is more than twice as CPU-efficient as its predecessor.

Universal filter slope support

Very steep filter slopes of up to 96 dB/octave are now available, and, uniquely, FabFilter Pro-Q 2 lets users change the slope of any filter type — not just the usual Low/High Cut filters. This makes it possible to create super-narrow bell filters, very steep or gently sloping shelves, and more. In addition to the existing Bell, Low/High Shelf, Low/High Cut, and Notch filters, Pro-Q 2 also features new Band-Pass and Tilt Shelf filter types.

More interface innovations

Furthermore, FabFilter Pro-Q 2 is boosted by an abundance of user interface innovations. Spectrum Grab enables users to directly adjust peaks in the real-time spectrum analyzer display. Pro-Q 2 offers flexible interface resizing, in addition to a Full Screen mode that makes it easier than ever to do ultra-precise adjustments. EQ Match lets users match the spectrum of another track in just a few seconds. All this power is neatly integrated into a gorgeous, uncluttered interface that lets users focus freely on music and workflow.

Original and trailblazing

Of course, Pro-Q 2 features everything that was great about the original Pro-Q — up to 24 EQ bands, innovative interface with unsurpassed workflow and multi-band selection, per-channel EQ'ing in L/R or M/S mode, real-time spectrum analyzer, intelligent solo mode, double-click text entry, stereo/mono plug-ins, Pro Tools hardware surface support — as well as all the trailblazing FabFilter bells and whistles that users have come to expect and love — perfectly fine-tuned knobs and controllers, GPU-powered graphics acceleration, interactive MIDI Learn, undo/redo and A/B switch, Smart Parameter Interpolation for smooth parameter transitions, an extensive help file with interactive help hints, sample-accurate automation, advanced optimization, and more.
New in Pro-Q 2
Different interface sizes and additional Full Screen mode.
Operates in zero latency mode, linear phase mode with adjustable latency or the unique Natural Phase mode.
Spectrum Grab: just grab and adjust a peak in the real-time spectrum analyzer right away!.
Filter shapes: Bell, Notch, High/Low Shelf, High/Low Cut, Band Pass, Tilt Shelf.
Universal filter slope support for all filter types, up to 96 dB/oct.
EQ Match feature to automatically match the spectrum of another track via the side-chain input.
Phase Invert option to change polarity.
Highly improved CPU optimization: Pro-Q 2 uses less memory and is more than twice as efficient as its predecessor!.
Optional Gain-Q interaction.
Auto Gain and Gain Scale.
Built-in spectrum analyzer with Pre-EQ, Post-EQ and SC modes, adjustable range, speed, resolution, tilt and freeze.
Optional piano roll display to quantize EQ frequencies to musical notes.
Large output level meter with peak level readout.
FabFilter Pro-Q 2 for Windows and Mac (VST/AU/RTAS/AAX/AudioSuite) is available for purchase for 149 EUR/$199 USD/£124 GBP. Bundles with FabFilter Pro-Q 2 and other FabFilter plug-ins are also available. Existing FabFilter customers can purchase or upgrade to Pro-Q 2 with a discount from their online user accounts.
Tom Brislin explores Muse Research's top-of-the-line hardware plug-in host, the Receptor Qu4ttro. Read the full review in the September 2014 issue of Keyboard. The Muse Receptor Qu4ttro is a rackmount computer that's designed specifically for use as a hardware VST host. It lets you run VSTs as a hardware module.

RECEPTOR is not a computer. And it's not a hardware synth or effects processor, either. RECEPTOR is a "hybrid music instrument" that serves as a stand-alone solution for running virtual instruments and effects software. With RECEPTOR, you don't have to buy a bunch of interfaces and install a bunch of drivers to start making music, since the RECEPTOR is a complete, rack-mount musical instrument and effects processor that works right out of the box. Nothing more to buy, install, or fiddle with to get working.
These RECEPTORs provide a custom front panel hardware user interface that lets you harness all the power and versatility of virtual instruments and effects with minimal hassle – no computer monitor required – making the RECEPTOR something that ALL musicians can use.
RECEPTOR is software-powered, but it employs a custom, purpose-built operating system and host application for running your software to let you make music without the worry or hassle of system conflicts, long boot and load times, slow disc messages, system hiccups, viruses, and the other stability problems that plague computers. Even better, the RECEPTOR is designed for superior playability, so your favorite virtual instruments and effects feel better than ever before.
Waves has introduced the Dave Clarke EMP Toolbox, a collection of selected effect plug-ins.
Dave Clarke (Depeche Mode, Chemical Brothers, John Foxx, I am Kloot, Louisahhh!!! & Maelstrom) has been among the leading techno DJ/producers of the past two decades, commanding the respect of listeners everywhere, from massive outdoor festivals such as Tommorowland to the grittiest clubs of the underground scene.

The Dave Clarke EMP Toolbox contains seven supreme sound–crafting processors – the ones he uses regularly in his mixing and mastering sessions. With this collection of plugins, electronic music producers of any style will find what they need to give their mixes a professional lift. And if techno or electro is your trade, you will find even more.
Dave Clarke EMP Toolbox features
API 560 Graphic EQ.
Scheps 73 EQ/Preamp.
Aphex Vintage Aural Exciter.
LoAir Subharmonic Generator.
MetaFlanger.
Kramer Master Tape.
Dorrough Meters (Stereo).
The Dave Clarke EMP Toolbox is available for purchase for the introductory price of $599 USD (regular $800 USD).
Dave Clarke EMP Toolbox: http://www.waves.com/bundles/dave-cla…
introducing CosmosƒFx, a stochastic live input processor effect plugin, having identical engine with Cosmosƒ vSaturn. Preferably, listen to the demo with headphones to perceive some subtile nuances. And please be careful with the volume.
Features:
Three different live input handling methods for the micro events
The direct input mode delivers the live input directly to the micro events being sampled and manipulated synchronously.
The circular buffer sampling mode records the live input into a circular buffer and each micro event can access to this buffer with different sample lengths set individually.
The additive synthesis sampling mode offers the data in the circular buffer to each of the 12partials of the Cosmosƒ additive synthesis engine. Their pitch and amplitude balance can bet individually to build fascinating clusters with the live input audio stream.
Cosmosƒ Fx is bundled with vSaturn synthesizer, which is priced at US $230. See thesonicLab site for details.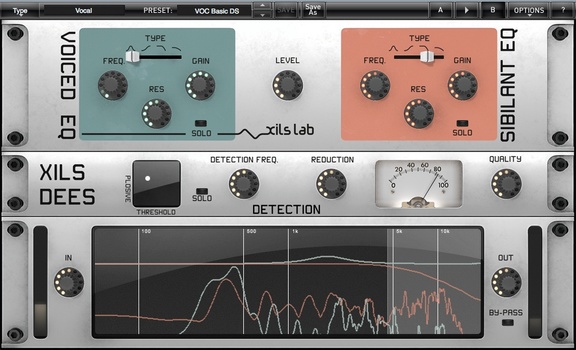 XILS-lab has announced the release of XILS DeeS, a new transparent de-esser effect plug-in for Windows and Mac.
With the help of the XILS DeeS you can get rid of all the Voice recordings faults and problems in a flash, while preserving their unique, precious character.

Getting clean, professional vocals, dubbing recordings, restoring voices in all their beauty has never been so easy.
DeeS features
Easy to use: Find the sweet spot in a flash and remove all unwanted signals. Just move the Frequency Knob and apply Reduction. No more sibilance.
Easy to understand: Clear Dual Signal path. Solo buttons for each channel (Voice, Sibilants).
Visualize what you do: Instant Correlation between ears, eye and brain in a glance with the fast, precise 4 signals real time Frequency Graph (Bottom of unit).
Easy to tweak: Go further and adapt the character of a voice to your project. Or make special effects and creative use of the DeeS.
Entirely Transparent: No filter sweep effect like with traditional similar tools.
Fast: The detection can be applied as fast as it should be, resulting in lively, natural voices (No more lifeless voices).
Input independent detection: Retains the whole dynamic range of the incoming audio.
Simple: Sibilant and Voice Channels are clearly identified on each UI part: Knobs, Graphs share common color code.
Exclusive: Plosive detection for better recognition.
Then go even further: Endless possibilities to change, adapt, or polish the character of voices with two independent EQing audio paths (Analog like 0-delay-feedback filters).
XILS DeeS for Windows and Mac (VST/AU/AAX) is available for purchase for the introductory price of 59 EUR until September 1st, 2014 (regular 89 EUR).

Universal Audio has announced the Thermionic Culture Vulture Plug-In for their UAD Powered Plug-Ins platform and Apollo audio interfaces.
The British-made Thermionic Culture Vulture has long been admired for creating studio-grade, high-gain valve distortion. After a multi-year engineering effort from Universal Audio, producers and engineers can now track and mix with the only authentic circuit emulation of this one-of-a-kind valve distortion tool.
The Thermionic Culture Vulture plug-in models the original hardware's three distinct all-valve circuit topologies and features Universal Audio's first ever pentode tube circuit model. The Culture Vulture plug-in also offers two features not found on the original hardware — a Dry/Wet Parallel Mix control and a Link function for a perfectly matched stereo image to maximize workflow and preserve balances.
In addition, the all-new Thermionic Culture Vulture plug-in features presets from famous Culture Vulture users.
Thermionic Culture Vulture Plug-In Key Features:
The world's only authentic emulation of the legendary high gain, dual-stage valve distortion unit
Can subtly alter or completely transform a single track or an entire mix with valve coloration
Dial in rich harmonic content with three diverse valve topologies — including UA's first ever pentode tube emulation
Includes parallel Dry/Wet processing and Link controls not found on the original hardware
Pricing and Availability. Available for purchase from UA's Online Store for $299, the new Thermionic Culture Vulture Plug-in is part of the new UAD Software v7.8. (Requires a UAD DSP Accelerator Card or Apollo Audio Interface available from authorized dealers worldwide).

audioD3CK has released ChopChop, a compressor effect plug-in for Windows and Mac.
ChopChop's algorithm was originally designed to be reasonably clean while operating with a very fast attack time and classic peak detection. The result is a very flexible compressor with a distinct sound. ChopChop is best used when the compression is meant to be heard, but it can act as an invisible tool too!
ChopChop features
External side chain.
Linear domain compression for an old school sound.
High pass filter in side chain.
Range control to limit amount of gain reduction.
Range knee to alter character of compression range.
Mid/side mode.
Freely adjustable channel linking.
Adjustable compression knee.
Full range ratio, all the way form 1:1 to 1:infinity.
Flexible metering.
Parallel compression.
Release acceleration control to alter compressors behavior.
ChopChop for Windows and Mac (VST/AU) is available for purchase for 19 EUR (non-commercial) / 49 EUR (commercial).
AudioD3CK has also released a version 1.1 update for all its plugins, which includes the following new features:
Resizable UIs.
Internal preset handling.
Undo/redo for parameter changes.
Updated manuals.
Better authorization process.
Improved installer.
Registration free demo versions.
Some presets.
[Krucz] Additional makeup parameter.
The updates are free to existing customers. AAX and VST3 versions are in development.