introducing CosmosƒFx, a stochastic live input processor effect plugin, having identical engine with Cosmosƒ vSaturn. Preferably, listen to the demo with headphones to perceive some subtile nuances. And please be careful with the volume.
Features:
Three different live input handling methods for the micro events
The direct input mode delivers the live input directly to the micro events being sampled and manipulated synchronously.
The circular buffer sampling mode records the live input into a circular buffer and each micro event can access to this buffer with different sample lengths set individually.
The additive synthesis sampling mode offers the data in the circular buffer to each of the 12partials of the Cosmosƒ additive synthesis engine. Their pitch and amplitude balance can bet individually to build fascinating clusters with the live input audio stream.
Cosmosƒ Fx is bundled with vSaturn synthesizer, which is priced at US $230. See thesonicLab site for details.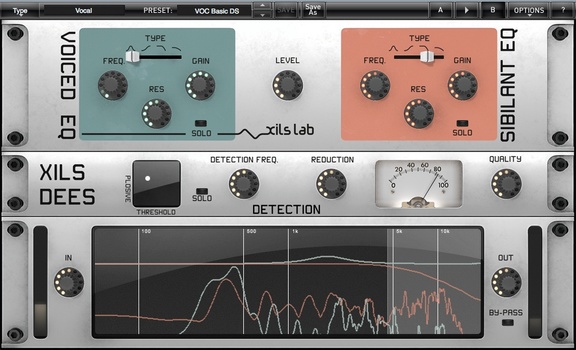 XILS-lab has announced the release of XILS DeeS, a new transparent de-esser effect plug-in for Windows and Mac.
With the help of the XILS DeeS you can get rid of all the Voice recordings faults and problems in a flash, while preserving their unique, precious character.

Getting clean, professional vocals, dubbing recordings, restoring voices in all their beauty has never been so easy.
DeeS features
Easy to use: Find the sweet spot in a flash and remove all unwanted signals. Just move the Frequency Knob and apply Reduction. No more sibilance.
Easy to understand: Clear Dual Signal path. Solo buttons for each channel (Voice, Sibilants).
Visualize what you do: Instant Correlation between ears, eye and brain in a glance with the fast, precise 4 signals real time Frequency Graph (Bottom of unit).
Easy to tweak: Go further and adapt the character of a voice to your project. Or make special effects and creative use of the DeeS.
Entirely Transparent: No filter sweep effect like with traditional similar tools.
Fast: The detection can be applied as fast as it should be, resulting in lively, natural voices (No more lifeless voices).
Input independent detection: Retains the whole dynamic range of the incoming audio.
Simple: Sibilant and Voice Channels are clearly identified on each UI part: Knobs, Graphs share common color code.
Exclusive: Plosive detection for better recognition.
Then go even further: Endless possibilities to change, adapt, or polish the character of voices with two independent EQing audio paths (Analog like 0-delay-feedback filters).
XILS DeeS for Windows and Mac (VST/AU/AAX) is available for purchase for the introductory price of 59 EUR until September 1st, 2014 (regular 89 EUR).

Universal Audio has announced the Thermionic Culture Vulture Plug-In for their UAD Powered Plug-Ins platform and Apollo audio interfaces.
The British-made Thermionic Culture Vulture has long been admired for creating studio-grade, high-gain valve distortion. After a multi-year engineering effort from Universal Audio, producers and engineers can now track and mix with the only authentic circuit emulation of this one-of-a-kind valve distortion tool.
The Thermionic Culture Vulture plug-in models the original hardware's three distinct all-valve circuit topologies and features Universal Audio's first ever pentode tube circuit model. The Culture Vulture plug-in also offers two features not found on the original hardware — a Dry/Wet Parallel Mix control and a Link function for a perfectly matched stereo image to maximize workflow and preserve balances.
In addition, the all-new Thermionic Culture Vulture plug-in features presets from famous Culture Vulture users.
Thermionic Culture Vulture Plug-In Key Features:
The world's only authentic emulation of the legendary high gain, dual-stage valve distortion unit
Can subtly alter or completely transform a single track or an entire mix with valve coloration
Dial in rich harmonic content with three diverse valve topologies — including UA's first ever pentode tube emulation
Includes parallel Dry/Wet processing and Link controls not found on the original hardware
Pricing and Availability. Available for purchase from UA's Online Store for $299, the new Thermionic Culture Vulture Plug-in is part of the new UAD Software v7.8. (Requires a UAD DSP Accelerator Card or Apollo Audio Interface available from authorized dealers worldwide).

audioD3CK has released ChopChop, a compressor effect plug-in for Windows and Mac.
ChopChop's algorithm was originally designed to be reasonably clean while operating with a very fast attack time and classic peak detection. The result is a very flexible compressor with a distinct sound. ChopChop is best used when the compression is meant to be heard, but it can act as an invisible tool too!
ChopChop features
External side chain.
Linear domain compression for an old school sound.
High pass filter in side chain.
Range control to limit amount of gain reduction.
Range knee to alter character of compression range.
Mid/side mode.
Freely adjustable channel linking.
Adjustable compression knee.
Full range ratio, all the way form 1:1 to 1:infinity.
Flexible metering.
Parallel compression.
Release acceleration control to alter compressors behavior.
ChopChop for Windows and Mac (VST/AU) is available for purchase for 19 EUR (non-commercial) / 49 EUR (commercial).
AudioD3CK has also released a version 1.1 update for all its plugins, which includes the following new features:
Resizable UIs.
Internal preset handling.
Undo/redo for parameter changes.
Updated manuals.
Better authorization process.
Improved installer.
Registration free demo versions.
Some presets.
[Krucz] Additional makeup parameter.
The updates are free to existing customers. AAX and VST3 versions are in development.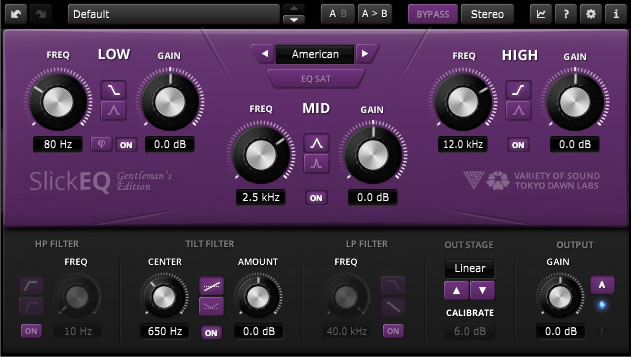 Tokyo Dawn Records and Variety of Sound have released SlickEQ – Gentleman's Edition, an equalizer effect plug-in for Windows and Mac.
SlickEQ – Gentleman's Edition takes SlickEQ's concept to new heights and adds an exotic "Tilt"-filter flanked by flexible low-pass and high-pass filters. Five distinct EQ models provide a rich set of predefined EQ curves and behaviours for the three main semi parametric filter bands.

SlickEQ GE offers a switchable EQ non-linearity as well as six different output stages. These options offer subtle and interesting textures, from the typical "mojo" often associated with high quality analogue audio gear, up to more obvious saturation.
SlickEQ – Gentleman's Edition features
Modern user interface with outstanding usability and ergonomics.
Carefully designed 64bit "delta" multi-rate structure.
Three semi-parametric filter bands, each with two shape options.
Five distinct EQ models: American, British, German, Soviet and Japanese.
Low band offers an optional phase-lag able to delay low frequencies relative to higher frequencies.
High pass filter with optional "Bump" mode.
Low pass filter with two different slopes (6dB/Oct and 12dB/Oct).
Parametric Tilt filter with optional "V" mode..
Six output stages: Linear, Silky, Mellow, Deep, Excited and Toasted.
Advanced saturation algorithms by VoS ("Stateful saturation").
Highly effective loudness compensated auto gain control.
Stereo, mono and sum/difference (mid/side) processing options.
Frequency magnitude plot.
Tool-bar with undo/redo, A/B, advanced preset management and more.
SlickEQ – Gentleman's Edition for Windows and Mac (VST/AU/AAX) is available for purchase for 30 EUR.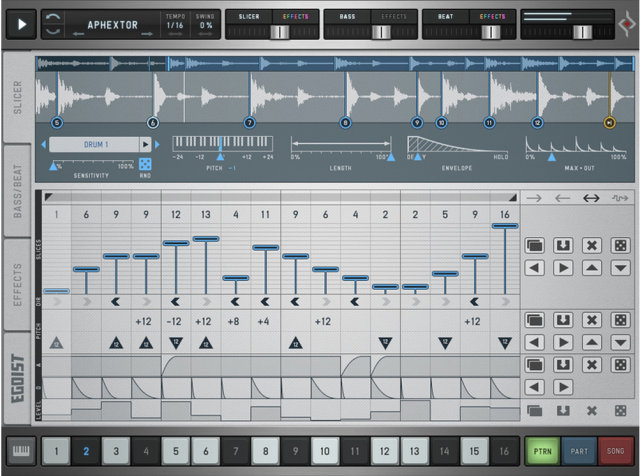 Sugar Bytes has introduced Egoist, a new groove instrument plug-in for Mac & Windows.
Here's what they have to say about it:
Egoist is a groove instrument. Load any audio file and squeeze the groove out of it!
Try your mp3 library and use it a a sound source! The additional onboard bass, beat and fx units make Egoist the perfect track sketch tool in the studio and on the road.
Features:
Quick + Easy track sketching, based on sample slicing
Minimal, yet effective bass line
Unique beat box with more than 1000 drums from vintage to electronic
Effect Sequencer
Randomizers in all areas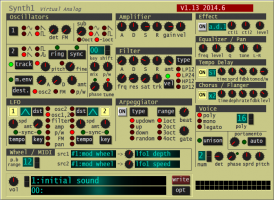 Ichiro Toda has released new beta versions of the freeware Synth1 plug-in for Windows and Mac OS X.
The Windows v1.13 Beta 1 release adds a 64-bit VST version whilst the Mac v1.13 Beta 7 release adds an Audio Unit version (32-bit only for now).
Changes in Windows v1.13 beta1:
64-bit version is available.
VST version up to 2.4 (both 32-bit & 64-bit). There is no change to the previous version in functionality.
Bug Fix: Fixed a problem that occurred is petit noise on MusicMaker.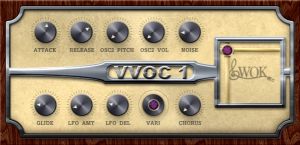 WOK has released VVOC-1, a new free synth plug-in that generates vocal sounds with a vintage electronic touch, from single formants to synthetic choir sounds.
The integrated triple-chorus and the X/Y pad for adjusting the formants, a pitch glide function and a hidden secret unveil more power than the easy GUI might imply.
Price: Free. As with all of WOK's plugins there is no adware or spyware included.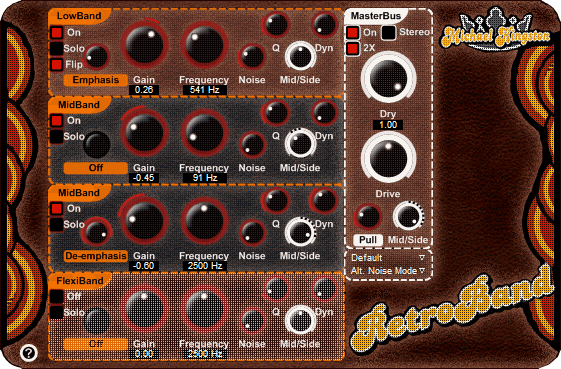 Michael Kingston is now offering his RetroBand effect plug-in for Windows and Mac as freeware.
RetroBand models several interaction aspects of gain stages and transformers. It generates IMD and crossover distortions present especially in Class A/B gain stages. RetroBand also features several forms of transient shaping.
RetroBand features
Digital model of interaction between gain stages and transformers.
Three flexible distortion models with noise modulation.
Transient shaping within the distortion models.
Mid-side stereo image controls.
Advanced noise modes to imprint effects of noise on signal without the hiss and rumble.
64-bit signal path with highly optimised algorithms.
RetroBand is available for Windows and Mac (VST).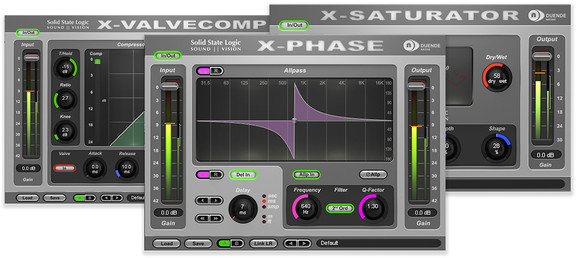 Solid State Logic has announced that three new Duende Native plug-ins and migration to iLok 2 copy protection are now available online.
The superior audio quality and deep feature set of the SSL Duende Native plug-in range has earned the respect of a very discerning clientele through the years.

The three new plug-ins complement the existing range with two plug-ins (X-Saturator & X-ValveComp) designed to bring some analogue saturation and distortion emulation to your digital DAW and the third (X-Phase) delivering high precision frequency specific phase correction.

The new plug-ins are available now via the SSL web site. To coincide with the new plug-in release SSL has migrated the entire Duende Native plug-in collection to the iLok 2 copy protection system. SSL has also announced a summer release for AAX native versions of the entire suite.
New Duende plug-ins
X-Phase is an All-pass Filter plug-in that offers the user manual control and benchmark audio quality. It enables the user to apply a phase shift (sometimes called a phase offset) at a specified frequency within a signal. Unlike other filter types where the gain of selected frequencies is altered, with an All-pass Filter the gain remains unchanged throughout the signal. This is useful for fixing phase problems with microphones when recording: eg overheads causing phase problems when mixed with close mic's.
X-Saturator delivers a stunning range of analogue style distortion effects. It is an emulation of an analogue circuit that introduces either 2nd order valve style or 3rd order transistor style distortion or a blend of the two. At low drive settings the distortion is mild and can add gentle warming to help instruments sit nicely in a mix or to add a little extra edge to help instruments cut through a mix. As drive levels are increased so too is the level of distortion until at high drive levels heavy distortion occurs.
X-ValveComp is a fully-featured mono or stereo channel compressor with a full set of classic channel compressor controls and an added 'valve' emulation stage. The valve emulation stage sits after the compressor in the signal path and adds a variable degree of primarily 2nd order harmonic saturation and distortion that thickens and colours the sound. The compressor can be switched between Peak or RMS modes and has a full set of standard controls.
X-Phase is available for purchase for £199 GBP/249 EUR/$329 USD. X-Saturator and X-ValveComp are £69 GBP/89 EUR/$119 USD each, with an introductory price of £49 GBP/59 EUR/$85 USD for the first 30 days only. Prices exclude tax.