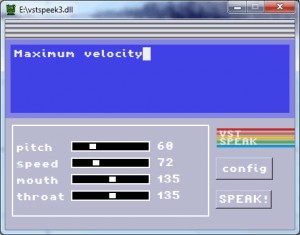 VST Speek is a free vocal synthesis VST plug-in for recreating the old skool robotic text to speech. You simply choose a preset, type any text and get the speech.
VST Speek – http://www.vstplanet.com/News/2014/Wa…
Developer: Wavosaur
Official audio demo!
– you can trigger the speech with MIDI keyboard (velocity sensitive)
– you can use MIDI pitchbend
– you can change original pitch or mouth/throat parameters while it's speaking
This is not a vocal synth like "Vocaloïd", it's intended to do crunchy robotic lofi techno voices! It's not intended for good quality speech synthesis too, better speech synthesis softwares exist now.
– 64 bit version
– MAC version
– ability to assign different text to MIDI notes
– ability to read longer text (and / or read from text file)
– assign pitchbend or midi CC to voice parameters.
– Android version ?
– more parameters

SoundToys has announced the release of MicroShift, a micro pitch shifter effect plug-in that allows for widening of your sound.
MicroShift makes it wide. Be it vocals, synths, guitars, backing vocals or whatever you choose to run through it, MicroShift uses this classic studio trick to spread out, thicken up, or give a new space to any track you hit with it. Of course, the SoundToys spin takes it beyond the original with the new FOCUS knob that lets you push and widen specific ranges without affecting the rest of the track.

Amazing for adding "shimmer" to a vocal, or "air" to a guitar. Control of the detune amount, delay, and a mix knob let you tweak the effect to fit just right in the track. MicroShift combines the classic sound of the hardware with new advanced features, and an intuitive interface. Simply huge.
MicroShift for Windows and Mac (VST/AU/RTAS/AAX) is available to purchase for $89 USD. Users of MicroShift Little can upgrade for $49 USD, and MicroShift Little is also included with a purchase of MicroShift before March 4th, 2014.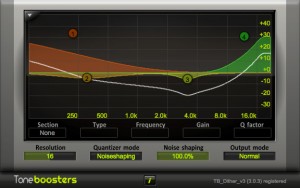 ToneBooster has announced the release of TB-Dither, a quantization and noise shaping plugin for Windows and Mac.
TB Dither is a plugin designed to modify the bit depth of audio signals, for example when authoring a CD or for archival purposes, with minimum quality degradation. Such process typically involves dithering, quantization, and noise shaping.

TB Dither supports industry-standard dithering noise types such as RPDF (rectangular probability density function, 1 LSB wide) and TPDF (triangular probability density function, 2 LSBs wide). A GPDF (Gaussian probability density function) is provided as well.
TB-Dither features
Zero-latency processing.
Support of all sampling rates from 44.1 to 192 kHz.
Supports industry-standard RPDF and TPDF dithering noise.
Unrivalled flexibility to shape dithering and quantization noise.
Suports any bith depth between 8 and 24 bits.
Dedicated modes to listen to quantization noise only.
Advanced noise-shaping overload protection algorithm.
TB-Dither for Windows and Mac (VST/AU) is available to purchase for 9.95 EUR.
ToneBoosters has also updated it's plug-in line to version 3.0.3.
Changes in v3.0.3
All plugins

Fixed a minor GUI memory leak.

Dither
Barricade

Improved accuracy of RMS output VU meter.
Improved quantization and noise shaping algorithm (derived from TB Dither).

EBULoudness

Fixed an issue causing the loudness history graph not displaying correctly when closing and re-opening the GUI.
Mitigated a crash due to a bug in Wavelab when using EBU Loudness on stereo tracks.

Module

Fixed a bug that could result in inresponsiveness of Module.

ReelBus

Added 'legacy' saturation mode to simulate v2.9 behavior.

BusCompressor

Added channel linking control and stereo gain meters.
Improvement in transient detection/compression algorithm.

MaxSynths has announced the release of DSP-3, a dynamics processor specifically designed to be used on the main bus.
The main purpose of DSP-3 is to increase the perceived loudness of the track and make the mix more compact without introducing any distortion or audible artifacts.

Unlike other compressors DSP-3 is incredibly simple and intuitive: thanks to the internal IDP (Intelligent Dynamic Processor) circuit all the key parameters, necessary to have an adequate compression, are set automatically.

DSP3 includes four different dynamics processing models, selectable via a XY crossfade pad, which allows to crossfade the signal processed by the different algorithms.
DSP-3 features
Intelligent Dynamic Processor (IDP).
Four different automatic dynamic processor models.
Transparent increment of the perceived volume level.
High precision input/output VU-meter.
Easy to operate.
Low CPU usage.
DSP-3 for Windows (VST) is available to purchase for 19.90 EUR.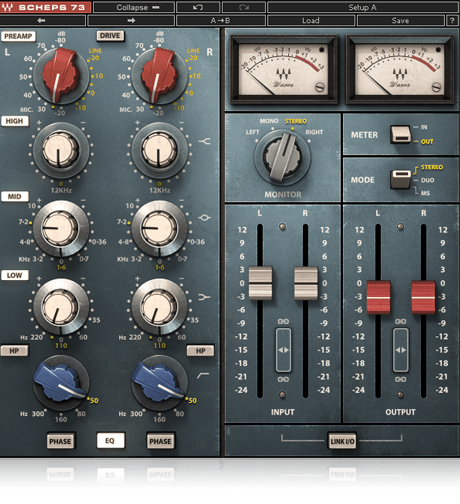 Waves has released the Scheps 73 plug-in. Scheps 73 is a 3-band EQ modeled on the classic 1073 console's EQ and mic preamp module and developed in association with world-renowned mixing engineer Andrew Scheps (Adele, Red Hot Chili Peppers, Black Sabbath, Lana Del Ray, Metallica, Jay-Z.)
The Scheps 73 EQ features interrelated bands that adhere to the 1073's original specs and emulate its behavior: a fixed 12kHz high-frequency band, switchable low and midrange bands with cut and boost controls, and an 18dB/octave high-pass filter. Additionally, a little-known 10kHz midrange band discovered in the original 1073 schematics, but operable only on the rare 1078 channel strip has been modeled and incorporated into the plugin.
Using innovative procedures to model the acclaimed Marinair transformer, Waves has meticulously captured all the sonic characteristics of the 1073, including its harmonic distortion. These overtones were tweaked by Andrew Scheps himself.
Price: $149 – There is an introductory price of $99.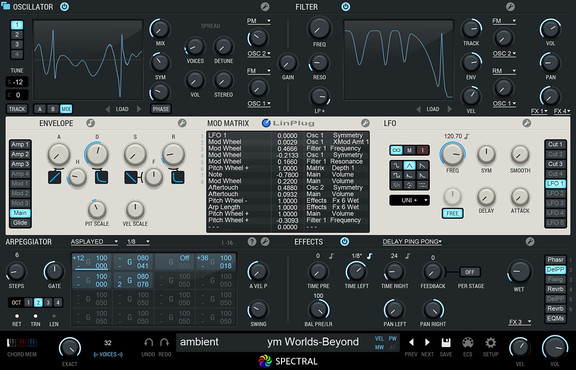 LinPlug has announced the release of Spectral, a new synthesizer instrument plugin for Windows and Mac.
If you are familiar with subtractive synthesis, you will feel right at home with the Spectral, because you can choose an oscillator waveform, choose a filter shape and go on from there.

But Spectral delivers far more options than you would expect from the well sorted user interface. Both Oscillator Waveform and Filter Shape can be edited in depth. The unique audio engine is capable of delivering many sounds never heard before.
Spectral features
Four Oscillator and Filter modules with powerful yet detailed harmonics and filter band editing and modification functions.
Extensive Oscillator and Filter audio rate cross-modulations..
Versatile Arpeggiator with in depth editing of every step, including length, transpose, voice number and Glide.
Each Oscillator and Filter with own dedicated envelope to control its volume or frequency respectively.
Additional 3 freely assignable Modulation Envelopes..
Five LFOs with various waveforms, up to 320 Hz, tempo-sync, poly-, mono- and one-shot-mode, unipolar and bipolar options, integrated delay-attack-envelope, phase, symmetry and smoothing adjustable.
15 slot Modulation Matrix with 35 sources and more than 100 destinations including all important parameters.
Fully recognizes Velocity, Aftertouch, Pitch Bend , Modulation-Wheel and various other MIDI controllers.
A sophisticated effects section containing 15 Effects including various Delays, Chorus, Phaser, Filter, Reverb, Flanger, Gator, Stereo Enhancer, Parametric EQ and Crusher.
Glide / Portamento featuring mono/polyphonic operation, constant Time / Rate operation, Auto-Bend Modes and detailed options on where Glide takes place.
32-voice polyphony (CPU and sound program dependent) and adjustable voice limit.
Supports AU and VST hosts on Mac OS X and Windows PC.
Scaleable user interface on PC.
Comes with 850 presets to get you started.
Spectral is available to purchase for the introductory price of $99 USD until December 31st, 2013 (regular $149 USD).

Sound Magic has announced the release of Neo DynaMaster, a dynamic processor effect plug-in for Windows and Mac.
Neo DynaMaster is a full-featured, multi-purpose stereo dual dynamics processor utilising a unique custom designed metering system and modelling engine, providing emulations of many vintage units, e.g. SSL, Tube-Tech and so on.

Neo DynaMaster performs simultaneous compression and expansion allowing more complex dynamics response curves than common compressors and provides huge scope to engineer your final sound. Neo DynaMaster's intuitive GUI allows you to precisely edit view the dynamics response curve which is essential if you want to take full control of your dynamic range.

The comprehensive metering section comprising Peak and RMS bar meters, multi-channel scope, and Input/Output volt meters continuously provides all the information you need to better control your dynamics and levels.

Neo DynaMaster features a transparent, natural sound. In order to achieve this, Neo DynaMaster utilises a new, custom designed Peak Metering system to provide an unrivalled stable metering signal which eliminates audible level modulation artefacts while still retaining sample accurate transient detection resulting in -122dB THD+N (Total Harmonic Distortion + Noise); far below the human audible range.
The plug-in is available to purchase for 99 EUR.

SoundMod Tritone is a multiband waveshaper allowing you to split your signal into three separated band and apply an individual waveshaping algorithm with a sets of control available for each band thus creating rich overtones. Transform simple tones into complex one, add punch to your guitar and bass line, destroy drum beats, fatten up your synth sounds and create movement. This is what Tritone will do for you.
Intro Price.:
25.00 Eur, 29.00 USD til Nov.10th
32.00 Eur, 39.00 USD from Nov.11th til Nov.17th
Here is a quick description of the main features:
Input section:
-1 Input gain control
Crossover section:
-1 Low/Mid-Low control
-1 Mid-High/High control
Envelope follower modulator section:
-1 EF response control
-3 EF amount control (1 per band)
-3 EF target control (2 per band)
Waveshaper section:
-3 Drive control (1 per band)
-3 Algorithm selector(1 per band, 11 algorithm at this point)
-3 Asymmetry control(1 per band)
-3 Blend control(1 per band)
-3 Level control(1 per band)
Bandwidth limiter section:
-1 On/Off control
-1 Offset control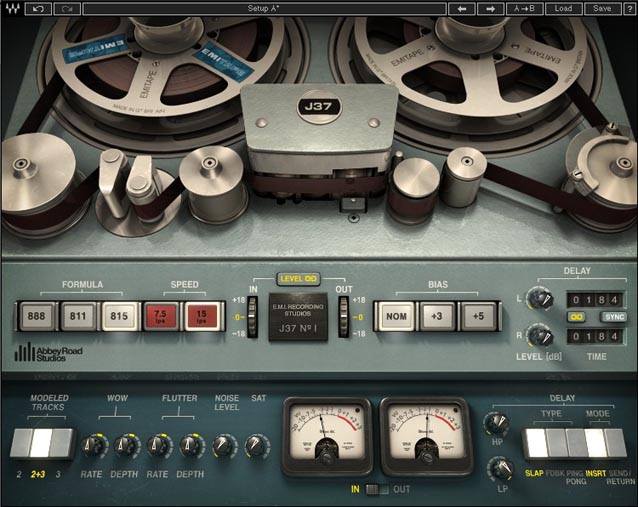 Waves Audio and Abbey Road Studios have released the J37 tape saturation plugin, which they describe as a precision model of the very machine used to record many of the greatest masterpieces in modern music. With a variety of user-adjustable controls including Tape Speed, Bias, Noise, Saturation, Wow and Flutter, the Waves: Abbey Road J37 faithfully recreates the inimitable sonic signature of the original machine. In addition to the J37 itself, three exclusive oxide tape formulas have been modeled. Specially developed by EMI during the 60s and 70s, each formula has its own unique frequency response and harmonic distortion behavior.
While the J37 was used on many famous recordings, it is perhaps best known for its innovative use on The Beatles' Sgt. Pepper's Lonely Hearts Club Band. Producer George Martin utilized the machine not only for recording but also as a creative production tool, bouncing tracks between two J37s and creating layer upon layer of sound to achieve ground-breaking sonic textures.
Mirek Stiles, Head of Audio Products, Abbey Road Studios, told us, "The winning combination of Abbey Road Studios' Studer J37 Four-Track machine and EMI Tape has been used to create some of the most important recordings of all time. As well as modeling the J37, with the amazing warmth of 52 valves, Waves has teamed it with the last remaining blank 60s and 70s tape stock from the EMI archives. EMI Tape has stood the test of time; it never needs baking and sounds wonderful. Abbey Road Studios' technical staff from the J37's heyday were consulted on the line-up procedures that they used over 50 years ago, with the end results sounding simply stunning. Waves has given us yet another unique example of Abbey Road Studios' heritage, available for the first time as a software plugin."
A Waves spokesperson added, "The Waves: Abbey Road J37 tape emulation plugin delivers a level of hardware realism never before experienced 'in the box', bringing stunning analogue warmth to your digital recordings."
J37 tape saturation plugin features:
Created in association with Abbey Road Studios
Modeled on the machine used to create countless classic 60s tracks
Adds analog warmth to digital recordings
Controls for Bias, Wow, Flutter, Tape Speed and more
Comprehensive Tape Delay including three different delay types, Sync, LP and HP filter controls and more.
The J37 is Native and SoundGrid-compatible. It is not included in any Waves bundle; it is only available separately.
Pricing and Availability:
The Waves: Abbey Road J37 Tape Saturation plugin is now available with a U.S. MSRP of Native $249 and SoundGrid $375. Both are now available at special introductory pricing of $149 (Native) and $249 (SoundGrid).
Create vinyl record scratches and learn about Ableton's various Delay Plug in's modes.
Download the AfroDJMac Vinyl Scratcher Rack for free @ http://bit.ly/freesynth91