Inear Display describes Tkapik as an amplitude controlled generative sampler plugin. They say that you ad it to a track, then load a sound file and Tkapik will trigger the sample with random settings every time an amplitude peak is detected in the input signal. The sample can either be mixed with the input according to its amplitude envelope or completely replace the signal using the "solo" mode.
"Don't get fooled by the minimalist interface : being sample-based, Tkapik opens a wide array of sonic possibilities. You can use it to simply layer a kick drum with some field recordings or in a more extreme way to replace a whole part by a chaos of random drills and glitches. When the sample is triggered, its start offset, loop points and optionally pitch are randomized, giving you surprising results every time."
Additional features include the ability to resize the plugin interface to fit your display (Windows and Os X only), and map your MIDI controller easily using the built-in MIDI learn system. By its very nature, Tkapik has no preset system, but its state will be properly recalled when re-opening a project in your DAW.
Tkapik is available for Windows, Mac Os X and Linux, as VST (32/64 bit) and AU (32/64 bit, Mac only).
Features:
Sampler supporting wav and aiff audio files
Sample triggering based on input signal amplitude
Combine the sample and the input signal using the envelope follower
Replace the input signal using the solo mode
Random start offset, loop points and optionally pitch on every trigger
User defined range for pitch random
Sample reverse
MIDI learn
Vector based resizable user interface (Windows and Os X only)
Lifetime free updates for registered users
10€ – introductory price until 08/03/2013 (regular price: 20€)

J1000 has released two new free VST plug-ins for Windows. Here's the details:
MQ55
Parametric mixing equalizer based on MQ57. Most of the functions are the same, except that MQ55 operates only in stereo mode, has more flexible pass filters and has gain ratio that acts like dry/wet control. This is my go-to EQ for music production.
SX36
Three-band stereo processor that separates audio into low, mid and high frequencies and lets you manipulate their stereo properties – width and panning or rotation. Crossover points are easily adjusted with single knob. It has simple meters for each range showing correlation or panning. High-pass filter cuts unwanted frequencies on side channel for more stable bass.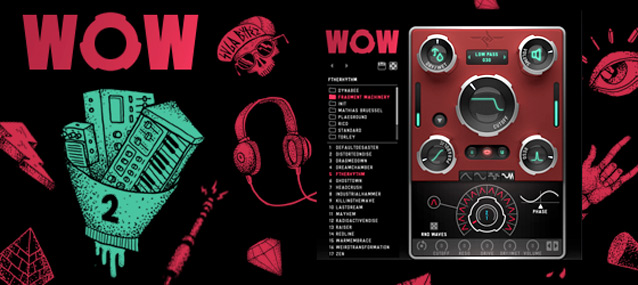 SugarBytes dreamt of a WOW2 and now it is here! With a future-dripping user interface, 21 incredible filter types with the famous vowel mode. With distortions that cover your tracks with gas and put them on fire. Modulations that cause more trouble than your modular dark room. And finally that warm and juicy sound, that you were looking for.
– 21 Filter types like Lowpass, Bandpass, Highpass, Bandreject, Comb and much more. Low pass types up to 48 db, including flavors like SVF, Diode Ladder and Transistor Ladder.
The filters and distortions have been designed for best harmonics without aliasing, for high definition audio quality.
– Three different analog modeling overdrives and four digital distortion functions are included. Use them pre or post the filter.
– Modulation is power. Power is sex. Create stunning trance gates with the step sequencer, do some giant wobbles with the wobble generator or let all the modulators interact with each other. The LFO offers many different wave forms, restart options and sync flavors.
– Presets are just one click away. Randomize presets to inspire yourself.
Get WOW2 now! Skrillex, Boys Noise, SiriusMo, Modeselektor, MouseOnMars already did.
WOW2 is the new filter plugin from Sugar Bytes.
Find it on www.sugar-bytes.com.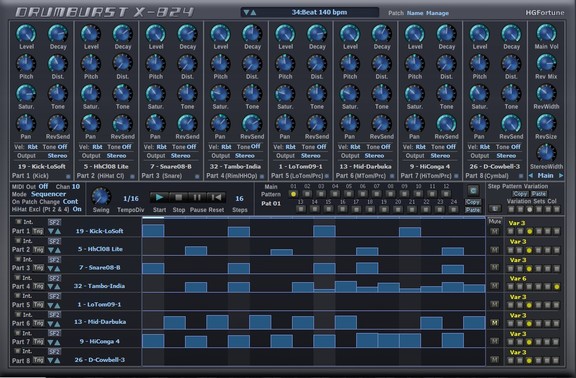 H.G. Fortune has announced the releases of DrumBurst X-824, a free drum machine plug-in for Windows.
Finally here it is: DrumBurst X-824, and the good news is it is free. The bad news, well, not really bad as only temporary this is my last Synthedit based plugin. Thus it marks the end of a 10 years era. Now I'm looking for new tools to create plugins in future, but this may take some time.

DrumBurst is an 8 parts drum machine with 64 waves at each slot making 512 waves in total: not too much for a quick selection but a good variety to work with.

The inbuilt sequencer features 24 Main Pattern each based on the combination of a dedicated wave, Mute status and 1 out of 6 Step Pattern variations per part. This provides a lot of variation and less of programming effort as pattern can be re-used with a different instrument.
DrumBurst X-824 for Windows (VST) is available to download here.

Tek'it Audio has announced the release of Winkl, a free foldback distortion effect plug-in for Windows and Mac.
Winkl is not a subtle distortion, this is well suited for bass and leads, made to make scream your sounds.
Winkl features
Foldback distortion.
Drive and Output Gain controls.
Bypass switch.
x16 Oversampling.
64-bit internal processing.
Full MIDI automation support.
Works in mono or stereo.
Zero-latency.
Winkl for Windows and Mac (VST/AU) is available to download as freeware.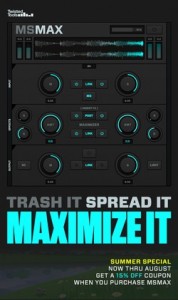 Twisted Tools has announced the release of MSMAX, a Maximizer effect and Mid/Side Matrix plugin for Reaktor.
As a Maximizer, MSMAX can be used for anything from subtle to extreme loudness maximization to get individual tracks or mixes sounding loud and finalized. As a Mid/Side matrix, MSMAX can be used to encode, decode and process Mid/Side signals to add width or create stereo imaging effects. With near-zero latency and CPU efficient code, you can use it on any type of track and run multiple instances without bogging down your system.

MSMAX also features a flexible and easy to use insert effects path, that allows you to insert your own effects to be applied to either the Left/Right or Mid/Side signals. To get you started, MSMAX includes an example effect called Nanoverb, which allows you to apply EQ and/or Reverb to any channel.

Lastly, MSMAX has a Sidechain Ducker at the output stage for some classic volume ducking or pumping effects. There are several modes to choose from to achieve instant results. For example, setting the Sidechain Ducker to auto mode will produce a 1/4 note pumping effect. Set it to 'Self' mode and you can duck a delay on a vocal track using the vocal itself as the sidechain input.

Whether you use MSMAX to slam your drum bus, apply creative M/S techniques within Reaktor or squeeze some more volume out of your master, MSMAX is a versatile production tool with several tricks up its sleeve.

MSMAX comes with a Lemur template by Antonio Blanca to control MSMAX remotely using an iPad and Liine's Lemur application.
MSMAX features
Stereo Maximizer.
Flexible Mid/Side Matrix (Encode/Decode Input and Output).
Sidechain Volume Ducker (Sidechain using: Audio, MIDI, Auto, Self).
Insert effects path (Pre/Post Maximizer).
Use your own effects.
Output Limiter.
Mono Summing.
Dry/Wet Mix with internal latency compensation.
Near-zero Latency (1 sample).
Low CPU.
Phase flip (Standard or Pre-Decode M/S for 180 degree flip).
Nanoverb Example Insert Effect (Reverb and EQ).
Switchless switching for instant A/B'ing settings without clicks or pauses.
Lemur template by Antonio Blanca.
Free incremental updates.
MSMAX for Reaktor costs $39 USD. MSMAX comes with an additional 15% OFF coupon when you buy it before August 1st, 2013. All other Twisted Tools products are available at a 15% discount in the Summer Special Savings sale.
Soul sensation Alicia Keys discusses her new virtual piano plug-in "Alicia's Keys" with editor-at-large Jon Regen in this June 2010 interview.
What is it: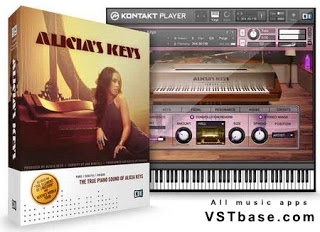 The instrument samples of Native Instruments Alicia's Keys come from Alicia Keys' very own Yamaha C3 Neo grand piano. This unique and highly-sought after instrument was built to celebrate Yamaha's 100th anniversary in 2002 and represents the very top of the Conservatory Collection line.
The exquisite and unique sound of the C3 Neo were painstakingly captured by Thomas Skarbye, Kontakt script wizard Nils Liberg, and Grammy-award winning engineer Ann Mincieli – making this exclusive instrument available to everyone.
Using vintage microphones and preamps and through detailed analysis of Alicia's playing, the team succeeded in capturing the warm, soulful and inspiring sound of the C3 Neo all the way down to the finest nuances.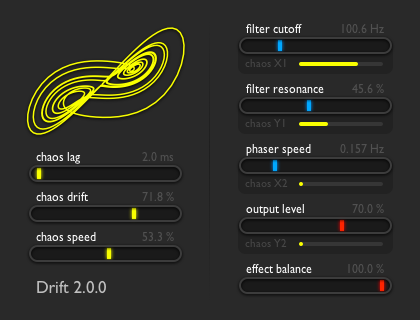 Sinevibes has released version 2.0 of its Drift chaos modulator plugin. It is designed to be a simple but flexible tool that can enrich static sounds with random yet organic motion, create chaotic filter and phaser effects, or add never-repeating, stereoscopic pulsations.
Inside Drift run two instances of the Lorenz attractor algorithm, which is a two-dimensional wave typically used for airflow modelling. Each of the four resulting outputs is separately used as a modulation source.
With the featured four-pole resonant low-pass filter and barberpole phaser the user can create many different stereo chaos effects which are designed to remain organic and natural regardless of the type of the source sound.
Price: $19. The update is free for existing owners.
Silent Way Voice Controller, part of the Silent Way plug-in suite, will soon be available as a Rack Extension for Propellerhead Reason. Silent Way offers deep control over analog synthesizers direct from your DAW.
For more information on Silent Way, see
http://www.expert-sleepers.co.uk/sile…
Silent Way is a suite of plug-ins designed for use with analogue synthesisers, and especially as part of a modular analogue synthesiser system. The plug-ins produce no sound themselves, nor do they process sound – rather, they generate signals to be used as control voltages (CVs), which can be patched into the control inputs of oscillators, filters, VCAs etc. of an analogue system. Also, with the addition of the CV Input plug-in, it is possible to bring CVs from the synth into the computer, for recording or processing.
There are currently eighteen plug-ins in the Silent Way suite – Silent Way AC Encoder, Silent Way CV Input, Silent Way CV To MIDI, Silent Way CV To OSC , Silent Way DC, Silent Way ES-4 Controller, Silent Way ES-5 Controller, Silent Way ESX-4CV Combiner, Silent Way Follower, Silent Way Learner, Silent Way LFO, Silent Way Quantizer, Silent Way SMUX, Silent Way Soundplane, Silent Way Step LFO, Silent Way Sync , Silent Way Trigger and Silent Way Voice Controller. These are described in more detail below. It is anticipated that more plug-ins will be added to the suite in the future – watch the website for product announcements.
http://www.t-racks.com for more information
The Bus Compressor is based on the mix bus VCA compressor of a worldwide known and acknowledged British mixing console from the 80's. This legendary processor has been painstakingly analyzed and measured down to the very single active and passive component to obtain a dead on behavior that will impart that famous "glue" effect on mix tracks without any compromise.
In this tutorial we look at several applications of the plug-in: The subtle yet effective "glue effect", compressing a drum bus from subtle to slamming or squashed, and all of the components of this plug-in including the great GRIT switch. Learn about the dual functionality of the RESET button, sidechain hi pass, and mid-side processing.
"Bus Compressor is one of the 20 professional mixing and mastering processors available in the T-RackS Custom Shop. Download the free T-RackS Custom Shop software, which comes with the Classic T-RackS Equalizer and a full metering suite, and you'll have access to the Custom Shop, where you can try our processors before you buy."