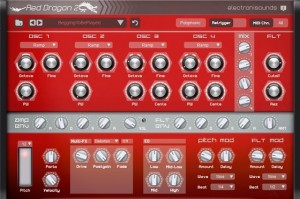 Electronisounds has announced version 2 of its Red Dragon software synthesizer for Windows.
Changes in Red Dragon 2
Completely re-coded engine.
NEW GUI.
NEW built-in FX (Chorus, Delay, Distortion, Flanger).
614 ALL-NEW presets, plus the original 384 presets for a total of 998 presets.
Built-in preset browser.
and more.
Thiago Pinhero introduces AAS' electric piano.
Lounge Lizard EP-4 — Electric Piano
http://www.applied-acoustics.com/loungelizard/overview/
Background description:
In the studio
When time matters, simply pick from more than 100 custom electric piano presets. But when sound exploration is on the program, players will dig the real-time controls over hammer hardness, tine color and decay, damper noise, and pickup placement for an unsurpassed level of customization.
Live on stage
Gigging musicians will appreciate Lounge Lizard's small memory footprint, instant preset recalls, and stability. Furthermore, the huge library of Rhodes and Wurlitzer sounds as well as the complete selection of effects makes it easy to build a set list and get the perfect tone for each songs.
Alive beneath your fingers
There is something quite immersive when a connection develops between the player and the instrument. Whether it's the perfectly smooth velocity progression or the interactive reaction to your performance, Lounge Lizard makes that connection happen.
Beyond the electric piano
Lounge Lizard achieves convincing electric piano tones with less than twenty synth parameters. That's a quite a feat by itself, but pushed further, these parameters reveal a realm of other tones. Organs, bells, chimes, leads are all featured in the preset library's Experimental folder.
Custom tones
Even though famous players shared the same brand and models, they were all acheiving their own signature sound. Nevertheless, that usually meant spending many hours under the hood with screw drivers, wrenches, or even a solder iron. What's fun with Lounge Lizard is that whether you're looking to emulate a particular sound or simply find your own, all those tweaks are just a few knob turns away!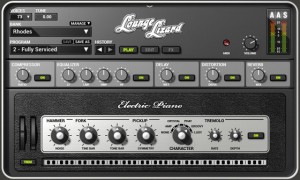 Applied Acoustics Systems has announced the release of Lounge Lizard EP-4, a versatile electric piano plug-in for Windows and Mac.
Authentic tone, action, and feel.

Lounge Lizard EP-4 is an electric piano synthesizer plug-in delivering authentic Rhodes and Wurlitzer sounds in an everything-you-need package.
New in Lounge Lizard EP-4
Completely renewed factory library features the classic Rhodes and Wurlitzer sounds as well as over 200 gig- and mix-ready custom electric pianos making good use of the compressor, equalizer, and multi-effect processor.
Compressor and equalizer added, perfect to add punch and definition to your sound, letting you cut through any dense mix or stage.
Character control provides five classic studio and stage signal path emulations – that's the cabinet, pre-amp, microphone, and recorder chain that follows the piano's output – to easily snug fit your electric piano part into your track.
Output limiter protects your ears and monitors during experimentation with the piano's physical modeling parameters while providing a maximum of distortion-free dynamics.
Redesigned from the ground up, the new interface now divides Lounge Lizard EP-4 into Play, Edit and FX panels.
New bank and program manager allows simple and efficient organization, backup, and sharing of your sounds.
Overhauled effects, reinvigorated, polished, and tuned especially for the electric piano.
Native 64-­bit Audio Unit (AU) and VST plug­-ins.
Lounge Lizard EP-4 for Windows and Mac (VST/AU/RTAS) is available to purchase for $199 USD.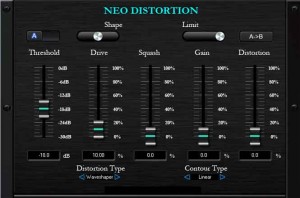 Sound Magic tells us that Neo Distortion is a distortion effect unit which features a 2-stage distortion Overdrive, followed by 4 optional distortion units including a Waveshaper, Fuzz, Soft Distortion and Contour.
They say that it provides meticulous controls for the 4 distortion types and combined with the Overdrive unit, you can build your own style of distortion to feature your unique sound style.
Features
Internal 64-bit floating point precision.
2 Stages Distortion, First OverDrive, Followed by 4 optional distortion units including a Waveshaper, Fuzz, Soft Distortion and Contour.
Support up to 32Bit/384KHz resolution.
Pricing and Availability:
Neo Distortion costs €49
More information:
Maul: a multi-band distortion and tone-shaping plugin with advanced modulation.
http://www.fxpansion.com/index.php?page=193
FXpansion is proud to present Maul: a multi-band distortion and tone-shaping plugin with advanced modulation. Maul is suited to all music requiring powerful sound-sculpting abilities – everything from subtle warming and loudness generation to shredding distortion and experimental creative effects. Maul features 3 separate drive stages, each of which can act on a different frequency range with any of 32 distortion types. The available algorithms include DCAM-modelled germanium diode, tube and transistor-based circuits, clippers, overdrives, waveshapers of various kinds and bit-crushing devices for digital distortion flavours. Each drive stage also features control over transient-shaping, saturation circuitry and additional post-process tone filtering.
Availability & Pricing
Maul is available as a download-only product from the FXpansion web shop!
Pricing is USD $99.00, EUR €79.00, GBP £69.00 inc VAT where applicable

SKnote has launched the C165a, a circuit modeled emulation of a VCA compressor with internal peak limiter.
C165a has been developed by measuring and testing a classic VCA compressor with a great sound and very simple to use. Its features have been extended including sidechain filters, a sample-aligned parallel mixing control and a limiter switch.
C165a features
Mono/stereo.
Auto mode for easy compression, punch and smooth sustain.
4x oversampling for nice saturation.
Internal sidechain equalizer (low, mid and high bands).
Internal limiter with controlled distortion (for more punch, peak control or creative drive – switchable).
Sample aligned internal parallel compression.
Knee meter (leds) and in/out/compression meter.
Simple 3D interface.
From transparent compression to extreme punch, sustain and creative distortion.
The plugin is available for Windows and Mac (32/64bit, VST/AU/RTAS), priced at $29.99 USD.
Russ takes a look at the new iZotope Trash 2 plug-in and finds out that it offers far more than one would first think.
Trash 2 takes the best of Trash and makes it even better. With an entirely new sonic architecture, brand new features, optimized performance, better sound quality, and support for modern hosts and formats, Trash 2 is primed for a powerful new era of audio mangling, distortion, and experimentation. Let sonic mayhem ensue.
KEY FEATURES
Distort in ways you never dreamed with the Trash module's 60+ distortion algorithms, perfect for transforming your sound into something never before heard.
Design your own unique distortions, from massive to mild and everything in between, with a new, customizable, multiband Waveshaper.
Let your tracks inhabit any space or object with the new Convolve module. Choose from over 100 impulse responses or load your own to put your bass in a washing machine or your keys in a cave.
Find a new voice: make your audio speak and growl with two redesigned Filter modules, each one featuring new vowel formant filters, screaming peaks, node modulations, and more.
Start trashing your audio immediately with an extensive new preset library and an ear-friendly Limiter that ensures you can play without fear.

Partikkel Audio has introduced plug-in versions of its Hadron particle synthesizer, previously released for Max for Live.
The Hadron plugin is your ultimate granular synthesis tool. In fact it is such a complete implementation of granular synthesis we've renamed the technique to particle synthesis. The plugin is of course free and open source.

For your convenience, we've made a preset system allowing you to quickly get started making music with it. All presets have selected "expression controls" to allow creativity and flexibility, and you can morph between presets for ultimate creativity. The plugin comes with a basic set of presets, and you can buy additional preset packs to expand your sonic palette. This kind of presets is called "states" in Hadron.

Hadron can be used as a synthesizer or an audio effect. It can also seamlessly morph between different sound processing methods, so you can make the plugin gradually change from synthesizer to audio processing mode. This is all part of the state morphing system, accessible via the big 2D joystick control.

You can also use live sampling as a sound source for manipulation with Hadron, as well as audio files and live audio input.
Hadron for Windows and Mac is a free download. Expansion packs are available to purchase for 29 EUR.
Three studio legends return: The VC 76, VC 2A and VC 160 recall three of the most heavily-used compressors in studio history, each with its own unmistakable sound. Find out more at: http://www.native-instruments.com/vintagecompressors
NATIVE INSTRUMENTS and Softube present VINTAGE COMPRESSORS —painstakingly accurate emulations of three of the most heavily-used compressors in studio history. The VC 76, VC 2A, and VC 160 feature a modern, clean design for intuitive usability while each maintains its own unmistakable sound. Thanks to added sidechaining and parallel compression, these VINTAGE COMPRESSORS actually improve on the originals.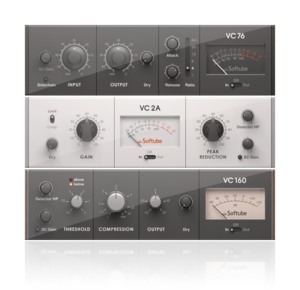 The VINTAGE COMPRESSORS collection includes all three devices. Each compressor is also available separately. All effects run as native plug-ins in your host DAW.
THREE'S COMPANY
Each of the three compressors has its own unique character and specific advantages:
VC 76: Workhorse compressor with a fast attack. Great presence, punchy, clear high end. Good for drums, vocals or stereo limiting.
VC 2A: Smooth compressor with a silky, natural sound. Great on vocals, bass, pads and guitar.
VC 160: Classic compressor for added attack and a subtle drive. Especially good on kickdrum, snare, bass or guitar.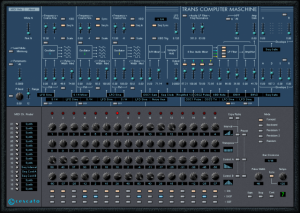 Developers have created 55 new free synths and audio effects as part of the KVR Developer Challenge 2012.
49 of the free music apps run on Windows, 7 on Mac OS X and 6 are soundware for other products.
Entrants include:
Heliox - a simple experimental synthesizer
Aliquoter - an aliquote simple synth built from 6-aliquote tuned oscillators. It is an additive/subtractive synth, but oscillators are tuned to aliquote intervals.
Total Composure Orchestra (TCO) is a full orchestral sample library created using only samples that are in the public domain.
Hot Robot Vocoder is a vocoder VST effect.
Hydra PL is a digital/analog hybrid style polyphonic synthesizer.
Orchestral Strings One is an orchestral string library.
HYDi is a simple 3 osc subtractive synth, but with some twists.
Trans Computer Maschine is a semi-modular Vintage Lead Synthesizer + Pattern Sequencer, modeled after two legendary mono synths and a custom analog sequencer from Germany.
Kamioooka is a polyphonic Full-Modular synthesizer with patch cable system.
See the KVR site for details and downloads.