June 17, 2013 · Posted in
Uncategorized
·
Comments Off

on DSP-2 – new high precision effect for vocal processing

MaxSynths lets us know that DSP-2 is a high precision insert effect for vocal processing which includes an Intelligent Dynamic Processor, a saturator, a four band equalizer fixed on vocal key frequencies and a room emulator based on the Schroeder reverberator. They say that DSP-2 has been designed to be an easy to understand solution for all your vocal processing needs.
Features:
Intelligent Dynamic Processor (IDP)
Four different automatic operative modes:
Fast attack, fast release
Fast A, slow R
Slow A, fast R
Slow A, slow R
Selectable compression ratio
Saturator with three different operation modes
EQ fixed on vocal key frequencies
Room emulator based on Schroeder reverb model
Transparent increment of the perceived volume level
High precision input/output VU-meter
Low CPU usage
May 27, 2013 · Posted in
Uncategorized
·
Comments Off

on Liść-verb – new free reverb plugin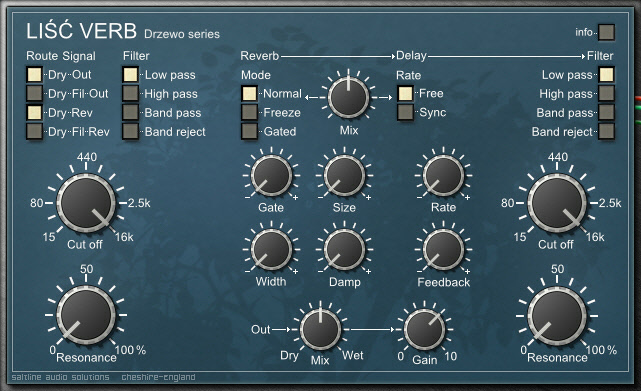 Saltline has announced Liść-verb, a freeware reverb and delay effect plug-in for Windows.
Liść-verb is a reverb and delay effect. It's simple layout and structure can bring texture and space to any sound source, from creating strange ambience for pads to interesting musical textures for beats.

Liść-verb for Windows (VST) is available to download as freeware.
Listen to a demo that Liść-verb has been used in to create most of the space and ambiance:
Developed with experts from the University of Huddersfield, Ableton Live 9's Convolution Reverb gives your sound new space. Use one of over 200 included impulse responses from professional acousticians, or create your own with the IR Measurement Device.
Convolution Reverb, Convolution Reverb Pro and IR Measurement Device are available as part of Ableton Live 9 Suite: https://www.ableton.com/en/live/
AfroDJMac's Free Ableton Live Pack #67: Gated Reverb! This Ableton Live FX rack will give you that 1980s gated reverb sound for your drums or any instrument you apply it to. It's a free download!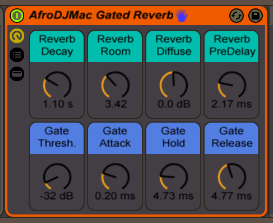 Get it here: http://bit.ly/freesynth67
The 1980s brought us some pretty cool production techniques.  I often try to emulate them in Ableton.  One of the more timestamped effects is gated reverb.  Producers wanted huge drum sounds, but didn't want the drums washed out in reverb.  The solution was found by placing a gate after the reverb.  This will suddenly silence the reverb once it drops to a certain level.  Think Phil Collins' "Coming in the Air Tonight." If you have ever wanted your drums to sound like they were being played by Godzilla in the Grand Canyon, this is the technique for you.

I found myself looking for those 80s drum sounds and created an Ableton Live effect rack called the AfroDJMac Gated Reverb Rack.  It's a pretty simple but very useful effect rack.  It gives you control over various reverb parameters and various gate parameters.  Together you should be able to dial in the exact gated reverb sound you are going for.
October 24, 2012 · Posted in
Uncategorized
·
Comments Off

on Exponential Audio introduces PhoenixVerb and R2 reverb plugins
Exponential Audio has announced PhoenixVerb and R2, which they describe as a pair of high-quality reverb plugins for audio professionals. They say that PhoenixVerb is an easy-to-use neutral reverb appropriate for instrumental, vocal and post-production applications and that it features an attractive user interface, flexible control, and a novel new preset organization method.
Exponential Audio tells us that R2 is an active reverberator, with chorus, gate and flexible equalization and that it features the same keyword-based preset structure as PhoenixVerb as well as the same processor efficiency. Both plugins are cross-platform and multi-format, working both as 32 and 64-bit plugins. On OSX, the AU, VST, RTAS and AAX formats are supported. On Windows, the VST format is supported.
Exponential Audio is a new company founded by longtime audio developer Michael Carnes, who says it is committed to creating powerful tools for demanding professionals.
Pricing and Availability:
PhoenixVerb will be available for sale in late 2012, at a list price of $199.
R2 will also be available in late 2012, at a list price of $299.
More information:
March 20, 2012 · Posted in
Uncategorized
·
Comments Off

on MusikMesse: Introducing UNVEIL – De-Reverberation and Signal Focusing
More things are "unveiled" as we approach tomorrows MusikMesse, here's one from Zynaptiq: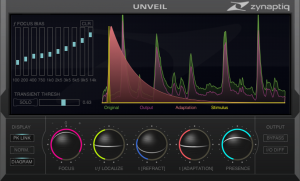 UNVEIL is a real-time, de-mixing based plug-in that allows attenuating or boosting reverb components within a mixed signal of any channel count, including mono sources, as well as modifying reverb characteristics. Additionally, UNVEIL allows you to bring the key features of a recording into focus, or move them to the background, by attenuating or boosting perceptionally less important signal components. Based on our proprietary, artificial intelligence based MAP (Mixed-Signal Audio Processing) technology, UNVEIL allows fixing previously unusable location audio and dialog, tightening up live music recordings, removing reverb and "mud" from musical signals, as well as creative sound design.
UNVEIL has many uses, some of which are:
Audio engineers can attenuate reverb in recordings
Film mixers and dialog editors can remove reverb from dialog and location sound
Music producers can turn vintage drum-loops rich in reverb into dry recordings, and vice-versa
Foley artists can remove ambience from sub-optimally captured sounds
Mix and mastering engineers can bring key mix elements into focus by attenuating components commonly referred to as "mud"
Removing reverb from recordings has always been difficult to impossible. Existing de-reverberation strategies either manipulate signal dynamics, require specific channel formats, are limited to certain signal types, or all of the above. Enter UNVEIL.
UNVEIL is not an expander or envelope shaper, is not a spectral thresholding processor, does not use phase cancellation techniques or inter-channel correlation analysis, and thus works with any channel count from mono to whichever surround formats your DAW supports, and without changing signal dynamics. To achieve this, it utilizes a model of the human auditory system to discern which parts of the signal are reverb, effectively "listening" to your signal much like a human would. These components are then separated from your signal for processing using our MAP technology. From there, reducing the amount of reverb in your recording is as easy as adjusting the value of one of our slick track-ball-esque sliders.
Conversely, UNVEIL allows increasing the amount of reverb in a recording, too. You can turn a close-miked drum kit into a full-on room-heavy monster, move a sound back in the sound-stage or adapt the amount of reverb on different location recordings to match each other better. Additionally, UNVEIL gives you several parameters that allow manipulating reverb characteristics…like all of it's features, within a mixed signal, in real-time and even using mono source material. No, that's not magic, that's advanced science.
UNVEIL's algorithm isn't limited to processing reverb. Actually, it processes any signal components that the human auditory system considers as being of little significance, which includes the parts that many engineers refer to as "mud". As a result, UNVEIL allows reducing the level of all the stuff that clouds your signal and masks the detail you work so hard to capture, bringing the key features into focus and, well, unveiling all the inherent detail. As a bonus, this also increases headroom, so you'll even be able to increase perceived levels without having to slam the meters. And again, you can use the inverse function to add grit and a less up-front character to your recording.
Except for the mathematics under the hood, everything about UNVEIL is simple and easy, results are always just one small step away. That being said, UNVEIL allows adjusting the process in a very wide range. No dumbed-down "easy-mode" in sight, just a perfectly stream-lined, no-nonsense GUI that looks as slick as UNVEIL sounds. And oooooh yes does it sound good. But don't take our word for it, grab the demo for a test-drive!
March 14, 2012 · Posted in
Uncategorized
·
Comments Off

on OldSkoolVerb 2.0 – new freeware algorithmic reverberation effect plugin

Voxengo has announced the release of OldSkoolVerb 2.0, a freeware algorithmic reverberation effect plugin for Windows and Mac.
OldSkoolVerb now supports most user interface features latest Voxengo plugins offer, including undo/redo history, preset manager, user interface coloration and others.

Most importantly, this updated version 2.0 features an improved reverb algorithm which became more robust, more stereo-balanced and more parametrically flexible.
OldSkoolVerb is available to download as a freeware effect plug-in for Windows and Mac (VST/AU).
February 18, 2012 · Posted in
Uncategorized
·
Comments Off

on Space Echo Spring Reverb
Just a short video with the spring reverb from the Roland Space Echo series.
This particular reverb comes from the RE-301, but as far as I know, the RE-201, 301 and 501 has the same reverb.
I removed the spring reverb when I had to fix one of my units. I've placed it in the box again, don't worry.
The sequence was programmed on a Korg Mono/Poly
I love the text on the reverb tank. "Manufactured by beautiful girls in Milton, Wis. under controlled atmosphere conditions."
More background information on the topic:
The Roland RE-201, commonly known as the Space Echo, is an audio analog delay effects unit produced by the Roland Corporation.
A tape echo device records incoming audio to a loop of magnetic tape, then replays the audio over a series of several playback heads before it is erased again by new incoming audio. The tape used in the RE-201 is the standard 1/4″ tape of the open-reel variety, but made as one, continuous loop. In the Roland 'RE' range there are no reels of any kind, the tape is transported via a capstan drive. The tape loop is contained in a loose, constantly moving jumble in the tape chamber (also known as the tape tank) under a plastic panel which protects the tape and keeps it from getting tangled. The replacement tapes were known as Roland RT-1L replacement tape loops and sold by Roland.
There are several control dials on the device that alter such aspects as tape speed, repeat pattern (an 11-position rotary switch), one instrument and two microphone inputs, a single analog backlit VU meter for all three inputs, wet/dry mix for both echo and reverb, and intensity (number of repeats, in a sense; it actually reduces how much the erase/record head erases the tape), that can be adjusted to a user's liking; and bass/treble controls to EQ the sound of the repeats (not the dry signal), as well as dry and effected "Echo" output jacks with a switch for output setting (-10, -20, -35db levels.)
Used as a delay/echo, the Roland RE-201 is said to produce an unpredictable delay that is warm and gritty sounding. It is also capable of producing a large variety of its own sound effects, even without an input signal (by turning the intensity control to maximum and allowing the unit to self-regenerate, or self-oscillate, while manipulating the tape speed and other controls).
Despite its age, the Roland RE-201 is widely sought after, and still used by many bands to this day, notably in the experimental work of Radiohead, and the rockabilly stylings of Brian Setzer, the latter using one recently to get the slapback sound sought after for rockabilly and such styles of music. The Roland RE-201 is also extensively used in modern electronic music
February 6, 2012 · Posted in
Uncategorized
·
Comments Off

on Sci-Fi Music: The Adventures of Captain Sausage
http://youtu.be/j__oRPAruqk
A short improvisation featuring processed audio from a really bad Sci-Fi movie, HP and BK sine wave generators, ring modulators, tape echo, various effects, and a dash of reverb.
www.facebook.com/AtomicShadow
December 6, 2011 · Posted in
Uncategorized
·
Comments Off

on Atomic Reverb – new algorithmic reverb effect plug-in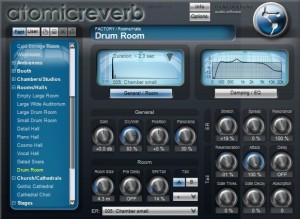 Molecular Bytes has released Atomic Reverb, an algorithmic reverb effect plug-in for Windows.
Evolved high-technology – atomicreverb represents one of the currently most modern room and reverbation processors. Sophisticated algorithms combined with a clear and friendly user-interface completes this powerful effect plug-in.

With its unique combination of algorithms, you can design acoustic room patterns in every conceivable way and for exactly the required purpose.

And if you want it quicker, select any of the predefined and categorized presets (more than 150 available!)
Atomic Reverb features
Superior smooth and dense reverb tail.
Optionally infinite density tail (limited by sample rate).
Double precision, full 64Bit internal signal processing zero Latency.
Room-Size reconstructions and spatial emulation, incoherent Stereo.
Acurate reality using simulated airflow movement.
Graphical displays to visualize reverb settings.
Adjustable gated reverb duration.
5 Band equalizer.
170+ changeable early-reflection signatures to create individual room sounds.
150+ factory presets.
Clear and easy preset-browser, handling different categories.
User and factory preset grouping.
Atomic Reverb for Windows (VST) is available to purchase for the introductory price of 69 EUR until December 31, 2011 (regular 119 EUR).