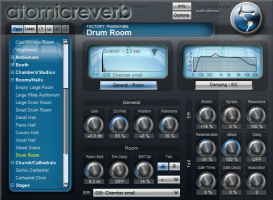 MolecularBytes has released AtomicReverb, a new algorithmic room and reverb effects processor.
With its unique combination of algorithms, AtomicReverb is designed to make it possible to design acoustic room patterns in every conceivable way and for exactly the required purpose. By supporting non-static calculation in contrast to convolution effects, infinite density, simulated air movement and full 64 bit signal processing AtomicReverb sounds very natural. In contrast to convolution or impulse-response related reverbs, AtomicReverb does not use static models. Every process renders reflections like in the reality – with all its disturbs and dynamics.
AtomicReverb provides highly configurable processing for early reflections and reverberation (late-reverb). This allows creating sounds from subtle reverbs over full and dense halls to dominant rooms or even tubes. It also lets you choose from over 170 different predefined early-reflection signatures, which are additionally changeable in size, hardness and resonance. The reverberation (or 'late-reverb') processing – the dense 'floor' of a reverberation – allows you to create infinite density, airflow movement simulation and even gated tail length (usefully for percussive sounds). With parameters like "absorption" and "reflection" effects are also possible which are not found in other reverbs.
Currently, the plug-in is available as a 32- and 64-bit version for Windows – a Mac version is planned, but a release date is not set yet.
Price: 119 Euros. There is an introductory price of 69 Euros valid until December 31, 2011. A free trial version and user manuals are available for download on the developer's website.
Features:
Superior smooth and dense reverb tail
Optionally infinite density tail (limited by sample rate)
Double precision, full 64Bit internal signal processing
zero Latency
Room-Size reconstructions and spatial emulation, incoherent Stereo
Acurate reality using simulated airflow movement
Graphical displays to visualize reverb settings
Adjustable gated reverb duration
5 Band equalizer
170+ changeable early-reflection signatures to create
individual room sounds
150+ factory presets
Clear and easy preset-browser, handling different
categories
User and factory preset grouping
Minimal System Instruments has released Nebula (Space Reverb), a VST plug-in for Windows:
Reverb is one of the most commonly used effects in music production and every producer should have an array of various reverb effects at their disposal. Developed over the last 9 months Nebula is a true labour of love for Minimal System Instruments and we are confident this is reflected in the quality of the plugin both in terms of sound and control and also visually. Nebula can be used to create standard reverb effects but it really excels when used to create stunning atmospheric sounds from something as simple as a single drum hit. When used with more complex loops and sounds the possibilities are endless.
Techno Producer 'Psionzfikshun' was a BETA tester throughout the whole development process and here is what he had to say about Nebula:
"Being involved in the testing of Nebula from the beginning has been a real privilege, this was a constantly evolving product and was very exciting to work on. Nebula sounds great, it can be used on drums to add space and character or it can transform any sound into a lush soundscape. I also love how the sound morphs when automating the parameters. I now use Nebula on every track"
Nebula has been tested and works in Cubase, Sonar, Ableton Live, FL Studio, Reaper, Energy XT and works without issue. It is recommended that you always try out the demo before purchases to ensure that the plugin is compatible with your system.
Nebula costs £19.99 and is available now from www.minimalsystem.com
Here's his statement of the use of reverbs

I have a lot of reverb units – I love them! They fascinate me because they take your sound and they put it into a 3D space, and they all do it in their own unique way. They have evolved so much over the years, starting off with analog springs and metal plates, through early and very clever digital algorithmic processors and onwards through the growing bit depths. My favourites are the EMT 140 stereo plate, the Lexicon 224, Yamaha Rev1 and the Telefunken Echomixer mono spring thing. I bought a Roland R880 years ago really cheap which was their attempt (in 1988) at a supa-mega-reverb and it is an extremely underrated unit actually. So I took it home so I could experiment putting a Buchla through it. I had a hunch that they would sound good together! I spent a few hours re-aquainting myself with its shocking operating system (which was like that scene in Contact where they build the spaceship based on blueprints deciphered from an alien language downloaded from outer space)

Anyway – here is a live tweak of the Buchla and R880 together
The Space Station, or SST-282, was described as a "reverberation effect." It could apparently get reverb times of up to 3.5 seconds. This may not seem like a particularly long time by modern standards, but it was a huge achievement given the architecture that was used. In the SST-282, the reverb effect was obtained by using a single delay line, with 15 output taps from the delay buffer summed and used for feedback, and an additional 8 taps used to monitor the delay line. Multitap delay lines such as this, where several taps are summed and used for feedback, can quickly reach a high reflection density. However, they are notoriously unstable, with the maximum feedback gain being allowed under conventional circumstances being equal to 1 divided by the number out output taps.
The heart of the new Space Station is a single 140MHz Motorola DSP chip programmed with faithful recreations of the original Space Station's algorithms, some updated versions, plus the new Room reverb. The unique aspect, though, is that the unit is packaged in a slim panel with wooden side cheeks, which is designed to sit on a desk. It measures just 165 x 127 x 150mm (hwd) and weighs next to nothing, with a four-metre connecting cable which terminates in a pair of XLR connectors and a compact universal mains power supply. The latter accepts the usual IEC mains lead and operates on AC voltages from 90V to 260V, consuming less than one Watt of power.
Audio connections are provided only in digital form, with stereo AES input and output provided on flying XLR connectors. The SST206 is a stereo output device, like the original, but where it differs is that it accepts a stereo source where the original was a mono-input device. However, the stereo input is a convenient by-product of adopting the AES input format, and the stereo input is summed to mono to feed the delay/reverb processor. A dedicated Dry Level control allows a percentage of the stereo source signal to be passed through to the stereo outputs, if required.
The unit is optimised for use at a 48kHz sampling rate with 24-bit resolution. It will also operate happily at 44.1kHz and even 32kHz — although the control calibration will be inaccurate at these lower sample rates since the delay and decay times are related to the sampling rate. Similarly, it can also be used at 88.2kHz and 96kHz (but only with the SST Reverb and Echo programs), with proportionally shorter delay and decay times again.
Valhalla DSP has updated ValhallaRoom, a versatile, true stereo algorithmic reverb for Windows and Mac.
It features nine original reverberation algorithms (including the latest Dark reverb modes, Nostromo and Narcissus), and has been designed from the ground up to produce a wide range of natural reverberation sounds. Sounds range from tight ambiences and rooms, through traditional hall and plate sounds, all the way up to vast modulated spaces. The algorithm designs have been influenced by some of the "classic" room simulation boxes, as well as state of the art modern theory.
Changes in ValhallaRoom v1.0.8
Resizable GUI. Make it really tiny, or super huge, or some sane place in between.
Two new reverb modes, Nostromo and Narcissus. These are "Dark" modes, with reduced high frequency content. The emphasis is on slowly building echo density and maximum spaciousness. Narcissus also featured a much lower CPU usage than the other reverb modes.
ValhallaRoom for Windows and Mac (VST/AU) is available to purchase for $50 USD.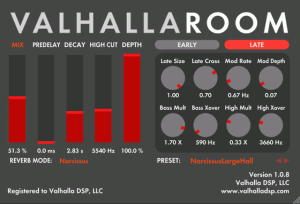 Unique Early reverb section allows user to dial in subtle and short bursts of early reverberation energy, as well as gated reverbs up to 1 second in length.
The Late section produces natural reverb decays ranging from 0.1 seconds to 100 seconds. The decay can be controlled in 3 adjustable frequency bands.
Both Early and Late reverb sections have adjustable modulation, to produce sounds ranging from lush chorusing, to subtle and natural long decays.
ValhallaRoom is true stereo. The Early and Late reverb sections are both stereo-in, stereo-out. The spread of energy between the stereo channels can be controlled over time, which helps preserve the input spatial image.
The GUI has been designed for easy navigation, and is inspired by Joseph Müller-Brockmann, NASA control panels, and Sesame Street.
New in version 1.0.8: Resizable GUI. Make it really big, or really tiny, or whatever suits you best.
A comprehensive preset browser makes saving, recalling and sharing settings easy.
Nine original reverberation algorithms:

Large Room – designed to emulate big rooms with a wide spatial impression, with smooth "detuning" modulation
Medium Room – sparser than Large Room, with a more random modulation
Bright Room – a lush, shinier-than-life reverb, with deep modulation and a somewhat slower attack
Large Chamber – a smooth decay with consistent high echo density and subtle detuning modulation
Dark Room – a new reverb mode added to V1.0.6. A hybrid between the grungy early digital reverbs and the modern algorithms found in ValhallaRoom, with reduced high frequency content, noisy yet lush randomized modulation, a HUGE spatial image, echo density ranging from grungy to dense while retaining clarity, and tons of mojo.
Dark Chamber. Similar to the original Large Chamber algorithm, but bigger and darker, with deeper detuning modulation.
Dark Space. A HUGE dark space, with a somewhat sparser early echo density and deep detuning modulation.
Nostromo (new in version 1.0.8). Deep, dark, echoing reverb. Very sparse early echo density, slow density build, random modulation, wide spatial image.
Narcissus (new in version 1.0.8). Dark, lush, wide, with random modulation that quickly builds into rich chorusing. The little sibling of Nostromo, but it is still big. Designed for low CPU consumption.
ValhallaRoom has been designed from a psychoacoustic perspective. Instead of creating a simplified physical model of a simplified physical space, VRoom generates early and late acoustic energy that provides the spatial and phase cues needed to create an "idealized" room impression.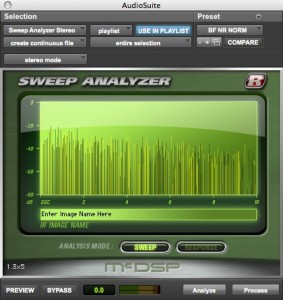 Sound designer Varun Nair has published a comparison of the sound of multiple convolution reverb plugins, including:
AudioEase Altiverb
McDSP Revolver
TL Space
Waves IR1
Logic's Space Designer
Voxengo Deconvolver
Here is a summary of his findings;
The results are definitely interesting! Each plugin seems to be treating the IR very differently. Altiverb & TL Space sound closest to the source and also sound similar. Revolver seems to have some sort of smearing again. Waves IR1 sounds more "wet". Space Designer has a lopsided image again in addition to having a little more depth (not as upfront as Altiverb and TL Space). It's also interesting to compare these results with the ones above.
Details on Nair's experiments and audio examples at the Re-Sounding site.
Beautiful space sounds coming out this little gadget!
Here were are trying out a couple presets on the incredible sounding Eventide Space reverb pedal. The first preset is "Size Matters" and the second is "Gigaroos". Our source is the amazing Critter and Guitari Pocket Piano. Instantaneously you can create some super-groovy arpeggios and sequences. Depending of the setting one of the knobs will let you control the filter cutoff or the decay time. Sweet.
Specifications:
Space features 12 of Eventide's signature reverb combination effects culled from the H8000FW and Eclipse V4 along with some startling new magic. Space includes 100 presets, including presets crafted by Flood and Alan Moulder (The Killers, Nine Inch Nails, Smashing Pumpkins, My Bloody Valentine, 30 Seconds to Mars, PJ Harvey and Them Crooked Vultures), Justin Meldal-Johnsen (Beck, Nine Inch Nails), Richard Devine (sound designer, synthesist, performer, remixer), Vernon Reid (Living Colour), Amedeo Pace (Blonde Redhead), Alex Somers and Jonsi Birgisson (Jonsi and Alex, Sigur Ros), Amadeo Pace (Blonde Redhead) and John Agnello (Patti Smith, Sonic Youth, Dinosaur Jr., and Kurt Vile). These unique effects, previously available only in Eventide rack processors, are now available in a compact, roadworthy package. Never before has there been a more dazzling collection of reverb algorithms combined with delays, pitch shifting, tremolo, modulation, and spatial effects in such a compact and affordable package. Eventide stompboxes are available at your favorite authorized Eventide dealer.
Features
12 of Eventide's Signature Reverb Combo Algorithms

Room
Plate
Spring
Hall
Reverse
Shimmer
ModEchoVerb
DualVerb
Blackhole™
MangledVerb™
TremoloVerb
DynaVerb

Wide variety of spatial effects including basic reverbs, delays and unique combination effects
Studio quality sound
Compatible with any source material – solo instruments, drums, vocals, or complete mixes
Software upgradeable via USB 2.0
MIDI control via USB or MIDI in, out/thru
Instant program change
Real-time control with 10 knobs, MIDI, or Expression Pedal
Tap tempo and MIDI clock sync
100 factory presets, unlimited through MIDI
True analog bypass
Rugged cast metal construction
Reliable metal footswitches for instant preset access
Mono or stereo operation
Guitar or line level inputs and outputs
Programmable HotSwitch
With Vermona about to release a whole bunch of cool new products at Musikmesse, I thought it'd be nice to take one last look at the older "mark one" stuff. This isn't the Retroverb. Here's what the Vermona ReTubeVerb sounds like.
Via Calvin Cardioid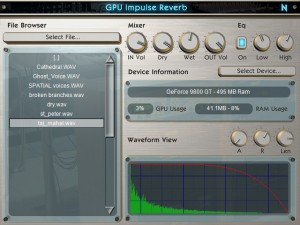 Nils Schneider has released GPU Impulse Reverb VST, an effect plugin that calculates convolution reverbs by using your graphics card as DSP for realtime reverb calculation with a CPU usage of near 0%.
Any consumer graphics card that supports OpenCL (NVIDIA / ATI or others) can be used without any need for other specific hardware. All common VST hosts are supported, such as Cubase, Nuendo, Reaper, Fruity Loops and others.
GPU Impulse Reverb VST features
Low latency, only one ASIO block size.
Supports Stereo & True Stereo processing (quad-channel impulse responses).
Supports 16, 24 and 32 bit responses.
Supports as many instances as your GPU can handle.
2-Band EQ.
Adjustable Attack/Release & Length Envelope.
File Browser for easy access of IRs.
…and much more.
GPU Impulse Reverb VST for Windows is available to purchase for 49 EUR.
More information: GPU Impulse Reverb VST
Download the FREE 14-day demo today
Experience first-hand the difference Lexicon can make in your mix. Be one of the first 100 to demo the product, and you will be instantly entered to win a full version courtesy of Lexicon.
Background info_
You've just wrapped up tracking with artists that are on the brink of breaking into the game. You start mixing when you realize you are craving more, the ability to envelope your mix with that "magical space" that delivers the clarity, depth and fullness that can only be created when recording in a major studio. So you turn to the most trusted name in reverb to achieve the ultimate sound. Lexicon's LXP Native Reverb Bundle provides your music with an engaging aura that brings it to life by placing it in the perfect resonant space.
Lexicon processors have become staples in the recording studio, on stage productions, as well as in every top post-production facility. Now Lexicon has complemented the finest hardware processors with the best software plug-ins available. The LXP Native Reverb Bundle offers four algorithm based plug-ins along with over 220 of the most versatile and finely-crafted studio presets that are sure to change the way you color your mix, forever.
Features at a Glance
4 classic Lexicon reverb plug-ins
Over 220 finely-crafted studio presets
Intuitive user-interface provides easy access to key parameters
Multi-platform compatibility (Windows 7, Vista, XP; Mac OS X 10.4, 10.5, 10.6)
Graphical real-time display illustrating the frequency stages of each algorithm
Formats that work seamlessly in any VST®, Audio Unit™ or RTAS® compatible DAW
Full parameter control and automation
Graphical real-time display illustrates the reverb tail, frequency content and impulse response
Presets can be stored in a DAW-independent format that can easily be transferred to a different DAW
Input and output meters for quick assessment of audio levels
iLok authorized