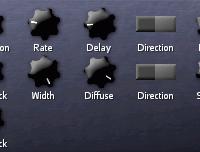 Xhip Effects R2, an updated version of the free effects bundle for Windows, is now available.
These effect plugins were originally created for use with Xhip, the "xxx-xated xound xource". The effects were implemented as external plugins, though, for greater versatility.
New in R2:
mDelay parameters are smoothed.
Limiter has activity/clipping LEDs added.
Small graphical changes, bg color adjusted, shaded slider.
Several small bugs fixed.
Pricing and Availability
Xhip effects R2 for Windows (VST) are available now as a free download.
Link:
The very definition of getting carried away. I bought a Boss RRV-10 reverb last night, and just wanted to test it out to make sure it was all working, and 5 hours later, here we are.

This piece is done with no sequencing at all. A Max patch does the dirty work, and everything you hear except the snare drum is coming from the hardware synths, six of 'em. I'm arranging things by turning specific metro objects on and off in Max via the Korg nanoControl; they're all quantized to the Global Clock.
EAReverb (Earthy Algorithmic Reverb) – "Open the doors to YOUR world"
Available now! – http://www.eareckon.com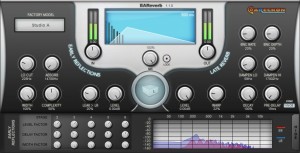 I have used the EAReverb with vocals, drums, guitars and wind instruments (WIVI band), yet I could remarkably reproduce realistic and natural sounding Rooms, set just the way the early reflections in great detail to make the EAReverb to a very special space simulator, we can also dispense entirely with the reverberation room shape and only consist of space, place an X in the possible mix of individual instruments in the virtual space to position accurately.
The EAReverb does a good job and produces a dense, warm reverb, the service is ideal for an experiment, but also has some very useful Presets included for direct use
Here's a nice one for you. Sneak peak of the new Eventide "Space" Reverb stompbox. Running a Roland TR-808 and TB-303 through some of spatial effects including basic reverbs, delays and unique combination effects.
"Reverb" seems a bit too vanilla to describe a box from Eventide. Regarded as one of the best hardware effects processors ever, Eventide's brilliant sounds have sadly been out of reach to most musicians. Eventide's new stompboxes finally make those effects portable and affordable. The latest is Space.
Room, plate, spring, hall.
Special effects / combo effects: Shimmer, ModEchoVerb, DualVerb, Blackhole, MangledVerb, TremoloVerb, DynaVerb
Mono and stereo operation.
Tap tempo, MIDI clock sync. (Yes, that's right – a tempo syncable reverb.)
Instant program change, which makes this ideal for live performance use in a way many reverbs, hardware or software, aren't.
True analog bypass.
Real-time controls – ten knobs, MIDI, expression pedal, metal footswitches, and a programmable "HotSwitch."
USB MIDI, USB2 software upgrades, and MIDI in, out/thru. Expression pedal, aux switch.
Togu is one of my favorite suppliers of free synths and effects, here's there latest release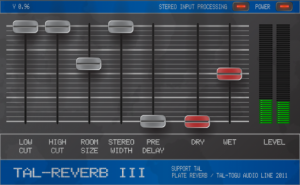 Togu Audio Line has released TAL-Reverb 3, a free reverb effect for Mac & Windows.
TAL-Reverb-III is an easy to use stereo plate plugin. Its the replacement for TAL-Reverb-II and has several improvements as an optimized GUI and some changes in the algorithm. It has a simpified EQ section, a meter display and shows actual slider values.
Features:
Plate reverb sound.
One simple room size control.
Predelay up to one second.
EQ section (12dB cut, low shelf filter at 1000Hz, high shelf filter at 200Hz)
Stereo width control (from full stereo to mono).
Stereo input mode (mono or stereo intput).
Displays the slider value of the active fader.
A meter shows the output volume.
10 factory presets.
Made with the juce framework and open source.

Madrona Labs has a Christmas present for Mac-based musicians – a free reverb plugin:
It's damp and chilly, and I hear the gray pitter patter of endless rain. Looking out my window I see gray sky, gray water, gray trees and gray clouds. That's right, it's Christmas in Seattle.
Because of your support of Aalto these past few months, I can now work full time to bring you more software and hardware to make music with. And that is something I am very thankful for. I am very excited about what we will have to offer this coming year: Aalto for Windows, the Soundplane A, and more software instruments that are even farther off the beaten path.
As a small way to say thanks, today I'm releasing Aaltoverb for Mac OS X. Aaltoverb is just the reverb section from Aalto, packaged up as its own plugin and with mix and brightness knobs added. It won't replace your ValhallaShimmer, but it is easy on the CPU and on the eyes, and I hope it makes a nice addition to your box of colors.
Download it here (.dmg).
Aaltoverb is an Audio Unit plugin. It requires an Intel processor of speediness 1.6 GHz or higher, and Mac OS of versioniness 10.5 or higher.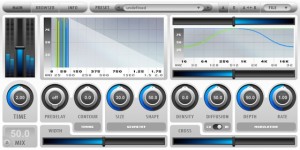 2CAudio has released Breeze, an ultra-effecient auto randomizing algorithmic reverb software plug-in for Windows and Mac.
2CAudio's Aether is an award-winning, ultimate quality, self-modulating algorithmic reverb, which delivers unprecedented levels of fidelity and programmability. It has been nominated for, and won numerous industry awards, including most recently the 2010 Sound on Sound Annual Award, and the 2010 EM Editor's Choice award. Its huge list of industry-first advances have made it the go-to reverb of choice by many of the industry's top engineers and producers.

Breeze is Aether's pristine eco-conscious cousin. Breeze focuses on simplicity, efficiency, and economy. Additionally it offers several of its own exciting new features that have not been offered previously and make it fufill a special need in the market.
Breeze for PC and Mac (VST/AU/RTAS) is now available for the introductory price of $99.95 USD until 1 January, 2011 (MSRP $149.95 USD).
Additionally 2CAudio has introduced the Perfect Storm Bundle which includes Breeze, Aether, the Aether Integrity Expansion and the the Aether Creativity Expansion, priced at $299.95 USD (Save $150 USD). Special end-of-the-year holiday pricing is available on all 2CAudio products until 1 January, 2011.
More information: 2CAudio / Breeze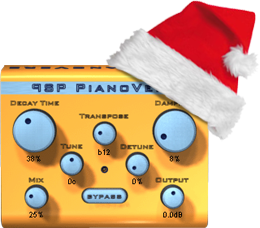 Plug-in developers PSP have re-released their freeware PianoVerb plug-in updated to work with all the most recent operating systems. You will need to register the plug-in to use it, but it is still absolutely free. Here's what PSP has to say about it:
"PSP PianoVerb reproduces special kind of reverberation originally provided by piano strings. It generates reverberation using twelve string operators with adjustable damping and decay time. Each of them is tuned to a particular note starting from A(55Hz) to a G#(103.8Hz). The PSP PianoVerb string system can be transposed in the range of +-24 semitones, tuned within a range of +-100 cents and be detuned as well. Transposing to lower octaves produces a bigger and less resonant sound similar to traditional reverbs, while in turn transposing to higher octaves produces a very bright harp-like effect."
Complex Buchla 200e patch combined with Hertz Donut and ATT4. Ableton Live Reverb and Filter FX. Visualizer by David Tin Nyo
Izotope will be releasing a vocal plug-in this month called Nectar. The software will have Pitch Correction, Breath Control, Compressors, a DeEsser, Doubler, Saturation, EQ, Gate, Limiter, Delay and a Reverb. It will be $199 at launch then jump to $299 shortly after. As with other Izotope plug-ins there will be an extensive preset browser too.
"Nectar offers dozens of professionally designed vocal production styles powered by eleven processing modules. Users will select an included style and then customize it with faders tailored to that style. For further customization of their vocal sound, users can switch to the Advanced View and access all of the controls of the underlying modules that power the plug-in… iZotope Nectar is ideal for audio engineers, voice over artists, singer/songwriters, recording enthusiasts, podcasters, and anyone else who records sung or spoken vocals. Its dozens of styles cover genres including: Alternative & Indie, Blues/R&B, Classical, Country, Dance & Electronica, Hip Hop & Rap, Jazz, Pop, Rock, and Spoken Word." – izotope.com
For more info: izotope.com/products/audio/nectar/