EAReverb (Earthy Algorithmic Reverb) – "Open the doors to YOUR world"
Available now! – http://www.eareckon.com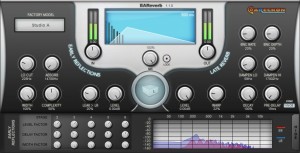 I have used the EAReverb with vocals, drums, guitars and wind instruments (WIVI band), yet I could remarkably reproduce realistic and natural sounding Rooms, set just the way the early reflections in great detail to make the EAReverb to a very special space simulator, we can also dispense entirely with the reverberation room shape and only consist of space, place an X in the possible mix of individual instruments in the virtual space to position accurately.
The EAReverb does a good job and produces a dense, warm reverb, the service is ideal for an experiment, but also has some very useful Presets included for direct use
Here's a nice one for you. Sneak peak of the new Eventide "Space" Reverb stompbox. Running a Roland TR-808 and TB-303 through some of spatial effects including basic reverbs, delays and unique combination effects.
"Reverb" seems a bit too vanilla to describe a box from Eventide. Regarded as one of the best hardware effects processors ever, Eventide's brilliant sounds have sadly been out of reach to most musicians. Eventide's new stompboxes finally make those effects portable and affordable. The latest is Space.
Room, plate, spring, hall.
Special effects / combo effects: Shimmer, ModEchoVerb, DualVerb, Blackhole, MangledVerb, TremoloVerb, DynaVerb
Mono and stereo operation.
Tap tempo, MIDI clock sync. (Yes, that's right – a tempo syncable reverb.)
Instant program change, which makes this ideal for live performance use in a way many reverbs, hardware or software, aren't.
True analog bypass.
Real-time controls – ten knobs, MIDI, expression pedal, metal footswitches, and a programmable "HotSwitch."
USB MIDI, USB2 software upgrades, and MIDI in, out/thru. Expression pedal, aux switch.
Togu is one of my favorite suppliers of free synths and effects, here's there latest release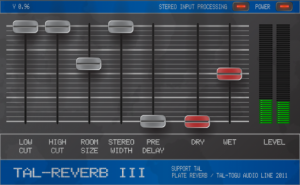 Togu Audio Line has released TAL-Reverb 3, a free reverb effect for Mac & Windows.
TAL-Reverb-III is an easy to use stereo plate plugin. Its the replacement for TAL-Reverb-II and has several improvements as an optimized GUI and some changes in the algorithm. It has a simpified EQ section, a meter display and shows actual slider values.
Features:
Plate reverb sound.
One simple room size control.
Predelay up to one second.
EQ section (12dB cut, low shelf filter at 1000Hz, high shelf filter at 200Hz)
Stereo width control (from full stereo to mono).
Stereo input mode (mono or stereo intput).
Displays the slider value of the active fader.
A meter shows the output volume.
10 factory presets.
Made with the juce framework and open source.

Madrona Labs has a Christmas present for Mac-based musicians – a free reverb plugin:
It's damp and chilly, and I hear the gray pitter patter of endless rain. Looking out my window I see gray sky, gray water, gray trees and gray clouds. That's right, it's Christmas in Seattle.
Because of your support of Aalto these past few months, I can now work full time to bring you more software and hardware to make music with. And that is something I am very thankful for. I am very excited about what we will have to offer this coming year: Aalto for Windows, the Soundplane A, and more software instruments that are even farther off the beaten path.
As a small way to say thanks, today I'm releasing Aaltoverb for Mac OS X. Aaltoverb is just the reverb section from Aalto, packaged up as its own plugin and with mix and brightness knobs added. It won't replace your ValhallaShimmer, but it is easy on the CPU and on the eyes, and I hope it makes a nice addition to your box of colors.
Download it here (.dmg).
Aaltoverb is an Audio Unit plugin. It requires an Intel processor of speediness 1.6 GHz or higher, and Mac OS of versioniness 10.5 or higher.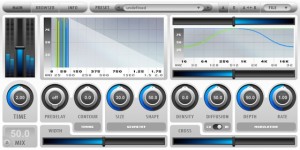 2CAudio has released Breeze, an ultra-effecient auto randomizing algorithmic reverb software plug-in for Windows and Mac.
2CAudio's Aether is an award-winning, ultimate quality, self-modulating algorithmic reverb, which delivers unprecedented levels of fidelity and programmability. It has been nominated for, and won numerous industry awards, including most recently the 2010 Sound on Sound Annual Award, and the 2010 EM Editor's Choice award. Its huge list of industry-first advances have made it the go-to reverb of choice by many of the industry's top engineers and producers.

Breeze is Aether's pristine eco-conscious cousin. Breeze focuses on simplicity, efficiency, and economy. Additionally it offers several of its own exciting new features that have not been offered previously and make it fufill a special need in the market.
Breeze for PC and Mac (VST/AU/RTAS) is now available for the introductory price of $99.95 USD until 1 January, 2011 (MSRP $149.95 USD).
Additionally 2CAudio has introduced the Perfect Storm Bundle which includes Breeze, Aether, the Aether Integrity Expansion and the the Aether Creativity Expansion, priced at $299.95 USD (Save $150 USD). Special end-of-the-year holiday pricing is available on all 2CAudio products until 1 January, 2011.
More information: 2CAudio / Breeze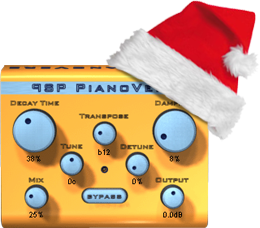 Plug-in developers PSP have re-released their freeware PianoVerb plug-in updated to work with all the most recent operating systems. You will need to register the plug-in to use it, but it is still absolutely free. Here's what PSP has to say about it:
"PSP PianoVerb reproduces special kind of reverberation originally provided by piano strings. It generates reverberation using twelve string operators with adjustable damping and decay time. Each of them is tuned to a particular note starting from A(55Hz) to a G#(103.8Hz). The PSP PianoVerb string system can be transposed in the range of +-24 semitones, tuned within a range of +-100 cents and be detuned as well. Transposing to lower octaves produces a bigger and less resonant sound similar to traditional reverbs, while in turn transposing to higher octaves produces a very bright harp-like effect."
Complex Buchla 200e patch combined with Hertz Donut and ATT4. Ableton Live Reverb and Filter FX. Visualizer by David Tin Nyo
Izotope will be releasing a vocal plug-in this month called Nectar. The software will have Pitch Correction, Breath Control, Compressors, a DeEsser, Doubler, Saturation, EQ, Gate, Limiter, Delay and a Reverb. It will be $199 at launch then jump to $299 shortly after. As with other Izotope plug-ins there will be an extensive preset browser too.
"Nectar offers dozens of professionally designed vocal production styles powered by eleven processing modules. Users will select an included style and then customize it with faders tailored to that style. For further customization of their vocal sound, users can switch to the Advanced View and access all of the controls of the underlying modules that power the plug-in… iZotope Nectar is ideal for audio engineers, voice over artists, singer/songwriters, recording enthusiasts, podcasters, and anyone else who records sung or spoken vocals. Its dozens of styles cover genres including: Alternative & Indie, Blues/R&B, Classical, Country, Dance & Electronica, Hip Hop & Rap, Jazz, Pop, Rock, and Spoken Word." – izotope.com
For more info: izotope.com/products/audio/nectar/
eaReckon has released version 1.2.2 of BloXpander, a VST host designed for live situations.
Changes in BloXpander v1.2.2
Far more stable authorization process. BloXpander should not need multiple authorizations anymore.
A new button has been added to easily clear the search box (Plugins Case).
Subscenes can now optionally store and call plugins' state.
More anti-virus friendly loading procedures.
Checks for Scene Control Configuration validity on start-up.
Using the same MIDI input port for both "Scene Control" and "Main Controller", it is now possible to assign Basic Control elements via MIDI learn (as prior 1.2.0).
Fixed Unicode typo issues ('Rename Preset' input box).
eaReckon has also announced EAReverb, a true stereo VST reverb for Windows.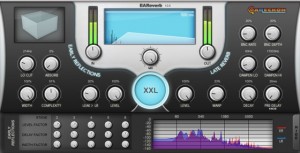 EAReverb stands for "Earthy Algorithmic Reverb". This reverb is 100% algorithmic and does not use any IR files. Early reflections are built "on-the-fly" depending on your own settings. The main "Size" parameter has an impact on both early reflections and late reverb… Switching from a size to another will immediately put your music and/or sounds in a place that matches your choice.

Then you can tweak early reflections using 5 easy parameters + 15 advanced but still comprehensive settings. Finally, you can set the late reverb so it matches your needs. "BNC" and "Warp" settings will add the extra randomness your late reverb deserves. For even more realism, you can inject some of the early reflections into the late reverb.

Most of all, EAReverb provides a natural sounding, "earthy" reverb effect. It is able to simulate the subtle reflections of a very small room as well as very large spaces. It is suitable for music and sound design.
EAReverb has been designed and "fine tuned by ear" to sound the most possible natural… Though, the plethora of parameters should be enough to place your music in a twisted environment if you really want it!
EAReverb will be available by end of 2010. A 3-part teaser is progressively uploaded to Youtube. Parts 1 and 2 are already available.
More information: eaReckon

Valhalla DSP has announced that Valhalla Shimmer – an algorthimic reverb inspired by the work of Brian Eno & Daniel Lanois – is now available for $50.
You can preview a demo of Valhalla Shimmer below. The example uses 4 instances of Shimmer in series, with pitch shifting on 3 of the instances (+/- 12 semitones, +/- 7 semitones, and +/- 5 semitones).
Description:
At its core, ValhallaShimmer is a high quality reverberator, designed to produce a smooth decay, that is both dense and colorless. There are several reverberation modes available, to allow the user to dial in reverb decays of different sizes, ranging from smaller rooms to vast ambiences.
By adjusting the Feedback, Diffusion and Size controls, the attack, sustain and decay of the reverb signal can be fine tuned.
The modulation controls can be set to produce subtle mode thickening, glistening string ensemble-esque decays, and the distinctive random modulation of the older Lexicon hall algorithms.
Two tone controls and the Color Mode selector allow the timbre to be adjusted from bright and glistening to a more natural dark decay, similar to that produced by air absorption in large spaces.
In addition, ValhallaShimmer has the ability to pitch shift the feedback signal. There are 5 pitch shift modes available:
Single, where the feedback is shifted up or down by the Shift value.
Dual, where the feedback is shifted both up and down (in parallel) by the Shift value.
SingleReverse, where each grain is reversed before it is pitch shifted. This results in a smoother pitch shifting sound than the Single mode.
DualReverse. Similar to the Dual mode, but with reversed grains, for a smoother pitch shifting sound.
Bypass, which turns off the pitch shifting (useful for "standard" reverb sounds).
By setting the Shift amount to +12 semitones, and the Feedback to 0.5 or greater, the classic "shimmer" sound is produced, as heard on Eno / Lanois productions for U2 and others. A wide variety of other sounds can be created by the algorithm, ranging from spring-esque reverbs to "reverse" reverbs, to glistening pitch shifted pads that are usually associated with high end hardware processors.
The developer says that ValhallaShimmer has been designed to be tweaked in real time. All of the sliders have a smoothed response, to avoid clicks when changing settings or automating the controls. At the same time, the algorithm has been highly optimized, so you get a huge reverb sound without straining your CPU.
Via SH