Roland announces TD-15 and TD-11 drum sound modules with SuperNATURAL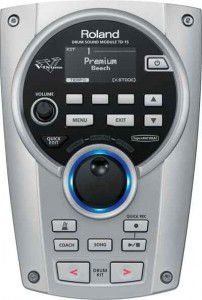 Roland has introduced the <>TD-15 and TD-11 Drum Sound Modules, two new sound engines for V-Drums electronic percussion products featuring all new SuperNATURAL sounds with Behavior Modeling Technology. The company says that these modules offer V-Drums players an unmatched level of playability and dynamic expression.
The flagship TD-30 Drum Sound Module, released in January 2012, was the first V-Drums sound engine equipped with SuperNATURAL sounds produced by Behavior Modeling Technology. Originally developed for their synthesizers and pianos, Roland says that these leading-edge technologies deliver a quantum leap in realism in both sound and expression for emulating drums, percussion, and other traditional instruments.
With the TD-15 and TD-11, SuperNATURAL sounds are now available in mid- and entry-level V-Drums models. In addition to the ultra-expressive sounds, these modules include an enhanced Ambience feature, plus Coach and Quick REC functions for building drumming skills and capturing drumming performances.
Roland tells us that each new module has a large LCD and the intuitive V-Drums interface for easy navigation and sound customization. Two different USB ports allow users to play audio files from convenient flash media and connect directly to computers for MIDI/Audio over USB.
The TD-15, available standalone and as part of the new TD-15KV and TD-15K V-Tour Series V-Drums sets, features 500 instruments and 100 user-customizable drum kits. Ten multi-effects are provided for processing drum sounds, and the front panel offers dedicated buttons for tuning, muffling, and effects. There are 11 trigger inputs, plus a click output that can be assigned to the headphone or master outputs.
The TD-11, available standalone and as part of the new TD-11KV and TD-11K V-Compact Series V-Drums sets, features 190 instruments, 50 user-customizable drum kits, and 10 trigger inputs.
Pricing and Availability:
The TD-15 and TD-11 Drum Sound Modules will be available in late spring.
More information:
Comments