ACCORDO.it was busy at the show last week, they have a whole bunch of nice videos on their Youtube channel. This one we enjoy a lot mostly due to the knob frenzy going on. A serious amout of gear is being featured
Analog-Synthesizer – Schneider, Schmidt und der Stand mit Mode Machines und Analog Systems
Companies participating in the Superbooth:
ms pedals, alyseum, analogue solutions, anyware instruments, atomosynth, bubblesound instruments, christian guenther, cwejman, doepfer, elektrokosmos, eowave, evol audio, expert sleepers, flame, flight of harmony, flower electronics, fonitronik, haken continuum, innerclock systems, intellijel designs, kenton, kilpatrick, knas, leploop, livewire, jabrudian industries, macbeth, make noise, malekko heavy instruments, manikin electronic, metasonix, mfb, midisolutions, monorocket, moon modular, motm, mungo enterprises, niio analog, neulant van exel, otomachines, pittsburgh modular, sequentix, sherman, signal arts, snazzy fx, snd, studio electronics, subtle noise maker, synthesis technology, theharvestman, tiptopaudio, tomoberheim, toppobrillo, vermona, wmd
Kronos Highlights
* 9 Sound engines, each offering a unique sound-creation technology (see list below)
* 16-part Combis allow all engines to function together in perfect harmony; Dynamic Voice Allocation keeps the polyphony high.
* Available with 61, 73 or 88 keys. The 73 and 88 key models feature Korg's finest RH3 Graded Hammer Action. The 61 key model borrows the responsive synth action from the Korg M3-61.
* Comprehensive interface, based around a new large 8" TFT TouchView™ display
* Virtual Memory Technology (VMT), aided by a fast SSD (Solid State Disk) provides high polyphony and massive, ultra-long, and unlooped samples; offering unheard of performance from a hardware instrument
* Smooth Sound Transition: this often-requested feature allows held or sustained notes to keep sounding when changing sounds or modes.
* Set List mode: Organize the Programs, Combis, and Songs you need to perform your set in a single, easy-to-select screen – including performance notes!
* Use up to 16 premium-quality effects at once; individual effects rival dedicated units
o 12 Insert effects
o 2 Master effects
o 2 Total effects
* On-board sequencer offers 16 MIDI tracks + 16 audio tracks (24-bit, 48kHz recording quality)
* Open Sampling System – Instant sampling and resampling from any mode: Program, Combination or Sequencer.
* Sophisticated KARMA® technology generates infinitely variable performance-driven phrases, musical effects, and backing tracks to catalyze your creativity
* Expanded Drum Track for play-along grooves and inspiration
* Signature sounds created with guidance from world class musicians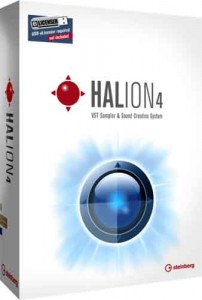 Steinberg has unveiled HALion 4, the latest and most powerful incarnation of their VST sampler. Here's what they have to say about it..
With a cornucopia of innovations and improvements, including a state-of-the-art sample engine, a complete synth section and inspiring tools and effects, HALion 4 is set to be the new global standard for professional sound design.
The core of HALion 4 is driven by a future-proof sample engine with 32 stereo outputs, 6-channel surround support and an unlimited number of audio buses with flexible routing options. A collection of 44 studio-grade effect processors, comprising everything from jaw-dropping modulation to high-end reverberation, is provided to fuel the internal mixing desk.
Among the highlights of HALion 4 is the ultra-flexible user interface, featuring scalable and moveable windows, function tabs and saveable window layouts — a time-saving approach when it comes to dealing with large-scale projects. The efficient Quick Controls, an undo history and on-the-fly mapping functions further streamline your workflow.
For those seeking for more creative headroom, HALion 4 holds a complete virtual-analog synth section. Plus, advanced sound creation tools, such as MegaTrig and FlexPhraser, enable you to create authentic instrument articulations and sophisticated playing styles, while a top-notch sound library with more than 1,600 presets complements the sound designer's toolbox. On top of this, HALion 4 features the most comprehensive VST 3.5 integration available today, making this new tool a truly universal sound creation system for the most exacting demands.
Pricing and Availability:
HALion 4 will start shipping in June 2011
More information: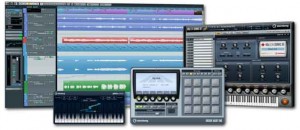 Steinberg has announcedCubase Elements 6. Here's what they have to say about it…
The latest addition to the Cubase product range offers the core technologies of the world's most popular music production software at a very competitive price.
Based on the award-winning audio engine of Steinberg's flagship workstation Cubase 6, the streamlined Elements edition offers easy-to-use tools for creating and recording music along with a range of professional instruments and effects. Highlights include the HALion Sonic SE workstation, the Groove Agent ONE drum machine, and the PitchCorrect vocal correction tool. Cubase Elements 6 comes with 64 MIDI tracks and 48 audio tracks in 24-bit/96kHz quality as well as a total of 33 high-quality audio effects for brilliant mixes and experimental sonic landscapes.
By offering a brand-new Cubase version, Steinberg is meeting the demand of many hobby musicians and songwriters for an affordable and intuitive entry-level recording solution. With the release of Cubase Elements 6, the Cubase Essential range is discontinued.
Features
Based on proven Cubase technology used by professionals around the world
Award-winning 32-bit floating-point Steinberg audio engine with flexible routing and fully automatic delay compensation
Supports up to 64 MIDI and 48 audio tracks simultaneously in DVD quality (24-bit/96 kHz)
Includes outstanding virtual instruments: HALion Sonic SE workstation, MPC-style Groove Agent ONE drum machine, Prologue synthesizer
Comes ready with 33 audio effect processors, including PitchCorrect for vocal intonation correction and the great-sounding AmpSimulator
Cross-platform 32-/64-bit for Windows and Mac OS X Intel
Pricing and Availability:
Cubase Elements 6 will be shipping end of May, 2011, and will be available as a boxed version as well as a download version from the Steinberg Online Shop.
More information:
Here's what they have to say about it:
Introducing the world's first Nord Electro with Hammer Action, sporting a classic 73-key E-E range keybed – without sacrificing portability (only 11 kg/24,25lbs).
Naturally, the new Nord Electro 3 HP includes all of the award-winning features of the original Nord Electro 3, like the compatibility with our acclaimed Nord Piano and Nord Sample Libraries including the exclusively licensed Mellotron and Chamberlin sounds, the tonewheel and transistor modeling of the Nord C1 organ and Rotary speaker simulation.
With 4 Dynamic Curves there's a keyboard response for every personal style, and the new selectable Long Release adds a nice touch when playing legato parts.
Due to popular demand, we've added a flexible new Delay Effect with tap-tempo, rate, amount and a stereo Ping-Pong mode.
The number of Live Locations has been increased from 1 to 4, giving you greater freedom to experiment with new sounds and settings on the go that are automatically saved. Program access is now much easier, requiring fewer buttons to push to find specific programs.
Where the original Electro 3 perhaps can be seen as a great organ with additional piano sounds, the new Electro 3 HP gives acoustic and electric piano lovers a brilliant new keyboard that even works great for organ playing styles.
The Nord Electro 3 HP weighs only 11 kg (24.25lbs) and includes mounts for the height-adjustable Keyboard Stand EX (optional accessory) and the Music Stand EX (optional accessory). Dimensions: 1078x121x344 mm (42.4×4.8×13.5″).
Control Pedal compatibility includes: Yamaha FC7, Roland EV-5/7, Korg EXP2/XVP10 and Fatar VP-25.
The Nord Electro 3 HP is handmade in Stockholm, Sweden by Clavia DMI and is scheduled to ship in late April 2011.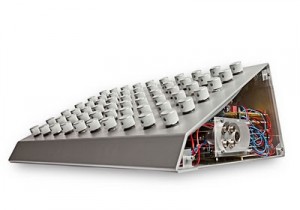 Elektrokosmos is a small swiss firm specialized in the production of analog synthesizers. We update the principles of the last century with today's technology and optimize them for high expectations. Every component is diligently selected and assembled by hand – every synth is unique. Elektrokosmos stands for robust machines and convincing sound. The user-friendly layout guarantees an exceptional playing experience."
"Today at musikmesse frankfurt 2011(@schneiders superbooth) we will release our new & first product called 'Kosmonaut' a swiss handmade analog synthesizer."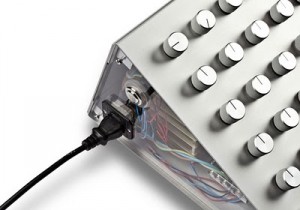 You can hear demos of the Kosmonaut here.
Listen to the new sounds of the Jupiter 80 and below are some additional screen shots, enjoy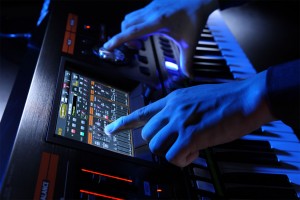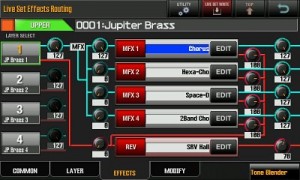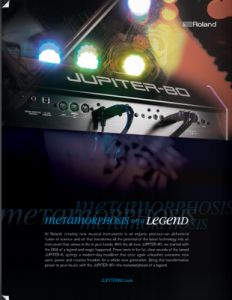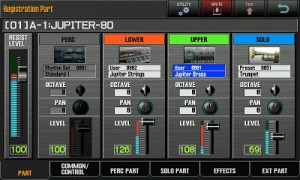 Supernatural engine explained:
Unlike a conventional PCM synth, you also avoid issues like sample looping and phase issues. Vince DaLuca, Product Manager, Keyboards for Roland US, explains the concept:
What happens when a keyboardist is trying to reproduce sounds other than a traditional keyboard instrument on the synthesizer? This is where synthesizers today really fall short because the typical sound engine inside cannot truly "interpret" an expressive keyboard performance done on keys into an authentic guitar, trumpet, or violin performance – a guitarist plucks or strums strings, a trumpet player uses his breath, lips and trumpet valves, and a violinist plucks or uses a bow on strings. All the keyboardist can do is trigger a static digital sonic picture of sound he is trying to recreate, and each time a key is pressed, the same sonic picture is repeated, but at different pitches as played on the keyboard.

The Jupiter-80 solves this problem by using Roland's newly developed Behavior Modeling technology. It takes care of the "interpretation" by constantly analyzing the keyboardist normal, natural keyboard performance, and instructs the ultra-realistic SuperNATURAL sound engines inside the Jupiter-80 to "play" and constantly "articulate" the reproduced sound just as the "real" performer would based on the keyboardists timing and interval between notes, the strength at which the various keys are struck, or if the keyboardist is pressing a pedal to sustain notes. These actions, among others available to the keyboardist, are translated by the behavior model for the selected sound being reproduced into an authentic plucked or strummed performance in the case of a guitar, aggressive or smooth bowing in the case of a violin, and the sharp or smooth pitch changes created by the valves on a trumpet and the pressure of the trumpet player's breath. These are but a few of the articulations possible with Behavior Modeling.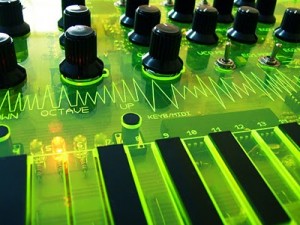 "Hello World…
From April 6th to 9th 2011 Our Krakken keyboard will be shown in Musikmesse at the Schneidersladen Superbooth!!
Musikmesse, Frankfurt/M. Hall 5.1 Stand C70"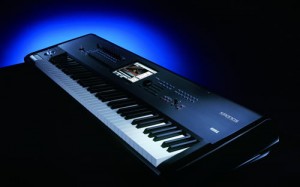 To celebrate the launch of the amazing new KORG KRONOS Music Workstation in Europe at this year's Musik Messe in Frankfurt Germany (April 6 to April 9), is very proud to announce a series of limited performances by the world-famous keyboard player, Tom Coster (Santana, Billy Cobham, Vital Information, etc.). Tom, along with sensational German musicians Stefan Rademacher (bass – George Duke, Billy Cobham, Chaka Khan, etc.) and Daniel Schild (drums – Afshin, etc.) will be performing on the stand A71 in Hall 3, three times each day of the show. Each half-hour performance will have limited seating. So be there in time.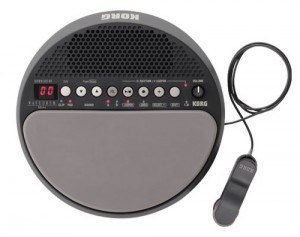 Korg will be releasing a Wavedrum Mini Dynamic Percussion Synthesizer. There is not so much information posted about the device functions or specifications, but the most apparent new feature seems to be a clip on pick-up for triggering the Wavedrum Mini. The new Wavedrum also appears to have a built in speaker and some kind of presets or sequencing functions.