Roland Jupiter 80 Sounds & Demo Video from Musikmesse 2011
Listen to the new sounds of the Jupiter 80 and below are some additional screen shots, enjoy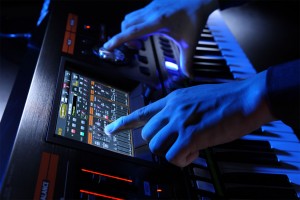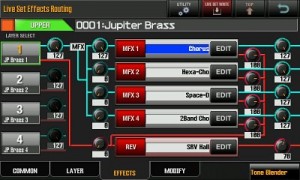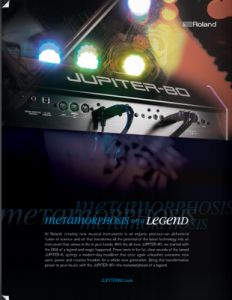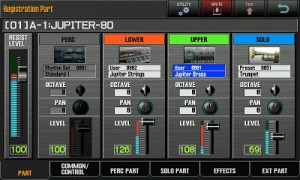 Supernatural engine explained:
Unlike a conventional PCM synth, you also avoid issues like sample looping and phase issues. Vince DaLuca, Product Manager, Keyboards for Roland US, explains the concept:
What happens when a keyboardist is trying to reproduce sounds other than a traditional keyboard instrument on the synthesizer? This is where synthesizers today really fall short because the typical sound engine inside cannot truly "interpret" an expressive keyboard performance done on keys into an authentic guitar, trumpet, or violin performance – a guitarist plucks or strums strings, a trumpet player uses his breath, lips and trumpet valves, and a violinist plucks or uses a bow on strings. All the keyboardist can do is trigger a static digital sonic picture of sound he is trying to recreate, and each time a key is pressed, the same sonic picture is repeated, but at different pitches as played on the keyboard.

The Jupiter-80 solves this problem by using Roland's newly developed Behavior Modeling technology. It takes care of the "interpretation" by constantly analyzing the keyboardist normal, natural keyboard performance, and instructs the ultra-realistic SuperNATURAL sound engines inside the Jupiter-80 to "play" and constantly "articulate" the reproduced sound just as the "real" performer would based on the keyboardists timing and interval between notes, the strength at which the various keys are struck, or if the keyboardist is pressing a pedal to sustain notes. These actions, among others available to the keyboardist, are translated by the behavior model for the selected sound being reproduced into an authentic plucked or strummed performance in the case of a guitar, aggressive or smooth bowing in the case of a violin, and the sharp or smooth pitch changes created by the valves on a trumpet and the pressure of the trumpet player's breath. These are but a few of the articulations possible with Behavior Modeling.
Comments