In this video Arjen Schat demonstrates how to create kick drums with the Moog Little Phatty. He start from the calibration patch (CA CALIBRATION) and create a filter kick drum and an oscillator kick drum.
Koushion is a MIDI Step Sequencer iPad app that allows you to easily program drum patterns, melodies and more using your existing hardware synthesizers, softsynths, samples and other electronic music gear. Works great with Ableton Live and other DAWs. Look for Koushion in the iPad app store.
Atomic Shadow has set up a self playing S/H patch on the EMW-200 and ran the result through the STG Sea Devil and Krisp1 ring mod. All of the raw sound is coming from the EMW-200, the Krisp1 mini LFO was controlling the filter. Part of the signal made it through the Strymon El Capistan echo pedal. The improvised drums were then performed live with the patch on the V-Drums. The film was then finished by Micky Dodds who also made the film for February-Moon Of Ice from the Twelve Full Moons album.
Available on the iOS App Store
http://itunes.com/app/songbeats
Song Beats is a new application from Yamaha that makes it easy to play the drums along with your favorite songs!
A fabulous Drum Performance Support Tool for iPhone!
Song Beats is an iPhone app that supports your drum performance by visualizing which drums to hit and when to hit them while playing along with your favorite songs.
The app also allows you to easily create custom accompaniments for drums, putting your drumming at the center of the band.
There are more than 1000 songs available from a shop that's built right into the app. In addition, you can also use any MIDI song that you've already purchased from Yamaha MusicSoft by using iTunes File Sharing. Download and register Song Beats with Yamaha, and your first song is free!
AriVibes is here being used to play with the sounds of a table. The sound is picked up by the iPhone's built-in microphone, and all the effects are made by the app. The app is on the App Store, and is currently free. Get it here: http://bit.ly/getarivibes
(please leave a review!)
* Finger drumming by Derek Chai (http://soundcloud.com/del-the-bass)
* Video by Avi Ashkenazi (http://superavi.com/)
* Recorded at the Music Tech Festival (http://musictechfest.org/)
Learn more: http://www.AriVibes.com
More info on Reason: http://www.propellerheads.se/products/reason/
In this Reason Sound Design video Propellerhead product specialist James Bernard give you some tried and tested engineering tips to help get your drums punching through your mix. It may seem redundant at first. After all, drums are punchy by their very nature so why do we need to MAKE them punchy if they already ARE punchy. The simple answer is that when you layer other instruments on top and everything starts fighting for the same sonic frequency space, your drums can get lost in the process.
James will show you through proper EQ, compression, and parallel processing how you can lift your drums back out of the mix and have them punching through your song exactly as you hope for.
Background information:
We finally had a chance to sit down with John-Paul Walton (co-founder of Retronyms) to have him showcase the early version of the XOX Drum Deranger. This video doesn't include all the final features and polish yet, but can provide you an idea of the final product that Retronyms is building for the neiro. It is only the first device they are bringing to the neiro with much more to come.
Background details:
… testing a revised set of "Auto-Melody Generator" patches (using Intellijel Dixies for the sine waves, a DrumDokta DRM-110 for the drums) for a concert w/ JD Emmanuel in June in Brooklyn ; not that I'm consciously trying to ape his style (which I love) – just trying to yield something a bit more flowing & less asynchronous / manic than the recent "Occlusion" pieces …
Close-ups of the Voight-Kampff machine, shot with a Canon VIXIA HF M50 (in VERY low afternoon light ; impressive performance) with the stock lens ; line-level audio pumped out of the "thru" of a direct box directly into the mic input of the camera (with the internal manual preamp levels set on the low side ; still doesn't sound half bad despite the output buzz of the Vermona)…
"A basic snare sound made using the Korg MS-20. The trick is to use the high pass filter to add the punch/snap to the drum sound. Drum sounds are very easy to create on a MS20.
The MS20 can also create pretty decent hand clap sounds using the high pass filter, S&H and some other stuff. I will post a video later."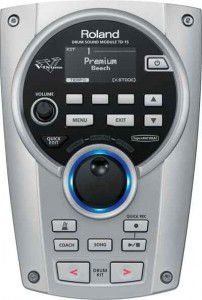 Roland has introduced the <>TD-15 and TD-11 Drum Sound Modules, two new sound engines for V-Drums electronic percussion products featuring all new SuperNATURAL sounds with Behavior Modeling Technology. The company says that these modules offer V-Drums players an unmatched level of playability and dynamic expression.
The flagship TD-30 Drum Sound Module, released in January 2012, was the first V-Drums sound engine equipped with SuperNATURAL sounds produced by Behavior Modeling Technology. Originally developed for their synthesizers and pianos, Roland says that these leading-edge technologies deliver a quantum leap in realism in both sound and expression for emulating drums, percussion, and other traditional instruments.
With the TD-15 and TD-11, SuperNATURAL sounds are now available in mid- and entry-level V-Drums models. In addition to the ultra-expressive sounds, these modules include an enhanced Ambience feature, plus Coach and Quick REC functions for building drumming skills and capturing drumming performances.
Roland tells us that each new module has a large LCD and the intuitive V-Drums interface for easy navigation and sound customization. Two different USB ports allow users to play audio files from convenient flash media and connect directly to computers for MIDI/Audio over USB.
The TD-15, available standalone and as part of the new TD-15KV and TD-15K V-Tour Series V-Drums sets, features 500 instruments and 100 user-customizable drum kits. Ten multi-effects are provided for processing drum sounds, and the front panel offers dedicated buttons for tuning, muffling, and effects. There are 11 trigger inputs, plus a click output that can be assigned to the headphone or master outputs.
The TD-11, available standalone and as part of the new TD-11KV and TD-11K V-Compact Series V-Drums sets, features 190 instruments, 50 user-customizable drum kits, and 10 trigger inputs.
Pricing and Availability:
The TD-15 and TD-11 Drum Sound Modules will be available in late spring.
More information: