Here's how to use the Octatrack to draw custom audio waveforms like can be done on the classic Fairlight CMI. You can then use your custom-drawn waves in the Octatrack, Monomachine, or other audio gear.
To see the original Fairlight making custom waveforms:
Example of creating visually understand the "light pen" (wand) and a sound change some parameters or effects.
More info here : http://mustudio.fr
Performance set up below:
Main Sequencer: Elektron Monomachine
Drums Synthesis and Slaved Rythm Sequencing: Elektron Machinedrum
Melody Synthesizer: Access Virus Ti2 Desktop
Audio Effects & Realtime Dynamics Processor: Elektron Octatrack
Elektron tapes (#9). Beat making and noise design inspired by Aphex Twin, Autechre, Pan Sonic & Venetian Snares productions — using Elektron Octatrack, Moog Slim Phatty and Glamour Box.
Performed by sound artist & noise designer Zviij © 2012.
* Booking : zviij AT zviij.com
• Discography:
– Zviij "Quadrifolium" (Album/Digital) http://zviij.bandcamp.com/album/quadrifolium (Bandcamp)
– Zviij "Sub-system design" (Album/CD) http://www.odiolorgnette.com/discography.html
– Zviij "Naked flowers" (Album/Digital) http://zviij.bandcamp.com/album/naked-flowers (Bandcamp)
Zviij — (born Franck Smith) is a French sound artist, noise designer and electronic musician, active as a soloist, living and working in Brussels.
New product from Elektron, Q4 2012.
http://www.tradition-and-future.com
http://www.elektron.se
Swedish hardware developer Elektron – most recently known for its Octatrack performance sampler – is teasing a new product on a specially created website.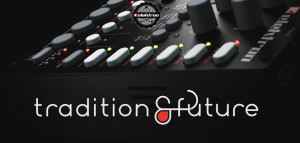 There's nothing in the way of spec: just a cryptic photo and the words 'Tradition & Future'. You can guess as well as we can what this means, but it's logical to assume that the new hardware will take inspiration from the past while also delivering some next-gen features.
More news as we get it: the website suggests that the new instrument(?) will be released in 2012, so you shouldn't have to wait too long.
Gear used: Elektron Machinedrum as main sequencer, Waldorf Blofeld, Akai mpc500, Korg Ms2000, Clavia Nord Modular G2 and DSI Tetr4.
Jimmy Myhrman provides an nice encounter of the Minitaur and the Octatrack, here are the details:
Having fun with Minitaur and Octatrack. Minitaur is MIDI sequenced by Octatrack, and the Octatrack also records the Minitaur audio and plays it back while preparing and fading in new sounds on the Minitaur (headphones are used to cue the live minitaur audio, while recorded minitaur audio is played to main output).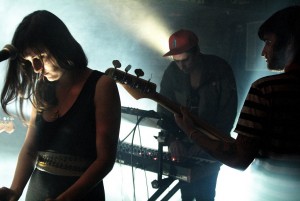 This message from Elektron was found on Facebook:
"Stop the presses! The next Elektron machine is about to be revealed! And since each output in Elektron, it might make noise …
All that is known is that this product will be the first of a new line, and it will not replace other products in the catalog.
Suspense!"
Original post in french here >>
This is a demonstration of the iPad control and display with the Ableton Live DAW.
Equipment used: Twisted Tools Rolodecks, Elektron Octatrack & Machinedrum, Moog Slim Phatty, DJ TechTools Midi Fighter,
Thanks for watching …
Try it out for yourself! Download the Project files for this Pro-tip here:
http://files.elektron.se/pro-tip/PROTIP7.zip
By taking advantage of the flexible audio engine of the Octatrack, sounds can be radically reshaped. This is demonstrated in this video. The same single cycle waveform sample has been used as the basis for all the sounds of the pattern.