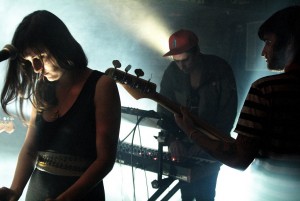 This message from Elektron was found on Facebook:
"Stop the presses! The next Elektron machine is about to be revealed! And since each output in Elektron, it might make noise …
All that is known is that this product will be the first of a new line, and it will not replace other products in the catalog.
Suspense!"
Original post in french here >>
This is a demonstration of the iPad control and display with the Ableton Live DAW.
Equipment used: Twisted Tools Rolodecks, Elektron Octatrack & Machinedrum, Moog Slim Phatty, DJ TechTools Midi Fighter,
Thanks for watching …
Try it out for yourself! Download the Project files for this Pro-tip here:
http://files.elektron.se/pro-tip/PROTIP7.zip
By taking advantage of the flexible audio engine of the Octatrack, sounds can be radically reshaped. This is demonstrated in this video. The same single cycle waveform sample has been used as the basis for all the sounds of the pattern.
The Octatrack has been loaded with 6 sampled Monomachine waveforms. By changing parts, the same pattern can take many different forms. The crossfader is used as a tool for making transitions. Some internal sampling will take place as well.
Download the set used in this Pro Tip here:
http://files.elektron.se/pro-tip/SynthMode.zip
The audio editor is a powerful sample editing tool. This video introduces some of the available operations and also demonstrates how to slice a loop.
Background information:
Having fun with my favorite movie theme from Blade Runner (by Vangelis) and some funky electro beats. Direct live recording: Octatrack with 808 Samples and a Tetra analog synth + Sunrizer synth app on an iPad. Reverb from TC Electronic. Text: "Electrical Stimulation"


More music on: http://www.soundcloud.com/thomas-kress
Quick demo showing how octatrack effects can greatly alter a simple drum beat.
The drum beat comes from the machinedrum and is unchanged the whole time. The machinedrum is fed into the octatrack and goes through a "thru" machine and "neighbor" machine to achieve 4 effects: Lo-Fi, Plate Reverb, Filter, Compressor.
No other effects applied.
Hardware:
Elektron Octatrack
Elektron Machinedrum MK 2 UW+
Techno performance by Jimmy Myhrman on the Elektron Trinity (Machinedrum, Octatrack and Monomachine).
"This is a preview of an upcoming track (not yet released). I will add release info here as soon as it's available."
Done on the Elektron Trinity (Octatrack, Machinedrum, Monomachine) and some samples from OP1 – actually 90 percent of the material was sampled on to the Octatrack from the machines – it works amazing as a producing machine

Took around 2 hours to create the track but took longer to actually 'perform' it right and have the video looking OK.
Elektron Trinity:
Radical audio processing
The Octatrack is the given centre piece of the trinity. Since the audio outputs of the Machinedrum and Monomachine can be connected to the two input pairs of the Octatrack, no additional mixer is needed. The Octatrack can at the same time sample the incoming sounds, play back pre-recorded loops, add effects and in general radically process and bend sounds in any way imaginable.
The powerful rhythm section
Beats are taken care of by the Machinedrum. Five drum synthesis methods with detailed control of all parameters makes it right at home for all kinds of rhythmic material. The gritty 12 bit sample engine is especially suited for one shot drum hits and will make the UW samples stand out in any PA-system. The combination of drum synthesis and sampling equals complete drum excellence.
Sounds from outer space
The Monomachine is perfect for all things melodic. No matter if is about basses, leads or strange sounds: the flexible Monomachine sound engine can handle it all. The five different synthesis methods are the key. Imagine a sound and then create it in a few seconds with the help of FM synthesis, analog emulation, digital wavetables, SID chip emulation and speech synthesis.
The Animoog in action in a Berlin-school setting. Sequences from Prophet '08 Module and Moog Slim Phatty, percussion from Elektron Octatrack, drones from Moog Little Phatty Stage 1 and Waldorf Blofeld Keyboard. Effects used: Moog MF-103, Moog MF-104Z, Moog CP-251, Vermona PH-16, T-Rex Room-mate, Korg Kaoss Pad 1.
Enjoy

In this tutorial we take a look at Scenes, which is a powerful tool for quick variations in a live performance.
The Octatrack DPS-1 is an 8 track dynamic performance sampler. The Octatrack is ideal for radical audio processing and performance oriented sampling. Every track features real-time pitch scaling & time stretch and the next generation Elektron step sequencer has been designed with maximum usability and efficiency in mind.
Read more about the Octatrack here:
http://www.elektron.se/products/octatrack
This tutorial shows how tracks can be assigned individual length and time signature settings.