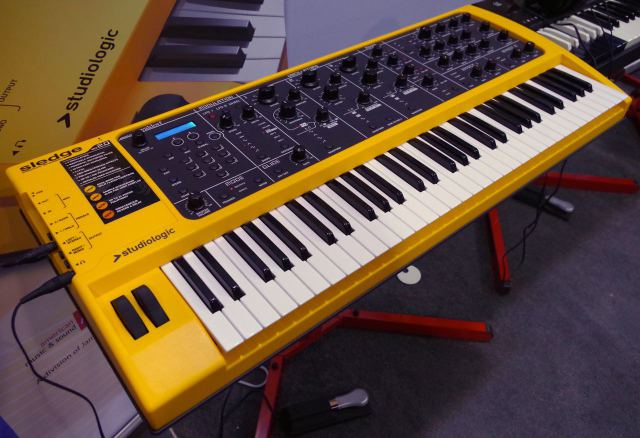 Studiologic has introduced Sledge 2.0 – an updated version of its vintage-inspired digital keyboard that offers a lot more synth for less money.
With Sledge 2.0, Studiologic and Waldorf Labs have made it more flexible as a pure synthesizer, added Dual mode for Split/Layer functions, introduced support for user samples, expanded the instrument's polyphony from 8 notes to 24 and improved its effects engine.
Sledge 2.0 Key Features:
Auto Dual mode: Sledge 2.0 can now play two sounds at the same time, in Split or Layer mode; the feature is controlled by a new page of the Global function and allows to simply keep one note (for Split) or more notes (for Layer) and then select a new sound, that will be added to the previous sound; as any other sound, also Dual Sound combinations can be permanently stored in any of the 1.000 available presets;
Sample Player: sound samples and new waves can be loaded in the internal 60 megabyte of Flash memory, played by OSC 1 and modifiable by all parameters of the control panel, adding other oscillators, setting filters, envelopes and effects. This feature can constantly expands the instrument's sounds and create a totally new combination of synthesis and sampling.
Pitch & Hold controls: a new Global page allows to enable the Pitch and the Hold separately for the Lower and Upper sounds in Dual Mode, allowing to use the Pitch bend on the Upper sound (i.e. for solo parts) and the Hold pedal to control only the Lower (to keep playing a Drums groove or as a Damper for a Piano sound) and vice versa, or to enable Pitch Bend and Hold on both Upper and Lower sounds;
Reverb+Delay: a new function allows to mix both effects; the Reverb keeps the setting previously selected, while the real time controls (time and level) allows to set the parameters of Delay also when mixed.
Enhanced Polyphony: the total maximum number or notes that can be played at the same time have been expanded to 24, allowing to get a better real time control over the new sound possibilities obtainable from synthesis and sampling together.
Sledge Spectre: samples can be edited (keyboard range, tuning and other parameters) and transmitted to Sledge 2.0 by the USB port, with a sample editor that allows to first load and play the samples on your Computer and then download them into the instrument's memory.
Specifications:
Keyboard 61 keys + Aftertouch

2 Pots – 3 "chicken head" rotary switches (7 positions) – 1 rotary encoder + push function

2 x 16 digits backlit LCD

High Quality Pitch and Mod Wheels

Up to 999 programmable Sounds

Fast and efficient sound selection via numeric keypad
Modulation
2 fast LFOs per voice with adjustable Speed and Depth

1 extra modulation routing for Mod Wheel, with adjustable Speed and Depth
– LFO Shape: Sawtooth, Rectangular, Triangle, Sine, Sample & Hold, Ramp


– Destination: Osc 1, Osc2, Ocs3, PWM / Wave / FM, Volume, Filter Cutoff
Sound Generation
24 Voices polyphony – Monophonic mode with single or multiple trigger

3 Oscillators per voice OSC1/OSC2/OSC3
– Range from 64′ to 1′ with Semitone ant Detune controls
– Shapes: Sawtooth, Square, Triangle, Sine, Pulse (with Pulse Width Modulation)


– OSC 1 with 66 Original PPG Wavetables + Sample Player (60MB internal memory)

FM – Frequency Modulation of Sine and Triangle – Oscillator Hard sync (OSC 2 to OSC 3)

Noise Generator – White and Pink noise

Mixer with Volume and On/Off switch for each Oscillator and Noise

AUTO DUAL MODE : Split or Layer mode – prog. split point for each Program
Filter & Amplifier
1 Multi Mode Filter per voice – 24 / 12dB – Lowpass – Highpass – Bandpass


– Resonance up to Self-Oscillation and beyond – Adjustable Key track and Drive

2 fast Envelopes per voice (Filter-Amplifier) with Amount and Velocity control (Filter+Ampli)
Arpeggiator
Powerful Arpeggiator – Latch mode – syncable to MIDI Clock


– Direction Up, Down, Alternate – Range up to 10 Octaves
Effects
2 simultaneous Effects
– Effect 1: Chorus / Phaser / Flanger


– Effect 2: Reverb / Delay / Reverb+Delay
Controls & Connections
Master Volume Control

Power Switch

Stereo line output

Headphone output

Expression pedal input

MIDI IN / OUT

USB connector for MIDI IN/ OUT, Firmware Update, Samples Loading (with Spectre)
– uses standard USB MIDI driver provided by host computer OS
– Windows ME minimum, Windows XP or newer recommended


– Mac OS X 10.2 minimum, Mac OS X 10.3 or newer recommended

Built in power supply
Size & Weight
97 cm x 40,5 cm x 11 cm

38,19″ x 15,94″ x 4,33″

8,3 Kg | 18,3 lbs
Additional Package Content
The Studiologic Sledge synthesizer has a street price of about $1,000.
The yellow beast is up for a nice review – check out the teaser video for more details and sounds
Mitchell Sigman gives a quick overview of Studiologic's new Sledge virtual analog synthesizer. Full review coming soon in Keyboard Magazine!
A flip through of various presets, plus a couple of home-grown sounds to go with the full review http://www.youtube.com/watch?v=DCS2Sj2ngNE.
"I dont think the presets show off the synth to its full potential – far better to create your own with a synth like this."
Here's a nice demo of the Sledge synth by a German music store, here's what they have to say about it (Googlish from German):
"At this year's Musikmesse, he was presented to the enthusiastic fans of synth: The Studio Logic Sledge synthesizer is finally here! As a fanatic of electronic soundscapes, Manfred has made available a copy of the first shipment stolen and extensively tested. Rumor has it he spent the whole night with the Sledge

The full test as a video with a lot of sound samples – now for you at Music Store TV!"
About the synth:
For many synthesizer enthusiasts, it is the particular interaction of the sound engine and user interface that makes a great instrument. A quick look at Sledge shows you the generous set of controls available to interact directly with the sound engine.  When you touch the knobs and switches of the front panel, you will instantly be aware of the meticulous attention to detail our engineers have refined, during many decades building the best electronic keyboards.
You will experience the logical set-up of the synthesizer modules, mirroring the signal flow of a classic analogue synthesizer.  But what really distinguishes any synthesizer is its sound. Fortunately, our friends at Waldorf Music have happily shared their experience and know-how on this crucial part of the Sledge Synthesizer.
Nice interview with the designer of the Sledge synth from Studiologic, getting a bit more information on the product. The synth is powered by a Waldorf synth engine.