Waldorf Nave – Live Loop with Elektron Octatrack
All synth sound came from Waldorf Nave on the iPad.
Minibrute was used as a controller only.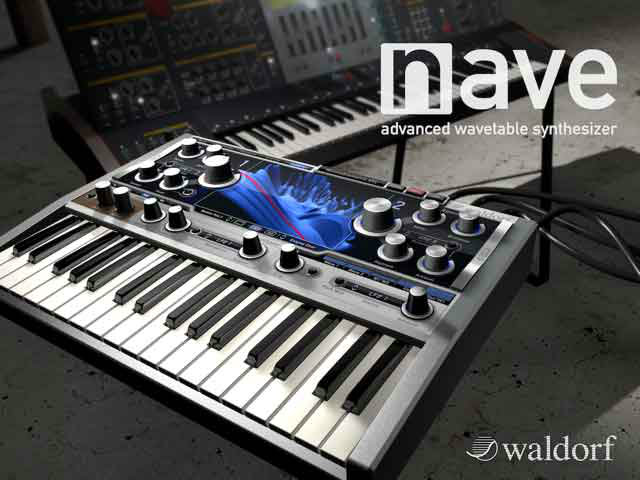 Waldorf have now announced availability of Nave, its first synthesizer app for Apple's  iPad. Waldorf says that, jointly created by Stefan Stenzel (audio algorithms), Rolf Wöhrmann (iOS development), and Axel Hartmann (graphic design).
This tutorial shows how to program a wavetable sound within a short amount of time.
It comes complete with over 500 presets from highly acclaimed sound designers like Richard Devine, Sacha Dikiciyan (of Sonic Mayhem fame), Laurence Rapaccioli (Arksun), David Boldini (7 Skies), and Fletcher Kaufman (Sunsine Audio), amongst many others. Waldorf tells us that all seriously showcase the depth and diversity of this synthesizer — so much so, in fact, that Richard Devine was suitably moved to create no fewer than 95 presets alone, all of which are included for free. Here's more details in Waldorf's own words…
For the benefit of those who want to indulge in some serious sound design of their own making, Nave does not disappoint. Its powerful sound engine includes two trailblazing wavetable-based oscillators, leaving all previous attempts at wavetable synthesis severely wanting. While the sound spectrum can cleverly be transposed independently of pitch, the waves can be rendered from perfectly periodic to very noisy and anywhere in between.
Nave's clear-cut GUI invites both beginners and advanced users alike to experiment both sonically and musically while the hosting iPad's generous display helps make wavetable creation and editing a blast! Besides integrated speech synthesis, wavetables can also be formed from analysing audio files. Furthermore, stretching, rotating, and shifting in the spectral domain allows wavetables to be refined or distorted in the fullscreen Wavetable Edit Mode. Here users can edit and fine-tune the wavetables using several 3D views that are as easy on the eye as they are to use. And in a reverential nod to Waldorf's illustrious past and present, factory wavetables from the breakthrough Microwave, mighty Wave, and price barrier-breaking Blofeld synthesizers are all present and accounted for, complemented by an abundance of tasty new ones that make extensive use of those enhanced possibilities!
And if that's not enough to get your creative juices flowing then Nave additionally includes a classic oscillator with an ultra useful selection of basic waveforms, plus a super-fat-sounding Überwave function for beefing up sounds by up to eight individually detuned oscillators a la Waldorf's recently released Rocket synthesizer. Nave is, indeed, truly a sound designer's dream machine!
But, Waldorf being Waldorf, that's not all: Nave's flexible Filter section delivers that high-quality synthesizer sound recognisable right away by anyone at all familiar with Waldorf's noteworthy name, and, as such, features LP (low-pass), BP (band-pass), and HP (high-pass) filter types with either 12 dB or 24 dB slope settings. Its neighbouring Drive section offers contrasting characteristics by being positioned Pre Filter or Post Filter or as a summing overdrive Pre EQ or Post EQ — perfect for those who prefer harsh and screaming sounds rather than delicate wavetable sweeps.
An extended modulation matrix and diverse realtime control functionality also awaits anyone wishing to animate any Nave sound in any desired direction. In addition to the classic virtual chromatic keyboard, Nave can be played with the Blades that allow for dynamic triggering of polyphonic modulation by simply sliding fingers in X and/or Y direction.
Yet more flexible fun is to be had on the FX & Arp page with pro-quality ModFX (Phaser, Flanger, Chorus), Delay, Reverb, parametric Equalizer, and a highly effective Compressor all adding to Nave's sound and performance possibilities, as does a full-featured Arpeggiator. And last, but by no means least, the Tape & System page plays hosts to an old school, four-track recorder — replete with virtual tape spools. Use it to record complete compositions or simply sketch some musical ideas inspired by the superlative sounds of Nave!
So how does Nave naturally sound, then? Totally in a class by itself. Just like Waldorf! After all, the well-known Waldorf name has been synonymous with high-quality synthesizers for nigh on 25 years; indeed, its innovative position in the musical instrument marketplace dates back to 1989 with the release of the wavetable-based Microwave, an extraordinary reincarnation of the legendary PPG Wave series — arguably amongst the most coveted high-end synthesizers of the early Eighties. Time and technology stand still for no one, of course, and today Nave takes those heady heavyweight hardware developments of yesteryear — and a whole lot more besides — and serves them up to thankful iPad-adoptees at a fraction of the cost of its forebears.
Any adventurous musical iPad owners out there intrigued by the creative possibilities of wavetable synthesis surely owe it to themselves to check out Nave, the advanced wavetable synthesizer from Waldorf. Going for a song on Apple's App Store, right here, right now!
Pricing and Availability:
iPad owners can purchase Nave directly from Apple's App Store for a five-day special introductory price of €10.99 EUR/$11.99 USD. (Thereafter it will rise to €17.99 EUR/$19.99 USD.)
Pure Nave sounds, no external FX, no external processing!
All sound examples were directly recorded in Nave´s 4 track recorder.
As far as we know the Nave synth will be released today on the app store
Khantipol Kasemsant explores the Rocket from Waldorf:
My first day with Waldorf Rocket
with Elektron Octatrack for Drums, Midi Sequencer and Effects
Only 4 bars of midi sequence was used for the Rocket.
OP-1 and Analog Four were not used in this video.
Live session in Arjen Schat's living room with Elektron Analog Four, Moog Slim Phatty + CP-251 and Waldorf Blofeld.
Elektron Analog Four and Octatrack
Saw & Pulse wave from Rocket Waldorf; different PW, hard sync, harmonization, hypersaw behavior. The filter is Lo-Band-Hi resonante, with a prefilter Boost stage.
A short run on Waldorf Rocket arpeggiator patterns. A lot of interesting combinations and permutations. Arpeggiator can be put under external MIDI Clock.
A short demotrack made with the Waldorf Rocket synthesizer.
All sounds from the Rocket. Delay, reverb, compression from Cubase 5.
Thanks to Depeche Mode.
A quick demo of Nave – the new iOS synth from Waldorf in cooperation with Tempo Rubato
According to the developer we will most likely see it in the Appstore in the next few weeks or so, it is still in BETA mode
Steelberry Clones @ MusikMesse 2013
Cutting edge and powerful lows in one compact box  (available spring 2013)
Sometimes they do come back, and this time, it's with even more brute-strength power onboard. You are looking at a completely analog synthesizer that accurately delivers what synthesizer enthusiasts around the world truly crave. Pulse 2 is the reincarnation of it's legendary ancestor, the Waldorf Pulse, that dominated the electronic music of the 90s.
Three analog oscillators in combination with a true analog cascading filter is what Pulse and Pulse 2 have in common. But we didn't stop there. The filter circuits now also offer Highpass and Bandpass modes. We added analog Filter FM and Ring Modulation along with paraphonic modes that allow up to eight voice chords.
Like the Blofeld Synthesizer, the Pulse 2 is housed in a sturdy metal desktop case. Besides its large LCD display, 8 stainless steel knobs are available to surf through its clearly arrayed parameter matrix, set master volume and edit display accessible parameters.
Background video description in German:
Der Waldorf Pulse ist Kult. Kaum ein anderer Synthesizer hat so einen fetten Bass.
Waldorf verspricht das auch der Nachfolger mithalten kann. Natürlich hat Waldorf dem Synthesizer auch ein paar neue Features spendiert.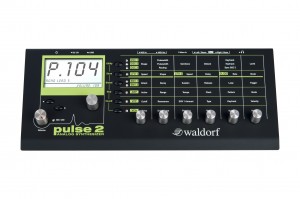 Background video description:
Yesterday was E-day, always inspiring, you met people who are also involved in E-music which genarate new ideas.
This one pops up, just a combinated single 8 step and 4 step row off the Doepfer Dark Time. The 4 step row controls the Moog LP bass and the 8 step the Waldorf micro Q and at 2:36 the Roland Juno 106.
Additional sounds/solo's came from the Korg DS 8/Lamda, Realistic Concertmate MG-1 and the Kawai K1r.
Used delay's for the Moog two from the Yamaha E1005 and the Ibanez DM1000, for Waldorf the Alesis Midiverb (3 triplets) and the Ibanez DM1000.
For the Juno I use the Electrix. Mo-fx.
Halfway there are some variations in tone / octave settings (Berlin School style).
I hope your enjoy, and feel free to leave a comment/question
Use a good audio device to listen to it.
greetings Hans
"Skoulaman"