Numerology 3 Pro and analog step sequencers in the modular. A real-time studio recording in Cubase 6. Synths used were the modular synths, Waldorf MWXT, MicroQ, TX816, Nord Lead 2X, Prophet 8, DX7II and Korg ES-1. Using a Novation Launchpad to control the Numerology tracks. Step sequencers are dotcom Q960, Q119 and STG Soundlabs Time Suite. The opening and closing sound is a new SSL1130 DDVCO through a CGS01 harmonic sequencer and back into the DDVCO exponential and linear modulation inputs. Video editing in Final Cut Pro X.
Nice interview with the designer of the Sledge synth from Studiologic, getting a bit more information on the product. The synth is powered by a Waldorf synth engine.
All the details in this post >>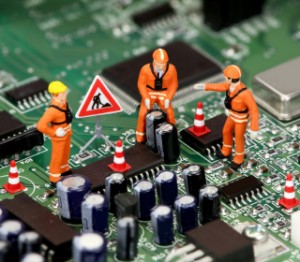 We apologize for the limited access to our site during the past 24 hours, our web hoster has had server problems – that has made our page slow to access or even unavailable.
With this being said the problem does not lie with us and we hope everything will be back to normal from now on.
Cheers Steelberry Clones
Now some more news before we close for today:
Rob shows us the features of his new synth Blade. Out Feb or early March. Each Note has its own XY pattern
mpressions of Waldorf Music @ Winter NAMM 2012. Come visit us at Booth A6624! Thank you to the musicians who played the Zarenbourg and let us use their footage. All music made using Waldorf keys, synths and plugins. Background music and video by Erik Heirman. Shot using a GoPro HD Hero 2
Sean from Arturia shows us their new software emulation of the Oberheim SEM. It has Dual VCO's and recreates the unique Oberheim SEM filter. It includes a noise generator and sub oscillator which were not available on the original SEM.
So here we have it, the first video I have found of the new Sledge synth I posted on earlier this week.
http://namm.soundsandgear.com new Sledge polyphonic synth from StudioLogic powered by waldorf, winter namm 2012
Waldorf has introduced the Pulse 2, a new analog synthesizer featuring cutting edge and powerful lows in one compact box.
Sometimes they do come back, and this time, it's with even more brute-strength power onboard. You are looking at a completely analog synthesizer that accurately delivers what synthesizer enthusiasts around the world truly crave. Pulse 2 is the reincarnation of it's legendary ancestor, the Waldorf Pulse, that dominated the electronic music of the 90s.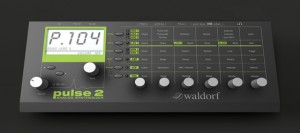 Three analog oscillators in combination with a true analog cascading filter is what Pulse and Pulse 2 have in common. But we didn't stop there. The filter circuits now also offer Highpass and Bandpass modes. We added analog Filter FM and Ring Modulation along with paraphonic modes that allow up to eight voice chords.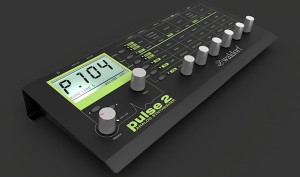 Like the Blofeld Synthesizer, the Pulse 2 is housed in a sturdy metal desktop case. Besides its large LCD display, 8 stainless steel knobs are available to surf through its clearly arrayed parameter matrix, set master volume and edit display accessible parameters.
Pulse 2 features
3 analog oscillators + 1 noise generator.
Pulse width modulation.
Hard sync.
Filter FM from Oscillator 3.
Ring Modulation from Oscillator 3.
XOR Osc Mode.
8/4 Voice Paraphonic modes.
Cascade Filter.
24dB/12db Lowpass, 12db Highpass/Bandpass filter modes.
Powerful Arpeggiator.
8-slot Modulation Matrix.
USB.
MIDI.
External analog signal input.
Stereo line out.
Headphone out.
Backwards compatible with classic Pulse.
128×64 character backlit LCD.
8 stainless steel knobs.
500 Sound Programs.
Electron-absorbing black case.
All specifications subject to change without notice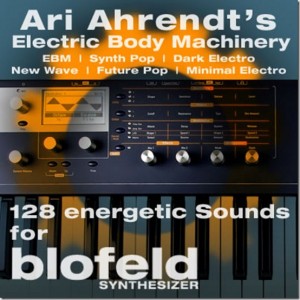 Waldorf has just released Electric Body Machinery  – a new Blofeld soundset by Soundset Ari Ahrendt.
This punchy soundset that covers everything for electronic music of the darker kind. Highly energetic sounds for areas such as EBM, Synth Pop, Dark Electro, Future Pop, Electro Wave and Minimal Electro Pop. All sounds on highest level of musical playability, usability and inspiration. Suitable for records, studio and especially for clubs and live performance! 128 Sounds for technically wide EBM basses, melodically sawing chaos leads, boombastic drums, shiny pads and strings, as well as inspring polysynth sounds enable you to make the dance-mob shake and stomp .

Use modulation wheel at own risk!
Here is a demosong called "Dark Lights". According to the soundcloud notes, all sounds are created with Waldorf Blofeld including all drums, effects, spheres and modulations.
Dark Lights – Waldorf Blofeld EBM Demo by ARIMUSIK
visit the Shop and get the maximum of power to your next dark synth tune!
http://www.waldorfmusic-shop.de/
About the video:
A few days ago I made this 12 note based sequence track with the Doepfer Dark Time.
I used a 3 oscillator tone of the Waldorf Micro Q (two triangles and one sinus) in a very basic setting (and I think that is the power of a Waldorf because you can do very well basic synth tones as complicated pads for example) and a base tone of the Moog LP. During the track the sounds are tweaked. The solo came from the Korg DS-8, it is a preset with a long echo and with a pitch change in the end of the envelope. It is not one of my best tracks but just a tweak with my setup. Neverthelss enjoy listening.
The vid is made during my trip to my work (yes, on a very quit chrismas holiday day) on a highway round Amsterdam at 06:30 in the morning.
greetings Hans "Skoulaman"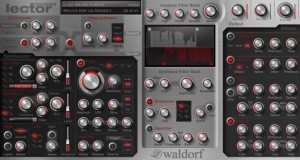 Waldorf has released Lector, a vocoder effect plug-in for Windows and Mac.
Robot voices, whispering strings, talking drum loops, rhythmic pads, the resonant ringing of bells, dripping water – the possibilities are all but infinite. With a quick tweak here and there, the Lector turns any incoming signal into novel sounds and effects.

Tremendously versatile, the Lector puts in your hands a sonic toolset for a wide range of diverse applications. Just about anything goes, from distorting the human voice to adding subtle harmonies to lead vocals and getting creative with movie soundtracks. The analysis filter bank splits the incoming audio signal into as many as 100 frequency bands, the intensity of which modulates the volume levels of an equal number of band-pass filters in the synthesis filter bank. The integrated 16-voice synthesizer or an external source provides the input signal for the synthesis filter bank. This lets you do fun things like apply a melody line or chord sequence to articulate vocals or speech.
Lector features
3 to 100 band Vocoder.
Adjustable range of Analysis Filter Bank.
Adjustable offsets and LFO modulation of Synthesis Filter Bank.
3-band Equalizer with variable mid band.
Individual Compressors for Speech and Carrier signal.
Voiced / Unvoiced Detector.
Overdrive (types Tube, Diode, Clip).
Stereo Chorus / Flanger, 2 to 6 stages.
Stereo Delay, syncronizable.
Reverb.
Sidechain input (VST 3 and Audio Unit).
Carrier plug-in (VST 2).
16-voice Synthesizer (per voice):

Polyphonic, Monophonic or Free-Running.
2 Oscillators, waveforms sine, triangle, sawtooth, pulse with pulse width modulation, sample&hold, noise, single and multi sample playback.
FM.
Ring Modulation.
Portamento / Glissando.
1 Filter, types Lowpass, Bandpass, Highpass, Notch (12dB and 24dB), Whitening.
1 LFO, synchronizable, waveforms sine, triangle, sawtooth, square, sample&hold, noise.
2 AR envelopes.
Lector for Windows and Mac (VST) is available to purchase for 199 EUR.
The new "monster pack" for Waldorf Blofeld is a great collection of classic analog sounds, new samples (mellotron-like samples, piano samples, strings and so on) and experimental sounds.
With this collection you'll be able to play different musical styles, from very ambient and electronic pads to extreme metal leads.
The KS team has developed 64 professional patches, using the best samples from our database and all the S4K experience in lead sculpting, sound textures and keyboard feeling with patches
download
http://www.space4keys.com/new-monster-pack/item/137-monster-pack-v1-waldorf-b…
Would love to spend some time in this dude's studio

A live performance. A 137 space modular synthesizer, Waldorf MicroWaveXT, Dave Smith Prophet 08, Nord Lead 2X, Yamaha TX816, DX7II, and Oberheim Matrix 6.
All synthesizers are controlled either with Numerology 3 Pro or from the modular synth on-board sequencers. Recorded in Cubase 4 from Steinberg.
I played a single line at various times on the DX7II. Everything else is fully automated including a pseudo-random sequence generated by a Catgirl Synth Suboscillator/Harmonic Sequencer module by Ken Stone.
The baseline is the Prophet 08 controlled by a midi output from the synthesizers.com Q172 midi output of a Q960 8 step sequencer pattern.
Background info on the Numerology 3 Pro:
Numerology 3 is a music sequencing and audio plugin environment which uses an innovative approach to electronic music composition based on modular step sequencing. With version 3 Numerology now comes in two flavors: a Standard Edition for anyone that wants an economical step sequencing addition to their studio, and a Pro version with advanced features for users looking to make Numerology a cornerstone of their compositional workflow.  Another major addition is an AudioUnit version of Numerology that allows users of supported hosts to add advanced step sequencing to their DAW-based workflow. The Numerology AU is the first Audio Unit plugin to offer sample-accurate MIDI scheduling and built-in latency control.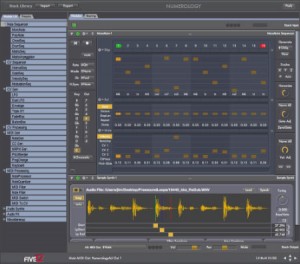 Other highlights of Numerology 3 include new generative sequencing options, a completely revised user interface, a preset playlist, a humanize function, Audio and MIDI recording for every part, and several new and updated modules. These features expand and complement the capabilities provided by Numerology's extensive list of sequencing and signal processing modules. With version 3, Numerology's library of modules now numbers more than 50, not including hosted Audio Units.
The Generate and Evolve features in Numerology 3 allow users to explore new compositional territory by using generative algorithms both to create new patters, and to make transformations to existing patterns. The Generate feature includes 18 algorithms for generating new patterns, and is setup to allow users to easily control the musical context in which the pattern is generated. Evolve goes a step further by allowing users to program specific algorithmic changes to a sequence. These changes can be triggered directly, or setup to automatically repeat for regularized pattern modulation.
Features specific to the Pro version of Numerology include multi-output support for hosted AudioUnits, monophonic audio routing support, OSC support, custom scale quantization, and several new modules specifically oriented for building advanced sequencer setups. Included in that set are gate generator and clock offset modules, a CV To Audio module for driving an analog synthesizer directly from Numerology (with a DC-capable audio interface), and a pair of operator modules supporting a total of 61 functions.
Both the Pro and SE versions of Numerology 3 come with much improved synthesis options for the built-in sample-based SampleSynth and DrumKit modules.  These modules now include a multi-mode filter, 2 AHDSR envelopes, a beat-synchronized LFO and a modulation matrix.  Complementing these additions are a new set of built-in audio effects, including tempo-synchronized delays, multi-mode filtering, and a ring modulator.
Two new features in Numerology 3 greatly expand user options for storing and sharing presets and patterns, the Stack Library and Module Presets. The Stack Library is a new centralized location for storing part-oriented sequencing and synthesis setups. The Numerology 3 download comes with a library of stacks that include a variety of demo tracks, examples and core sequencing templates. In addition, the new module preset function in Numerology 3 allows users to easily store and load settings for any module. This feature is particularly handy for keeping track of sequencer patterns as well as building preset libraries for the SampleSynth and DrumKit modules.