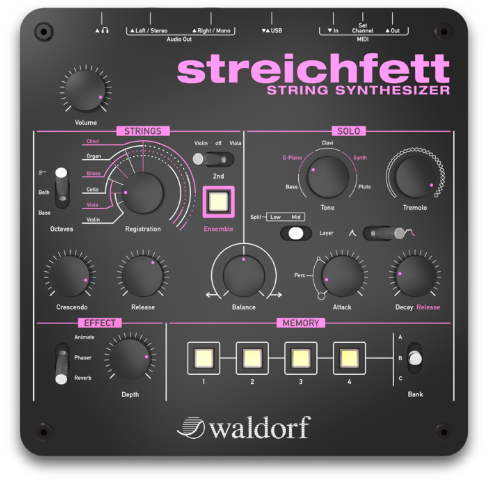 Waldorf will release a new string synth at MusikMesse but already now the full details have been revealed, read below for all the details:
Streichfett combines the best of the now extinct species of String Synthesizers of the 70s and early 80s. Its dual sound engine features a fully polyphonic strings section and a monophonic solo section, which is essential for recreating how adult movies sounded thirty years ago. The Ensemble Effect handles lubrication of the String Section, while the Effects section adds adjustable Phaser or Reverb. Alternatively, the Effect section can be used to animate the strings registration, allowing spectacular sound morphs.
The Solo Section offset presets named Bass, E-Piano or Clavi, and just like in your typical string machine, the sound has little to do with that name. Instead, these are shimmering and slightly percussive sounds that blend well with the string section.
Although the User Interface is simple and easy to comprehend, it controls a rather complex sound engine which is capable to delivers rich and creamy pads unlike any other instrument.
Twelve patches can be stored and selected in the Memory section, USB and MIDI are of course on board.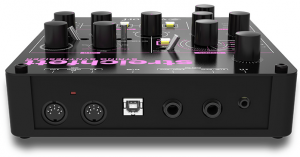 Specifications
Fully polyphonic Strings Section with Violin, Viola, Cello, Brass, Organ and Choir presets
2'nd Layer with Violin/Viola Voicing
Ensemble Effect for String Section
Typical String Envelope Generator with Crescendo and Release
Monophonic Solo Section, offering Bass, E-Piano, Clavi, Synth and Pluto sounds
Dedicated Tremolo for Solo Section
Switchable Envelope generator with variable Sustain setting and Attack/Decay (Release) function
Effect Section with Animate, Phaser or Reverb
Layer or Split for Solo Section
Dedicated balance knob for quick adjustment of layered/split sounds
Fully programmable with 3 x 4 memory locations
Controls
Volume Pot
Strings Section with organic preset select, Crescendo and Release pots
3-state Octave switch (Base/Both/8va)
3-state 2'nd voice switch
Ensemble Effect pushbutton
Solo Section with organic solo sound select pot
Tremolo pot
3 state split switch (splitpoint low/mid/layer)
2 state sustain switch
Balance pot with center detend
Effect Section with 3 state switch (Chorus/Phase/Animate)
Effect Depth pot
3 state switch for memory bank position (A, B, C)
4 pushbuttons for program number (1 to 4)
Full MIDI/USB Control
Connections
Stereo Audio out (Left/Stereo, Right/Mono)
Headphone out
USB MIDI
MIDI in/out"
Frédéric Meslin of Waldorf Music gives us an overview of the Pulse 2. The second part of this video features direct audio in from the Pulse 2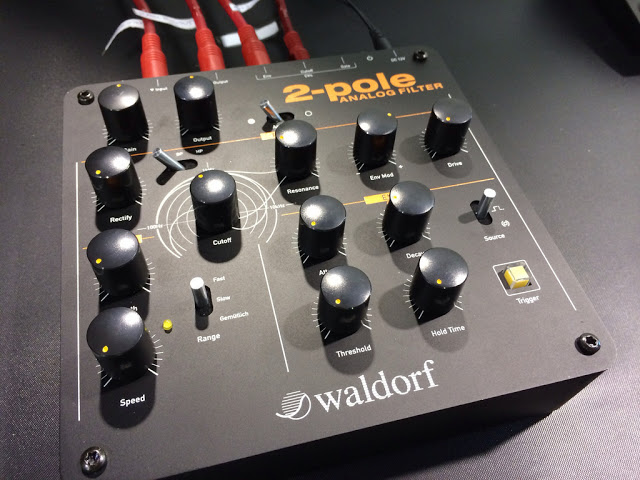 "Waldorf's mystery knob is the filter control from a big filter in a box.
That's right, Waldorf is introducing a 2-pole filter. And one heck of a 2-pole filter it is:
Filter with cutoff and resonance, but also a Drive setting, Rectify, and switchable between low-pass, band-pass, and high-pass
LFO with Depth and Speed
LFO set to Fast, Slow, and (hilariously) Gemütlich (kinda hard to translate, actually easy-going and slower than slow)
Envelope controls: Attack/Decay/Hold, threshold, a source (hard to tell what that does), and trigger.
And it takes CV for envelope, cutoff, and gate, with jack plugs for input and output."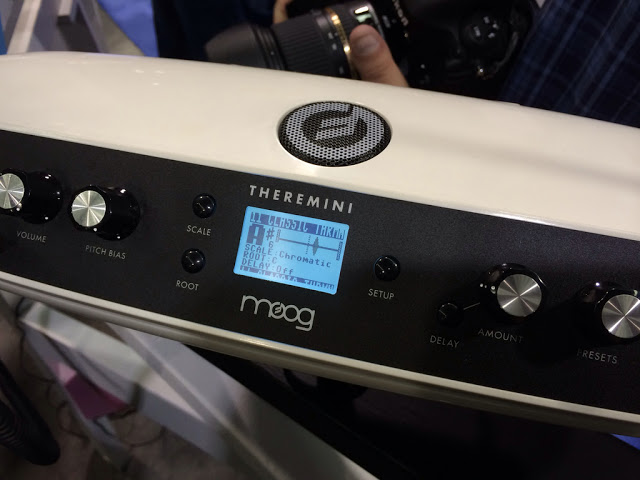 "Then there's Moog, who are introducing, as rumored, a new Theremin. And this isn't just any Theremin: it's a Theremin that can assist you in keeping things in tune, all whilst looking like a space-age egg from Woody Allen's Sleeper.
It's a Theremin with presets. Crazy presets.
It's a digital instrument with Theremin-style controls. (Readers who speculated, you guessed right.) It'll upset purists, perhaps, but this is rather cool: it's based on the unique-sounding Animoog sound engine.
The synth is digital, but the input is analog: classic heterodyning style, then digitized as control signal for the engine. Onboard MIDI, CV output (presumably pre-digitization, in fact), and USB. But that engine gives you more different ways to play.
Yes, there's a display, scale and root controls, a Presets knob, plus built-in delay. There's a built-in speaker and headphone jack, as well, for convenience.
Price: US$299 estimated is what we heard on the floor…"
Product descriptions from our colleagues at CDM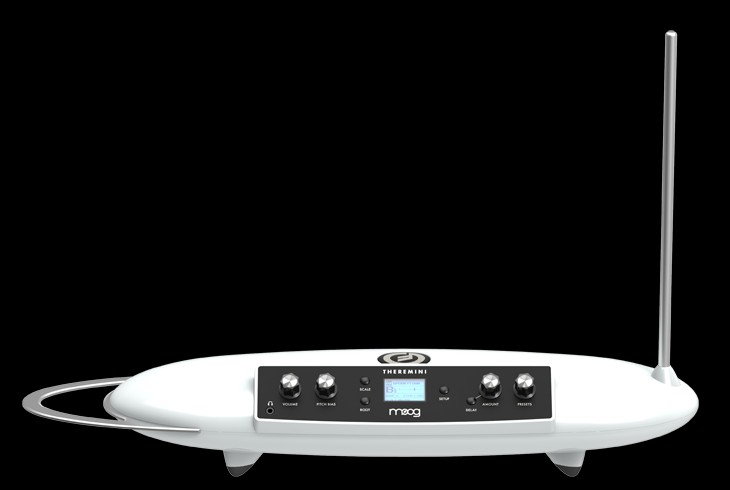 "The Theremini is a re-imagination of one of the oldest electronic musical instrument in history, and Bob Moog's first love – the theremin. Its design fuses the experience of performing with an instrument you don't actually touch, with a powerful sound engine derived from Moog's award winning synthesizer, Animoog. The Theremini guarantees immediate success to any player at any skill level, while providing new ways to experiment with music, education, and gestural control.
Assistive pitch correction allows each player to adjust the instruments level of playing difficulty. At the maximum position, the Theremini will play every note in a selected scale perfectly, making it impossible to play a wrong note. As this control is decreased, more expressive control of pitch becomes possible. When set to minimum, the Theremini will perform as a traditional theremin with analog heterodyning oscillator and absolutely no pitch assistance.
A built in tuner supplies real-time visual feedback of each note as it is played, as well as its proximity to perfection. This is useful for correcting a users playing position, or to educate younger players about pitch and scales.
The presets section allows you to select from 32 wave or wavetable-based patches, store a selected scale & root note, set and recall a specified playing range, and specify per-patch settings for the included stereo delay.
Recessed in the top of the Theremini is a compact speaker perfect for private rehearsal and quick setup anywhere. Silent rehearsal is also possible via front panel headphone jack. Simply plug in ear-buds or headphones and the built in speaker becomes silent.
For live performance and gestural control, the rear panel features two line level audio outputs, a pitch CV output with selectable range, and a mini USB jack for MIDI I/O and connectivity.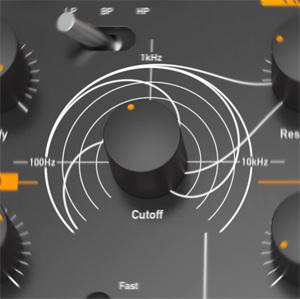 Waldorf posted this message yesterday:
"NAMM Show 2014, Here We Come! Cut-offWe just embarked on the bus from Waldorf to Anaheim, and we packed some exciting new products! If you are curious or just want to say hello, we would be happy to meet you on our booth #6009."
Note the Cutoff knob.  That's not the Pulse 2 or the Rocket.
This three oscillator analog with 8 voice paraphonic operation, has slipped under the radar a little with some of the other big monosynth releases this year. I think it deserves a closer inspection.
Waldorf Pulse 2, Analog Monophonic Desktop Synthesizer, 3 analog oscillators + 1 noise generator, Pulse width modulation, Hard thomann sync, 24dB/12db Lowpass, 12db Highpass/Bandpass filter modes, Arpeggiator, 8-slot Modulation Matrix, Connections: USB, MIDI, External analog signal input, Stereo line out, Headphone out, 128×64 character backlit LCD, Backwards compatible with classic Pulse, 8 stainless steel knobs, 500 Sound Programs
Contribution from 'MrSynthmania', the source of inspiration is not difficult to figure out, details below:
This is my new song "Computermusik". The most parts are made with the Waldorf Pulse 2 Synthesizer and for the drums I used Arturia SparkLE.
It´s a multitrack recording with Steinberg Cubase 7.
A few weeks ago, after listening the first time to the new Waldorf Pulse 2, I found some presets which reminds me the first time dancing in a disco with 15 years. Do you remember Human League, Depeche Mode and Ultravox? This was all happening in the early eighties. I love that sound, which represents an era where many musicians made music with synthesizers and computers the first time.
This song is based on this decade. I hope you like it.
Waldorf Microwave XT synth demo — playing a relaxing, dreamy ambient electronica music soundscape on Microwave XT wavetable synth from Waldorf. HEADPHONES HIGHLY RECOMMENDED!

This relaxing ambient chill-out / new age synthesizer music was created using 2 wavetables, arpeggiator, delay, filter/envelope adjustments, LFO modulations, and more.
Performed LIVE, no external processing! Everything you hear is from the Waldorf MicroWave XT (10 voice) digital wavetable synthesizer!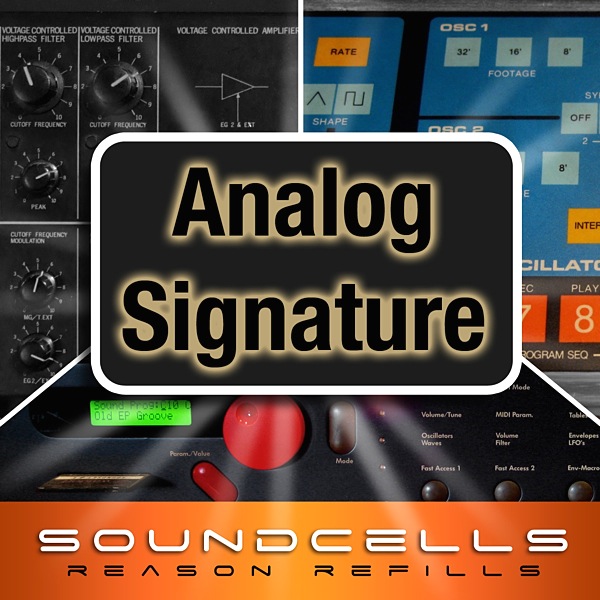 With version 4 of Analog Signature a new member is added to the family: the ROLAND Jupiter 6!
Moog Source, Korg MS20, the Waldorf Microwave 1, the Waldorf Pulse 1, and – from version 4 onwards – the Roland Jupiter 6 have been accurately sampled in such a way that their charming inaccuracies are still there in this perfect Reason environment in which Soundcells took their chance to add polyphony and velocity. A good balance of retro 1970′ s and 80′ s analog / digital sounds with modern programming makes this ReFill versatile for current styles of music as well as retro …
Analog Signature v4 Contents:
• 540 combinator patches.
• 276 NNXT patches containing the basic patches which were used to build the combinators.
• 1792 samples, 44 khz / 24bit.
• Samples coming from five classic synthesizer.
• 10 demo tracks in Reason format included.
The Klark-Teknik DN27A 1/3rd octave graphic equaliser is the successor of the widely acclaimed DN27. It is a totally professional unit which combines the ease of use and reliability of its predecessor with many new features and improvements, to give uncompromising performance and maximum possible flexibility.
Considerable experience in the field of equalization coupled with a philosophy of continual research and development, has enabled the realisation of a product which meets the design criterion; simply the best.
Use of the highest quality materials and components is maintained throughout: Precision, ground air-gap ferrite cores and custom-wound coils are combined to produce the inductors required in each filter; the faders are oil-damped for smooth, positive operation.
The construction is completely dependable and robust, every unit being thoroughly tested both electronically and subjectively before leaving the factory.
More vintage flavors:
Waldorf Pulse 2 +++ Vintage Treats +++ Klark-Teknik DN27 +++ Urei Model 537
Enjoy