BRANDNEW WALDORF PULSE 2
1st Encounter Session Outtake
ARPEGGIO
Pulse 2 Analog Synthesizer is proof positive that good things can come to those who wait. For ever since this high-quality synthesizer developer discontinued its original rack-mountable Pulse and Pulse+ programmable analogue monosynths boasting ballsy bass tones and legendary leads beyond compare, those Nineties electronic music dominating sounds have been severely sought-after by those in the know. Which was exactly what drove us into development overdrive to produce an all-new Pulse fit for the 21st Century.
As an all-new, all-analogue synthesizer design, Pulse 2 flawlessly delivers exactly what synth connoisseurs around the world have been truly craving for quite some time — three analogue oscillators living in perfect harmony with a VCF (VoltageControlled Filter), yet we did not stop there: the fresh filter circuits in the Pulse 2 now offer 12dB Highpass and Bandpass modes in addition to 24dB/12dB Lowpass for strengthened sound-sculpting flexibility, while we added analogue Filter FM, two Overdrive circuits, and Ring Modulation from OSC 3, together with Paraphonic and Unison modes allowing up to eight-voice chords — a fantastic feature found on our recently-released Rocket Synthesizer.
Analog Monophonic Synthesizer
3 analog oscillators + 1 noise generator
Pulse width modulation
Hard sync
Filter FM from Oscillator 3
Ring Modulation from Oscillator 3
XOR Osc Mode
8/4 Voice Paraphonic modes
Cascade Filter
24dB/12db Lowpass, 12db Highpass/Bandpass filter modes
Powerful Arpeggiator
8-slot Modulation Matrix
USB
MIDI
External analog signal input
Stereo line out
Headphone out
Backwards compatible with classic Pulse
128×64 character backlit LCD
8 stainless steel knobs
500 Sound Programs
Electron-absorbing black case
Waldorf Microwave XT synthesizer demo — playing a dreamy ambient electronica music soundscape on Microwave XT wavetable synth from Waldorf. Headphones recommended!
This ambient synth demo was created using 2 wavetables, delay, tremolo, filter/envelope adjustments and more.
Performed live, no external processing. Excerpt from a longer session.
Nave Essentials – with over 160 patches for Waldorf Nave.
All sounds played with the iPad 3 running Waldorf Nave and the sound set "Nave Essentials". Used Drum loops = demo content of Easy Sounds.
More infos: www.app-sound.com
Drums: LXR, all the rest: Waldorf Pulse II
i tried to use some unusual sounds for a monophon analog synth, like Sax, Piano, Bells, String-Pad, Brass (all paraphonic)…
This is an in-your-face review of the Oberheim Drumulator Audio Synthesizer (Waldorf Micro Q + Novation X-Station 25).
This was the first Gluten Free iPad Synthesizer App from 1977.
All sounds are from the new Waldorf Pulse 2, except the Kick and the HiHats.
This is the new star of analog monophonic synthesizers…the brandnew WALDORF PULSE 2.
An amazing sounding mashine with tons of good features. More than 16 modulationslots are available, 3 real analog oscillators for a rich sound, an analog multimodefilter and a very easy userinterface and 500! presets. It allows you to syncronize an older synthesizer like the Roland SH 101 or older Moog Synthesizer with its built in CV/Gate Interface via Midi. Very nice feature. And you can play with paraphonic modes up to eight voice chords.
The Waldorf Pulse is built like a tank, it´s Made in Germany.
Enough words now…just listen to the raw sound without any effects on it. Have fun and if you like it…buy one.
http://www.waldorf-music.info/en/prod…
Background video info below:
I got a brand new Rocket today, so… here goes!
Bass: Waldorf Rocket
Drums: Vermona DRM1, Acidlab Miami, MPC
Strings: Korg Wavestation SR
Pluck: Casio CZ3000
FX: Roland Alpha Juno 2
Vocoder: MAM VF-11
Vocoder Synth: DSI Tetra
Sequencer: Cirklon
I'm switching the Rocket between chord and mono modes over MIDI. To play chords, set the oscillator wave to sawtooth (CC #31 = 0), and the osc tune&shape knobs to max (CC #70 & #79 = 127). I'm also setting the mod wheel for some chord vibrato.
To us Nave is known for massive spaced out sounds but Nave can also make cool bass sounds.We like the underneath buzz you can add to an analog flavored bass sounds.
Waldorf Zarenbourg is a pretty, chunky, digital piano. It has a certain amount of internal sounds (physically modeled, sampled and fm synthesized). On this video, a quick run on the internal preset. Audio out goes straight into digital recorder.
Another quick run on the internal presets (Tine, Bars, Reeds, Clavi, CP Piano, FM Piano, Grand Piano…) contained into Waldorf Zarenbourg digital piano. Audio goes straight into digital recorder.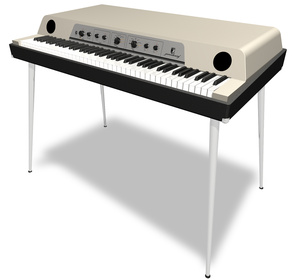 When Waldorf introduced the Zarenbourg in 2006, this piano was one of a very small minority. It had dawned on us that few contemporary instruments offered electric pianists and keyboardists that elusive quality called soul. Reduced to the essentials, this rare breed of instrument does one thing so well that it grows on the player, becoming an extension of body and mind. It has that magical touch of purism that all-in-one devices lack. So we aimed high, achieving a sound nothing short of sublime. And we conjured a look that blends the hallmarks of classic designs with a more contemporary clean and cool vibe.
Handling is intuitive, not inquisitive. No more fussing with cords for this and that; simply power up, play, and possess instantly satisfying sound for player and audience alike. Its aluminum hood offers a sturdy perch for your other favorite instrument, and its integrated speaker system can render the piggybacked device's signal. Let your laptop roost on this tower of power, and you can control plug-ins via USB and monitor the results via the Zarenbourg's audio input.