This three oscillator analog with 8 voice paraphonic operation, has slipped under the radar a little with some of the other big monosynth releases this year. I think it deserves a closer inspection.
Waldorf Pulse 2, Analog Monophonic Desktop Synthesizer, 3 analog oscillators + 1 noise generator, Pulse width modulation, Hard thomann sync, 24dB/12db Lowpass, 12db Highpass/Bandpass filter modes, Arpeggiator, 8-slot Modulation Matrix, Connections: USB, MIDI, External analog signal input, Stereo line out, Headphone out, 128×64 character backlit LCD, Backwards compatible with classic Pulse, 8 stainless steel knobs, 500 Sound Programs
Contribution from 'MrSynthmania', the source of inspiration is not difficult to figure out, details below:
This is my new song "Computermusik". The most parts are made with the Waldorf Pulse 2 Synthesizer and for the drums I used Arturia SparkLE.
It´s a multitrack recording with Steinberg Cubase 7.
A few weeks ago, after listening the first time to the new Waldorf Pulse 2, I found some presets which reminds me the first time dancing in a disco with 15 years. Do you remember Human League, Depeche Mode and Ultravox? This was all happening in the early eighties. I love that sound, which represents an era where many musicians made music with synthesizers and computers the first time.
This song is based on this decade. I hope you like it.
Waldorf Microwave XT synth demo — playing a relaxing, dreamy ambient electronica music soundscape on Microwave XT wavetable synth from Waldorf. HEADPHONES HIGHLY RECOMMENDED!

This relaxing ambient chill-out / new age synthesizer music was created using 2 wavetables, arpeggiator, delay, filter/envelope adjustments, LFO modulations, and more.
Performed LIVE, no external processing! Everything you hear is from the Waldorf MicroWave XT (10 voice) digital wavetable synthesizer!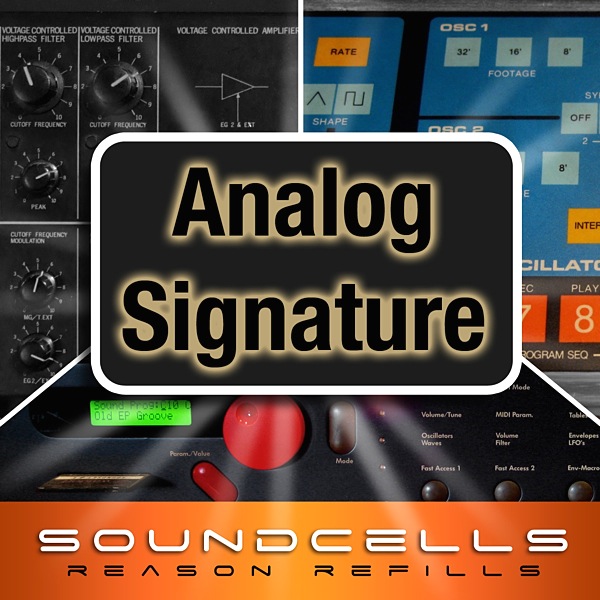 With version 4 of Analog Signature a new member is added to the family: the ROLAND Jupiter 6!
Moog Source, Korg MS20, the Waldorf Microwave 1, the Waldorf Pulse 1, and – from version 4 onwards – the Roland Jupiter 6 have been accurately sampled in such a way that their charming inaccuracies are still there in this perfect Reason environment in which Soundcells took their chance to add polyphony and velocity. A good balance of retro 1970′ s and 80′ s analog / digital sounds with modern programming makes this ReFill versatile for current styles of music as well as retro …
Analog Signature v4 Contents:
• 540 combinator patches.
• 276 NNXT patches containing the basic patches which were used to build the combinators.
• 1792 samples, 44 khz / 24bit.
• Samples coming from five classic synthesizer.
• 10 demo tracks in Reason format included.
The Klark-Teknik DN27A 1/3rd octave graphic equaliser is the successor of the widely acclaimed DN27. It is a totally professional unit which combines the ease of use and reliability of its predecessor with many new features and improvements, to give uncompromising performance and maximum possible flexibility.
Considerable experience in the field of equalization coupled with a philosophy of continual research and development, has enabled the realisation of a product which meets the design criterion; simply the best.
Use of the highest quality materials and components is maintained throughout: Precision, ground air-gap ferrite cores and custom-wound coils are combined to produce the inductors required in each filter; the faders are oil-damped for smooth, positive operation.
The construction is completely dependable and robust, every unit being thoroughly tested both electronically and subjectively before leaving the factory.
More vintage flavors:
Waldorf Pulse 2 +++ Vintage Treats +++ Klark-Teknik DN27 +++ Urei Model 537
Enjoy
BRANDNEW WALDORF PULSE 2
1st Encounter Session Outtake
ARPEGGIO
Pulse 2 Analog Synthesizer is proof positive that good things can come to those who wait. For ever since this high-quality synthesizer developer discontinued its original rack-mountable Pulse and Pulse+ programmable analogue monosynths boasting ballsy bass tones and legendary leads beyond compare, those Nineties electronic music dominating sounds have been severely sought-after by those in the know. Which was exactly what drove us into development overdrive to produce an all-new Pulse fit for the 21st Century.
As an all-new, all-analogue synthesizer design, Pulse 2 flawlessly delivers exactly what synth connoisseurs around the world have been truly craving for quite some time — three analogue oscillators living in perfect harmony with a VCF (VoltageControlled Filter), yet we did not stop there: the fresh filter circuits in the Pulse 2 now offer 12dB Highpass and Bandpass modes in addition to 24dB/12dB Lowpass for strengthened sound-sculpting flexibility, while we added analogue Filter FM, two Overdrive circuits, and Ring Modulation from OSC 3, together with Paraphonic and Unison modes allowing up to eight-voice chords — a fantastic feature found on our recently-released Rocket Synthesizer.
Analog Monophonic Synthesizer
3 analog oscillators + 1 noise generator
Pulse width modulation
Hard sync
Filter FM from Oscillator 3
Ring Modulation from Oscillator 3
XOR Osc Mode
8/4 Voice Paraphonic modes
Cascade Filter
24dB/12db Lowpass, 12db Highpass/Bandpass filter modes
Powerful Arpeggiator
8-slot Modulation Matrix
USB
MIDI
External analog signal input
Stereo line out
Headphone out
Backwards compatible with classic Pulse
128×64 character backlit LCD
8 stainless steel knobs
500 Sound Programs
Electron-absorbing black case
Waldorf Microwave XT synthesizer demo — playing a dreamy ambient electronica music soundscape on Microwave XT wavetable synth from Waldorf. Headphones recommended!
This ambient synth demo was created using 2 wavetables, delay, tremolo, filter/envelope adjustments and more.
Performed live, no external processing. Excerpt from a longer session.
Nave Essentials – with over 160 patches for Waldorf Nave.
All sounds played with the iPad 3 running Waldorf Nave and the sound set "Nave Essentials". Used Drum loops = demo content of Easy Sounds.
More infos: www.app-sound.com
Drums: LXR, all the rest: Waldorf Pulse II
i tried to use some unusual sounds for a monophon analog synth, like Sax, Piano, Bells, String-Pad, Brass (all paraphonic)…