Pure Nave sounds, no external FX, no external processing!
All sound examples were directly recorded in Nave´s 4 track recorder.
As far as we know the Nave synth will be released today on the app store
Khantipol Kasemsant explores the Rocket from Waldorf:
My first day with Waldorf Rocket
with Elektron Octatrack for Drums, Midi Sequencer and Effects
Only 4 bars of midi sequence was used for the Rocket.
OP-1 and Analog Four were not used in this video.
Live session in Arjen Schat's living room with Elektron Analog Four, Moog Slim Phatty + CP-251 and Waldorf Blofeld.
Elektron Analog Four and Octatrack
Saw & Pulse wave from Rocket Waldorf; different PW, hard sync, harmonization, hypersaw behavior. The filter is Lo-Band-Hi resonante, with a prefilter Boost stage.
A short run on Waldorf Rocket arpeggiator patterns. A lot of interesting combinations and permutations. Arpeggiator can be put under external MIDI Clock.
A short demotrack made with the Waldorf Rocket synthesizer.
All sounds from the Rocket. Delay, reverb, compression from Cubase 5.
Thanks to Depeche Mode.
A quick demo of Nave – the new iOS synth from Waldorf in cooperation with Tempo Rubato
According to the developer we will most likely see it in the Appstore in the next few weeks or so, it is still in BETA mode
Steelberry Clones @ MusikMesse 2013
Cutting edge and powerful lows in one compact box  (available spring 2013)
Sometimes they do come back, and this time, it's with even more brute-strength power onboard. You are looking at a completely analog synthesizer that accurately delivers what synthesizer enthusiasts around the world truly crave. Pulse 2 is the reincarnation of it's legendary ancestor, the Waldorf Pulse, that dominated the electronic music of the 90s.
Three analog oscillators in combination with a true analog cascading filter is what Pulse and Pulse 2 have in common. But we didn't stop there. The filter circuits now also offer Highpass and Bandpass modes. We added analog Filter FM and Ring Modulation along with paraphonic modes that allow up to eight voice chords.
Like the Blofeld Synthesizer, the Pulse 2 is housed in a sturdy metal desktop case. Besides its large LCD display, 8 stainless steel knobs are available to surf through its clearly arrayed parameter matrix, set master volume and edit display accessible parameters.
Background video description in German:
Der Waldorf Pulse ist Kult. Kaum ein anderer Synthesizer hat so einen fetten Bass.
Waldorf verspricht das auch der Nachfolger mithalten kann. Natürlich hat Waldorf dem Synthesizer auch ein paar neue Features spendiert.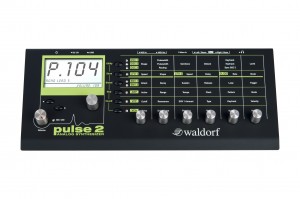 Background video description:
Yesterday was E-day, always inspiring, you met people who are also involved in E-music which genarate new ideas.
This one pops up, just a combinated single 8 step and 4 step row off the Doepfer Dark Time. The 4 step row controls the Moog LP bass and the 8 step the Waldorf micro Q and at 2:36 the Roland Juno 106.
Additional sounds/solo's came from the Korg DS 8/Lamda, Realistic Concertmate MG-1 and the Kawai K1r.
Used delay's for the Moog two from the Yamaha E1005 and the Ibanez DM1000, for Waldorf the Alesis Midiverb (3 triplets) and the Ibanez DM1000.
For the Juno I use the Electrix. Mo-fx.
Halfway there are some variations in tone / octave settings (Berlin School style).
I hope your enjoy, and feel free to leave a comment/question
Use a good audio device to listen to it.
greetings Hans
"Skoulaman"
Background video description:
Following the feature rundown I am now giving you a sound demo of the Waldorf Rocket with some commentary on how I produced the sounds. The signal path is synthesizer going directly into the audio interface with the exception of lead sounds where I use Boss Space Echo (the modern emulated version) for delay.
"In the first part of my Waldorf Rocket review I am doing a quick rundown of the features of the synthesizer. Mind that I am not trying to create beautiful sounds and the audio setup is rather amateurish – this video is just features presentation for those of you who are too lazy to download and read the manual
I will do a proper sound demo in about two days. While I know quite a bit about synthesizers this is my first youtube video, so I apologize for any technical shortcomings."