Background video info below:
I got a brand new Rocket today, so… here goes!
Bass: Waldorf Rocket
Drums: Vermona DRM1, Acidlab Miami, MPC
Strings: Korg Wavestation SR
Pluck: Casio CZ3000
FX: Roland Alpha Juno 2
Vocoder: MAM VF-11
Vocoder Synth: DSI Tetra
Sequencer: Cirklon
I'm switching the Rocket between chord and mono modes over MIDI. To play chords, set the oscillator wave to sawtooth (CC #31 = 0), and the osc tune&shape knobs to max (CC #70 & #79 = 127). I'm also setting the mod wheel for some chord vibrato.
To us Nave is known for massive spaced out sounds but Nave can also make cool bass sounds.We like the underneath buzz you can add to an analog flavored bass sounds.
Waldorf Zarenbourg is a pretty, chunky, digital piano. It has a certain amount of internal sounds (physically modeled, sampled and fm synthesized). On this video, a quick run on the internal preset. Audio out goes straight into digital recorder.
Another quick run on the internal presets (Tine, Bars, Reeds, Clavi, CP Piano, FM Piano, Grand Piano…) contained into Waldorf Zarenbourg digital piano. Audio goes straight into digital recorder.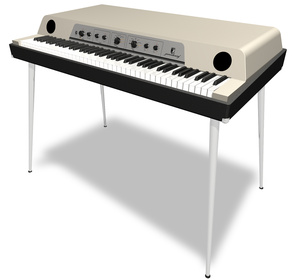 When Waldorf introduced the Zarenbourg in 2006, this piano was one of a very small minority. It had dawned on us that few contemporary instruments offered electric pianists and keyboardists that elusive quality called soul. Reduced to the essentials, this rare breed of instrument does one thing so well that it grows on the player, becoming an extension of body and mind. It has that magical touch of purism that all-in-one devices lack. So we aimed high, achieving a sound nothing short of sublime. And we conjured a look that blends the hallmarks of classic designs with a more contemporary clean and cool vibe.
Handling is intuitive, not inquisitive. No more fussing with cords for this and that; simply power up, play, and possess instantly satisfying sound for player and audience alike. Its aluminum hood offers a sturdy perch for your other favorite instrument, and its integrated speaker system can render the piggybacked device's signal. Let your laptop roost on this tower of power, and you can control plug-ins via USB and monitor the results via the Zarenbourg's audio input.
A short track made with the MV-8800 and Waldorf Rocket. This is rather fun than serious. Rocket test coming soon
Vocals recorded by Piotr Kardas.
Enjoy,
Hunart©
Waldorf Nave has a 4 track tape recorder in which you can cut,copy,trim,move,and stretch for precise editing as well as snapping the audio file into the ruler grid for easy editing and looping.
In this tutorial Ryan Hemeon shows how you can sample any iOS app using Audiobus to record into Audioshare and open it directly into Nave to start a new patch. He also shows a little bit about setting up your own patch and saving it.
"This is a really cool way to make patches, kind of turning Nave into a "Super Sampler". I hope this is helpful! "
Please visit www.iosmars.com for more info!
Khantipol Kasemsant has shared this video from his studio, details below:
Curious (with Analog Four, Waldorf Rocket, NI Maschine)
The Octatrack was used as an effect processor for Waldorf Rocket.
Midi was sequenced with Ableton Live 9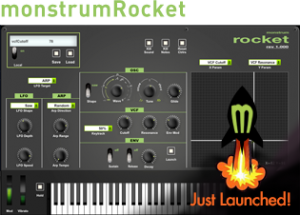 Monstrum Media has released MonstrumRocket – a software editor that gives you access to every controllable parameter on the Waldor Rocket synthesizer.
In addition to all the parameters you have access to on the actual Rocket, this editor also gives you a hold button, Vibrato Modulator, Local on/off, reset all, all notes off, MIDI panic as well as an x/y surface to modulate two parameters at once.
An added feature to this editor gives you the ability to store and load programs to and from your computer's hard drive.
Note: Waldorf omitted any ability to control the "filter type" or "Boost" mode through MIDI. Waldorf's very own ipad application for the rocket also has no way of controlling these two parameters simply because as it is now with the rocket's OS there is no CC or SysEx assigned to those parameters.
MonstrumRocket is available now for US $9.99.
Waldorf Nave – Live Loop with Elektron Octatrack
All synth sound came from Waldorf Nave on the iPad.
Minibrute was used as a controller only.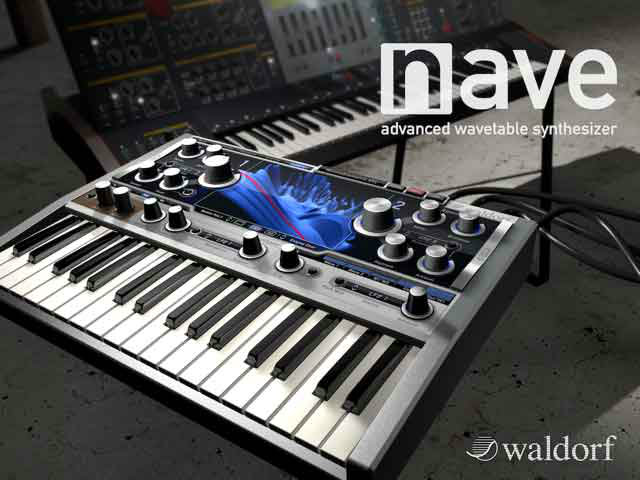 Waldorf have now announced availability of Nave, its first synthesizer app for Apple's  iPad. Waldorf says that, jointly created by Stefan Stenzel (audio algorithms), Rolf Wöhrmann (iOS development), and Axel Hartmann (graphic design).
This tutorial shows how to program a wavetable sound within a short amount of time.
It comes complete with over 500 presets from highly acclaimed sound designers like Richard Devine, Sacha Dikiciyan (of Sonic Mayhem fame), Laurence Rapaccioli (Arksun), David Boldini (7 Skies), and Fletcher Kaufman (Sunsine Audio), amongst many others. Waldorf tells us that all seriously showcase the depth and diversity of this synthesizer — so much so, in fact, that Richard Devine was suitably moved to create no fewer than 95 presets alone, all of which are included for free. Here's more details in Waldorf's own words…
For the benefit of those who want to indulge in some serious sound design of their own making, Nave does not disappoint. Its powerful sound engine includes two trailblazing wavetable-based oscillators, leaving all previous attempts at wavetable synthesis severely wanting. While the sound spectrum can cleverly be transposed independently of pitch, the waves can be rendered from perfectly periodic to very noisy and anywhere in between.
Nave's clear-cut GUI invites both beginners and advanced users alike to experiment both sonically and musically while the hosting iPad's generous display helps make wavetable creation and editing a blast! Besides integrated speech synthesis, wavetables can also be formed from analysing audio files. Furthermore, stretching, rotating, and shifting in the spectral domain allows wavetables to be refined or distorted in the fullscreen Wavetable Edit Mode. Here users can edit and fine-tune the wavetables using several 3D views that are as easy on the eye as they are to use. And in a reverential nod to Waldorf's illustrious past and present, factory wavetables from the breakthrough Microwave, mighty Wave, and price barrier-breaking Blofeld synthesizers are all present and accounted for, complemented by an abundance of tasty new ones that make extensive use of those enhanced possibilities!
And if that's not enough to get your creative juices flowing then Nave additionally includes a classic oscillator with an ultra useful selection of basic waveforms, plus a super-fat-sounding Überwave function for beefing up sounds by up to eight individually detuned oscillators a la Waldorf's recently released Rocket synthesizer. Nave is, indeed, truly a sound designer's dream machine!
But, Waldorf being Waldorf, that's not all: Nave's flexible Filter section delivers that high-quality synthesizer sound recognisable right away by anyone at all familiar with Waldorf's noteworthy name, and, as such, features LP (low-pass), BP (band-pass), and HP (high-pass) filter types with either 12 dB or 24 dB slope settings. Its neighbouring Drive section offers contrasting characteristics by being positioned Pre Filter or Post Filter or as a summing overdrive Pre EQ or Post EQ — perfect for those who prefer harsh and screaming sounds rather than delicate wavetable sweeps.
An extended modulation matrix and diverse realtime control functionality also awaits anyone wishing to animate any Nave sound in any desired direction. In addition to the classic virtual chromatic keyboard, Nave can be played with the Blades that allow for dynamic triggering of polyphonic modulation by simply sliding fingers in X and/or Y direction.
Yet more flexible fun is to be had on the FX & Arp page with pro-quality ModFX (Phaser, Flanger, Chorus), Delay, Reverb, parametric Equalizer, and a highly effective Compressor all adding to Nave's sound and performance possibilities, as does a full-featured Arpeggiator. And last, but by no means least, the Tape & System page plays hosts to an old school, four-track recorder — replete with virtual tape spools. Use it to record complete compositions or simply sketch some musical ideas inspired by the superlative sounds of Nave!
So how does Nave naturally sound, then? Totally in a class by itself. Just like Waldorf! After all, the well-known Waldorf name has been synonymous with high-quality synthesizers for nigh on 25 years; indeed, its innovative position in the musical instrument marketplace dates back to 1989 with the release of the wavetable-based Microwave, an extraordinary reincarnation of the legendary PPG Wave series — arguably amongst the most coveted high-end synthesizers of the early Eighties. Time and technology stand still for no one, of course, and today Nave takes those heady heavyweight hardware developments of yesteryear — and a whole lot more besides — and serves them up to thankful iPad-adoptees at a fraction of the cost of its forebears.
Any adventurous musical iPad owners out there intrigued by the creative possibilities of wavetable synthesis surely owe it to themselves to check out Nave, the advanced wavetable synthesizer from Waldorf. Going for a song on Apple's App Store, right here, right now!
Pricing and Availability:
iPad owners can purchase Nave directly from Apple's App Store for a five-day special introductory price of €10.99 EUR/$11.99 USD. (Thereafter it will rise to €17.99 EUR/$19.99 USD.)