A project for KKout let London.
Using normal am radios to a Theremin
Original development by Tomoya Yamamoto (Yamamoto Super Theremin)
Additional Development by Yuri Suzuki
A short clip by Yuri Suzuki
Music : Swan by Saint-Saëns
This week playing an improvisation together with Marius Leicht. Check out another improvisation we played on Marius' channel:https://youtu.be/w4LMArnQV3E
Using the following instruments:
Moog Prodigy (1980) with
Roland Space Echo (produced 1973-1988)
Sequential Circuits Prophet 5 Rev 3.3 (1982) with
Strymon Timeline (2014) dTape Maschine and
Moog MP-201 pedal controlling the filter cutoff frequency
Moog Etherwave Pro theremin (2006) with
Boss Digital Delay DD-7, Harmonist PS-6 and Loop Station RC-50
—
To take part in this video project, comment or send me your suggestions for an improvisation. This can be:
a) a word or sentence
b) a photo, a drawing/sketch or painting of yours
c) a recording of you playing your instrument
d) a video of you playing your instrument
I choose one suggestions every week to play an improvisation in the end of the video.
Looking forward to your ideas!
—
Previous Video "Kate Bush – Babooshka (Cover)": https://youtu.be/raM8Lp0aGCk
Marius' channel: https://youtube.com/mariusleicht
WEBSITE: http://carolinaeyck.com
FACEBOOK: https://facebook.com/carolinaeyck
TWITTER: https://twitter.com/CarolinaEyck
INSTAGRAM: https://instagram.com/carolinaeyck
Audio:
Using Moog Etherwave Theremin
Moogerfooger FreqBox (classic)
Moog LittlePhatty II
Moog iPad Software App (there's only one on iPad/iphone respectively Buy one today
Rogue Chorus Guitar Pedal
Rogue Analogue Delay Guitar Pedal
(Secret Weapon) Digital Delay by Hotone called EKO
Video:
iPhone 5 app called 8mm captured the really cool imagery and upon processing the video for editing using Avid Media Composer the jumpy effect and strange 16×9 conversion occurred.
GoPro Hero 4 Black for the top view (not in 4k)
T2i by canon DSLR type cameras for the side view
A  brief  history of the theremin, Leon Theremin, Bob Moog, a quick teardown and brief explanation on how they work. plus some bloopers at the end.
Interesting Links
Thomas Grillo. does online theremin tuition and also sells a DVD on how to play theremins. his youtube channel ishttps://www.youtube.com/user/ThomasGr…
Peter Pringle & the RCA talking machine https://www.youtube.com/watch?v=a2cQ7…
Dorit Chrysler with the Polyphonic Theremin (released on April 1st )
https://www.youtube.com/watch?v=stobf…
Thereminist Lydia Kavina, first taught by Léon Theremin himself, gives us great tips and tricks for playing the wonderful new Moog Theremini. If you're just getting started with the Theremini, make sure to check it out! Want more info? See below!
The Moog Theremini is an affordable modern re-imagination of the classic Theremin, which anyone can learn to play – it has:
• User friendly pitch assist correction with selectable scales and root note, so you can't play a wrong note! You can also turn this off for classical theremin glissando sounds, or just dial it back for partial correction as you improve your technique.
• 32 different sounds on-board, covering a range of basses, lead sounds, classical theremin tones and much more.
• Adjustable stereo ping-pong delay built right in, for wonderful ethereal sounds right out of the box!
• Built in tuner gives live visual feedback of currently playing note, showing how close you are to hitting the note to help learn pitch and scales.
• Built in speaker for instant playback anywhere.
• Headphone output (which mutes the speaker) for practising!
• Stereo 1/4″ audio outputs to connect Theremini to audio interfaces, looping pedals, stereo systems, multitrack recorders or anything you like!
• Single Pitch CV output w/ selectable range, so you can connect it to analogue synthesizers and use the Theremini as a wild CV modulation source.
• 21 user selectable scales and user-adjustable root note selection (including chromatic)
• User selectable note range: choose the highest note and lowest note (stored per preset), so it can be set up as you prefer
• Removable pitch antenna – built in storage compartment on bottom-side for easy storage and transportation (carry bag sold separately)
• Built in 3/8" Mic stand and Camera stand adaptor.
• High quality rubberised feet so it can be placed on a table.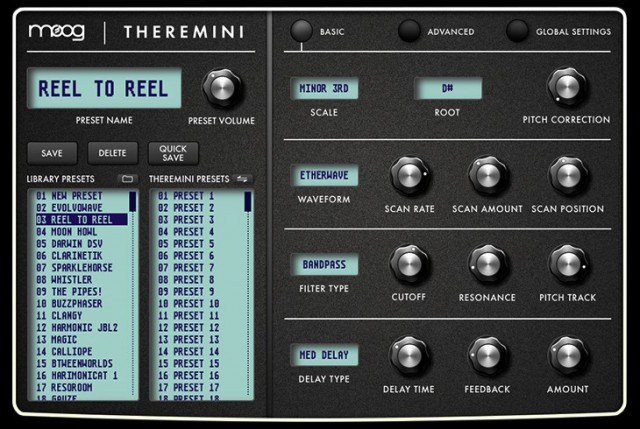 At the 2014 NAMM Show, Moog introduced the Theremini – a new take on the theremin that offers traditional analog control, combined with an advanced synthesis engine. Now they have added an editor for it, details below:
Unlock your Theremini's previously unseen world of sonic features with The Moog Theremini Advanced Software Editor. This editor puts the power of sound design in your hands by allowing you to access new layers of the Theremini's synthesis engine. Easily craft new and exciting sounds for your Moog Theremini, re-sculpt existing presets, and share your sonic creations with others. The Moog Theremini Advanced Software Editor also includes an exclusive library of new presets to kick-start your creative process.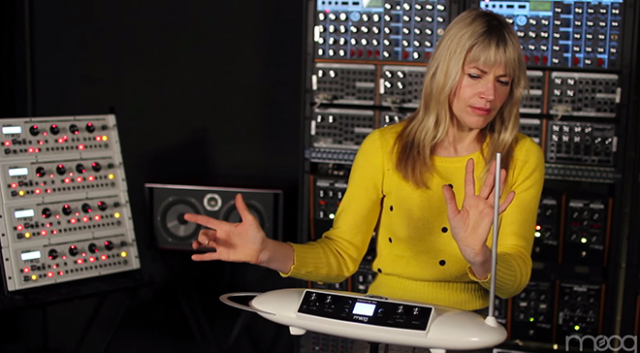 NOTE: This application does not make sound by itself. It is an editor librarian app for the Moog Theremini. To use this app, the user must have a Lightning to USB host adapter (for iPads with Lightning connector) or the Apple Camera Connection Kit (for iPads with 30pin connector) and a mini USB cable.
FEATURES
Create new presets
Edit existing presets
Craft new sounds in real-time while playing your Moog Theremini
Create or edit preset libraries with built in Library Manager
Unlimited preset storage
Share libraries of sounds via email or iTunes file sharing
Edit the Theremini's global settings
Built in Editor User Manual, Theremini User Manual, and Quick Start Guide
Simple drag-and-drop preset library
Quick Save for instantly editing an existing sound
This is "IN TRUTINA" from CARMINA BURANA by Carl Orff. The "Carmina Burana" is a collection of poems mostly in medieval Latin written in the 11th 12th and 13th centuries. They were discovered in 1803 in the Benedictine monastery of BENEDIKTBEUERN, in Bavaria. That is why I chose the chapel of the monastery as an appropriate place to play this piece.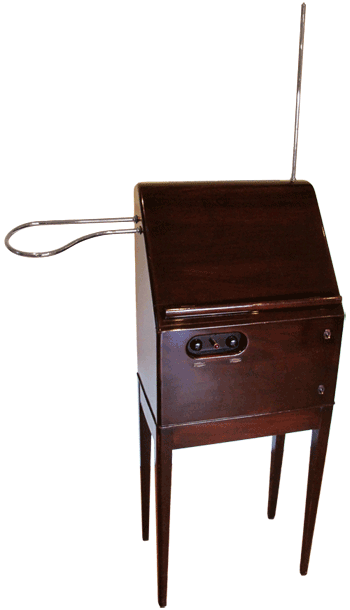 The RCA Theremin holds a place in history as the first manufactured electronic musical instrument, and is credited with laying the foundation for all electronic music to come.
Further distinguishing the theremin from the traditional world of mechanical musical instruments (reeds, woodwinds, horns, strings, percussion, etc.), the theremin is the only instrument that is played without the performer ever touching it. To quote period advertising literature from RCA: Simple and graceful movements of the hands produce and control the tone.
The theremin is named for its inventor, Lev Sergeyevich Termen, anglicized as Leon Theremin (born St. Petersburg, Russia, August 1896, died Moscow, November 1993). Theremin demonstrated his first working model of the instrument that bears his name in 1920 as the Etherphone, soon to be known as the Termenvox, or literally, Voice of Termen.
When properly adjusted and voiced, the RCA Theremin has a pitch range of 3.5 to 4 octaves, and a timbre that is somewhat like a cello at the low end and somewhere between violin and voice at the high end.
Quoting Dr. Robert Moog, the creator of the Moog synthesizer,The theremin specifically, and Leon Theremin's work in general is the biggest, fattest, most important cornerstone of the whole electronic music medium. That's where it all began.
Amanda C of CatSynth attempts to play the new Theremini from Moog Music, Inc.
Dave from Moog Music shows us the Moog Theremini from NAMM 2014.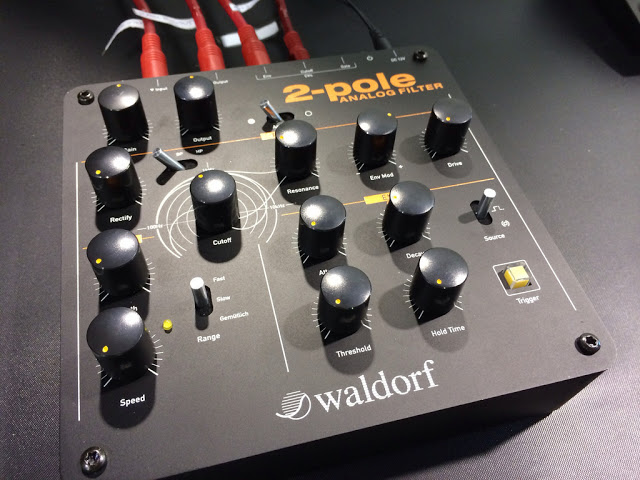 "Waldorf's mystery knob is the filter control from a big filter in a box.
That's right, Waldorf is introducing a 2-pole filter. And one heck of a 2-pole filter it is:
Filter with cutoff and resonance, but also a Drive setting, Rectify, and switchable between low-pass, band-pass, and high-pass
LFO with Depth and Speed
LFO set to Fast, Slow, and (hilariously) Gemütlich (kinda hard to translate, actually easy-going and slower than slow)
Envelope controls: Attack/Decay/Hold, threshold, a source (hard to tell what that does), and trigger.
And it takes CV for envelope, cutoff, and gate, with jack plugs for input and output."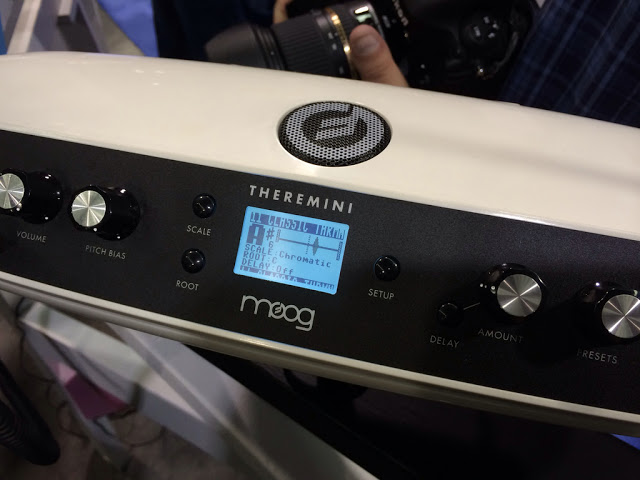 "Then there's Moog, who are introducing, as rumored, a new Theremin. And this isn't just any Theremin: it's a Theremin that can assist you in keeping things in tune, all whilst looking like a space-age egg from Woody Allen's Sleeper.
It's a Theremin with presets. Crazy presets.
It's a digital instrument with Theremin-style controls. (Readers who speculated, you guessed right.) It'll upset purists, perhaps, but this is rather cool: it's based on the unique-sounding Animoog sound engine.
The synth is digital, but the input is analog: classic heterodyning style, then digitized as control signal for the engine. Onboard MIDI, CV output (presumably pre-digitization, in fact), and USB. But that engine gives you more different ways to play.
Yes, there's a display, scale and root controls, a Presets knob, plus built-in delay. There's a built-in speaker and headphone jack, as well, for convenience.
Price: US$299 estimated is what we heard on the floor…"
Product descriptions from our colleagues at CDM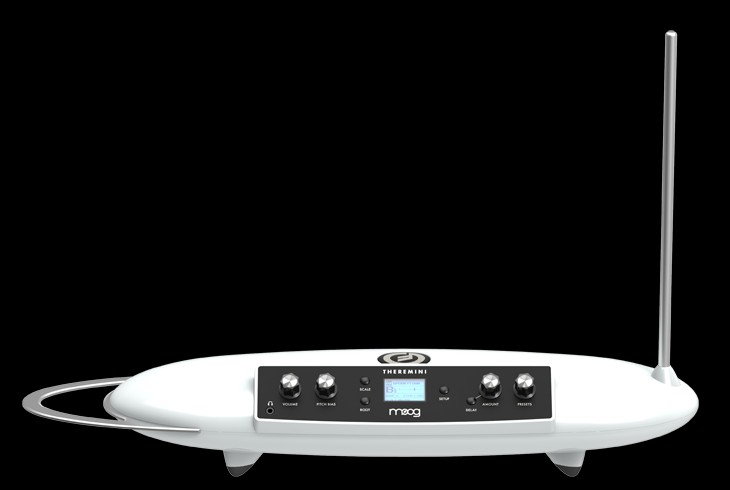 "The Theremini is a re-imagination of one of the oldest electronic musical instrument in history, and Bob Moog's first love – the theremin. Its design fuses the experience of performing with an instrument you don't actually touch, with a powerful sound engine derived from Moog's award winning synthesizer, Animoog. The Theremini guarantees immediate success to any player at any skill level, while providing new ways to experiment with music, education, and gestural control.
Assistive pitch correction allows each player to adjust the instruments level of playing difficulty. At the maximum position, the Theremini will play every note in a selected scale perfectly, making it impossible to play a wrong note. As this control is decreased, more expressive control of pitch becomes possible. When set to minimum, the Theremini will perform as a traditional theremin with analog heterodyning oscillator and absolutely no pitch assistance.
A built in tuner supplies real-time visual feedback of each note as it is played, as well as its proximity to perfection. This is useful for correcting a users playing position, or to educate younger players about pitch and scales.
The presets section allows you to select from 32 wave or wavetable-based patches, store a selected scale & root note, set and recall a specified playing range, and specify per-patch settings for the included stereo delay.
Recessed in the top of the Theremini is a compact speaker perfect for private rehearsal and quick setup anywhere. Silent rehearsal is also possible via front panel headphone jack. Simply plug in ear-buds or headphones and the built in speaker becomes silent.
For live performance and gestural control, the rear panel features two line level audio outputs, a pitch CV output with selectable range, and a mini USB jack for MIDI I/O and connectivity.
Vector – a new way to interact with a modular synthesizer that's a bit like a theremin on steroids.
Vector is a three dimensional control interface designed for Eurorack modular system. It senses the location of a hand over its face and outputs a signal proportional to position for each axis: x (left and right), y (up and down), and z (in and out).
Vector works by generating an electrical field and sensing changes in it causes by the proximity of your hand. Think of it as a smartphone screen with an added dimension of depth four to five inches from the surface. The system uses six electrodes to form the active sensing area. The sensing electrodes are part of the circuit board which lays just behind the piece of acrylic.
This allows you to control three things at one time, like turning three knobs all at once by moving your hand through the air. You could control the amplitude of a sound with the x axis, the pitch with the y axis, and the modulation of that sound with the z axis.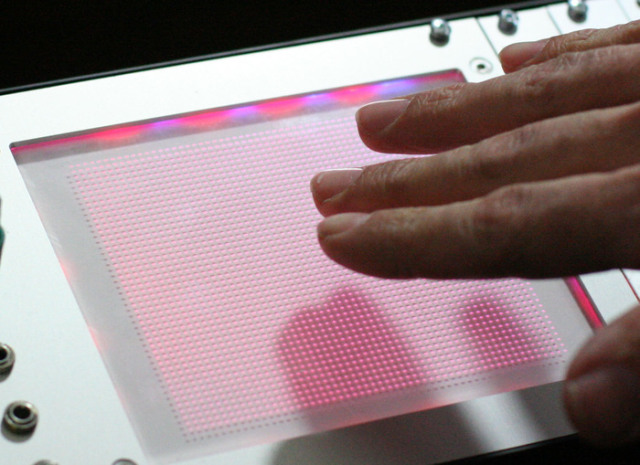 LED Feedback
To provide feedback, Vector has LEDs ringing its active sensing area. These LEDs light up according to the location of your hand.
Vector lights red for the z axis and blue for the x and y axis. As you get closer to the surface, the red LEDs get brighter. As you move closer to a location on the x-y axis, the blue LEDs in that region get brighter and those farther away get dimmer.
Gesture Recognition
Vector can also recognize a number of simple gestures. It recognizes swiping gestures, as well as circular motions over its surface. These gestures can be used as trigger outputs and for interacting with the built-in looping feature. Vector provides a menu system that uses gestures to change the system behavior.
Looping
Vector can record up to 30 seconds of position and gesture data for looping playback. Simply press the large illuminated switch to start the loop and release it to end it. The loop plays back immediately.
The loop can be retriggered with swipe gestures or by external signals from a module with trigger outputs. Vector records as long as the switch is held down, so long rhythmic sequences can be recorded by moving a hand in an out of the active area.
The loop switch can also be used as a sample and hold control. When pressed quickly, it freezes the hand position to lock in the output. The loop playback can be sped up or slowed by using circular gestures, clockwise for faster, counter-clockwise for slower. The loop recording can also be triggered externally. One pulse starts the recording and the next pulse ends it. Using external triggers to start and stop recording as well as to synchronize the playback, you can make perfectly synchronized loops.
Vector is being developed as a Kickstarter project, with the controller available to early supporters for $299