Vector – a new way to interact with a modular synthesizer that's a bit like a theremin on steroids.
Vector is a three dimensional control interface designed for Eurorack modular system. It senses the location of a hand over its face and outputs a signal proportional to position for each axis: x (left and right), y (up and down), and z (in and out).
Vector works by generating an electrical field and sensing changes in it causes by the proximity of your hand. Think of it as a smartphone screen with an added dimension of depth four to five inches from the surface. The system uses six electrodes to form the active sensing area. The sensing electrodes are part of the circuit board which lays just behind the piece of acrylic.
This allows you to control three things at one time, like turning three knobs all at once by moving your hand through the air. You could control the amplitude of a sound with the x axis, the pitch with the y axis, and the modulation of that sound with the z axis.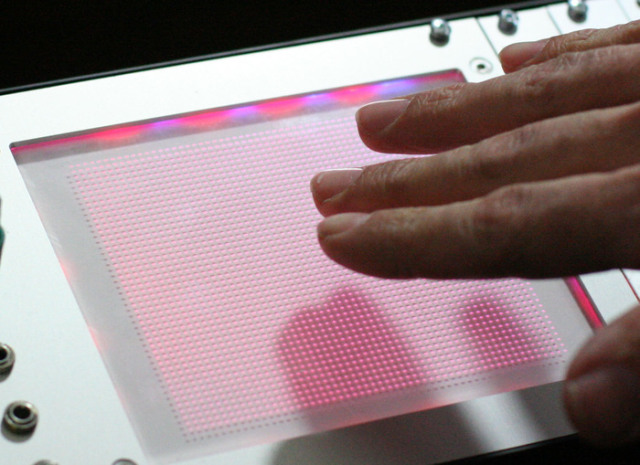 LED Feedback
To provide feedback, Vector has LEDs ringing its active sensing area. These LEDs light up according to the location of your hand.
Vector lights red for the z axis and blue for the x and y axis. As you get closer to the surface, the red LEDs get brighter. As you move closer to a location on the x-y axis, the blue LEDs in that region get brighter and those farther away get dimmer.
Gesture Recognition
Vector can also recognize a number of simple gestures. It recognizes swiping gestures, as well as circular motions over its surface. These gestures can be used as trigger outputs and for interacting with the built-in looping feature. Vector provides a menu system that uses gestures to change the system behavior.
Looping
Vector can record up to 30 seconds of position and gesture data for looping playback. Simply press the large illuminated switch to start the loop and release it to end it. The loop plays back immediately.
The loop can be retriggered with swipe gestures or by external signals from a module with trigger outputs. Vector records as long as the switch is held down, so long rhythmic sequences can be recorded by moving a hand in an out of the active area.
The loop switch can also be used as a sample and hold control. When pressed quickly, it freezes the hand position to lock in the output. The loop playback can be sped up or slowed by using circular gestures, clockwise for faster, counter-clockwise for slower. The loop recording can also be triggered externally. One pulse starts the recording and the next pulse ends it. Using external triggers to start and stop recording as well as to synchronize the playback, you can make perfectly synchronized loops.
Vector is being developed as a Kickstarter project, with the controller available to early supporters for $299
Playing Moog Etherwave with KORG Volca beats/bass/keys.

The Therevox ET-4.1 is an analog continuous pitch instrument inspired by the interface of the rare Ondes Martenot.
Each oscillator has six different waveforms, including the classic sine wave of the Electro-Theremin and the Ondes Martenot's unique octiviant and white noise settings. Each oscillator can be tuned separately, or synched to create intervals or interesting harmonics. Oscillator 2 can also be set to a consistent note or used as an LFO to modulate the filter. The internal low-pass filter with variable cutoff frequency is used to shape the sound and this can also be controlled with an external expression pedal or CV source.
Details and Specifications
Two independent temperature compensated analog oscillators with sync function
Six octave positions for each oscillator covering C0 to C8
Six waveforms (sine, triangle, rectified sine/octiviant, 50% pulse, 30% pulse, 10% pulse (white noise on Osc 2)
Adjustable ring with metal reinforced wire
Replaceable reference keyboard with alternatives available (ex: lapsteel, specific scales, microtonal)
Dual wooden pressure-sensitive intensity keys with approx. 3/4″ travel
Low-pass filter with adjustable cutoff frequency (can be controlled by expression pedal or external CV)
Internal spring reverb with dry+wet mix control
"Silent" tuner output, switchable between oscillators
Line-level (+3db) output with volume control
Control Voltage (CV) outputs for ring position (1V/octave) and both intensity keys (0 – 10V)
16VAC power input
Dimensions: 30 x 11 x 4″
Includes: Printed manual, power supply (110-120V and 220-240V Available) and extension cable.
Made in Canada
The Therevox ET-4.1 is priced at US $1475.
Albert Glinsky, author of Theremin: Ether Music and Espionage sat down with us to give a brief history of the Theremin covering everything from it's orignal inception in a Russian chemistry lab to it's developement as a musical instrument. In addition to outlining its rich history Glinsky gives a basic tutorial in playing the Theremin and points out some of the refinements that Bob Moog made to Leon Theremin's original design.
The theremin control voltage outputs can be used to play the synth in the background. The theremin is in fact an excellent PAiA Theremax, the same as used for the Badgermin. The owl rests on a sliding carriage, which can slide along four vertical bars fixed inside the log. When the motor is turned on a winch mechanism winds a length of sash cord, which loops over the top of a second pulley, which in turn lifts up the sliding carriage. When the carriage reaches the top, a limit switch is automatically pressed, switching off the motor. For the owl to descend, the owl activation switch is flipped once more, reversing the polarity of the motor, allowing the carriage to be lowered down onto another limit switch. The antennae disconnect for ease of transportation, and the lower half of the stand can be unbolted.
More details: www.nervoussquirrel.com/owltheremin
A home made theremin by Gavin Howe, description below:
Made my first "synth theremin" yesterday, sending it through the audio in+comb on the emx with flanger pitch shift (-12) and some short delay, then into kp3 for stereo delay, just playing around with different capacitors and korg effects. All sounds originate from the optical synth.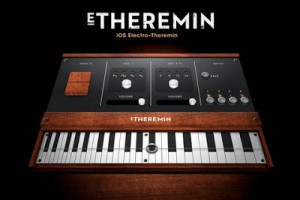 Vintage Electro–Theremin, Onassis Martino style synth.
This app captures the magic of early classic slider controlled synthesisers such as the Ondes-Martenot (1928) Trautonium (1929) and Tannerin/electro-theremin (1950s)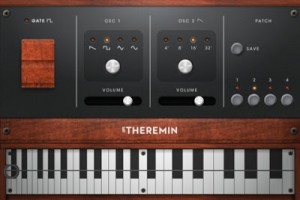 The E Theremin has three oscillators that generate a rich fat analogue tone, with a choice of 4 waveforms (saw, square, triangle and sine) octave shift and amp control. The E Theremin can achieve portamento, vibrato and quarter-tones with precise control. 4 presets allow you to store your sounds and jump quickly between them during performance.
– Ideal for professionals looking for an alternative to the keyboard controlled synth.
– Great for anyone interested in synthesizers, particularly early analogue.
In 1928 Maurice Martenot created one of the first electronic musical instruments, entitled; the Ondes-Martenot, the prerunner to the theremin, similar in sound but with a very different type of user interaction, an inspiring slider on a cord was used. Later in the 1950s Paul Tanner invented the Tannerin a.k.a. Electro Theremin. The Tannerin used the same slider controls as the Ondes-Martenot to control pitch. The Tannerin went on to play a large role in records such as The Beach Boys "Good Vibrations".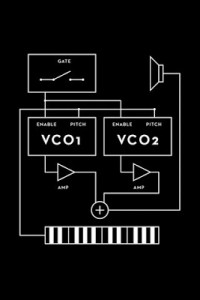 Summarized Features
Three oscillators (osc2 unison)
4 waveforms
3 octave slide control
Fat analogue sound
Jump between 4 user presets
Classic slider pitch control
Retina GUI
Grab it before it goes up to regular price!
The first test of the Magic Ceramic Theremin lamp. It is developed as a peculiar piece for the opening of the Exibition of several ceramists in Gallery Artibrak. from november until 28th of December 2011.
A theremin is normally stepless, but in this case an A-156 is used as a quantizer..
Small explanation for those who are not familiar:
In this magic piece of ceramic two antenna's are integrated. One antenna for the volume and one for the pitch. The instrument does not have to be touched. The volume can be controlled by your left hand (when approaching it the volume increases), the pitch can be controlled by your right hand (when approaching it, the pitch of the sound goes up). By approaching the antenna's you are influencing the potential difference. Just like the antenna of your transistor radio which functions well or not when approaching it.
The Magic Ceramic is based on the original Theremin invented by Léon Theremin in 1919. That electronic instrument is stepless variable and very expressive. It sounds like an opera voice or violin.
This ceramic version of the instrument has a much more variety than it's original. You can make the sound stepless or let it be quantized, so that you hear a real tonescale/musical scale. The sinus-tone of the Magic Ceramic is quantized (chopped in pieces), and in the way it is presented now only the Minor notes are heard. (like the black keys on a piano) In this way the steps between the notes are bigger and easier to distinguish. Other possibilities are just Major notes or the complete tonescale, quantized or not. There is also a small sampler added, so when you reach the highest note a spoken voice can be heard.
more info here:
http://www.creativegallery.nl/index.php?option=com_content&view=article&a…
This video captures a performance, by Rob Schwimmer, of Kurt Weill's Lost in the Stars.
Schwimmer uses a Moog Etherwave Theremin, played through an Electro Harmonix Talking Machine, inspired by Peter Pringle's virtuosic performance of Puccini's Nessun Dorma.
Schwimmer has worked with a wide range of artists, ranging from Antonio Carlos Jobim to Laurie Anderson to Stevie Wonder.
"Kurt Weill's beautiful song played on the Moog Etherwave theremin. I used the Electro Harmonix Talking Machine (a great combination discovered by thereminist Peter Pringle) for the voice… Inspired by Judy Garland's crazed rendition from her TV show and dedicated to Mary Cleere Haran."
This video has a little bit of everything… lol It features a quick look behind the scenes at the Moog Factory in Asheville, NC. We have a little history of the Theremin, and a peek of one being made in the factory… all the while PRIMUS jamming in the Moog Sound Lab. There is even a rare little jam with Les Claypool on electric drums and Jay Lane playing "Who's got the funk" on Les's acoustic bass! As I said… this video has everything!

The great folks at Moog Music were AMAZING! Asheville was AMAZING! Primus was AMAZING! Les Claypool is ALWAYS AMAZING (he even took a minute to pose for a picture goo.gl/pSisp )!
Thanks everyone… What an overall AMAZING time!