April 15, 2015 · Posted in
Uncategorized
·
Comments Off

on Roland goes Modular (Eurorack)
Roland is pleased to announce the development of the SYSTEM-500, an all-new, fully analog modular synthesizer based on two of the most revered electronic instruments of all time—the SYSTEM-700 and SYSTEM-100m. Designed exclusively for Eurorack, the SYSTEM-500 delivers classic Roland sound with all the advantages and reliability of a modern instrument.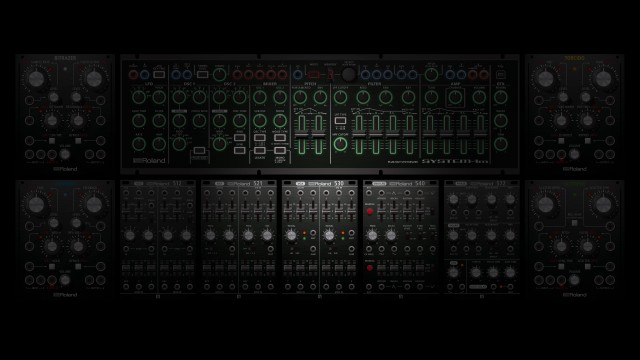 BITRAZER is a "bit and sample rate destruction" – a decimator effect.
http://www.roland.com/products/bitrazer/
DEMORA is a high-resolution delay, boasting a time range of 20 microseconds to 10 seconds, with delay time, feedback and width.
http://www.roland.com/products/demora/
SCOOPER is a "scatter" effect in a modular.
http://www.roland.com/products/scooper/
TORCIDO is a distortion.
http://www.roland.com/products/torcido/
Following last year's AIRA debut, Roland is launching a whole new range of Eurorack compatible modular gear.
The SYSTEM-1m is a semi-modular version of the SYSTEM-1 synth with extra features like CV/Gate connections, external input, and more comprehensive signal routing options.
Next there's a range of standalone, table-top and Eurorack compatible effects for next-level sound mangling and experimentation, with distortion, crusher, delay and scatter coming soon. Patch cables at the ready!
December 3, 2012 · Posted in
Uncategorized
·
Comments Off

on Analogue Solutions Telemark Synthesizer V2.0 + Eurorack AS Spring Reverb Module
SUB frequencies = headphones required…
Here's a first look at the Analogue Solutions Telemark V2.0 synthesizer. The new release features the addition of a SUB OSC / DIVIDER as well as a RING MOD. The inclusion of these two sound sculpting elements have a vast and powerful effect on the overall sound of the TM.
As usual, the Telemark is being sequenced via the Oberkorn MK3 analogue sequencer (black face). The AS CVQ02 Quantiser was also used between the Oberkorn and the Telemark for some of the more melodic sequences heard. Transposition was done via MIDI.
The AS Spring Reverb module also makes an appearance serving processing needs for the TM.
At video end, a live melody is played atop a sequenced (Oberkorn) TM synth line.
Enjoy.