New Polyphonic Modular Synth For iOS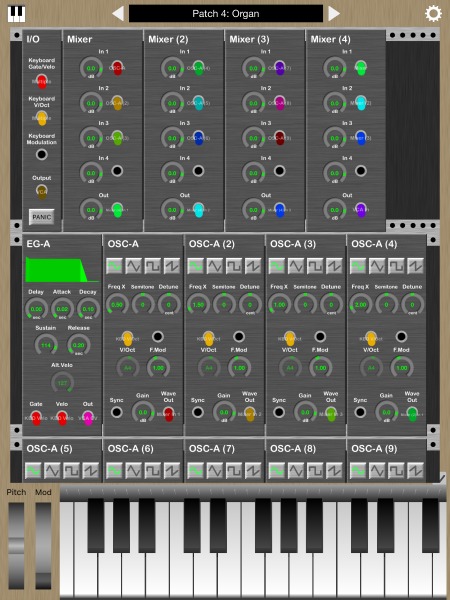 Ryouta Kira has released the  KQ MiniSynth, a polyphonic modular synthesizer for iOS. It supports External MIDI and Inter-App Audio.
Ryouta tells us, "The maximum number of modules you can set is 100… Of course it depends on your device's ability. You can install 10 Oscillators, make 10 series FM Modulators, and so on as you want."
The app implements the follow modules.
Oscillator
Oscillator Type A (Frequency Modulation)
Oscillator Type B (Pulse Width Modulation)
Super Saw Oscillator
Low Frequency Oscillator
White Noise Generator
Mixer/Amplifier
4 Channel Mixer
Voltage-Controlled Amplifier
Sample-and-Hold Amplifier
Booster
Envelope/Logic
Envelope Generator Type A
Envelope Generator Type B
Inverting Circuit
Logical And (Series Switch)
Logical Or (Parallel Switch)
Maximum/Minimum Selector
Modulator
V/Oct Vibrator
Keyboard Level Scaling
Ring Modulator
Filter/Effector
Voltage-Controlled Filter (LPF/HPF/BPF/BEF)
Delay Effector
Reverb Filter
Compressor
Pricing and Availability:
$3.99 at the app store.
Comments